The Truth Of This Epidemic
You never know where you'll find wisdom, or when an otherwise easily ignored bromide might stick with you as something more significant. Years ago, I was watching Dr. Suess's "Horton Hears a Who" with my boys, and one of the character's lines dug into my skull like a wood tick.  When the Mayor of Whoville stated, "Nothing bad has ever happened in Whoville, and nothing bad ever will happen in Whoville", the relevance of this statement to our society hit me with the impact of a belly flop from a twenty foot high cliff.
In a disturbing instance, I was reliving a poignant moment from when I returned to Canada from serving as a UN Peacekeeper during the Croatian civil war. I was at the Horseshoe bay Ferry terminal, just north of Vancouver, and found myself in a contemplative daze as I looked at the buildings with all the pristine glass windows glittering in the sunset, totally intact and free of bullet holes. People were meandering about without a care in the world, oblivious to how blessed they were to be safe. I was mesmerized by how clean and maintained everything was; more accurately I was mesmerized by the contrast of where I was, compared to where I had just been two days prior.  The shock of moving from the reality of war, to the illusion of safety created an internal dichotomy that has haunted me ever since.
A similar sudden reality shift is now affecting most people in the world. Two months ago, there was no fear of a Pandemic, and now many people are wondering if this might be the apocalypse. And of course, there are still those who still cling to the belief that nothing bad ever will happen in Whoville, and they are acting accordingly.
For the latter, the former are quick to throw angry insults at them for their refusal to act responsibly. The apparent selfishness, and ignorance of those who are ignoring social distancing guidelines enrages those who understand the lethal gravity of inaction. The people who are ignoring the warnings are actually illustrating a common human reaction known as Cognitive Dissonance.
Cognitive Dissonance is the resistance to uncomfortable information which challenges your perceived, or preferred world view.  The reaction of denial stems from the same stimulus as panic, they are both coping mechanisms to deal with fear. Neither extremes of Panic, or ignorance serves society well, and both are equally dangerous in our current dilemma.
Nobody knows for sure what the near future will hold, much less what the world will look like two years from now.   "Prepare for the worst, and hope for the best" is the best advice for all of us to follow right now. It's a difficult balancing act to contemplate this dichotomy without going mad, but it's the task we all must tackle with resolve if we are to keep our heads about us during this pandemic.
How bad could this get?  Well, when I was in Croatia, I witnessed the Apocalypse on a regional scale, and yes I believe it could potentially get that bad the world over. Panic plus economic collapse equals misery, no matter where you live. Canada is no more exempt from this than Croatia was in the early nineties. Yes…something bad can happen in Whoville, and we are at the gates of a potential catastrophe.
Will the world ever be the same?  Not likely. The national debts of all G-20 nations are already unmanageable, and are about to rise drastically. High debt means inflation through taxation, and we're already taxed to the max. The other possibility is a global currency collapse VIA hyperinflation which is a ride nobody wants to take. Whatever is in store for us, it will be a significant challenge for the next decade, and perhaps even for a generation.
So, what do we do in the meantime?  First, be vigilant. Be mindful of your mental state, and resist both extremes of ignorance, and panic. Put yourself into preparation, and problem solving mode, which will help to alleviate the stress of perseverating over our potential future. Also, be aware that history repeats itself, and historically governments take advantage of any opportunity to expand their power. Power once expanded, rarely contracts.  If you trade your freedoms for security, the government is not likely to trade you back once the crisis has been resolved. If you think Canada can't turn into a dictatorship, then I'm afraid you just don't know your history. Canada and the USA were founded by a mass migration of people who were fleeing dictatorships, and our constitutions were created as a firewall against totalitarianism ever rising again. In the midst of an emergency, this firewall will come down. It's our duty as citizens to make sure the firewall is replaced once COVID19 is defeated.
Mark Meincke
Redline Real Estate
403-463-4313
Buy the Home Seller's Bible by clicking HERE
Meincke Show Podcast
Operation Tango Romeo
Major drug haul; ALERT seizes $3 million in drugs and cash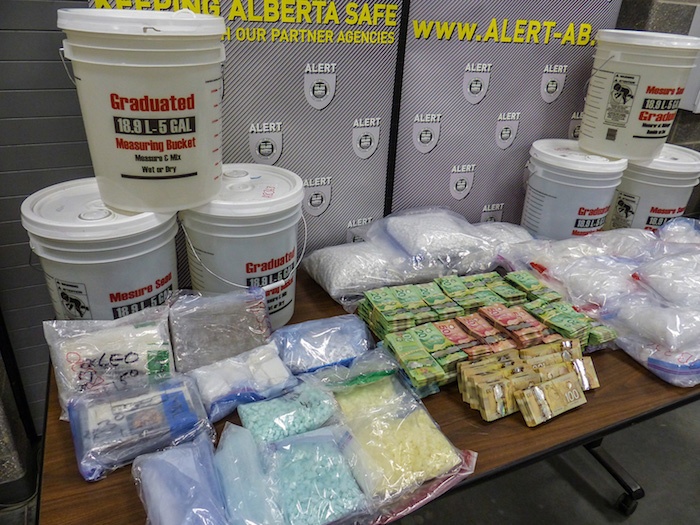 Post submitted by Alberta Law Enforcement Response Team (ALERT)
Three million dollars' worth of drugs and cash was seized from two Calgary homes, including what is believed to be the province's largest seizure of gamma-hydroxybutyrate (GHB).
On April 27, 2021 ALERT Calgary's organized crime and gang team concluded a short-term investigation with a record drug haul. ALERT seized enough methamphetamine, fentanyl, cocaine, and GHB to equal an estimated 100,000 doses.
The GHB seizure of 113.5 litres is believed to be the largest seizure of its kind in Alberta.
Meanwhile, the amount of methamphetamine and fentanyl pills seized ranks amongst ALERT Calgary's biggest busts.
"The totality of what was seized is staggering, and represents a high degree of community harm. Behind so many doses are crimes committed to feed that addiction; be it property crimes, thefts, frauds, and robberies, and all feeding into social disorder," said Supt. Dwayne Lakusta, ALERT CEO.
In total, ALERT seized roughly $3 million worth of drugs and cash:
113.5 litres of GHB;
22.3 kilograms of methamphetamine;
18,000 fentanyl pills;
1.5 kilograms of fentanyl;
4.1 kilograms of cocaine; and
$386,220 cash.
GHB is colourless and odourless, and is commonly referred to as the "date-rape drug" but is usually abused as a club drug. In July 2013 Edmonton Police Service seized 106 litres of GHB, which at the time, was believed to be Alberta's largest seizure.
ALERT's investigation is ongoing and additional charges are being contemplated. To date, 14 drug-related charges have been laid against three suspects:
Ashley Stanway, 30-year old from Calgary;
Rayann Blackmore, 22-year old from Calgary; and
Harmandeep Tiwana, 28-year old from Calgary.
ALERT began its investigation just a month prior after receiving information about suspected drug trafficking activity in the Calgary region.
Members of the public who suspect drug or gang activity in their community can call local police, or contact Crime Stoppers at 1-800-222-TIPS (8477). Crime Stoppers is always anonymous.
ALERT was established and is funded by the Alberta Government and is a compilation of the province's most sophisticated law enforcement resources committed to tackling serious and organized crime.
There's Resistance Everywhere To Building Anything. We Need Government Help