Being a Cop has Always Been a Thankless Job
Being a cop has always been a thankless job.
But in our current climate, police would be happy for the bygone days of a thankless community, compared to what they are currently enduring.
Never before in modern history have police officers been accused of being the worst of society. Today, the reputation of cops is constantly under attack by the media. And fringe groups who purport to have a noble agenda are paradoxically allowed by our governments to wreak havoc on our cities without consequence. Entire city blocks have been burned, children have been murdered, and yet the media all but ignores the backlash of the problem, which they themselves are largely responsible for inciting.
Well-intended people have been duped into believing that roughly half of society are devout white supremacists, and that visible minorities are being hunted and killed by the police. The media bolsters this false narrative daily, which has created an incredibly unstable and explosive environment. When a group of people believes that they are in danger of being killed by the police, it's only natural for a member of that group to be afraid, and resist arrest. When you resist arrest, you are making a safe situation dangerous by escalating the force required to arrest you. If you comply with the orders of the police officer, you are almost ALWAYS safe. It is extremely rare that a compliant arrestee is harmed or killed as a result of the arrest. In those rare instances, the police officers are likely at fault, and deserve to be charged. Only improved training and selection practices can reduce these rare instances.
A part of policing which very few average people are willing to engage in is combat. Most people have never been in a dangerous fistfight, but for cops, getting into scraps is a common occurrence. Some of these fights involve armed bad guys who are high on crystal meth, and who are nearly impossible to control. When a crazed meth head charges at you with a knife, the only realistic response is to pull out your pistol and fire a few rounds into the center of the target. The pollyanic fools who cry, "you should have shot them in the leg!" have no concept of the reality of combat. There isn't a police officer alive that has the training and skill to reliably make a "leg shot" against a crazed charging assailant. And no, a taser is not reliable enough to deploy in this situation either.
Armchair critics are quick to judge and condemn the use of violent force, without having the faintest idea of the reality of a combat environment. Many will recoil at the word "combat", by saying, "combat is for a battle field, not for our streets! Our cops are not soldiers!" And, they would be wrong. Combat is a violent "must win" altercation. When someone is violently resisting arrest…that absolutely qualifies as combat. It's not the police who initiate the combat…it's the person being arrested who creates the combat situation, which the police have no choice but to respond to with force.
Police officers work in a world that is completely foreign to most middle class folks. The average person can no more understand what it is to be a cop, than they can understand what it's like to live on Mars.
It seems that the public has forgotten the simple fact that cops are just people. Flawed, regular human beings who have decided to risk their lives so that others may live safely.
When people join the police force, they do so for one of four reasons.
Most join out of a sense of responsibility to provide meaningful service to their community. These people tend to make the best police officers, and often make up the majority of a good police force. Lately the media has been ignoring the fact that most police officers fit this description.
Some others join out of a sense of adventure, craving fun and action in their job.
And there are those who join simply to have a respectable, and reliable source of income.
But unfortunately, there are a few who join because they crave having a sense of power. These are the problem cops which every police organization tries to weed out, yet every police service has at least a few of these problem children to deal with. These are the minority of cops, which the media are currently focusing on, and they are painting all police with this contaminated brush.
In addition to these four types of police officers, there is a rare outlier. Occasionally, a trigger-happy psychopath will slip through the cracks. The psychological evaluations are put in place as a filter to weed out these types of applicants, but no system is perfect. Psychopaths often know the right words to say, and how to mask their true identity. Even a lie detector test can be defeated by a psychopath or sociopath. I won't pretend that these people don't occasionally make it onto an otherwise honourable police service, however I also won't agree that police services across the western world have been over-run by them as the media would have you believe.
There are bad apples in every organization, and try as you might, you'll never weed 100% of them out. If you're going to have a large group of people, there will always be a tiny minority within the ranks who will potentially cause great harm.
The truth about police officers is that they have chosen a life of dangerous, high stress service, so that you and I can live a safer, less stressful life. They deal with dangerous people, so that YOU don't have to. They literally get punched in the face, so that YOU don't have to. Lets face it, most people have no ability whatsoever to defend themselves against a violent attacker. We should all be grateful to those who put themselves in harms way so that they can arrest, and lock up the people who are a danger to society.
Now, with all of that being said, how can Police officers muscle through the negativity and added danger they now face?
Let's' start with something we can control, which is our perspective.
"I hate you!" are three words a parent never wants to hear from their child. When it happens, although it may sting for a moment, a good parent quickly realizes that their kid is simply having a fit, and doesn't know how else to express themselves. Also, it's easy to discard unkind words from a child by realizing that they simply don't know any better. "If they knew better, they would do better" is a mantra I strive to remember.
When it's a large group of "adults" who are pitching a fit in the form of a riot, it's difficult to remember that they don't know any better. EVERYONE feels justified in their cause, regardless of the facts at hand.
Regardless of the haters, try to remember why you're there in uniform. You are there to serve those who need you, with or without their appreciation. Your life is one of sacrifice, and some days suck worse than others, but there are still good days. You help. You DO make a difference, and whether the public knows it or not, they need you.
Remember that the anti-cop sentiment is based on a belief in a false narrative. Despite the demonstrative evidence to the contrary, these misguided people actually believe that the Police are out to get people of colour. We must realize that although misguided, their outrage is real to THEM. They really don't know any better, and it's not their fault. The media has created this environment with their bias.
Be mindful of your focus.
Now is a great time to stay off of Facebook. If you can't limit your social media, then at least purge everyone from your contacts list who shared negative posts about the police. It's easy to unfriend, unfollow, or even BLOCK people. You don't need to engage. You won't change anyone's mind, so why try?
Remember, and focus on those who appreciate you. If you look, you'll see armies of supporters who are cheering for you. They may be the "silent" majority, but they are there all the same.
Mark E. Meincke
Listen to this article on Operation Tango Romeo
HERE
First test production of plastic a milestone for Heartland Petrochemical Complex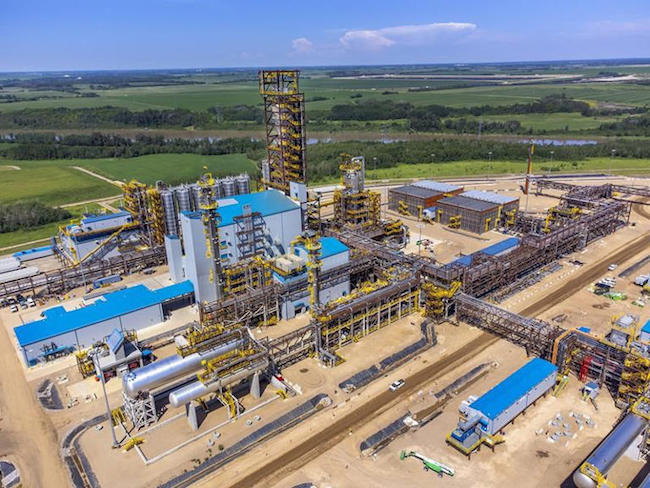 CALGARY — The $4.3-billion Heartland Petrochemical Complex, which has been under construction northeast of Edmonton since 2018, has produced its first plastic pellets.
Owner and operator Inter Pipeline Ltd. said Tuesday the newly commissioned facility has been producing test pellets steadily since late June, an important milestone en route to the expected start of full commercial operation sometime this fall.
The Heartland Petrochemical Complex will convert Alberta propane into 525,000 tonnes per year of polypropylene beads, an easily transported form of plastic that is used in the manufacturing of a wide range of finished products.
Steven Noble, spokesman for Calgary-based Inter Pipeline, said the facility will be the first integrated propane dehydrogenation and polypropylene production facility in North America. He said approximately 70 per cent of Heartland's total production capacity has been already contracted out to long-term customers.
"Through the duration of the project's construction, we've seen demand for polypropylene increase significantly … including at one point hitting an all-time record (market price)," Noble said in an interview. "The demand that we initially forecast certainly hasn't gone away."
The Heartland facility is being built with the support of a $408-million grant from Alberta's provincial government. The cash grant, part of an incentive program aimed at growing the province's petrochemicals sector, is to be paid to Inter Pipeline in equal instalments over three years once the complex is operational.
Noble said by creating a new market for propane, the Heartland facility is an example of how natural resource development in Alberta is diversifying.
"The fact that we're now looking at our raw resources in a different way, and figuring out different ways to get value out of them and create other refined products right here at home … is really the part of the story that everyone here is excited about," he said.
The Heartland Petrochemical Complex is expected to employ 300 people once fully operational.
The polypropylene produced at the facility will be branded as Heartland Polymers.
This report by The Canadian Press was first published July 5, 2022.
Amanda Stephenson, The Canadian Press
Edmonton council to ask province to support new centre to fight downtown crime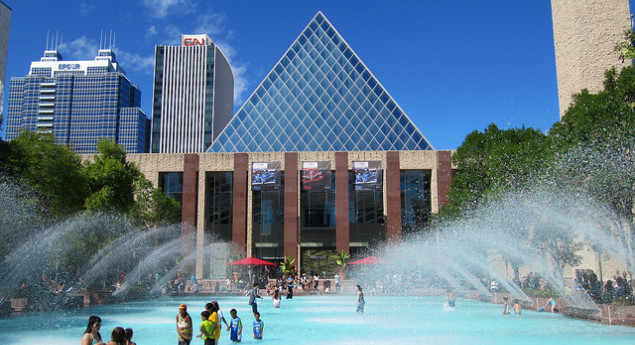 By Fakiha Baig in Edmonton
City council has voted unanimously to ask the government of Alberta to support the creation of a hub in Edmonton's Chinatown where social workers, firefighters and peace officers could work together to reduce crime.
City administration submitted a report to council Monday that describes the proposed Healthy Streets Operations Centre.
David Jones, who is with the city and presented the report, told councillors it would not be a traditional police station.
"The people who will see the benefits of this include Chinatown residents and businesses, but also people who are on the streets who are vulnerable and being preyed on by some of the criminal element," Jones said.
The creation of the centre is one of several actions the city has promised to address a spike in violent crime downtown, in nearby Chinatown and on the transit system.
Edmonton police officers have already increased their presence in problem areas.
In May, Justice Minister Tyler Shandro used his ministerial power to demand a report from the city on what is being done to get crime under control.
Mayor Amarjeet Sohi said during Monday's council meeting that the city has delivered with its plan for the centre and now it is time for the province to step up.
"Edmonton gets the lowest per-capita funding to support ending homelessness compared to seven other cities (in Alberta). I think it's really important that we ask the people whose inaction has caused harm to the community to be stepping up," Sohi said.
"Most of the violence in Chinatown is related to houselessness … and addictions causing a lot of harm to the community and to individuals. We're asking city taxpayers to pick up the pieces or pay for the consequences of lack of investment in health and lack of investment in housing."
Sohi added he gets the sense the province wants to help.
The provincial government did not immediately respond to a request for comment.
The report says the centre will operate seven days a week, 21 hours a day, and could cost up to $18.1 million over the next four years.
The city and Edmonton Police Service could partially support the centre and Jones said there have also been offers from different businesses in Chinatown to provide a building for the hub at no cost.
But council voted in favour of asking the provincial government to determine how it can provide mental health, housing and shelter support.
Sohi said he plans to engage with the province and will report back to council on Aug. 15.
Jones said to get the centre up and running by next summer, the city aims to hire four peace officer sergeants, 16 community peace officers, two community safety liaisons and three firefighters or fire prevention officers.
The report said community members asked for increased security in problem areas and that building a centre in "hot spots" can effectively reduce crime. Research cited in the report has also shown it wont displace violence to other areas.
"Studies have consistently found no noticeable displacement and, in some cases, a diffusion effect, meaning that hot-spot policing reduces crime in the areas adjacent to the hot spots as well."
Dr. Temitope Oriola, a criminology professor at the University of Alberta, said the hub model has been around for at least a decade in Canada and the centre is a good start.
"The real test is to ensure it is not too heavily tilted toward and reliant on policing," he said in a email.
"The approach needs to have law enforcement as one of several critical components with people, community revitalization and customized social service at the epicentre."
Oriola added the centre would be most effective in reducing crime if it also goes hand-in-hand with other initiatives in the city that address addictions issues and homelessness.
"Employment created should also focus on those most directly connected to Chinatown," he said.
This report by The Canadian Press was first published on July 4, 2022.
—
This story was produced with the financial assistance of the Meta and Canadian Press News Fellowship.