The Term "Starving Artist" Now Holds More Weight In Alberta, But There's Hope.
Large and small organisations are coming together to support musicians struggling through this financial crisis. Multiple industries have taken some hard hits in recent weeks and it is looking like there are still troubles on the horizon. If we look at the effects of what an isolation order and social distancing have on our daily lives, individuals and groups who earn their income through social events will be left with few choices.
One thing that the music industry holds true is their support for passionate people to be successful in their own way. These are the kind of people who take their form of art and consistently innovate to create their own success, to which deserves a lot of respect in the current economic climate. We have all heard of the "starving artist" stage of a musician's career. Now with stripped grocery stores and cancelled social gatherings of 15 people in Alberta, that phrase now holds more weight.
Let's be clear, certain successful artists who have gained a high level of success, public awareness and can be seen driving brand new Escalades around LA may still take a hit financially, however now is the time to support the industry as individuals or groups that don't have those same means and are struggling to pay their bills. For those who have had shows, tours, private bookings and event stages cancelled for the foreseeable future, there are multiple resources out there to get through the next few months.
Unison Benevolent Fund
Unison Benevolent Fund is a non-profit, registered charity that provides counselling and emergency relief services to the Canadian music community. Unison has helped over 1000 individuals and their families in every province and territory, as well as Canadians living abroad during times of crisis. They also received a 1900% increase in registrations since the coronavirus outbreak.
"We are here to help professional music makers in times of hardship, illness or economic difficulties"
They feel the pain for the music industry and want to act as a support role at this time. To that point they have resources for musicians and created a self care Sunday blog. They also have information on the music industry and how artists are innovating their approach. Check out their website to apply for financial assistance or for more information on the music industry.
Stan Brown Benevolent Fund
This is a fund made available for all Calgary Musician Association members that have fallen into hardship. The Stan Brown Benevolent Fund originated when the Association introduced an annual showcase called 'Musicalgary'. It was an initiative from the early 90's that helped to promote the musical talents and diversity of the membership. To make sure that any excess revenue was put to good use, the Health & Welfare Fund was born. Check out the Calgary Musicians Association to learn more about their work with the industry and their support for musicians in our city.
"These are difficult times. The Stan Brown Benevolent Fund is available to CMA members in need"
CERB Canada's Response for financial support to individuals
Any of us that have been keeping up to date with the news have been made aware of the emergency support benefit and the rushed EI applications over the last few weeks. The new Canada Emergency Response Benefit (CERB) will launch an online application in early April. As directed by prime minister Trudeau, the government recommends having an account setup on the Canada Revenue Agency with your direct deposit integrated so that once the application software becomes available you will receive the funds faster. If you want to learn more about this emergency benefit, check out this resource page.
Spotify Music Relief Project
Some of our favourite music streaming platforms have also released information and resources for artists that are struggling with the current pandemic and staying connected with their listeners. Spotify released a COVID-19 Music Relief project working with non profit organisations and donated funds to support their initiatives. They are making a donation to these organizations and will match donations made via the Spotify COVID-19 Music Relief page dollar-for-dollar up to a total Spotify contribution of $10 million.
Soundcloud
Soundcloud released numerous resources and podcasts for artists and musicians that are feeling the distress. They released an article on 7 ways to stay connected with your fans during COVID-19. With so many people at home, now is a good time to reset your intentions with your music and how you want to grow your audience. Hopefully before no time, we will be back in venues and concert halls enjoying the creativity and art that our local musicians have to offer.
Community
In a time like this community means more than ever. There are multiple Facebook groups like
Canadian Musicians Association, Calgary Local Music, Music Calgary and the Canadian Federation of Musicians. If you're in the same situation as a lot of musicians in our city, why not reach out to these groups and share your insight into how you are innovating in these times.
From all of us at Todayville Calgary, we wish all of our local musicians and their families the best of health and wellbeing. We look forward to hearing and seeing you all live very soon.
For more stories, visit Todayville Calgary
Join us for our 2023 Induction Ceremony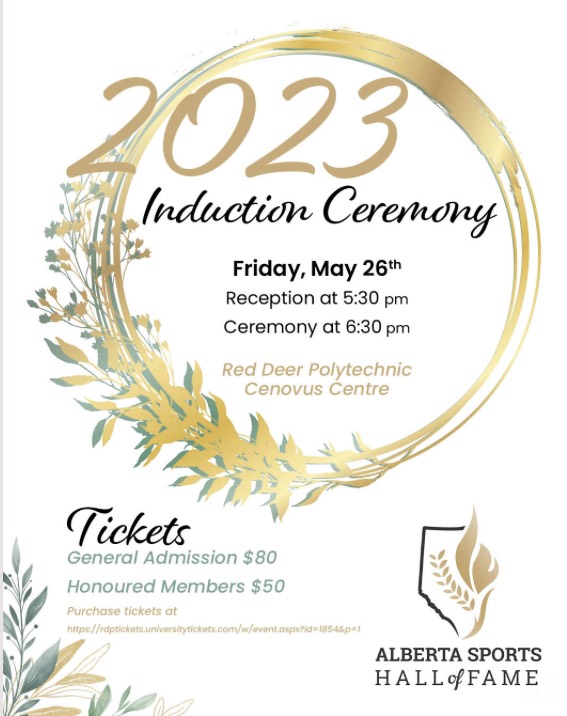 Our 2023 Induction Ceremony will be on Friday, May 26th at the Red Deer Polytechnic Cenovus Centre. Cocktails and appetizers will begin at 5:30 pm, with the ceremony starting at 6:30 pm. The class of 2023 is as follows:
Athletes
Andrew Buckley-Football
Mike Johnson-Baseball
Helen Upperton-Bobsleigh
Builders
Cara Currie Hall-Multisport
Allan Ferchuk-Multisport
Greg Peterson-Football
Lyn Radford-Multisport
Teams
Old Grizzlys 1991-1994-Hockey
Awards
Wilf Brooks-Achievement –Hockey
Mark Stephen-Bell Memorial – Radio Broadcaster
Dr. Marcus Dunsworth-Pioneer- Multisport
Tickets are $80 or $50 for Honoured Members. You can purchase your tickets by clicking here.
If you have any questions or need help purchasing tickets, please call 403-341-8614.
Honoured Member Cody Snyder to be Inducted into the Bull Riding Hall of Fame
Honoured Member Cody Snyder will be the first Canadian inducted into the Bull Riding Hall of Fame.
Cody started riding junior steers in rodeo competitions when he was eight years old, and at twelve, he finally rode his first bull. By the age of fifteen, Cody was the Canadian Amateur Bull Riding Champion. Through 1980 and 1981, Cody gained the experience he needed to lead the Canadian Professional Rodeo Bull Riding standings in 1982. He was nineteen years old. He was inducted into our Hall in 2002 as a Rodeo Athlete.
Learn more about this story by following the link below.
This newsletter is sponsored by the RBC Foundation.
Honoured Member Highlight – Allan Coulter
Volleyball Athlete – Inducted in 1997
Allan Coulter was a member of Canada's National Men's Volleyball Team from 1979 to 1992. He competed in over 700 international volleyball matches and was selected as Team Captain from 1988 – 1992. He competed in both the 1984 Summer Olympics and the 1992 Summer Olympics. He was described as the 'quickest hitting middle blocker' Canada has ever had. Allan continued to compete with the Calgary 'Canuck Volleyball Stuff' and became the spokesman, leader and role model for Canada's National Team Program.
Provincial Sport Organization: Volleyball Alberta
Their primary goal is to promote and develop volleyball at all levels throughout Alberta. Volleyball Alberta services the needs of its membership which consists of athletes, coaches, officials, and anyone interested in the sport of volleyball in the province.
Artifact in Focus!
F. E. Osborne Memorial Trophy: Tuxis Junior League Champions, Operated by Calgary Tuxis Coucil, Annual Competition. 1949-1957.
Honoured Member Dr. David Legg Teaches Adaptive Sports to Elementary Students
The Alberta Sports Hall of Fame partnered with Calgary Adaptive Hub and Honoured Member Dr. David Legg to teach students about adaptive sports.
Professor at the Mount Royal University department of Health and Physical Education, David is an engaging lecturer and supports his students in finding practical experience working with individuals with disabilities in adapted sport. He has devoted his life as a volunteer in sport for athletes with a disability at the provincial, national and international level. He was inducted in 2022 as a Paralympic/Multisport Builder.
Thank You Northern Alberta Curling Championship Society!
We want to give a huge shout-out to the Northern Alberta Curling Championship Society for sponsoring a new interactive for the Hall. The new curling rink is a great addition to our space.
If you or your organization would like to sponsor a new interactive for the Hall, please email us at [email protected] or call 403-341-8614.
Donate Now​
The Alberta Sports Hall of Fame needs your support to continue the ongoing preservation of Alberta's sports history and the development of museum exhibits. We are grateful and appreciative of the generosity of our supporters and friends. We would be happy to assist you in choosing how your personal legacy will be fulfilled and the many options available. Here is some information on donating shares to ASHFM and the benefits to you as a donor.
Alberta top court downgrades murder convictions in quadruple homicide case
Calgary – Alberta's top court has downgraded two convictions in a high-profile case involving the torture and killing of a man and the deaths of three others from first-degree to second-degree murder.
The Alberta Court of Appeal released the decision Friday in the cases of Tewodros Kebede and Yu Chieh Liao over the killing of Hanock Afowerk.
Afowerk's body was found in a ditch outside Calgary in July 2017. He had been bound, beaten, strangled and shot.
Three other bodies were found in Afowerk's burnt-out car at a suburban construction site. No murder charges have been laid in those deaths.
Court heard that Afowerk's death was the culmination of a plot to kidnap him and extort him for money. The jury agreed with the Crown that Afowerk's killing had been part of the plan from the start.
But the Appeal Court said the trial judge failed to explain that while the kidnapping and beating had clearly been planned, Afowerk's killing may not have been. It suggested the defendants may have not have been recruited to kill him.
The Crown relied heavily on a text message sent by Kebede before the killing, which read: "U up for the job tonight?", as evidence of planning. But because the recipient of that message didn't testify to it, the Appeal Court concluded its meaning was unclear.
The court gave the Crown the choice of retrying the case or substituting second-degree verdicts. It chose the latter.
The court dismissed the defendants' application for a new trial
"Following the trial judge's instructions, the jury must have found by their verdict that both appellants actively participated in the murder of Mr. Afrowerk," the Appeal Court said in its written judgment.
"Both would therefore be properly convicted of second-degree murder. Accordingly, there will be no prejudice to the appellants if we substitute the verdicts to reflect that fact."
Kebede and Liao must now reappear before the trial judge for sentencing.
The change does not affect Kebede's and Liao's convictions involving the deaths of the other three victims.
Liao was found guilty of being an accessory in the murders of Cody Pfeiffer, Glynnis Fox and Tiffany Ear, whose remains were found in Afowerk's charred car.
Kebede was convicted of being an accessory in Pfeiffer's murder.
This report by The Canadian Press was first published Dec. 23, 2022.
— By Bob Weber in Edmonton