Is Police Brutality a Racial Issue simply because the Media says so?
For the first time in my lifetime, there is finally a topic that has garnered ubiquitous agreement; George Floyd was murdered. Absolutely nobody is challenging this assertion, and the cop who killed him along with his uniformed accomplices are almost certainly going to spend a long time in jail.
George Floyd's murder was the spark that lit a powder keg of frustration, pain, and outrage which has exploded across dozens of cities worldwide. His death has been interpreted as proof of the long-held, media endorsed belief that Cops are hunting and killing Black people, as if it was a sport.
Canadian news outlets parrot their American counterparts by repeatedly referring to the killing of Mr. Floyd as, "the RACIST murder of George Floyd". With relentless repetition, the "racist" murder narrative has easily convinced most people that the cop, Derek Chauvin killed Mr. Floyd, at least in part because of his skin colour. Although no evidence has been presented to suggest that Chauvin had any history of racist comments, or associations with racist organizations, the conclusion by the media has been nearly unanimous.
In criminal law, for a crime to exist, there must be two main elements: Actus Reus, and Mens Reus. Actus Reus is the physical element of the crime, or the "act", and Mens Reus is the mental element of the crime, or the "intention". The act is much easier to prove than the intention, but the intention doesn't have to be proven. Intention can instead be assumed based on circumstances and past history. Now that you have a lesson in Criminal Law 101, you may see a problem with the media narrative of George Floyds' death being concluded as "racist".
Although it's entirely possible that Derek Chauvin was in fact a murderous white supremacist, at this point we don't have any actual evidence that would help us understand either his intentions, or his personal beliefs. All we know for sure is that Officer Chauvin's arrest and control procedures were entirely wrong, and were certainly a major factor in the death of Mr. Floyd. Having a knee on a person's neck for more than a few seconds is not an acceptable practice in any circumstance.
But about those "protests"….
The public is absolutely justified in staging massive protests over the police brutality which caused a man to die unnecessarily. Police must be held accountable for their actions, and change must happen to prevent similar instances in the future. The issue though, isn't about the protests, it's about the underlying assumptions being made which are fueling the protests.
First, FBI statistics are not supportive of the assumption that black people die in custody more than white people. Though, there are other stats from other sources which strongly support this assumption, it's difficult to know which stats to believe. Even if the stats did show, without a doubt that black people die in custody more than white people, the only factor mentioned to explain this is "racism".
Has anyone asked the obvious question of, …why else could this be happening? What other factors may be at play?
Did you know there is another segment of society who are just as likely to die in custody as black people? Military Veterans. Since this segment can not be identified by race, religion, or heritage, what possible explanation could there be for Veterans to be dying in custody at nearly twice the rate of non-veterans? It seems like a valid question to ask, and even an important question to ask in order for us to be able to better understand why some people die in custody more than others. It seems there must be more to it than racism, but that's not a question that anyone seems to be interested in asking.
Without the media supported presumption that George Floyd's murder was motivated by racism, the protests would not likely be morphing into full out criminal riots. When the looting starts, the valid protests end. Adorning your living room with an ill-gotten 75" flatscreen does not honour the life of George Floyd, nor does it provide an argument for defunding the police.
By fueling the violence both the media and many politicians have been partly responsible for the deaths of numerous police officers and civilians of all races. Anger over one death has caused the deaths of many others, and that is not an outcome that can be justified.
In 2016, Tony Timpa died in Police custody in nearly the exact same way as George Floyd. The main difference is that Mr. Timpa wasn't arrested for committing a crime, instead Mr. Timpa called 911 for help because he was scared, and having a psychotic episode. Tony Timpa asked the police for help, and within 15 minutes of the police arriving, Tony was dead. Timpa was cuffed, and placed on his face with an officer kneeling on his back for several minutes. Like Mr. Floyd, Mr. Timpa begged for help, said he couldn't breath, and told the officer that they were killing him. The Cops laughed and joked once Timpa lost consciousness, and like Floyd, they did not attempt to resuscitate him.
Tony Timpa happened to be white. The National media showed very little interest in the story, and the arresting officers were not fired, and did not do jail time even though the autopsy concluded the death as a Homicide. The three officers were charged, but the charges were all dropped, and they got off scot-free. If the George Floyd protests are about Police Brutality, then where are the protests for Tony Timpa? Why is his name not mentioned as a precursor to the current situation? It seems that if the accusation of racism can't be used, then the story will not be run.
The media likes it when you're angry, and they love it when you're scared. The more frightened you are, the more you look to the media for answers. The more angry you are, the more likely you are to participate in newsworthy protests. Either way, the media wins at your expense.
You should be outraged at the death of George Floyd, but if you're not equally outraged about Tony Timpa, then you're not really interested in Police reform.
Most Police officers are dedicated public servants who are doing an impossible job. I'm not anti-cop in any way. I am however anti-corruption no matter where I find it. Whether it's in the media, with the Police, within the Government, corruption and abuse of power must be addressed, and fixed. In the absence of good questions, and clear thought, corruption will always flourish.
Mark Meincke
Author, Writer, Podcast Host
Buy the Home Seller's Bible by clicking HERE
Buy "Why not Me?" HERE
For more stories, visit Todayville Calgary.
Graffiti artist completes world's tallest mural in downtown Calgary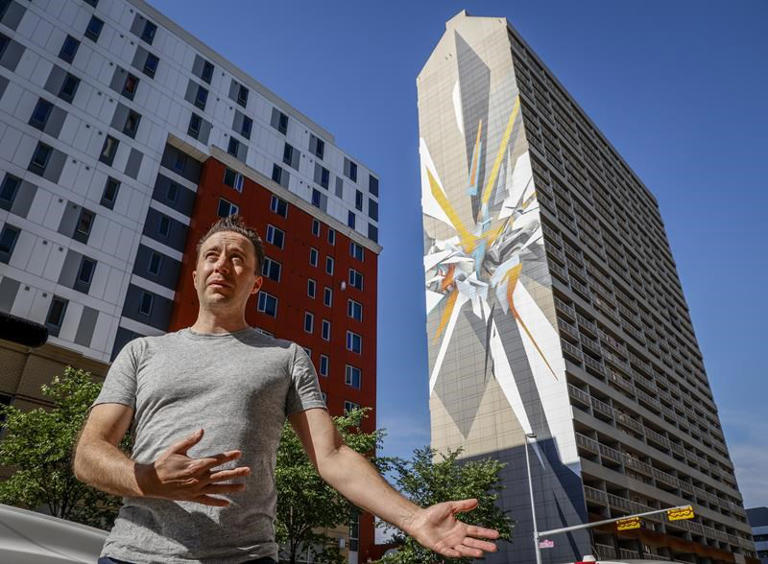 CALGARY — It looms on the edge of downtown a stone's throw from the Calgary Tower, a splash of colour amid aging buildings, railway tracks, parkades and a steady stream of traffic.
It's billed as the world's tallest mural, painted by one of the globe's top graffiti artists, and is part of a project to turn an austere area of downtown into an expansive open-air urban art gallery.
"The brutalism and dystopian look of this area with the giant parkades and the spiral ramps and stuff — it feels like Gotham. So turning this wall from concrete nothing to this is really fun," said Peter Oliver, president of the Beltline Urban Murals Project, or BUMP.
The mural is an abstract painting in various shades of orange, black, grey, blue, white and yellow and is the creation of DAIM, an internationally renowned German artist. DAIM, whose real name is Mirko Reisser, has been creating public artworks for more than 30 years.
"DAIM's work is rooted in graffiti art. It's abstract and he was actually the very first graffiti artist to start exploring three-dimensional works. So his work kind of obeys the laws of light and shadow but defies the laws of gravity," Oliver said.
"I think his work really marries well with the brutalism of this building and it's just a massive flat wall of concrete. It's the very first prefabricated concrete building in Calgary, built in 1980."
The mural is 95 metres high, making it the tallest mural in the world "by a long shot," said Oliver.
He said most cities don't have giant concrete walls available, with the majority being glass, steel or aluminum. So this was a perfect marriage.
DAIM, who was assisted by three local artists, spent over three weeks painting and went through more than 500 cans of spray paint after a base coat was added to the bare concrete. It is to be a permanent addition to the area and, as of last week, was awaiting a coat of UV sealant to make it complete.
Facing toward the east, it can be seen from a long way away.
"If you've got the window seat on the airplane, you can see it on the approach into the airport," Oliver said.
"I think what we're really doing with BUMP is re-architecting the identity of this city."
The project will be unveiling about 60 new murals during its annual festival, which runs from Aug. 1 to 28. Before that, the new art work can be viewed by visitors at the annual Calgary Stampede, which begins this week.
"If you're coming down, I'd check this out over the parade any day," Oliver said with a chuckle.
This report by The Canadian Press was first published July 4, 2022.
Bill Graveland, The Canadian Press
Calgary Stampede receives $10M from federal government to aid recovery from pandemic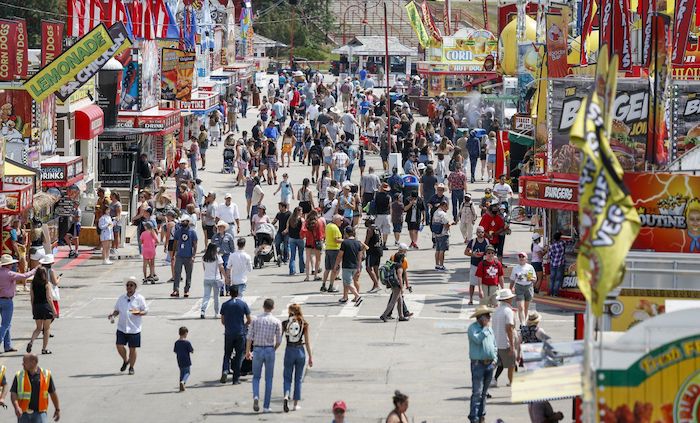 Calgary – The Calgary Stampede has received more than $10 million from the federal government to help it bounce back after last year's event was scaled down due to the COVID-19 pandemic.
A report to the city this week showed the Stampede had an operating loss of $8.3 million in 2021.
Last year's Stampede ran at half capacity because of COVID-19 public health measures and was cancelled all-together the year before.
Daniel Vandal, the federal minister for Prairies Economic Development Canada, says the money aims to support a full-scale Stampede to deliver the "authentic western experience" this year.
He says it would also help to reignite Alberta's visitor economy.
The 2022 Stampede is set to run from July 8 to 17.
"Festivals large and small were hard hit during the pandemic," Vandal said in a news release. "They are events where families and friends come together and take in the exciting atmosphere.
"The tourism industry is facing a strong comeback providing quality jobs across the country, showcasing stunning landscapes and offering exciting experiences right here in Alberta."
The federal government also provided about $1.8 million for four other tourism projects in southern Alberta: Charmed Resorts, Cochrane Tourism Association, Heritage Park and Tourism Calgary.
This report by The Canadian Press was first published June 30, 2022.