Black Lives Matter: What would Martin Luther King Jr Say?
All over the world people are taking to the streets in support of the Black Lives Matter movement. Millions of people in hundreds of cites are marching in support of the idea that all people are created equal and deserve equal treatment. I can't help but wonder what Martin Luther King Jr would think about these current events. How close are we to his dream of children being judged by the content of their character rather than the colour of their skin?
Today, MLK is hailed as a hero of civil rights. He has streets and schools named after him all over the US. Politicians of all backgrounds quote his work and hail him as a hero. But in the 1950s and 1960s, he was an enemy of the US Government. The FBI was actively spying on MLK, labelling him as an extremist. The director of the FBI, J. Edgar Hoover claimed that MLKs followers were communists and that MLK himself was the "most notorious liar in the country." The lesson here is that those who speak out against injustice are seen as an enemy to those who are responsible for the injustice.
This is a lesson that Colin Kaepernick learned first-hand. A star quarterback for the San Francisco 49ers, he made headlines in 2016 by sitting during the national anthem to bring awareness to the issue of police brutality against minorities in America. This idea spread and that season saw many players taking a knee instead of standing for the national anthem.
"I am not going to stand up to show pride in a flag for a country that oppresses black people and people of colour. To me, this is bigger than football and it would be selfish on my part to look the other way. There are bodies in the street and people getting paid leave and getting away with murder" – Colin Kaepernick
Some people said he was disrespecting the flag by kneeling. Others said he was expressing his First Amendment rights to free speech. Like MLK, he was protesting against the injustice that he saw in society. There is no question that his actions were polarizing and shocking to many. There is also no question that his actions cost him his career.
This year, another situation regarding 'kneeling' made the news. On May 25th, cellphone video showing police officer Derek Chauvin kneeling on Goerge Floyd's neck circulated on social media. For nearly 9 minutes the office kept his knee on Mr. Floyd's neck, despite him saying he couldn't breathe. George Floyd died with his hands handcuffed behind his back, his face on the street and a knee on his neck.
This was the sort of event that Colin Kaepernick was kneeling about. This was why he was protesting. He wanted to bring attention to the fact that unjust treatment was a common occurrence in the lives of minority Americans; that the police have been harming the very civilians they had sworn to protect.
A police force is a group of people empowered by a state to ensure the safety and health of that state's citizens by enforcing the laws of the land. This is in contrast to a military force, whose purpose is to destroy the enemies of that same state. The uncomfortable truth is that, for decades, the police in the US have become more and more militarized. To the casual observer, a police officer in riot gear looks very similar to a combat soldier. Starting in the 1990s, police departments in the US have been buying equipment directly from the Department of Defence, blurring the lines between law enforcement and warfare.
In 2019, the police forces in the US killed 1,004 civilians.
This puts US law enforcement killings in the same rank as Syria, Nigeria, Pakistan, and South Africa.
When compared to G7 countries the numbers are truly appalling. In 2013, France had 14 deaths as a result of police action. In 2017, Canada had 36 deaths and Australia had 4. In England, the police only had 7 incidences where a firearm was discharged in all of 2016, resulting in 3 deaths.
The US police force is no longer protecting the public, they are fighting against them.
This year has provided a mountain of evidence that this is true. There are hundreds of videos of police driving into protesters, pushing people over, firing tear gas into crowds and arresting without provocation. They are indiscriminately targeting anyone in their path including journalists. So far in 2020, 98 journalists have been attacked by police and 29 of them have been arrested.
These are the statistics we expect from a war-torn nation, not a modern democracy. This is why Colin Kaepernick was kneeling. This is why he decided to speak up. He had heard stories from black neighbourhoods and poor communities where this was happening and he couldn't stay silent. The police in the US were no longer protecting civilians, they were attacking them.
For years, activists have been trying to bring this to the attention of the public. This was the message that MLK was trying to bring to white Americans. They have been pleading for people to understand that in many areas in the US, the police are treating neighbourhoods like warzones, not communities. They have been trying to get people to see what was really going on. But because it didn't directly affect affluent white males, we didn't listen.
It took the death of George Floyd for the public to notice and the Black Lives Matter movement to gain widespread support. The protestors are picking up where MLK left off. Not only did Dr. King have a dream of equality, but he was a supporter of action and civil disobedience to achieve that equality.
"We who engage in nonviolent direct action are not the creators of tension. We merely bring to the surface the hidden tension that is already alive." – Martin Luther King Jr
As paramilitary police forces are beating and attacking civilians in the streets, many are calling for the de-militarization and de-funding of police forces.
But what would that look like?
To be clear, this isn't a call to dissolve the police, but rather to reallocate funds away from armoured cars and riot gear to community programs and schools. The model that activists point to is a white suburban neighbourhood. In these communities, there are clean playgrounds, after school activities, team sports, and busy community centers. Police work with social workers and health professionals to ensure citizens are taken care of and people's needs are met. This leads to lower crime and removes the need for heavily armed patrols.
Instead of treating poor neighbourhoods like combat zones and minorities as hostiles, how about treating them like people who are trying to make a living in their community. Start a dialogue and listen to what they need to improve their lives. Help develop programs and policies that will make real changes for them. Give them an opportunity to show you the content of their character.
I think that will go a long way to making Dr. King's dream come true.
For more stories, visit Todayville Calgary.
Is Police Brutality a Racial Issue simply because the Media says so?
Graffiti artist completes world's tallest mural in downtown Calgary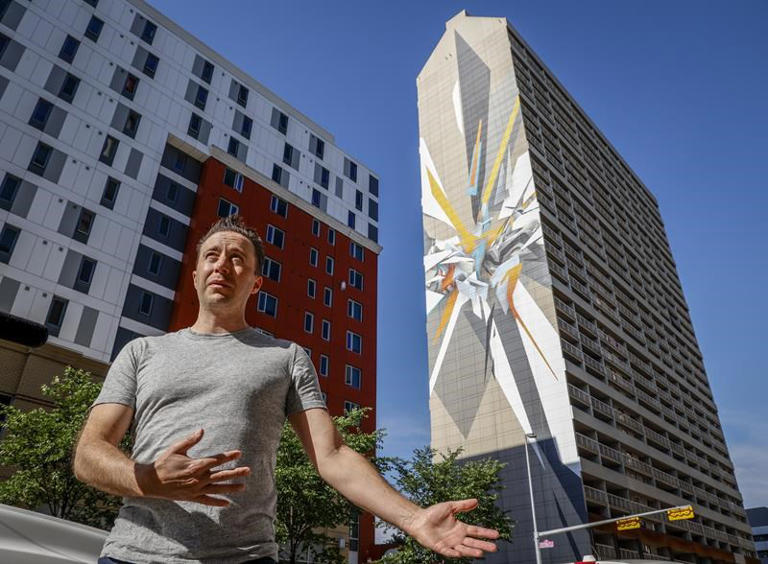 CALGARY — It looms on the edge of downtown a stone's throw from the Calgary Tower, a splash of colour amid aging buildings, railway tracks, parkades and a steady stream of traffic.
It's billed as the world's tallest mural, painted by one of the globe's top graffiti artists, and is part of a project to turn an austere area of downtown into an expansive open-air urban art gallery.
"The brutalism and dystopian look of this area with the giant parkades and the spiral ramps and stuff — it feels like Gotham. So turning this wall from concrete nothing to this is really fun," said Peter Oliver, president of the Beltline Urban Murals Project, or BUMP.
The mural is an abstract painting in various shades of orange, black, grey, blue, white and yellow and is the creation of DAIM, an internationally renowned German artist. DAIM, whose real name is Mirko Reisser, has been creating public artworks for more than 30 years.
"DAIM's work is rooted in graffiti art. It's abstract and he was actually the very first graffiti artist to start exploring three-dimensional works. So his work kind of obeys the laws of light and shadow but defies the laws of gravity," Oliver said.
"I think his work really marries well with the brutalism of this building and it's just a massive flat wall of concrete. It's the very first prefabricated concrete building in Calgary, built in 1980."
The mural is 95 metres high, making it the tallest mural in the world "by a long shot," said Oliver.
He said most cities don't have giant concrete walls available, with the majority being glass, steel or aluminum. So this was a perfect marriage.
DAIM, who was assisted by three local artists, spent over three weeks painting and went through more than 500 cans of spray paint after a base coat was added to the bare concrete. It is to be a permanent addition to the area and, as of last week, was awaiting a coat of UV sealant to make it complete.
Facing toward the east, it can be seen from a long way away.
"If you've got the window seat on the airplane, you can see it on the approach into the airport," Oliver said.
"I think what we're really doing with BUMP is re-architecting the identity of this city."
The project will be unveiling about 60 new murals during its annual festival, which runs from Aug. 1 to 28. Before that, the new art work can be viewed by visitors at the annual Calgary Stampede, which begins this week.
"If you're coming down, I'd check this out over the parade any day," Oliver said with a chuckle.
This report by The Canadian Press was first published July 4, 2022.
Bill Graveland, The Canadian Press
Calgary Stampede receives $10M from federal government to aid recovery from pandemic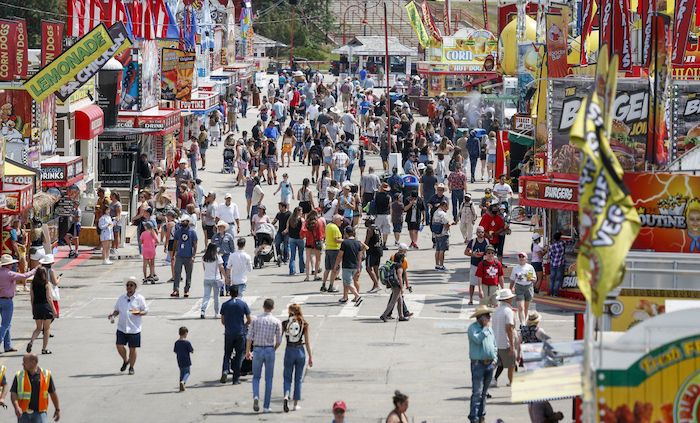 Calgary – The Calgary Stampede has received more than $10 million from the federal government to help it bounce back after last year's event was scaled down due to the COVID-19 pandemic.
A report to the city this week showed the Stampede had an operating loss of $8.3 million in 2021.
Last year's Stampede ran at half capacity because of COVID-19 public health measures and was cancelled all-together the year before.
Daniel Vandal, the federal minister for Prairies Economic Development Canada, says the money aims to support a full-scale Stampede to deliver the "authentic western experience" this year.
He says it would also help to reignite Alberta's visitor economy.
The 2022 Stampede is set to run from July 8 to 17.
"Festivals large and small were hard hit during the pandemic," Vandal said in a news release. "They are events where families and friends come together and take in the exciting atmosphere.
"The tourism industry is facing a strong comeback providing quality jobs across the country, showcasing stunning landscapes and offering exciting experiences right here in Alberta."
The federal government also provided about $1.8 million for four other tourism projects in southern Alberta: Charmed Resorts, Cochrane Tourism Association, Heritage Park and Tourism Calgary.
This report by The Canadian Press was first published June 30, 2022.