Black Lives Matter: What would Martin Luther King Jr Say?
All over the world people are taking to the streets in support of the Black Lives Matter movement. Millions of people in hundreds of cites are marching in support of the idea that all people are created equal and deserve equal treatment. I can't help but wonder what Martin Luther King Jr would think about these current events. How close are we to his dream of children being judged by the content of their character rather than the colour of their skin?
Today, MLK is hailed as a hero of civil rights. He has streets and schools named after him all over the US. Politicians of all backgrounds quote his work and hail him as a hero. But in the 1950s and 1960s, he was an enemy of the US Government. The FBI was actively spying on MLK, labelling him as an extremist. The director of the FBI, J. Edgar Hoover claimed that MLKs followers were communists and that MLK himself was the "most notorious liar in the country." The lesson here is that those who speak out against injustice are seen as an enemy to those who are responsible for the injustice.
This is a lesson that Colin Kaepernick learned first-hand. A star quarterback for the San Francisco 49ers, he made headlines in 2016 by sitting during the national anthem to bring awareness to the issue of police brutality against minorities in America. This idea spread and that season saw many players taking a knee instead of standing for the national anthem.
"I am not going to stand up to show pride in a flag for a country that oppresses black people and people of colour. To me, this is bigger than football and it would be selfish on my part to look the other way. There are bodies in the street and people getting paid leave and getting away with murder" – Colin Kaepernick
Some people said he was disrespecting the flag by kneeling. Others said he was expressing his First Amendment rights to free speech. Like MLK, he was protesting against the injustice that he saw in society. There is no question that his actions were polarizing and shocking to many. There is also no question that his actions cost him his career.
This year, another situation regarding 'kneeling' made the news. On May 25th, cellphone video showing police officer Derek Chauvin kneeling on Goerge Floyd's neck circulated on social media. For nearly 9 minutes the office kept his knee on Mr. Floyd's neck, despite him saying he couldn't breathe. George Floyd died with his hands handcuffed behind his back, his face on the street and a knee on his neck.
This was the sort of event that Colin Kaepernick was kneeling about. This was why he was protesting. He wanted to bring attention to the fact that unjust treatment was a common occurrence in the lives of minority Americans; that the police have been harming the very civilians they had sworn to protect.
A police force is a group of people empowered by a state to ensure the safety and health of that state's citizens by enforcing the laws of the land. This is in contrast to a military force, whose purpose is to destroy the enemies of that same state. The uncomfortable truth is that, for decades, the police in the US have become more and more militarized. To the casual observer, a police officer in riot gear looks very similar to a combat soldier. Starting in the 1990s, police departments in the US have been buying equipment directly from the Department of Defence, blurring the lines between law enforcement and warfare.
In 2019, the police forces in the US killed 1,004 civilians.
This puts US law enforcement killings in the same rank as Syria, Nigeria, Pakistan, and South Africa.
When compared to G7 countries the numbers are truly appalling. In 2013, France had 14 deaths as a result of police action. In 2017, Canada had 36 deaths and Australia had 4. In England, the police only had 7 incidences where a firearm was discharged in all of 2016, resulting in 3 deaths.
The US police force is no longer protecting the public, they are fighting against them.
This year has provided a mountain of evidence that this is true. There are hundreds of videos of police driving into protesters, pushing people over, firing tear gas into crowds and arresting without provocation. They are indiscriminately targeting anyone in their path including journalists. So far in 2020, 98 journalists have been attacked by police and 29 of them have been arrested.
These are the statistics we expect from a war-torn nation, not a modern democracy. This is why Colin Kaepernick was kneeling. This is why he decided to speak up. He had heard stories from black neighbourhoods and poor communities where this was happening and he couldn't stay silent. The police in the US were no longer protecting civilians, they were attacking them.
For years, activists have been trying to bring this to the attention of the public. This was the message that MLK was trying to bring to white Americans. They have been pleading for people to understand that in many areas in the US, the police are treating neighbourhoods like warzones, not communities. They have been trying to get people to see what was really going on. But because it didn't directly affect affluent white males, we didn't listen.
It took the death of George Floyd for the public to notice and the Black Lives Matter movement to gain widespread support. The protestors are picking up where MLK left off. Not only did Dr. King have a dream of equality, but he was a supporter of action and civil disobedience to achieve that equality.
"We who engage in nonviolent direct action are not the creators of tension. We merely bring to the surface the hidden tension that is already alive." – Martin Luther King Jr
As paramilitary police forces are beating and attacking civilians in the streets, many are calling for the de-militarization and de-funding of police forces.
But what would that look like?
To be clear, this isn't a call to dissolve the police, but rather to reallocate funds away from armoured cars and riot gear to community programs and schools. The model that activists point to is a white suburban neighbourhood. In these communities, there are clean playgrounds, after school activities, team sports, and busy community centers. Police work with social workers and health professionals to ensure citizens are taken care of and people's needs are met. This leads to lower crime and removes the need for heavily armed patrols.
Instead of treating poor neighbourhoods like combat zones and minorities as hostiles, how about treating them like people who are trying to make a living in their community. Start a dialogue and listen to what they need to improve their lives. Help develop programs and policies that will make real changes for them. Give them an opportunity to show you the content of their character.
I think that will go a long way to making Dr. King's dream come true.
For more stories, visit Todayville Calgary.
Is Police Brutality a Racial Issue simply because the Media says so?
Alberta top court downgrades murder convictions in quadruple homicide case
Calgary – Alberta's top court has downgraded two convictions in a high-profile case involving the torture and killing of a man and the deaths of three others from first-degree to second-degree murder.
The Alberta Court of Appeal released the decision Friday in the cases of Tewodros Kebede and Yu Chieh Liao over the killing of Hanock Afowerk.
Afowerk's body was found in a ditch outside Calgary in July 2017. He had been bound, beaten, strangled and shot.
Three other bodies were found in Afowerk's burnt-out car at a suburban construction site. No murder charges have been laid in those deaths.
Court heard that Afowerk's death was the culmination of a plot to kidnap him and extort him for money. The jury agreed with the Crown that Afowerk's killing had been part of the plan from the start.
But the Appeal Court said the trial judge failed to explain that while the kidnapping and beating had clearly been planned, Afowerk's killing may not have been. It suggested the defendants may have not have been recruited to kill him.
The Crown relied heavily on a text message sent by Kebede before the killing, which read: "U up for the job tonight?", as evidence of planning. But because the recipient of that message didn't testify to it, the Appeal Court concluded its meaning was unclear.
The court gave the Crown the choice of retrying the case or substituting second-degree verdicts. It chose the latter.
The court dismissed the defendants' application for a new trial
"Following the trial judge's instructions, the jury must have found by their verdict that both appellants actively participated in the murder of Mr. Afrowerk," the Appeal Court said in its written judgment.
"Both would therefore be properly convicted of second-degree murder. Accordingly, there will be no prejudice to the appellants if we substitute the verdicts to reflect that fact."
Kebede and Liao must now reappear before the trial judge for sentencing.
The change does not affect Kebede's and Liao's convictions involving the deaths of the other three victims.
Liao was found guilty of being an accessory in the murders of Cody Pfeiffer, Glynnis Fox and Tiffany Ear, whose remains were found in Afowerk's charred car.
Kebede was convicted of being an accessory in Pfeiffer's murder.
This report by The Canadian Press was first published Dec. 23, 2022.
— By Bob Weber in Edmonton
WestJet announces new flights to Tokyo, Barcelona, and Edinburgh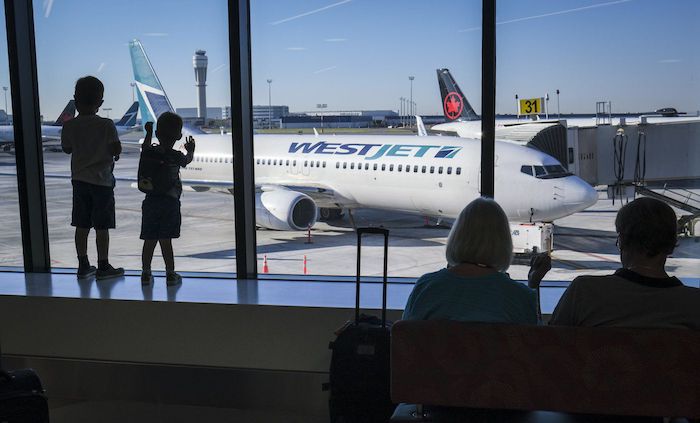 Calgary – WestJet plans to offer flights to Japan starting this spring, marking the airline's first non-stop flights to Asia from Calgary.
The Calgary-based airline said Monday that it will fly to Tokyo's Narita International Airport from Calgary this spring.
The non-stop flights will operate three times weekly beginning April 30.
The airline also announced new routes from Calgary to Barcelona and Edinburgh and increased frequency to Dublin, London, Paris and Rome, also starting in the spring.
WestJet chief executive Alexis von Hoensbroech says the new flights are part of the airline's plan to expand capacity from Calgary by more than 25 per cent by next year, beginning with intercontinental routes.
WestJet also says it is preparing for broader expansion within Canada and North America over the coming months.
This report by The Canadian Press was first published Dec. 5, 2022.