James: Good information is the miracle drug
Good information is the miracle drug
James had been struggling with diabetes for more than 15 years. His health was getting worse and he was looking at increased medication. He also has high blood pressure and consumed significant alcohol. His doctor connected him with the family nurse in the clinic.
The nurse suggested he use the diabetes libre monitor. This tool tells him immediately the result of his food intake and other lifestyle factors. When you see the result on the chart, it is a strong visual aid and you have nowhere to hide. You have to acknowledge that your choices are affecting your blood sugars. His job with the nurse's support was first to reduce the peaks and then reduce the range of blood sugars. This tool was key to tying the information his nurse was telling him to his actions.
The nurse helped him to improve his diet and also got a dietitian to help him with certain aspects. He is now much more careful what he eats before going to bed to help with control overnight. The nurse helped him to understand how the medications work. She made it clear to him that the alcohol intake was detrimental to his health, so he stopped all intake. He could see the positive effect of weight loss as well as regular walking. His weight has gone from 206 to 156 pounds. This is back to the weight he was in his twenties. His blood sugars are now in the range of 6 to 9- the first time he has seen that in over a decade. His blood pressure is also significantly improved. At his next appointment, the team will review all of his medications and decide what he needs from here. He feels so much better. One improvement cascades to another, he was able to immediately identify more energy, better awareness, increased ability to relax, ability to sleep deeper, and better agility and movement.
He states "The libre gave me immediate feedback and the nurse was there to help me understand what it all meant and why, that information made all the difference."
Click here for more success stories from the Primary Care Network in Red Deer.
Skills that maintain healthy relationships
Learn ways to improve your relationship skills using the acronym DEARMAN and GIVE, from the DBT therapy perspective, presented by a PCN Mental Health Counselor, Lana.
Interpersonal Effectiveness Skills
Learning to get along with others while also asserting your own needs is essential to healthy relationships. It can be difficult to balance your own needs and the needs of others. How can you get what you need without being aggressive or neglecting of the needs of others? There are three sets of skills you will learn to help achieve this goal: objective effectiveness, relationship effectiveness, and self-respect effectiveness.
Judy's story: I'm on the healthy road!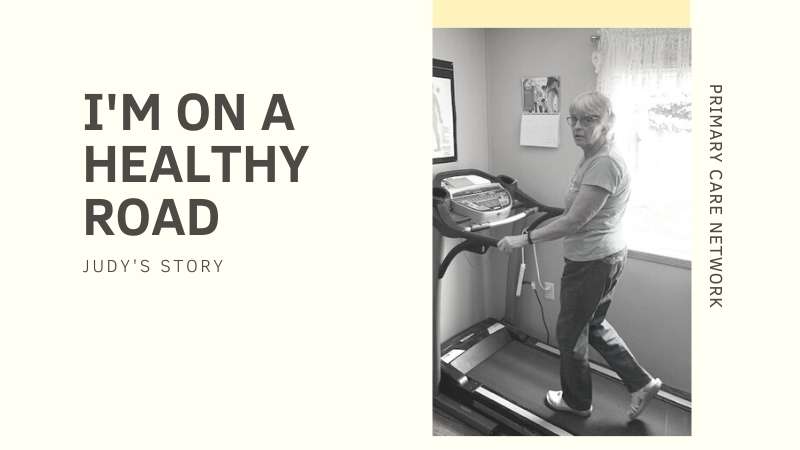 On the Healthy Road!
My journey to better health starting when my doctor told me my blood sugar was at pre-diabetes levels, my blood pressure continued to require medication and I had weight to lose. He sent me to see the RDPCN nurse. After some appointments there, the nurse referred me to the Health Basics program.
Exercise was my downfall. Working from home, I always found something else to do rather than exercise. Health Basics increased my awareness. I tracked what I was eating and became more aware of what I ate, when I ate and why I ate. I also realized things that would make me healthier that I wasn't doing. I realized being healthy is a process and I took one healthy step at a time. I also became aware of the wider variety of options for healthy lifestyle.
My husband and I visited friends over the summer and noted they had lost weight. This stimulated us to pay even more attention to our food intake. As a result of our overall efforts, I have lost about 32 pounds and my husband has lost 37. My blood sugar is now in the normal range. I have had significant decrease in my blood pressure medication. I have more energy. I enjoy exercising more as it is easier to move around and I have less arthritis pain. Health Basics is an excellent class- it started me on the healthy road. I also have much more confidence in my future health.
Click to learn more about the Red Deer Primary Care Network.
Read more success stories from the Primary Care Network.