Canada's food supply chain is strong but will world-wide pressures effect It?
Within days of government's shelter in place orders, there were ridiculous scenes of people fighting over toilet paper along with empty shelves in some other areas of grocery stores, including the fresh meat section. It was an eye-opener of what could come. With the food supply chains facing unprecedented pressures caused by Covid-19, governments have been assuring citizens that there are no food shortages and there is no need to hoard or panic buy.
After the weeks of the ongoing Covid-19 disaster there are cracks showing in the world's ability to keep all of its citizens fed. Overseas there have already been scenes of hungry people looting food trucks. On April 28th, there were street riots in Lebanon over food price increases.
A healthy food supply chain relies on predictability
In 2015 the Group of 20 (G20), held a conference to address "…food waste and loss – a major global problem…". It was a much simpler time. The world-wide food supply chain did not have to deal with a very contagious and complicated coronavirus.
When working properly, a country's food distribution is a marvel of efficiently and logistics. Delivering massive amounts of fresh food to consumers to every corner of the country, every day. But a chain is only as strong as its weakest link.
"It's something we don't like doing, no dairy farmer likes doing it. There are just some real limitations in our supply chain right now." Karlee Conway with Alberta Milk
There are some scenarios happening in North America that have to be an eye-opener for everyone. Food rotting in the fields, whole crops getting ploughed under, fresh milk getting poured down the drain. The milk dumping is also happening in Canada. Karlee Conway with Alberta Milk said that many farmers are forced to make a difficult decision.
"It's something we don't like doing, no dairy farmer likes doing it. There are just some real limitations in our supply chain right now."
And even more shocking, meat and egg producers in North America have already started culling their animals. A lack of buyers and the closing of processing plants due to sickness and even death of employees.
He and she nailed it
Agriculture Minister Devin Dreeshen said this on March 27:
"Alberta does not have a food supply shortage, but the entire national supply chain should be declared an essential service. There are a lot of moving parts to get food to market and onto kitchen tables. Alberta's supply chain is responding well, but it is not business as usual."
Many things have changed since then. Elaine Power, a food security expert at Queen's University, is more blunt, saying the coronavirus pandemic is exposing "critical weaknesses" in various vital networks, including health care systems and food supply chains. "The people who are already food insecure, that's only going to get worse. The type of resources that people would normally draw on probably aren't going to be there."
Daily press briefing on April 21st
Prime Minister Justin Trudeau said in regard to the Cargill beef processing plant closing and another major Alberta plant's production reduction after staff contracting Covid-19:
"We are not at this point anticipating shortages of beef, but prices might go up. We will of course be monitoring that very, very carefully."
"We stress the importance of avoiding food losses"
On the same day the Prime Minister talked about the Alberta meat processing plants, the G20's Agriculture and food ministers held an emergency meeting. The G20 makes up more than 80% of the world's Gross Domestic Product (GDP). At this virtual meeting, the countries agreed to the following:
"Any emergency measures to contain the spread of the COVID-19 pandemic must not create unnecessary barriers to trade or disruption to global food supply chains." And that, "Under the current challenging circumstances, we stress the importance of avoiding food losses and waste caused by disruptions throughout food supply chains, which could exacerbate food insecurity and nutrition risks and economic loss."
Easy to say, much harder to do
Just in North America, if the past 5 weeks alone was a test on the G20's agreed to statement, an "F" has been earned so far.
Our food system is distributed into two main streams; the large bulk volume packaging going to the food service areas and the smaller personal size portions going to consumer stores.
When the full stop happened, restaurants, hotels, schools and the majority of bulk orders stopped. Regular expedited weekly sales were sent to the grocery stores, leaving massive amount of unsold produce in the fields.
Gene McAvoy, associate director of stakeholder relations at the University of Florida's Institute of Food and Agricultural Sciences and president of the NACAA saw the orders stop.
"On March 24th, everything changed, from brokers the orders stopped, everything got quiet. The 25th, (was) super-quiet. Producers were blindsided. Since then tomato (sale) volumes are down 85%, green beans 50%, cabbage is (down about) 50%."
And it is not just those crop. It's onions, squash, lettuce and more.
Images of wasted produce and food lines
Without the regular food service industry orders, Florida farmer Paul Allen, in the just first week of April, plowed under more than six million pounds of green beans and cabbages back into his fields. He was far from the only farmer to do this. Allen explains,
"Four million people in the winter season eat lavishly three times a day on cruises from Miami alone. And 120 million tourists per year go to theme parks."
His sales died up overnight.
This has lead to hundreds of millions of kilograms and billions of dollars' worth of life sustaining, nutritious, fresh produce and milk has ended up as rotting waste and dumped down the drain. While, at the same time there were images of thousands of people line up for a food donation.
Countless food banks would gladly take and distribute this lost food. But the food supply system we know is one that is protected, regulated, and inspected. The last few weeks shows that in a world-wide emergency, the system has a few weak links.
On April 27th, after seeing images of milk waste, New York Governor Andrew Cuomo tweeted that he was stepping in to stop the milk dumping, asking that "…dairy producers use the excess milk to make yogurt and cheese that will be distributed to food banks & those in need."
United Nations warns of famines of 'biblical proportions'
It's not just in North America. Problems are showing up around the world. In India, cows are being fed strawberries to get some use out of crops.
The United Nations Food and Agriculture Organization has reported the 'Hammer Blow' from the corona virus could by the end of 2020, double the amount of people facing actuate food insecurity to 265 million, up from 130 million in 2019. These numbers lead the UN to warn of the possibility of famines of 'biblical proportions' across as many as 'three dozen countries'.
This kind of pending suffering will be hard to stop when the richest and most generous countries in the world are having their own food supply issues, while taking such a massive hit to their economies.
Spring is the start of Alberta's growing season
In Alberta, the government has already made a plea for workers to fill as many of the 70,000 jobs in the food supply system. Jobs that are usually filled by temporary foreign workers, another program affected by the pandemic. With the planting season upon us, farmers are deciding how much and what to plant in 2020.
Meat production is a major part of Alberta's economy
Meat production and processing in Alberta is vital to Canada's supply of food. The three main beef plants in the province, Cargill in High River, JBS Canada in Brooks and Harmony Beef Company in Balzac, have all had Covid-19 problems. While a lot of the final meat processing can and is completed in production facilities and butcher shops across the country, these three main plants are responsible for 75-80% of the federally-inspected slaughter of the cattle for all of Canada.
Meat processing employees work in close quarters, side-by-side on fast moving assembly lines. With this very contagious virus, it has spread through the workforce. At least 759 workers have tested positive for Covid-19 at the Cargill meat processing plant in High River, which has a workforce of 2,000. There are another 408+ people in the community that have tested positive for Covid-19, making this the largest outbreak linked to a single site in Canada. The Cargill plant is now temporarily closed.
At least 276 workers have also tested positive for Covid-19 at the JBS Food Canada beef processing plant in Brooks, with the community itself having over 760 cases. The plant is now down to one shift.
While Alberta and the Canadian governments work together to increase the number of meat inspectors available, Fabian Murphy, president of the Agriculture Union that represents the federal meat inspectors wants safety guarantees. Seven inspectors have already tested positive for the virus at the Cargill plant. Murphy has also stated that it's only a matter of time before JBS plant in Brooks is also forced to temporarily halt production, stating that a, "14-day shutdown would allow all employees to self-isolate. After (that) production at the facility could resume."
Pork producers are also under great pressures
The Canadian pork industry across western Canada is under extreme pressure, being called "the worst scenario seen in decades." Faced with dropping prices for their finished hogs, no buyers for their piglets for finishing and growing backlogs in processing, the concern now is how many family pork farms will go under before this is over?
Production lines in Western Canada plants have been slowed down for better safety for workers. Add to that, US pork processing plants closing because of widespread Covid-19 outbreaks with their workers. Currently there has been a 25% reduction in pork slaughter capacity south of the border. Both the Canadian and the US pork industry producer have warned of large amounts of animals will have to be culled. And it has already started in small scales with larger culls within the next weeks.
Chicken producers are facing the same issues
Chicken producers are also facing the same issues. Sofina Foods Inc., that runs a Lilydale chicken processing plant in Calgary confirmed that one employee tested positive for COVID-19 and is in self-isolation. As well, doctors are investigating two possible cases of COVID-19 found in workers at Mountain View Poultry, near the Town of Okotoks.
British Columbia has at least two chicken processing plants with confirmed growing Covid-19 cases. One plant has temporary closed.
The talk of major animal culls, is not just talk
John Tyson, chairman of Tyson Foods, the world's second largest processor and marketer of chicken, beef, and pork had very strong comments in a full-page ad published in The New York Times, Washington Post and Arkansas Democrat-Gazette. In part Tyson's top person said bluntly:
"The food supply chain is breaking. Meat processing plants across the US are closing due to the pandemic. US farmers don't have anywhere to sell their livestock. Millions of pigs, chickens and cattle will be euthanized because of slaughterhouse closures, limiting supplies at grocers."
With published reports, the animal culling has already began. One Prince Edward Island farm euthanized market ready hogs and then dumped them in a landfill. Iowa farmer, Al Van Beek said, "What are we going to do?" after ordering 7,500 piglets to be aborted. Daybreak Foods Inc., based in Lake Mills, Wisconsin has used carts and tanks of carbon dioxide to euthanize tens of thousands of healthy egg-laying hens. Eggs are no longer being bought by their customers in the restaurants and food-service business.
USDA sets up "Coordination Centre" to "assist on depopulation"
The U.S. Department of Agriculture (USDA) has posted online:
"The USDA's Animal and Plant Health Inspection Service (APHIS) is establishing a National Incident Coordination Center to provide direct support to producers whose animals cannot move to market as a result of processing plant closures due to COVID-19. Going forward, APHIS Coordination Center, State Veterinarians, and other state officials will be assisting to help identify potential alternative markets if a producer is unable to move animals, and if necessary, advise and assist on depopulation and disposal methods."
"We stress the importance of avoiding food losses and waste caused by disruptions throughout food supply chains, which could exacerbate food insecurity and nutrition risks and economic loss." April 21st G20 agreement.
If the G20 matters, North America, gets an "F" so far
The stress on the food supply chain continues to grow the longer Covid-19 lasts. On April 28th Meat producer JBS said it was reopening a Minnesota pork plant, that was shuttered by the pandemic to euthanize up to 13,000 pigs a day for farmers, not to produce meat for consumers.
Governments must get a handle on the cull of livestock and the billions of dollars of rotting produce meant to go to our populations. There are thousands of people that are hungry. The use of Food Banks in North America has hit new records, with more people needing help every day. But at the same time billions of dollars of food is being destroyed.
What's wrong with the picture? It is just wrong; the USDA has set-up a Coordination Center to help farmer either sell their products or help kill and dispose of the carcasses in mass. All this, while people go hungry in the same country during a pandemic.
Governments need to step in and redirect this food from a landfill to population that needs it. Until this happens, the links in our food supply chain will continue to be stressed. Food for thought.
PANDAMNIT! Alberta cancels festivals & gatherings over 15 people till September
House passes bill creating carve-outs for farmers in Canada's carbon pricing scheme
A field of wheat is pictured near Cremona, Alta., Tuesday, Sept. 6, 2022. THE CANADIAN PRESS/Jeff McIntosh
By David Fraser in Ottawa
A private member's bill that would create specific carve-outs for farmers in Canada's carbon pricing scheme has passed in the House of Commons.
The bill would exempt farmers from paying for emissions from natural gas and propane they use for certain activities performed on their farms, such as drying grain, preparing feed, irrigating and heating barns.
It passed with the support of Conservative, NDP, Bloc Québécois and Green Party MPs, with a few Liberals, including agriculture committee chair Kody Blois, joining the opposition parties to vote in favour.
The private member's bill introduced by Conservative MP Ben Lobb in February 2022, which would not exempt farmers from the carbon price for activities performed off-site, will now be debated in the Senate.
Farmer groups have said they are facing rising production costs, and the proposed law would give them critical financial relief from rising costs.
The Agriculture Carbon Alliance, which was created by industry groups in 2021 in response to the federal Liberals' climate policies and advocates for sustainable farming, celebrated the bill's progress on Thursday.
"This legislation will provide farmers with the resources to invest in innovative and sustainable on-farm practices, while ensuring the stability of our food supply," said Dave Carey, the group's co-chair, in a statement.
The executive director of one of its members, the Grain Growers of Canada, said the law will offer significant relief if it is passed.
"As long as we don't have an alternative to fossil fuels, then there is no sense in punishing Canadian farmers for growing food," Erin Gowriluk said.
Not all are celebrating the law's advancement, however.
Tim Gray, executive director of the advocacy group Environmental Defence, said the law would weaken the government's response to climate change.
"Exempting these high-emission activities from carbon pricing for farmers will only further encourage other sectors to demand similar treatment," he said in a statement.
"This is already a problem as many industries, especially the oil and gas sector, have successfully lobbied for, and achieved, favourable treatment, which allows them to pay a much lower carbon price than others, regardless of their lack of actual degree of being energy intensive and trade exposed."
Agriculture Minister Marie-Claude Bibeau maintains that the federal government is helping farmers reduce their carbon footprints and ease financial burdens through a $3.5-billion sustainable agricultural partnership with provinces.
The federal carbon price already features an exemption for gasoline and light fuel oil costs used in tractors and trailers.
But farm groups have long contended that further exemptions are needed, and have at times disputed the federal government's characterization of how much the carbon price is costing producers, especially when it comes to drying grain. Grain must be dried before it can be stored and sold, particularly during wet harvests.
The bill that will now be debated in the Senate would only carve out exemptions for farmers who dry grain on their properties, and would not apply to off-farm activities. The law also includes a sunset clause that would allow a government to add, remove or renew the exemptions in eight years.
A previous bill introduced by a Conservative MP and widely supported by farm groups, which would have carved out similar exemptions, died on the order paper prior to the 2021 federal election.
Bibeau responded to farmers' concerns at the time by announcing dollars to help producers make their own grain-drying operations more environmentally sustainable.
The federal government says it is now spending $37.1 million on 99 grain drying projects as part of its $495.7 million Agricultural Clean Technology program.
Gowriluk said that Russia's invasion of Ukraine has had an impact on the way that federal politicians discuss agricultural policy, arguing that the conversation to focus on what Canada can do to help internationally.
A significant part of that is to "grow as much as we possibly can," she said.
"There's an increasing recognition from Canadian politicians that this isn't easy, and if there's anything they can do to alleviate the burden, and help keep farmers in the green rather than the red, then they're prepared to step up and do that."
Though it is rare for private member's bills to make it all the way through Parliament, minority government situations can create more collaboration between parties.
A second private member's bill focused on the Liberals' climate policy passed in the House of Commons during the same sitting this week, with support from Liberal MPs and ministers.
Green Party Leader Elizabeth May proposed the law, which would require the government to develop a national strategy to address environmental racism within two years of its passage.
A previous version of the bill, introduced by former Liberal MP Lenore Zann, also died on the order paper in 2021 prior to the election.
May acknowledged this week during debate about the bill that the law will require the government to play ball.
"It will then need to have the support from the government of the day and the support of the finance minister to fund the programs, so that communities of colour, Indigenous communities and poor communities are not left without access to environmental justice," she told MPs.
This report by The Canadian Press was first published March 30, 2023.
UFA announces Farm & Ranch Supply story in Gasoline Alley along with historic $28 million patronage membership dividend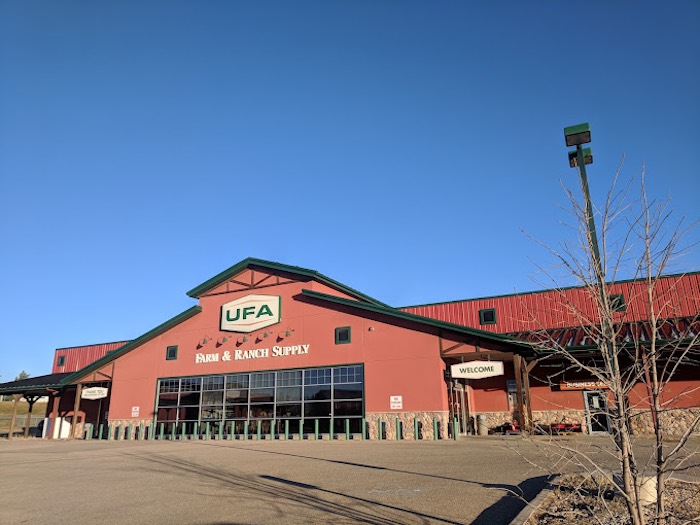 UFA Announces $28 Million Patronage Dividend
UFA shared big news today announcing a historic patronage dividend of $28 million back to its membership and fully opening two new locations in Saskatchewan!
UFA has consistently delivered patronage to its members, this marks the sixth consecutive year of increased patronage and a 56 per cent increase over last year.
One of the primary benefits to being a co-operative member is patronage, and this year's patronage dividend is truly significant. We have expanded our patronage program to reward our membership by paying on more categories of purchases. More products our members use daily on their farm, ranch, or for their business now earn them patronage rewards. We are proud to grow and deliver patronage consistently. At UFA, members can count on their co-operative and on patronage.
Scott Bolton, President and CEO, UFA
With a minimum $5,000 purchased in 2022, Patronage will be paid on Clear and Dyed Dieselex® Gold (6 cents per litre), Clear and Dyed Diesel (5 cents per litre), Clear and Dyed Gasoline (1 cent per litre), and 3 per cent on most other purchases, excluding Micro Beef, crop nutrition (i.e. bulk fertilizer and micro-nutrients) and leased purchases.
We believe good business is rooted in investing in good relationships and consistently rewarding our membership with a growing patronage dividend demonstrates our commitment. We take great pride in our patronage program. As owners of UFA, our success is truly our members' reward.
Kevin Hoppins, Board Chair, UFA.
UFA had a very strong fiscal year. In addition to the $28 million patronage dividend, it reported $2.4 billion in financial revenues and $157 million in earnings before interest, taxes, depreciation, and amortization (EBITDA).
The co-operative continues to invest in core businesses. Along with a multi-phased Saskatchewan expansion, it increased its Dieselex Gold® offering with the premium product available at its new locations. UFA also unveiled plans for a new Red Deer Farm & Ranch Supply store location to be built in Gasoline Alley. It demonstrated its commitment to its customers launching UFA MarketPLACE, expanding its product selection and featuring products not otherwise available in its Farm & Ranch Supply stores. Most importantly, health and safety remained a key priority. UFA first received its COR Certification in 2007 and since 2013, has been consistently at or above a 95 per cent score, with an impressive final score of 96 per cent in the 2022 COR Audit.
In addition to the $28 million patronage announcement, UFA shared that it officially opened its doors in Weyburn and Yorkton. These sites are part of the expansion of UFA's petroleum business into key markets in central and eastern Saskatchewan.
We believe in the value of giving our members and customers choice. People living in or nearby these communities now have another option of where to spend their hard-earned dollars. Expanding our network is part of a concerted strategy to grow from an Alberta-focused fuel and agribusiness co-operative to a western-Canadian leader.
Scott Bolton, President and CEO, UFA
Meet the Weyburn and Yorkton Petroleum Agents
UFA is leveraging its agent operating model at its new locations. The agents are excited to serve their local communities and provide the excellent service that UFA is known for. Jason and Laura Lee Petersen will be operating Weyburn and Mark Lukash is the Yorkton agent.
The combination of a robust supply chain, one of the largest Cardlock networks in Western Canada, and strong agent partners is essential to the success of UFA's petroleum business.
Features of the new UFA petroleum locations:
Gasoline and Clear and Dyed Diesel

DEF

at the pump and UFA, Shell and Chevron branded lubricant products

High-speed pumps and wide lanes

State-of-the-art warehouse and office

Dieselex® Gold

. UFA is pleased to offer its exclusive diesel offering to Saskatchewan. This top-tier premium product is engineered to enhance fuel efficiency, reduce maintenance, and increase power.
UFA is the exclusive distributor of Dieselex® Gold
UFA also announced Dunmore and Saskatoon as the next locations in UFA's expansion strategy
The new Dunmore, Alberta petroleum location will complement UFA's solid operating presence in the region and will eventually replace UFA's existing petroleum site in the southwest end of Medicine Hat.
Saskatoon services a large portion of west and central Saskatchewan and has accessibility from Highway 16 for travelers along the corridor, including from Lloydminster. The new site will be able to service local industrial and agricultural businesses conveniently.
The 114-year-old member-owned co-operative will continue to grow to service major agribusiness, oil and gas and industrial centres throughout Western Canada. Dunmore, Alberta, and Saskatoon, Saskatchewan, locations will complement UFA's existing petroleum locations in Alberta and Saskatchewan.
UFA is committed to investing in our network and bringing our unique product selection to new locations throughout Western Canada. The regions around Dunmore, Alberta, and Weyburn, Yorkton and Saskatoon, Saskatchewan, and the other markets selected for additional locations are key marketsin Western Canada's agribusiness and industrial economy. The expansion project will provide significant investment throughout Western Canada and UFA looks forward to serving the local communities where the new petroleum sites will be located. Along with looking at new investment opportunities, we believe it is essential to give back to rural communities we serve, ensuring they thrive well into the future.
Don Smith, Vice President, Petroleum and Innovation, UFA.
Weyburn UFA Petroleum Agency
Founded in 1909, UFA Co-operative Limited is an Alberta-based agricultural co-operative with more than 120,000 member-owners. UFA's network comprises 113 bulk fuel and Cardlock Petroleum locations, 34 Farm & Ranch Supply stores and a support office located in Calgary, AB. Independent Petroleum Agents and over 1,000 UFA employees provide products, services and agricultural solutions to farmers, ranchers, members and commercial customers in Alberta, British Columbia and Saskatchewan.