PANDAMNIT! Alberta cancels festivals & gatherings over 15 people till September
Alberta's chief medical officer of health Dr. Deeena Hinshaw had some advice Thursday to all Alberta summer festivals, sporting events, leagues and event organizers that have more than 15 people in attendance; if you have not already cancelled your events, you should do so as soon as possible.
"This decision was not made lightly – we must do everything we can to prevent the spread of COVID-19." Hinshaw said during the daily Alberta press pandemic update, "I know summer festivals and events are incredibly important for many people," She also advised people to avoid visiting summer homes and any non-essential travel.
For decades Edmonton has proudly boosted itself as a festival city, so this news puts more pain, hurt and loss on top of so much that has already come since Covid- 19 has swept around the world. "I know this is incredibly disappointing. We all look forward to summer," Hinshaw continued, "This virus has taken many things from us and this is another loss to absorb."
The province's officials saw no other choice but to do a blanket ban on summer events and festivals as necessary because of COVID-19's ability to "spread like wildfire in large groups of people," Dr. Deena Hinshaw explained.
"To be clear, the orders in place prohibit gatherings of more than 15 people. They also require people gathered in groups of fewer than 15 to maintain a distance of two metres from one another," Hinshaw explained. "I know summer festivals and events are incredibly important for many people. They provide fun and entertainment in every part of this province, and many people depend on them for livelihood." Adding, "But we must do everything we can to prevent the spread of COVID-19. We have seen that festivals and large gatherings hold the potential to be super-spreader events."
"While we are all eager for a relaunch and want to see an easing of restrictions, now is not the time to have people moving through the province and possibly unknowingly spread the virus," Hinshaw said.
While all events over 15 people are now cancelled until at least September at the earliest, Hinshaw mentioned that there are still activities Albertans can enjoy safely outside, including walks and gardening.
To read more on Todayville click here.
Saskatchewan to start reopening from the coronavirus on May 4 using a 5-point plan
Northern Alberta community of Fort Chipewyan evacuated due to wildfire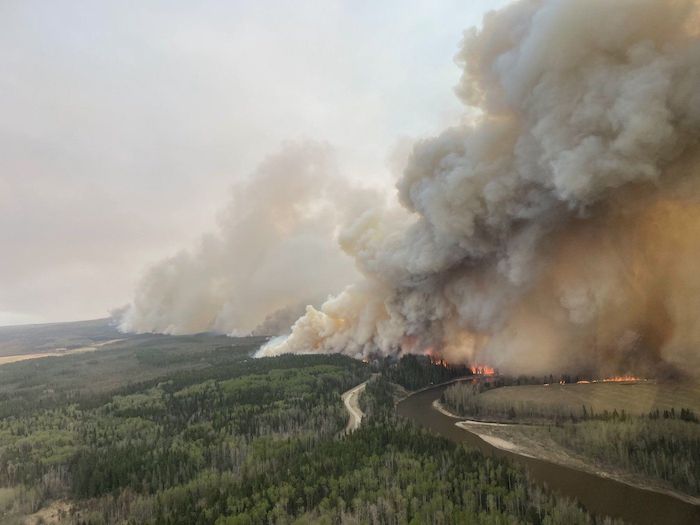 A large wildfire burns this handout image provided by the Government of Alberta and posted on their social media page. THE CANADIAN PRESS/HO-Government of Alberta- Alberta Wildfire
Fort Chipewyan
A hamlet in northern Alberta has been placed under an evacuation order as a wildfire burns nearby.
Residents of Fort Chipewyan, a community of about 800 people, had been told earlier in the day to be ready to leave with 15 minutes' notice.
Athabasca Chipewyan First Nation, Mikisew Cree First Nation, Fort Chipewyan Métis Nation and the Regional Municipality of Wood Buffalo issued a joint evacuation order for the community.
Officials say the out-of-control wildfire is about eight kilometres away from Fort Chipewyan's airport and is about 30 square kilometres in size.
The evacuation is being handled in stages, starting with residents in Allison Bay, the community closest to the wildfire boundary.
Air transportation to Fort McMurray, about 300 kilometres to the south, is being arranged, as well as temporary accommodations in Fort McMurray and Fort McKay for evacuees.
This report by The Canadian Press was first published May 30, 2023.
Tabulation change led to delay in voting results: Elections Alberta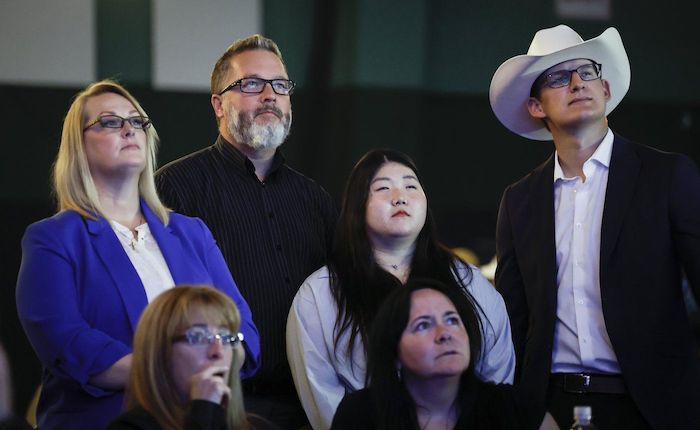 United Conservative Party faithful gather to watch election returns in Calgary, Monday, May 29, 2023. An Elections Alberta official says a change implemented in how "vote anywhere" ballots in advance voting are counted likely contributed to delays in the publishing of results in Monday's provincial election. THE CANADIAN PRESS/Jeff McIntosh
By Bill Graveland in Calgary
An Elections Alberta official says a change in how advance "vote anywhere" ballots are counted likely contributed to a delay in publishing the results in Monday's provincial election.
Only a small fraction of results were available 90 minutes after polls closed.
And a United Conservative Party win wasn't called for another 90 minutes after that.
At some points, a candidate was shown as leading in a riding with a single vote.
Robyn Bell, a spokeswoman for Elections Alberta, says a key change made after the province's 2019 election was likely a factor.
She said it involves ballots that allow Albertans vote in advance at any polling station in the province.
"The report of tabulator results was occurring in returning offices for the first time this year. In the previous election in 2019, those ballots were transported back to Elections Alberta for a count and you may remember that resulted in a 2-1/2 day delay in reporting after the election," she said.
"They're not just counting votes for the candidates in their electoral division, they could be counting results for candidates in multiple divisions."
As well, Bell said transmitting the official statement of votes has to be inputted into the results site and every step of the way has a verification process.
"That just takes time and we prioritize the accuracy of reporting over the speed of reporting is ultimately what it comes down to."
Bell said after every election, there's an opportunity to provide recommendations on what went well and what didn't. Recommendations come in the report of the Chief Electoral Officer about six months after the election. She said the legislative assembly also has a chance to make suggestions.
"It could result in changes for the next provincial election."
Bell said despite the criticism, she thought things went well, although she understands the public was anxious to see the final results.
"It's just an evolution in the vote universe," she said.
"In 2019, I think the delay in counting ultimately kind of resulted in people feeling like their vote didn't matter, because the election was called before those 'vote anywhere' ballots were even counted."
Bell said there will be automatic recounts in Calgary Acadia and Calgary Glenmore, since the margin of victory in those constituencies was under 100 votes.
This report by The Canadian Press was first published May 30, 2023.