PANDAMNIT! Alberta cancels festivals & gatherings over 15 people till September
Alberta's chief medical officer of health Dr. Deeena Hinshaw had some advice Thursday to all Alberta summer festivals, sporting events, leagues and event organizers that have more than 15 people in attendance; if you have not already cancelled your events, you should do so as soon as possible.
"This decision was not made lightly – we must do everything we can to prevent the spread of COVID-19." Hinshaw said during the daily Alberta press pandemic update, "I know summer festivals and events are incredibly important for many people," She also advised people to avoid visiting summer homes and any non-essential travel.
For decades Edmonton has proudly boosted itself as a festival city, so this news puts more pain, hurt and loss on top of so much that has already come since Covid- 19 has swept around the world. "I know this is incredibly disappointing. We all look forward to summer," Hinshaw continued, "This virus has taken many things from us and this is another loss to absorb."
The province's officials saw no other choice but to do a blanket ban on summer events and festivals as necessary because of COVID-19's ability to "spread like wildfire in large groups of people," Dr. Deena Hinshaw explained.
"To be clear, the orders in place prohibit gatherings of more than 15 people. They also require people gathered in groups of fewer than 15 to maintain a distance of two metres from one another," Hinshaw explained. "I know summer festivals and events are incredibly important for many people. They provide fun and entertainment in every part of this province, and many people depend on them for livelihood." Adding, "But we must do everything we can to prevent the spread of COVID-19. We have seen that festivals and large gatherings hold the potential to be super-spreader events."
"While we are all eager for a relaunch and want to see an easing of restrictions, now is not the time to have people moving through the province and possibly unknowingly spread the virus," Hinshaw said.
While all events over 15 people are now cancelled until at least September at the earliest, Hinshaw mentioned that there are still activities Albertans can enjoy safely outside, including walks and gardening.
To read more on Todayville click here.
 Saskatchewan to start reopening from the coronavirus on May 4 using a 5-point plan
Stars and RCMP chopper combine to rescue fallen ice climber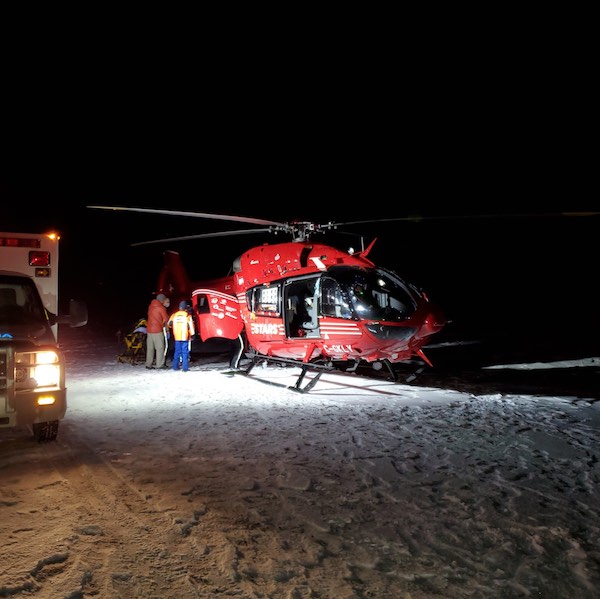 From Alberta RCMP media relations
Rocky Mountain House RCMP assist in ice climber rescue
On Jan. 15, 2021 at approximately 2:30 p.m., Rocky Mountain House RCMP received a dispatch of a fallen ice climber who was in need of medical assistance. A SOS beacon was received locating the fallen ice climber at the south end of Abraham Lake. Reports indicate the climber fell approximately 12 meters.
RCMP, EMS, Search and Rescue (SAR), STARS air ambulance and Alstrom Helicopters assisted in the rescue. The 28 year old injured male was long line rescued from his location by Alstrom Helicopters, with the assistance of Rocky Mountain House SAR. STARS was waiting nearby and further transported the injured male to a Calgary hospital.
The rescued male suffered serious but non life threatening injuries as a result of his fall.
Everyone who assisted in this rescue should be commended for their professional, swift and incredible work. Well done!
Oilers place goalie Mike Smith on long-term injured reserve
EDMONTON — The Edmonton Oilers have placed goaltender Mike Smith on long-term injury reserve, and have re-assigned Olivier Rodrigue to the club's taxi squad, pending quarantine protocols. 
Edmonton announced both transaction on Friday, but did not elaborate on Smith's injury.
Smith was supposed to start Thursday's game at home against the Vancouver Canucks but was declared inactive, forcing Mikko Koskinen into back-to-back starts. 
Smith and Koskinen were expected to split duties in the Oilers net this season. Edmonton re-signed the 38-year-old Smith to a one-year contract in the off-season. 
Rodrigue had been with the Graz99ers of the Austrian National League.
The 20-year-old Rodrigue was drafted 62nd overall by Edmonton in 2018.
This report by The Canadian Press was first published January 15, 2021.
The Canadian Press