Update: Virtual concert raises more than $40K for Cancer Research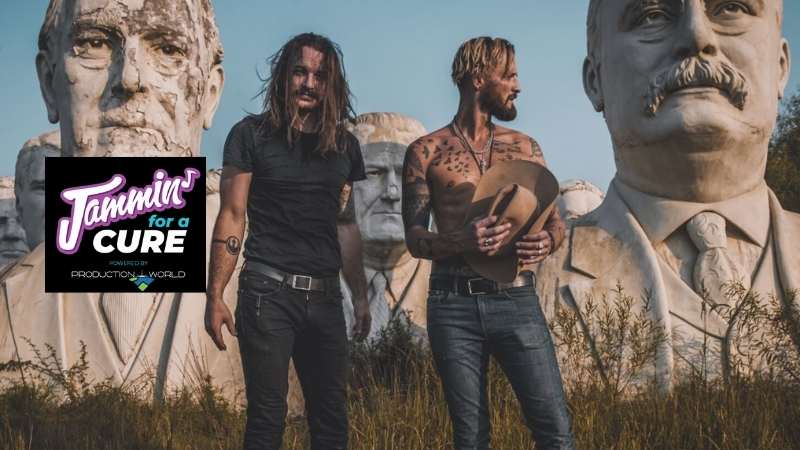 This weekend's Jammin' For a Cure concert raised more the $40,000 for Cancer Research, with funds raised being earmarked for the work of Dr. Michael Chu, a clinician scientist at the Cross Cancer Institute. His research is for a new treatment known as Chimeric antigen receptor (CAR) T-cell therapy.
The 18 hour live performance was a great event.  If you missed it, we have the links right here for you.
Friday:  Click here 
Saturday: Click here.
If you missed the show on the weekend, check it whenever you wish, and share it. The concert featured some really good performance from local, regional, national, and international artists.  A highlight for me was El Niven and the Alibi. After doing some crazy tours, one from Tijuana to La Paz, performing fully amplified street concerts, and another from Edmonton to New York, across to L.A. and back to Edmonton.  More than 400 shows over 3 years hones your skill, and this trio has a ton of skill.
Here's a video they recently released called Likker.   If you like the thoughts of a mash up between a 6'5″ Freddie Mercury, Frank Zappa, Commander Cody, and then you put an old worn telecaster in this volatile combination of a man's hands, and say to him, go out and do something magical, and maybe just a bit crazy, then El Niven should appeal to you. Click here to learn more about El Niven and the Alibi.
Original story from March 26, 2021
I think we can all agree that few of us have been touched more by cancer than any other disease. One of the organizations trying to make a difference is the Cure Cancer Foundation, founded by a group of volunteers with a desire to more directly fund research and treatment programs.
And, what better way to raise money than with live music. Let's face, it's been an awful year without clubs and bars open, and no concerts and festivals. So maybe take a break from Netflix this weekend and take some time and catch some amazing talent, many of whom you've listened to in your favourite venue over the years. Many have been very busy creating new work during this last year and I'm sure you'll hear some excellent new music throughout the weekend. In fact, here's something recent from Brett Kissell.
Jammin' For a Cure is a live concert event taking place over 18 hours, starting tonight at 6 PM when Alberta's own Brett Kissel kicks off a night of great music with artists that include Clayton Bellamy, Martin Kerr, and Jesse Roads.  (The full list of talent and the schedule is below).
Saturday, the music begins at noon with Confounded Dials.  Some excellent solo artists and bands will perform throughout the day, including Josh Sahunta, Dahlia and the Villains, Stephanie Harpe Experience, Maria Dunn, Stevon Kayla, and John Hewitt.
Alfie Zappacosta kicks of the evening slate of acts Saturday night at 6 PM followed by artists like Hailey Benedict, Bardic Form, Amy Metcalfe, Kesara Kimo and guest Evrlove, and runs right through to 11:40 PM with Canadian Coldwater Revival closing the show.
I have been invited to appear on this bill as well and I'm pretty pumped to strap on a guitar and perform on Saturday at 3:40 PM for a 20 minute set. Having lost my mom to ovarian cancer in 1994, I do what I can to help.
And a big shout out to Jon Beckett and his talented, experienced team at Edmonton's Production World for making all of this possible.
Remember these are free concerts.
Here's the link for Friday (tonight).
Here is the link for Saturday.
Friday Line up
6-6:40 PM Brett Kissel
7-7:40 PM FKB
7:40-8 PM Olivia Rose
8-8:40 PM Clayton Bellamy
8:40-9 PM Stevon and Kayla Artis
9-9:40 PM Martin Kerr
10-10:40 PM Jesse Roads
11-11:40 PM Guitarface
Saturday starting at noon
12-12:40 PM Confounded Dials
12:40-1 PM Tracy Lynn Byrne
1-1:40 PM Josh Sahunta
1:40-2 PM Brenda Dirk
2-2:40 PM Dahlia and the Villains
2:40-3 PM Kaylee Caura-Lee
3-3:40 PM Kane Incognito
3:40-4 PM Lloyd Lewis
4-4:40 PM Stephanie Harpe Experience
4:40-5 PM Maria Dunn
5-5:40 PM Stevon Kayla and the Heavenly Band
5:40-6 PM John Hewitt
6-6:40 PM Alfie Zappacosta
6:40-7 PM Hailey Benedict
7-7:40 PM Bardic Form
7:40-8 PM Amy Metcalfe
8-8:40 PM El Niven and the Alibi
8:40-9 PM Darrell Barr
9-9:40 PM Kesaro and Guest Artist Evrlove
9:40-10 PM Danny Floyd Cole
10-10:40 PM Jusjrdn and DJ Kwake
10:40-11 PM Mightberea
11-11:40 PM Canadian Coldwater Revival
The whole purpose is to raise money.  Here's the link to make a donation right now.
As well, there's a host of great silent auction items you can bid on, from autographed jerseys to signed guitars. Click here to get started.
About Cure Cancer Foundation
Cancer doesn't stop. No matter what's going on in the world, Cancer is always there, hurting those we love. Jammin' For A Cure will be raising money for Dr. Michael Chu, a clinician scientist at the Cross Cancer Institute, who is leading the charge with a new treatment known as Chimeric antigen receptor (CAR) T-cell therapy.
This therapy turbocharges the immune system to create killer immune cells that can wipe out cancers. This alters the patient's own cells to be a new "barcode reader" and find the hiding cancer cells. This treatment is predicted to make the most significant difference in blood cancers such as multiple myeloma, leukemia, and lymphoma patients, even those with multiply relapsed cancers.
We want to help fund great research like this to help Albertans, and people everywhere, receive the treatment they need. Your support will provide hope to people who would otherwise die of their cancer – despite all the best-known treatments. You are giving people a better chance of a cancer-free outcome and more time with their families, friends, and loved ones.
Todayville is very happy to support this event. Click here to read more stories on Todayville.
Alberta's referendum should not focus on daylight time, psychologists say
EDMONTON — Ditching the practice of switching the time twice a year may seem like a no-brainer to some, but Alberta psychologists warn that the result of a provincial referendum could have unexpected consequences.
The referendum on daylight time is on the ballot alongside Alberta's municipal elections on Monday. There is also a referendum on the federal equalization program. Additionally, in Calgary, there is a plebiscite about adding fluoride to the city's drinking water.
In recent years, there has been a push to stop forcing people to change their clocks, particularly in the spring when people can lose an hour of sleep.
Studies all over the world have linked the time change to increases in car crashes, depression, lower productivity, as well as to higher risks for heart attacks and strokes.
Michael Antle, a psychology professor at the University of Calgary who studies circadian rhythms, said ending time changes is a good thing. But Alberta should stick to standard time, not daylight.
"We do have some acute mismatch between our circadian clock and our work cycle in the spring when (we set our clocks forward)," he said.
"The better choice for Alberta in particular, but we are advocating for this everywhere, is the more natural standard time, where what your circadian clock is telling you to do and what your boss is telling you to do are less mismatched."
The Alberta referendum does not give people that option. The question posed to voters is: "Do you want Alberta to adopt year-round Daylight Saving Time, which is summer hours, eliminating the need to change our clocks twice a year?"
Antle said the question isn't well phrased and shouldn't put an emphasis on summer. 
"Everybody loves summer. If you vote against summer, you are just mean," he said. "I think that will influence a lot of people's choice."
He noted that switching to daylight time permanently will not make a difference in Alberta in the summer, but it would mean dawn at about 10 a.m. in most of the province in the winter.
The best time zone puts 12 p.m. as close as possible to solar noon, which is when the sun is at its highest point the sky, he said.
But Alberta is farther west than other places in the Mountain Time zone. That means in Calgary, for example, solar noon during standard time can happen as late at 12:50 p.m. During daylight time, he added, it happens around 1:45 p.m.
"In fact, we already have daylight time when we are on standard time and we are on double daylight time when we are on daylight time," Antle said. 
In 2019, Service Alberta posted an online survey about daylight time and 91 per cent of the 140,000 responses voted in favour of sticking to daylight time year-round, the ministry responsible for the agency said in an email.
"Many governments across Canada and United States are bringing forward or contemplating legislation to lock their clocks to a single time year-round," said Taylor Hides, spokeswoman for Service Alberta Minister Nate Glubish. 
"While we are not bound by the decisions made by other jurisdictions, we are affected by them, so it makes sense to ask Albertans this question."
British Columbia and Ontario have said they would wait until neighbouring jurisdictions agree to make the change at the same time. In the U.S., states cannot make the change without the approval of Congress, which has yet to happen.
Yukon made the change to permanent daylight time last year and Saskatchewan, with the exception of the boundary city of Lloydminster, stopped changing clocks decades ago.
Alberta's time referendum is binding, but Premier Jason Kenney has said the province could hold off until other jurisdictions make the same change.
Kyle Mathewson, an associate psychology professor at the University of Alberta, said having fewer hours of sunlight in the morning could have long-term health consequences, such as increases in certain cancers, obesity and diabetes.
"The issue with this from a neuroscientific perspective is that our rhythms of waking up and going to sleep are governed by the amount of lights in our environment," he said. "These early morning light hours are very important in setting that rhythm for us."
Mathewson suspects daylight time might also be favoured from an economic perspective.
"Thinking about this extra hour after school when there is lightness, you could think of that as stimulating the amount people go out and spend money at the local shops and those are all good things," he said.
"But that stimulus of the economy shouldn't come at the expense of our health."
This report by The Canadian Press was first published Oct. 16, 2021.
Daniela Germano, The Canadian Press
Blue Bombers become first CFL team to earn playoff spot with 26-16 victory over Elks
EDMONTON — Zach Collaros threw two touchdown passes as the Winnipeg Blue Bombers defeated the Edmonton Elks 26-16 on Friday night to become the first CFL team to clinch a playoff berth.
Winnipeg (9-1) captured its seventh straight victory and improved to 7-0 within the West Division. Collaros finished 15-of-24 passing for 210 yards with an interception to remain the CFL's passing leader (2,565 yards) but is also tops in TD passes with 15.
This marks the fifth straight season that Winnipeg, the defending Grey Cup champion, has made the playoffs.
Edmonton (2-7) suffered its fifth straight loss and dropped to 0-5 at home this season.
Edmonton's defence forced a safety at 9:31 of the first quarter, then came up big five minutes later as Trumaine Washington intercepted Collaros in the end zone. The Bombers closed out the opening quarter with a 37-yard Ali Mourtada field goal.
The Elks responded with Sean Whyte's 34-yard field goal at 11:22 of the second.
Winnipeg took the lead with three minutes left in the first half as a 47-yard completion to Kenny Lawler set up Collaros's five-yard TD strike to Andrew Harris. But Harris appeared to suffer an injury to his right knee and did not return as Brady Oliveira finished up with 105 yards rushing on 16 carries.
Whyte kicked a 25-yard field cut Winnipeg's half-time lead to 10-8.
Mourtada converted from 27 and a career-high 43 yards to start the third. Edmonton tied it 16-16 on Taylor Cornelius's 11-yard TD toss to Shai Ross. Backup quarterback Dakota Prukop added the two-point convert.
Rookie Cornelius got the start as incumbent Trevor Harris was a healthy scratch.
Moments after Elks defender Aaron Grymes couldn't hang on to an easy interception opportunity, Collaros hit Rasheed Bailey on a 48-yard completion before finding him on a five-yard scoring strike six minutes into the fourth.
Mourtada cemented the win with a 23-yard field goal with 50 seconds remaining.
Winnipeg hosts the B.C. Lions next Saturday while Edmonton has a bye week before returning home against the Hamilton Tiger-Cats on Oct. 29.
NOTES: Harris being sidelined while healthy has led to speculation the Elks are actively shopping their veteran quarterback on the trade front… Lawler returned to the lineup after being suspended by Winnipeg for its last game for an impaired driving arrest… The actual attendance appeared to be far beneath the announced 24,276 fans.
This report by The Canadian Press was first published Oct. 15, 2021.
This report by The Canadian Press was first published Oct. 15, 2021.
The Canadian Press