Literacy, numeracy, citizenship and practical skills featured in new Alberta K-6 curriculum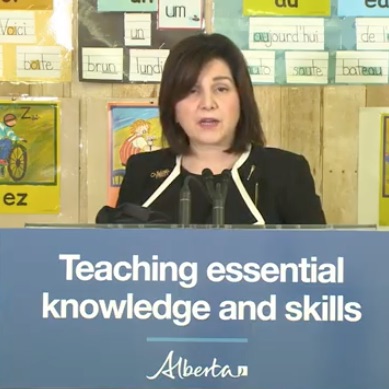 The following is a news release from the Province of Alberta
New K-6 curriculum: Renewing focus on essential knowledge and skills
Alberta's updated draft kindergarten to Grade 6 curriculum brings a renewed focus to literacy, numeracy, citizenship and practical skills, giving students a strong base of essential knowledge for future learning.
The revised and strengthened K-6 curriculum – the result of more than a year of consultations with parents, teachers, and subject matter experts – is based on proven research and is designed to improve student outcomes across all subjects, following several years of declining and stagnant student performance.
"The new curriculum delivers on our commitment to Albertans to refocus learning on essential knowledge and skills in order to give our children the best possible chance at success. Parents and teachers have waited a long time for this, and I'm pleased to say that we've delivered. Another promise made, promise kept."
Parents and teachers will see four key learning themes in the revised curriculum that spans all grades:
Literacy

Using phonics and other proven best practices, students will be taught to master reading, writing, speaking, and listening in order to build a strong foundation for learning.

Numeracy

By learning to think fluently about numbers and equations, students will gain essential knowledge for everyday tasks and a foundation for more complex learning in the future.

Citizenship

Drawing from history, geography, economics, civics, and other studies, students will develop an appreciation of how Canadians have built one of the most generous, prosperous, and diverse societies in the world.

Practical skills

From household budgeting, to digital literacy, business planning, healthy relationships and the importance of consent, students will learn a new set of essential skills that will prepare them for success in the real world.
"The new K-6 curriculum is inspired by the science of reading and brings to our teachers, parents, and children what is currently known around the world as best practice to support our children to become successful readers and writers."
"This new draft curriculum is clear, concise, concrete and comprehensive. I am excited for both the teachers and their students, as it is a huge step forward towards evidence-based best practices in math education. This increased standard of excellence will give many parents great confidence that all our children will develop the mastery of fundamental knowledge, understanding, and skills in mathematics necessary to succeed in life."
"The Edmonton Chamber applauds the new focus this curriculum places on financial literacy and the foundational skills that employers and entrepreneurs rely on each and every day. This will help spur creative thinking and fuel a new generation of Alberta entrepreneurial leadership."
"As a former member on the Truth and Reconciliation Commission of Canada – Alberta, during our hearings was the first province to 'publicly declare that it was launching its own initiative to develop mandatory curriculum on the Treaties and residential schools for all students'. We believed that education, in general, is the key to reconciliation and with the work done to date; it is consistent with the United Nations Declaration in the promotion of respectful relationships between citizens and as a Chief, I am honoured to be a validator to the new education curriculum and look forward to its transforming and positive change."
"Including computer science in Alberta's new K-6 science curriculum is a watershed moment; it means Alberta students will now learn the foundational ideas, problem-solving and creative thinking skills behind this 21st century science which now touches nearly every aspect of our lives."
"I am thrilled that the Alberta government has ensured that consent will be taught as an essential part of the K-6 curriculum. I have been advocating for these changes for many years and applaud this leadership. We clearly know that this topic thrives on society's ignorance and indifference so the sooner we give our young people the tools and confidence, the better. To prevent maltreatment we need to start at the youngest age possible, so, in my mind, this education will not only change lives, it will save them."
Alberta's government remains committed to a transparent review process. The draft K-6 curriculum is now online at alberta.ca/curriculum for all Albertans to provide feedback until spring 2022.
Next steps
Classroom validation, a process where school authorities are invited to test the draft curriculum, is targeted to begin in September with schools across the province that choose to participate.
Six million dollars have been set aside this fiscal year to support the new K-6 curriculum in select schools supporting validation. These funds will be used to develop critical resources and professional development to support teachers through this important validation phase.
Additional funds will be made available to support further implementation efforts in future budgets.
The feedback from Albertans and the classroom validation will be incorporated into the draft K – 6 curriculum before it is implemented across the province.
Students are expected to be learning from the new curriculum during the 2022-23 school year.
Quick facts
Alberta's Grade 4 student results for reading literacy in the Progress in the International Reading Literacy Study has declined over 10 years:

2006 score: 560 – ranked 1st of 45 countries
2016 score: 547 – ranked 17th of 50 countries

Alberta's Grade 4 student results in math and science in Trends in International Mathematics and Science studies declined between 2007 and 2019:

2007 math score: 505 – ranked 16th of 65 countries
2019 math score: 490 – ranked 39th of 64 countries
2007 science score: 543 – ranked 4th of 65 countries
2019 science score: 530 – ranked 16th of 64 countries

In September 2022, the draft Grades 7 – 10 curriculum is expected to be ready for classroom validation.
During the 2023-24 school year, the draft Grades 7 – 10 curriculum is targeted for province wide implementation.
In September 2023, the Grades 11 and 12 draft curriculum is targeted for classroom validation, with provincial implementation the next year.
Post-secondary schools must report on free speech efforts on campus, minister says
Edmonton – The Alberta government says it will require post-secondary institutions to report annually on their efforts to protect free speech on campus.
A news release from the Department of Advanced Education does not detail exactly what must be included in these reports, or say what the consequences would be if the requirements are not met.
Minister Demetrios Nicolaides signalled changes were coming earlier this week after the University of Lethbridge reversed its decision to host a speech by a former Mount Royal University professor whose comments on residential schools have drawn fierce criticism.
Frances Widdowson was fired from Mount Royal in late 2021 after she spoke of the educational benefits of residential schools while questioning whether abuses at the institutions amounted to cultural genocide.
Widdowson's campus speech this week was to centre on concerns that a mob mentality and "woke policies" increasingly threaten academic freedom.
The Alberta government says the latest move builds on its earlier work in 2019, when it required all 26 publicly funded post-secondary institutions in Alberta to either endorse the Chicago Principles on free expression, or develop a policy consistent with them.
"It is abundantly clear that more needs to be done to ensure our institutions are adequately protecting free speech," Nicolaides said in a written statement Friday.
Alberta's post-secondary institutions should be bastions of free speech and academic freedom that promote critical thinking. I will continue to explore greater steps we can take to strengthen free speech on campus."
This report by The Canadian Press was first published Feb. 3, 2023.
Overdose prevention services in Red Deer will soon transition to a mobile site operated by Alberta Health Services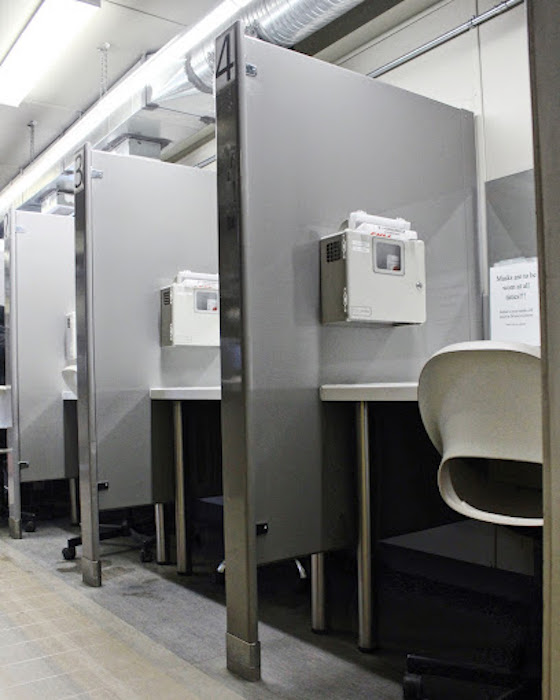 Next steps for Red Deer overdose prevention site
Alberta's government continues to make overdose prevention services available across the province while also ensuring the safety of communities and neighbourhoods is a top priority. Alberta's government will be working in partnership with Alberta Health Services (AHS) and Turning Point over the next three to six months to implement the transition to a mobile overdose prevention site operated by AHS.
This transition is necessary to respond to the changing needs in Red Deer while improving the standard of service delivery at the overdose prevention site. Alberta's government will continue working closely with the City of Red Deer and the broader community to put the safety and security of the community first while continuing to provide overdose prevention services in a professional manner.
"Overdose prevention services are healthcare services that must meet quality standards to ensure the safety of the community and a high-standard of care. Alberta Health Services is an accountable and proven operator that has experience managing these services across Alberta. My ministry will be working closely with AHS and the current operator over the next few months to smoothly transition these operations, ensuring there are no gaps in service for clients of the services."
"We appreciate the leadership of the government of Alberta in this area. We thank Turning Point for their service and the lives saved over the past several years. Ensuring the safety and wellbeing of Red Deerians is a top priority, and we are confident this new AHS-operated mobile site will continue to meet the needs of our residents."
Once the transition occurs, the new AHS-operated mobile unit will initially operate at the same location as the current overdose prevention site. Alberta's government will continue to work with the City of Red Deer, and may change the location of the service within Red Deer based on input from the municipality ­and the changing needs of the community.
As with all overdose prevention services in the province, this mobile unit will be regulated and be required to meet the quality standards outlined in the Recovery-oriented Supervised Consumption Standards in order to be licensed. Overdose prevention site service providers must also demonstrate clearly defined referral pathways to detox, treatment and recovery services, as well as primary health-care services.
Alberta's government is continuing to build a recovery-oriented system of care, where everyone struggling with addiction and mental health challenges is supported in their pursuit of recovery. This includes adding more than 9,000 new publicly funded treatment spaces, eliminating fees for residential addiction treatment, launching the Digital Overdose Response System (DORS) app and expanding opioid agonist treatment.
Quick facts
To be licensed, supervised consumption site service providers need to follow requirements related to:
the safety and security of clients, employees and the surrounding community
standardized data collection
staff qualifications and training
clinical practice standards
good neighbour agreements
physical site requirements, such as having access to washrooms for clients
Health Canada is responsible for granting exemptions under Section 56.1 of the Controlled Drugs and Substances Act to allow supervised consumption sites to operate. Overdose prevention sites require a similar exemption under Section 56(1) of the act or a letter of authorization from the Government of Alberta under the authority of the province's class exemption.
Alberta spends more than $1 billion annually on addiction and mental health care and supports, including prevention, intervention, treatment and recovery.
Any Albertan struggling with addiction can contact 211 Alberta to connect with local services and virtual supports. 211 is free, confidential and available 24-7.
The Virtual Opioid Dependency Program provides same-day access to addiction medicine physicians and life-saving medications to Albertans across the province. Albertans can call 1-844-383-7688 seven days a week, from 8 a.m. to 8 p.m. daily.