Trudeau wants an audience, not an opposition – Red Deer – Lacombe MP Blaine Calkins
Justin Trudeau has made it clear that he would like to permanently replace Parliament with press conferences. He wants an audience, not an Opposition and this is absolutely unacceptable.
Let me be clear, this isn't a partisan issue. This is about whether or not a democratic country like Canada should have a functional Parliament and frankly, right now with 1 in-person sitting day that lasts about two hours and 2 virtual sitting days that each last a couple of hours each a week we do not have a functional Parliament. Without regular sittings of Parliament, there is no regular oversight of the Liberal government. It's no wonder they don't want to come back. Moreover they are supported by the other opposition parties.
I am ready to go back to work in Ottawa in a safe and responsible manner! Canada's Conservatives are the only party who are pressing for a return to Parliament with regular working hours but with a reduced number of MPs for safety. If members of the Bloc or the NDP, or the Liberal back bench don't believe that Parliament is an essential service, they should answer as to why they ran for office in the first place.
Conservatives strongly believe in the role of Parliament. It is vital and it must be fully restored.
Hundreds of thousands of Canadians are hurting right now and they need our help. They need Members of Parliament to return to Ottawa to fight for them.
Active COVID cases continue to fall – Mike York update for January 17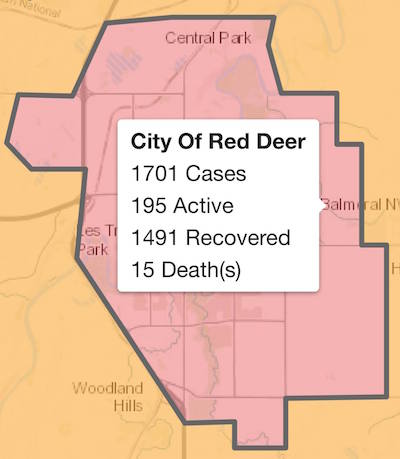 January 17 COVID update – noticeable drop of 15 active reported cases in Red Deer to 195 after 10 new cases but 23 recoveries. Unfortunately, there were also 2 new deaths bringing the total to 15.
Active cases are down from 1,209 to 1,182, with 8,209 cases to date. Hospitalizations sit at 65, down four, and ICU admissions are up one to 12. All ICU admissions in Central Zone are at Red Deer Regional Hospital.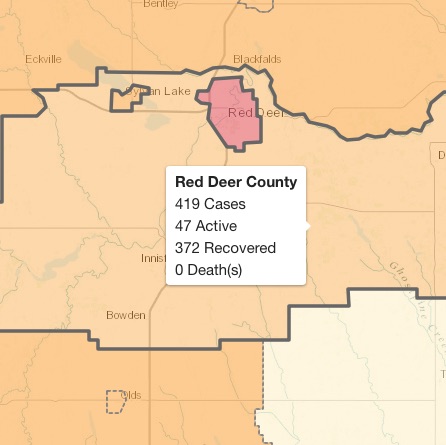 Red Deer County has 47 active cases, up one, the town of Sylvan Lake has 35, even with Saturday, and Olds has 27.
Lacombe County has 28 active cases, down one, and the city of Lacombe has 21, down six.
Ponoka County has 381, an increase of 15, though most cases there are in Maskwacis.
Clearwater County, which includes Rocky Mountain House, has 86 active cases, up two, and Brazeau County, which includes Drayton Valley, has 33, up two.
Mountain View County has 24, up two, Kneehill County has seven, down two, and County of Stettler has six, the same as yesterday.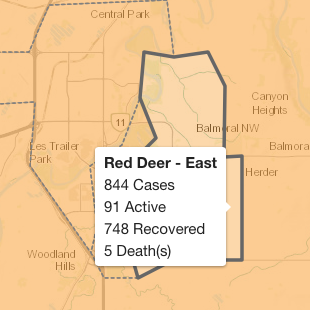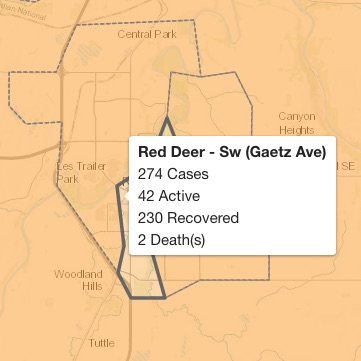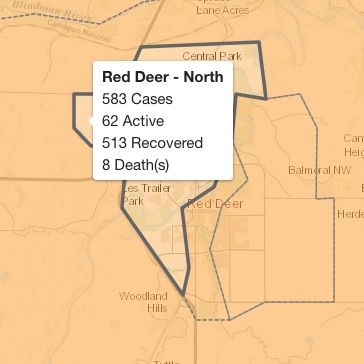 Meanwhile in Red Deer, the eastern section of town has dipped below 100 active cases for the first time in many weeks.  Cases are falling in Red Deer North (62) and in the South West as well (42).
COVID cases falling! Below 200 in Red Deer and under 1200 in all of Central Alberta – Mike York Update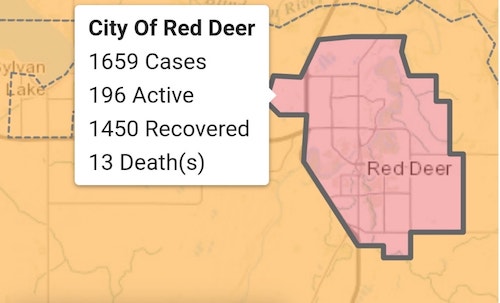 Thursday January 14th, 2021 Covid-19 update from AHS goes like this.
In the Central Zone, 64 new cases and 186 new recoveries.
Wow!
The total active cases has dropped dramatically since yesterday from 1275 to 1152 in our region.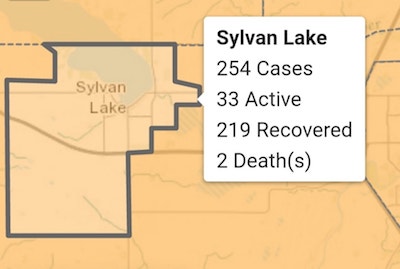 There are now 75 people in hospitals which is 5 fewer than yesterday's total. 15 of these people are in ICU. Sad to report 1 additional death in the zone since yesterday to bring that total to 65 to date.
Red Deer had some positive numbers also.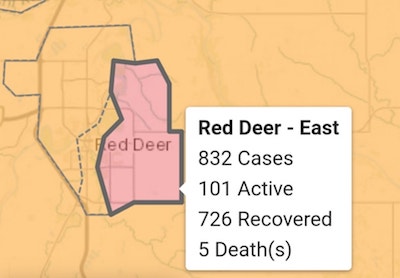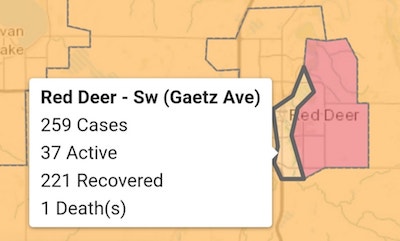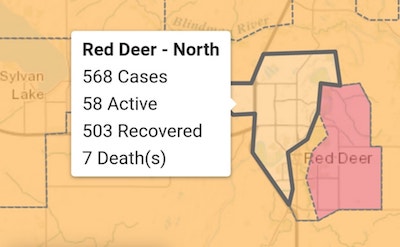 Just 13 new positive cases and 33 recoveries. Thus our active cases has decreased by 20 to just 196 at this time.
Very promising outlook going forward, it seems our current health measures are working, way to go people.
Cheers for now.