MP's report – A laundry list of Covid-19 failures should unite Canadians against PM Trudeau
"A house divided against itself cannot stand." – Abraham Lincoln
It is indeed a challenging time for Canadians. At no time in our recent history, possibly our entire history, has our nation been as divided as it is today. In the last 6 years we have been divided East to West and coast to coast to coast. In the last year we have been divided by province and territory and within our own province we have been divided by political party, by opinion and even by our faith. We have been divided by fear and we have been divided by anger. Make no mistake we ARE divided.
Unfortunately, not much has changed since the start of COVID-19 more than a year ago. Hospitalizations are on the rise and sadly, Albertans have died. We are still living under restrictions, businesses and livelihoods have been lost, increasingly families are in crisis and there is no end in sight. A year ago, we were "all in this together" and right now it appears that Canadians are trying to paddle the boat in two different directions, and we are getting nowhere.
I have no doubt that our current situation would be much less dire were it not for the failings of the Liberal government. Their series of missteps, misdirection, and mistakes have cost Canadians dearly.
In 2019, the Liberal government silenced the Global Public Health Intelligence Network (GPHIN), the early warning system that would have detected the COVID-19 pandemic just months before it began. According to the Globe and Mail "With no pandemic scares in recent memory, the government felt GPHIN was too internationally focused, and therefore not a good use of funding" (
https://www.theglobeandmail.com/…/article-without…/
)
The Liberal government then failed to close borders to our country, a decision that may have increased the number of cases in our country. They even went so far as to tell Canadians that closing the borders would not work and even suggested that we might be considered racists for doing so (
https://www.cbc.ca/…/covid-coronavirus-pandemic-trudeau…
). It took Canada a full month to follow the lead of our nearest neighbour before deciding to close the borders and in doing so finally closed Roxham Road (
https://torontosun.com/…/editorial-finally-roxham-road…
).
What has remained consistent during the last year is the Liberal's ability to hide and to deflect responsibilities. Amidst scandal, the Liberal's prorogued Parliament, eliminating the ability of opposition parties to suggest meaningful changes to legislation, which in turn delayed assistance to those who needed help the most. They failed to procure vaccines and rapid tests, key essentials to helping the provinces reopen and then sits back when the provinces shoulder the responsibility of managing restrictions designed to keep Canadians safe.
It's hard to imagine, but recently, the CDC advised that "travelers should avoid all travel to Canada" (
https://wwwnc.cdc.gov/…/destinations/traveler/none/canada
). This is our current reputation. As we watch the rest of the world open up, we will continue to lag behind and in turn our economic recover will suffer. This, as the rest of the COVID-19 response, lies squarely at the feet of Justin Trudeau.
I care about every person that I represent. I care about the future of our children; I care about the future of our businesses and our economy and I care about the health and well being of all Canadians. I would like to see our students in school, I would like to our graduates have ceremonies and be able to experience university on campus, not in their bedrooms. I would like to see businesses and churches with their doors wide open and I would like to visit communities and meet with the people I represent face to face. Whether you are a senior, a front-line worker, a teacher, a businessperson or someone who has been personally affected by COVID-19, I believe at the end of the day we all want the same thing. Unfortunately, these are not easy times; Canadians have lost on all fronts under the leadership of Justin Trudeau, and we are not out of the woods yet.
In just a few days, the Liberals will table a budget – this budget will be filled with promises that we simply cannot afford and will continue to divide us. He will bribe you with your own money and tell you how grateful you should be for the actions of his Liberal government. He will tell you proudly that "8 of every 10 dollars spent in Canada to fight
#COVID19
and support Canadians has been spent by the federal government."
Let us not be divided against each other. Instead let us recognize, together, why we are so divided and understand that it is the complete and utter failings of the Liberal government and how their decisions continue to divide Canadians. If the Liberal government won't change, then it's time to change the Liberal government.
NDP says covid restrictions should apply to all regions of Alberta equally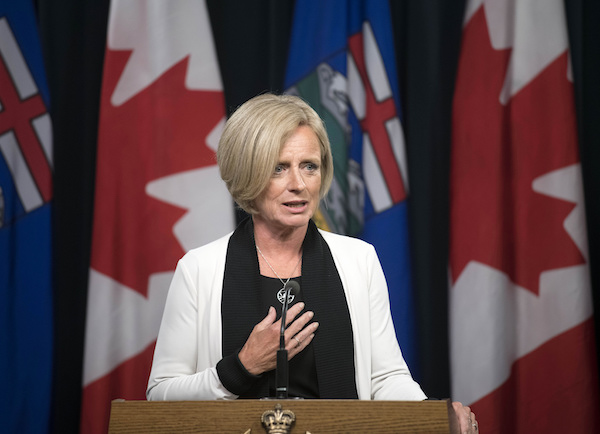 News Release from the Alberta NDP
KENNEY'S COVID RESTRICTIONS MUST APPLY TO ALL ALBERTANS AND BE EFFECTIVELY ENFORCED
Alberta's NDP is calling for the Premier to apply COVID-19 public health orders consistently and bring in effective enforcement. The Official Opposition also continues to call for support for families of students forced to learn at home, struggling small businesses and workers forced to work sick without paid sick leave.
"I wanted to hear a clear commitment from the Premier that he would consistently and effectively enforce the law," said NDP Leader Rachel Notley. "Instead, we have politically motivated exceptions and toothless enforcement."
Notley noted that a majority of the areas exempt from public health orders are represented by UCP MLAs who have undermined public health orders.
Today, Solicitor General Kaycee Madu denied that his department told police to hold back on enforcement, despite his senior law enforcement official telling a legislature committee exactly that on April 6.
"He refused to come clean about enforcement. We heard yesterday from the Chief of Police in Calgary that their partners at the province told police not to issue many tickets," said Notley. "Today we heard nothing from the Solicitor General that would dispel these directions."
Jason Kenney also made no mention of any new support for small businesses. Personal and wellness services, health, social and professional services are due to close on Sunday, May 9, along with patio dining at restaurants and bars. All school grades are to move to online learning on Friday, May 7.
"As the Premier fails to do all that is necessary today to get COVID-19 under control, Albertans are left paying the price after enduring more than a year on Jason Kenney's rollercoaster of confusing and contradictory restrictions," Notley added. "They need support, but once again, Jason Kenney announced restrictions without any of the necessary support."
"Families and businesses across Alberta are scrambling today to respond to the confusing array of public health measures announced last night," Notley said. "Working parents are trying to figure out how to keep kids at home safely for two weeks or more. Small business owners are asking themselves if they can survive yet another closure of three weeks or more."
Video of AHS taking control of the Whistle Stop Cafe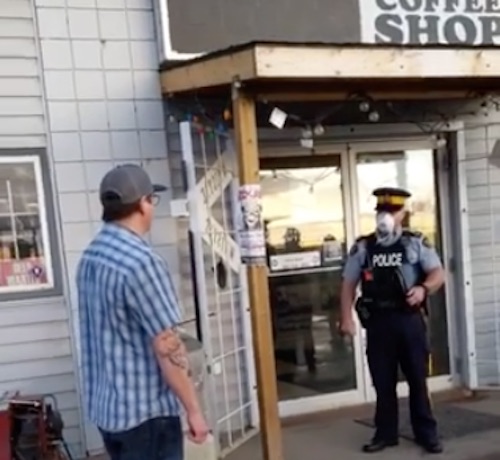 Early Wednesday morning Chris Scott, owner / operator of the Whistle Stop Cafe got a call from an employee who informed him that AHS and the RCMP were at the gas station / cafe and had begun the process of locking up the building for non-compliance to covid restrictions.
Scott hurried to the cafe to witness the process.  He took this video and streamed it to thousands of viewers on his facebook page.  This is an emotional and informative record of what happend.
This video was live-streamed and has been posted to the facebook page of The Whistle Stop Cafe.