Response: Tom Milroy Wants To Deport The UCP & Wexiteers, Ban All Weapons & Restrain the Oilpatch
Green Party candidate Tom Milroy exemplifies how NOT to win friends and influence people to be more green-friendly. Among his plethora of tone-deaf tweets, and condescending facebook rants is this gem of a post:
" I suspect that with oil going for LESS THAN ZERO we could now buy Alberta for cheap, Deport the UCP & the moronic wexiteers to the USA, start the Canadian ban on weapons of all kinds there, build solar & wind farms, restrain the oilpatch workforce and be done with this BS forever!" [email protected]
I can forgive the poor grammar, after all it's just twitter, but his callous disregard for the real and palpable pain which Albertan's have been enduring during the Trudeau Jr. era requires a response. Mr. Milroy is not alone with his hand wringing at the thought of the Alberta energy sector collapsing. PM Justin Trudeau is certain to be equally eager to witness Alberta's demise, never realizing that the death of the Alberta advantage, is also the death of the Canadian advantage. Perhaps they should take eight minutes to listen to our plight HERE.
Albertans are fiercely patriotic, yet we have been abused by Ottawa to the point where many have come to the unpleasant conclusion that separation is the only way to survive. Tom Milroy clearly thinks that survival instinct is "moronic", and that all ideas which are conservative are inherently evil. His views are largely shared by many in the Toronto/Montreal crowd which only fuels western alienation. Why would Albertans want to be hitched to a Country which economically attacks, and openly berates them? It's only natural to consider other options.
The soapbox upon which Mr. Milroy stands is portrayed as environmental, but in fact is xenophobic. Energy workers aren't like Tom and his friends, which is why they don't understand them and they choose to berate them. Tom Milroy, you are an unapologetic anti-Albertan bigot with a twitter account. Your ghastly posts are a stain on the fabric of Canadian values.
His claim of moral superiority however has been thoroughly discredited by a recent documentary by..of all people, Michael Moore. In his new documentary, Planet of the Humans Michael Moore destroys the argument that solar and wind are in any way cleaner than Canadian procured fossil fuels. In fact, when you do the math, it's clear that both wind and solar create a LARGER ecological footprint than Alberta's Oil Sands.
Photo-Voltaic cells (solar panels) for instance are not made from "sand" as is often claimed. They are created by melting quartz and coal together in a massive furnace. Both quartz and coal are procured from mining, and mining is an incredibly carbon-intensive activity. Cobalt, and other materials which are required for windmills are mined using horrific child labour. Not only are solar and wind not clean energy, they both have a negative net yield when all factors are considered.
Heaped on top of the negative energy yield, massive mining footprint, and excessive carbon load required for "green energy", is the human suffering which includes horrific child labour. There is nothing moral about six-year-old children working in an African Cobalt mine. Ignoring this fact is nothing short of evil.
Regardless of your beliefs on environmental issues, reacting to ideas that are contrary to your own with name-calling is not helpful, nor is it productive. It's easy to disregard the pain of others by spouting bigoted epithets at them. It's easy, and is a sure sign of a lazy mind. What's difficult is to put yourself in the shoes of others in order to try to understand where they are coming from. Empathy is hard, and requires significant effort from a clear mind which is unshackled by ego. At the moment, empathy seems to be beyond the reach of Mr. Milroy.
The environmentalist groups need to take an honest look in the mirror. Being a jerk to others is not going to sway opinions. Regardless of political leanings, the vast majority of Canadians also want pristine water, clean air, and to have cleaner energy solutions. The technology exists today to achieve all of the above, but we're just not bringing it to market. Solar and Wind have both been proven to NOT be the solution. The focus must be on reducing consumption, not on punishing production. Passenger cars can easily achieve 100 mpg, and industrial smokestacks can certainly be engineered to emit less than half of the particulates which they are currently belching. The technology has been around since the '80s, all we have to do is use it.
Caring about the environment is important, but actually doing something about it is far more admirable than proclaiming your moral and intellectual superiority over Albertans. The common assumption is that our energy sector is dirty and immoral. Do you prefer Saudi oil? Shutting down Alberta does nothing to help the environment, all it does is displace the oil production to nations like Saudi Arabia, who throw gays off buildings, behead accused wrongdoers, and force their women to stay covered head to toe. Every sentiment against Alberta energy is a proclamation of support for the Saudi regime, and their human rights abuses.
Alberta energy workers are the highest skilled, safest, and most regulated on earth. As a result, they enjoy healthy compensation which some people bemoan so as to cloak their jealousy. Oh how fun it is to throw stones at the families of energy workers, and denigrate them for enjoying the fruits of their difficult and dangerous labour. How satisfying it must be to turn your nose up to the gun-toting, hunting, fishing, outdoor-loving Albertans who would rather explore nature in the backcountry than bang bongos at a climate change rally. Alberta energy workers have every right to be proud. They provide us all with our way of life, similar to how Soldiers protect our freedoms. Without oil, the global population of roughly 7.8 Billion would not be sustainable. Until other technologies are allowed to flourish, we're stuck with what we got. Unfortunately Wind and Solar simply don't fill the gap, regardless of the blind arguments to the contrary.
Mark E. Meincke
Buy the Home Seller's Bible by clicking HERE
Buy "Why not Me?" HERE
For more stories, visit Todayville Calgary
Graffiti artist completes world's tallest mural in downtown Calgary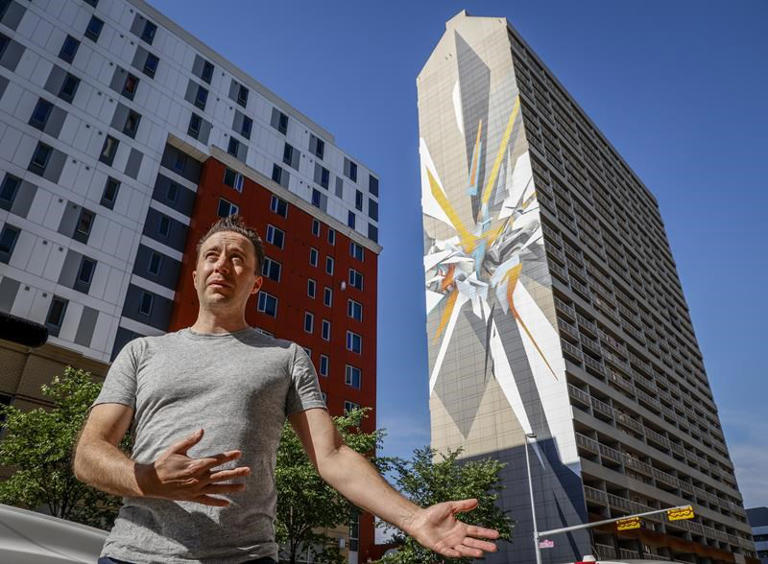 CALGARY — It looms on the edge of downtown a stone's throw from the Calgary Tower, a splash of colour amid aging buildings, railway tracks, parkades and a steady stream of traffic.
It's billed as the world's tallest mural, painted by one of the globe's top graffiti artists, and is part of a project to turn an austere area of downtown into an expansive open-air urban art gallery.
"The brutalism and dystopian look of this area with the giant parkades and the spiral ramps and stuff — it feels like Gotham. So turning this wall from concrete nothing to this is really fun," said Peter Oliver, president of the Beltline Urban Murals Project, or BUMP.
The mural is an abstract painting in various shades of orange, black, grey, blue, white and yellow and is the creation of DAIM, an internationally renowned German artist. DAIM, whose real name is Mirko Reisser, has been creating public artworks for more than 30 years.
"DAIM's work is rooted in graffiti art. It's abstract and he was actually the very first graffiti artist to start exploring three-dimensional works. So his work kind of obeys the laws of light and shadow but defies the laws of gravity," Oliver said.
"I think his work really marries well with the brutalism of this building and it's just a massive flat wall of concrete. It's the very first prefabricated concrete building in Calgary, built in 1980."
The mural is 95 metres high, making it the tallest mural in the world "by a long shot," said Oliver.
He said most cities don't have giant concrete walls available, with the majority being glass, steel or aluminum. So this was a perfect marriage.
DAIM, who was assisted by three local artists, spent over three weeks painting and went through more than 500 cans of spray paint after a base coat was added to the bare concrete. It is to be a permanent addition to the area and, as of last week, was awaiting a coat of UV sealant to make it complete.
Facing toward the east, it can be seen from a long way away.
"If you've got the window seat on the airplane, you can see it on the approach into the airport," Oliver said.
"I think what we're really doing with BUMP is re-architecting the identity of this city."
The project will be unveiling about 60 new murals during its annual festival, which runs from Aug. 1 to 28. Before that, the new art work can be viewed by visitors at the annual Calgary Stampede, which begins this week.
"If you're coming down, I'd check this out over the parade any day," Oliver said with a chuckle.
This report by The Canadian Press was first published July 4, 2022.
Bill Graveland, The Canadian Press
Calgary Stampede receives $10M from federal government to aid recovery from pandemic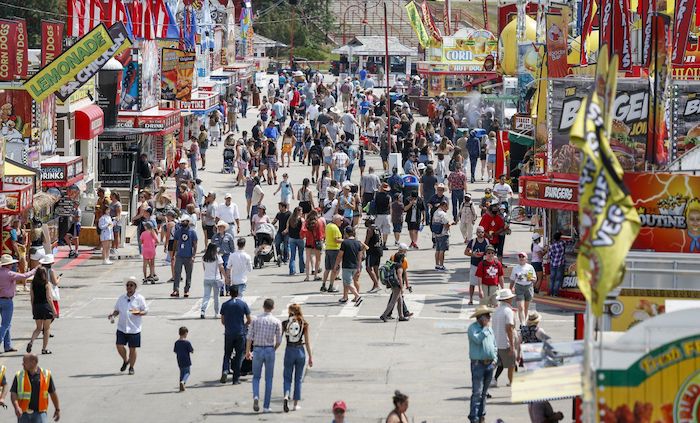 Calgary – The Calgary Stampede has received more than $10 million from the federal government to help it bounce back after last year's event was scaled down due to the COVID-19 pandemic.
A report to the city this week showed the Stampede had an operating loss of $8.3 million in 2021.
Last year's Stampede ran at half capacity because of COVID-19 public health measures and was cancelled all-together the year before.
Daniel Vandal, the federal minister for Prairies Economic Development Canada, says the money aims to support a full-scale Stampede to deliver the "authentic western experience" this year.
He says it would also help to reignite Alberta's visitor economy.
The 2022 Stampede is set to run from July 8 to 17.
"Festivals large and small were hard hit during the pandemic," Vandal said in a news release. "They are events where families and friends come together and take in the exciting atmosphere.
"The tourism industry is facing a strong comeback providing quality jobs across the country, showcasing stunning landscapes and offering exciting experiences right here in Alberta."
The federal government also provided about $1.8 million for four other tourism projects in southern Alberta: Charmed Resorts, Cochrane Tourism Association, Heritage Park and Tourism Calgary.
This report by The Canadian Press was first published June 30, 2022.