#RedDeerStrong – Protecting your vehicle investment is more important than ever. Line-X is here to help!
What does your business do?
THE LINE-X Of RED DEER DIFFERENCE

LINE-X® Spray-On Bedliners provide unmatched protection for your vehicle with the toughest, boldest, and most durable bedliners on the market. Expertly sprayed by highly trained technicians, you can rest assured it's been done right. We're so confident in LINE-X quality that we back our bedliners with a limited lifetime warranty, giving you complete peace of mind. LINE-X bedliners are designed to meet the needs of every truck owner, whether you're a farmer, hunter, contractor, or weekend warrior.
We spray more than just vehicles, if you think of it we've probably coated it! Holiday trailer hitches and fronts, work trailers, industrial and oilfield equipment, farming equipment and more…
Line-X also does more than just line-X coatings, we offer accessories, paint protection film, undercoating, rust protection, Paint correction and ceramic coating and more! Please call us for a custom quote to see what we can do for you.
How has COVID-19 affected you?
Line-X of Red Deer has been locally and family owned for over 25 years.
With less people out buying vehicles and oil prices so low at the moment we are affected in both of our major markets.
What are you doing to adapt?
We have closed our front reception area for now and are doing quotes over the phone. We can do a total contactless transaction with key drop off and credit card payments.
We are throughly disinfecting keys and anything we touch before and after our services.
What do you want the community to know?
We would like the community know we are still open to serve them in a safe environment. We'd be happy to do quotes over the phone and from photos. Spring is a great time to get your automobiles and equipment clean and improved for summer… this is typically our busy time when people start hosing off their vehicles and equipment after a long winter and realize what a beating their trucks/cars/equipment has taken. Please feel free to call and see how we can help protect and improve their investments. Stay safe!
Line-X of Red Deer. Click here to book online.
CLICK to read more stories about #RedDeerStrong.
#RedDeerStrong – If you're struggling and you need to consolidate debt through a mortgage refinance, Kristen is here for you.
#RedDeerStrong – Adjusting to isolation? Now's the time for new habits. Studio Pilates will help make fitness part of your new routine.
#RedDeerStrong – Small business wants to make a big difference to families with 'isolated' children
Southside Dodge donates new van to Ronald McDonald House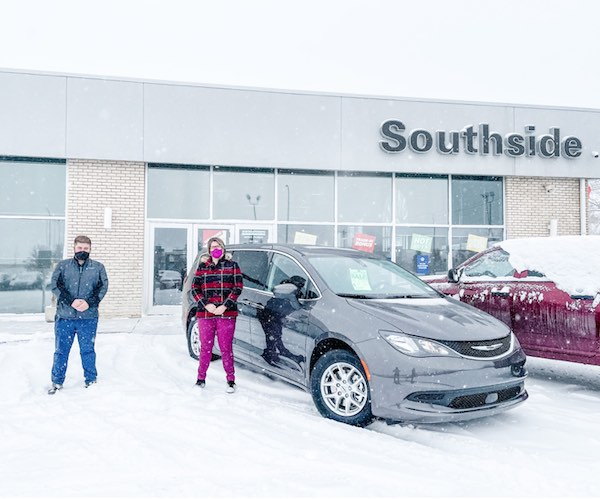 Matt Swainson (Vice President & General Manager, Southside Dodge Chrysler Jeep Ram) -left , Lori Rechlo (General Manager, Ronald McDonald House Charities Alberta – Red Deer House) – right
Submitted by

Sarah Heibein,

Stakeholder Relations Manager, Central Alberta Ronald McDonald House

We've received a donation of use of a Dodge Caravan from Southside Dodge- they've been an incredible support of us over the years. Attached is the photo we took at the dealership when we picked up the keys on Friday.
Ronald McDonald House Charities Alberta, Red Deer House is truly grateful to Matt Swainson and his entire team at Southside Dodge for their steadfast support of our work to keep families together during the unimaginable hardship of the need to travel for medical treatment for their sick or injured child. Our House is not a nice to have, but a need to have, and we are honoured to work with such an amazing community partner in Southside. The use of the 2021 Dodge Caravan will help us to keep our operating costs down so that we can focus on our work to keep families close.
We have operated in the city for over 8 years, ensuring there is a safe and comfortable place for families to rest while they focus on the recovery of their child(ren).
We are grateful to everyone in Red Deer who supports us! 😊
Smiles Thru Lindsey reaching out with a new video message and urging Albertans to look out for each other at this challenging time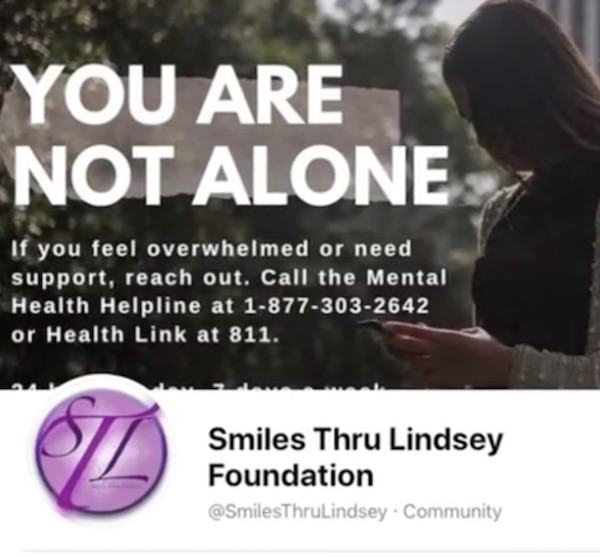 The holiday season is well behind us, we're heading into the coldest part of the winter, and although the days are starting to grow longer there's still a definite lack of daylight in our lives. The winter blues are a real thing and this year we have COVID, a whole new serious problem to add to our mental health issues.
COVID is also the reason the Smiles Thru Lindsey team has not been able do public events for many months. Unable to reach out physically through school visits and fund raisers, Smiles Thru Lindsey is reminding Central Albertans to check in on each other. Also, please follow the Smiles Thru Lindsey Facebook page . They'll lead you to the resources you or your loved ones need right away.
Meet Lindsey and the Smiles Thru Lindsey team in this powerful video. …And remember to check in on the people in your life.
If you'd like to help Smiles Thru Lindsey with a donation please click here.