#RedDeerStrong – Adjusting to isolation? Now's the time for new habits. Studio Pilates will help make fitness part of your new routine.
What does your business do?
We offer group fitness, pilates training, and personal training. During the health crisis, we are offering fitness instruction virtually (a variety of 30-40 min classes). We also offer an online training app called Trainerize that provide 5 home workouts per week, in addition to the classes we're offering. The trainerize app has an accountability check in for each workout and in-app messaging with a trainer from the Studio.
How has COVID-19 affected you?
When life throws you curves, you learn to swerve.
Every individual in our community is adjusting to a new way of living and an underlying fear for their health and the health of their loved ones.
For many this is a time of crisis, elevated stress, & uncertainty, while others are finding joy in the simple pleasures of life that in past months were somehow swallowed up in our over scheduled lives.
Covid-19 has forced us to lay off over 15 of our team members…some instructors who chose to not film classes, receptionists, childminders, our massage therapist, and estheticians.
With overhead on our 7000 sq foot facility, we need to get creative to cover rent, bills, insurance, gov't remittance, and wages for our instructors who are filming classes.
What are you doing to adapt?
Studio Pilates has been in operation in Red Deer for 19 years, and we've gone through our fair share of challenges. We've embraced this Covid-19 situation as an opportunity – to connect with individuals in our community who have been contemplating a fitness program, or those who have always wanted to take our classes, but time has been their barrier. We've accepted the challenge of moving our classes to a virtual platform, and we're excited to launch Trainerize with the public.
On our main Studio Pilates facebook page we offer a LIVE workout every Friday at 9:15am. These live workouts will remain on the page so that anyone can go back on the newsfeed on our page, and repeat the workouts! These are body weight workouts – no equipment required. Modifications are always offered for various fitness levels. On our main facebook page we are also offering Episodes of "My Kitchen is Bitchin" which is tips & tricks for healthy eating from our kitchens to yours (our fitness pros share their healthy go to rituals and recipes in the kitchen).
We've also aligned with other like minded businesses in Red Deer to offer content and connection for the public….for example, Nan Dell's Chickadee Catering Co & The Cooking Room filmed cooking segments just for our Studio Pilates FB audience!
Offering our members valuable content and connection, is our top priority. Those who have punch passes still have the option to sign up for daily classes through our studio management softward called MindBody. We have our own Studio Pilates app that can be downloaded free from iTunes/Googleplay and our daily classes appear on the app. Individual classes & punch passes can be purchased on this app. When a class is purchased, that individual has a link to the class (youtube link) that doesn't expire for 48 hours. This means the workout can be repeated if desired. We encourage everyone in the household to join into the workouts as well! Moving together is good for the soul – smiles are guarenteed!
For those interested in our "Online Training Package" during this temporary closure of gyms and rec centres, we offer a wealth of information, connection, & workout choices. This package is what our members who has Unlimited memberships are receiving. This includes becoming a client on the Trainerize app (easy set up – download the trainerize app from itunes/googleplay), and you are emailed an invite. Once you're in the app, your workouts appear – scheduled through the week). The Online Training Package also includes every fitness class that we offer throughout the week….for example, Barre, Interval Workouts, Mat Pilates, Yoga, Essentrics, Body Weight Strength classes, Mom & Me Workouts…and more!
Online Package members are also invited into a closed facebook group where we also do Live workouts just for the group!
What kind of help do you need?
We need help getting the word out to the community about our online fitness options. We'd love to invite the public to our FB page and instagram, to take advantage of the workouts and information we're sharing.
What do you want the community to know?
We would like to invite those who are not currently active or who have been intimidated to enter a "gym" to get to know us through the online offerings. Online instruction removes the very real fear of walking into a facility. We will begin offering INTRO TO FITNESS videos on our main Facebook page and on our instagram to get beginners moving! Any movement is good movement….you don't have to do a high intensity workout to gain the benefits of physical activity. Strengthening your immune system, managing stress, and improving sleep all comes from moderate amounts of exercise. We are here to lead ALL individuals through movement, no matter your age & current activity level.
With gratitude,
Colleen Manning
Owner/Director Studio Pilates Fitness & Wellness
Your story is important – #RedDeerStrong – free and easy story form
#RedDeerStrong – Small business wants to make a big difference to families with 'isolated' children
Southside Dodge donates new van to Ronald McDonald House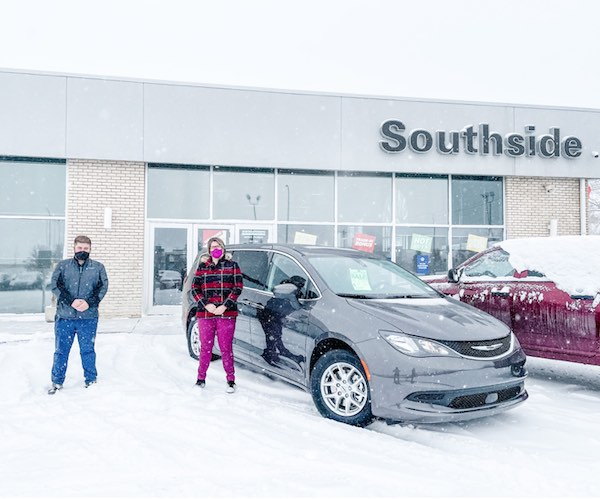 Matt Swainson (Vice President & General Manager, Southside Dodge Chrysler Jeep Ram) -left , Lori Rechlo (General Manager, Ronald McDonald House Charities Alberta – Red Deer House) – right
Submitted by

Sarah Heibein,

Stakeholder Relations Manager, Central Alberta Ronald McDonald House

We've received a donation of use of a Dodge Caravan from Southside Dodge- they've been an incredible support of us over the years. Attached is the photo we took at the dealership when we picked up the keys on Friday.
Ronald McDonald House Charities Alberta, Red Deer House is truly grateful to Matt Swainson and his entire team at Southside Dodge for their steadfast support of our work to keep families together during the unimaginable hardship of the need to travel for medical treatment for their sick or injured child. Our House is not a nice to have, but a need to have, and we are honoured to work with such an amazing community partner in Southside. The use of the 2021 Dodge Caravan will help us to keep our operating costs down so that we can focus on our work to keep families close.
We have operated in the city for over 8 years, ensuring there is a safe and comfortable place for families to rest while they focus on the recovery of their child(ren).
We are grateful to everyone in Red Deer who supports us! 😊
Smiles Thru Lindsey reaching out with a new video message and urging Albertans to look out for each other at this challenging time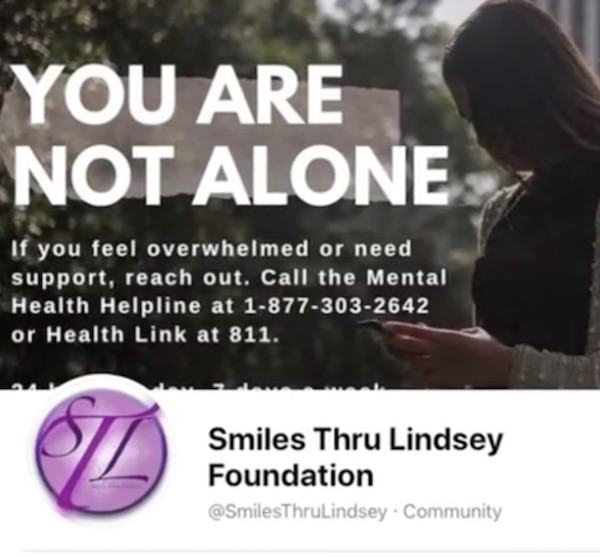 The holiday season is well behind us, we're heading into the coldest part of the winter, and although the days are starting to grow longer there's still a definite lack of daylight in our lives. The winter blues are a real thing and this year we have COVID, a whole new serious problem to add to our mental health issues.
COVID is also the reason the Smiles Thru Lindsey team has not been able do public events for many months. Unable to reach out physically through school visits and fund raisers, Smiles Thru Lindsey is reminding Central Albertans to check in on each other. Also, please follow the Smiles Thru Lindsey Facebook page . They'll lead you to the resources you or your loved ones need right away.
Meet Lindsey and the Smiles Thru Lindsey team in this powerful video. …And remember to check in on the people in your life.
If you'd like to help Smiles Thru Lindsey with a donation please click here.