#RedDeerStrong – If you're struggling and you need to consolidate debt through a mortgage refinance, Kristen is here for you.

What does your business do?
I'm a Mortgage Broker. I am able to help you and your family with:
-New home purchases
-Negotiating your mortgage at renewal
-Mortgage refinancing
-Reverse mortgages (Age 55+)
-Investment property financing
-Vacation properties & 2nd homes
-Alternative lending options & more
How has COVID-19 affected you?
In many ways, its still too early to say exactly how my business will be affected. In the last couple of weeks since we've gone into serious isolation mode, many of my customer's jobs have been affected. Many have either been laid off, or had their hours reduced. My husband has also lost his job. As you can imagine, uncertainty around income and employment, can really throw a wrench into finalizing your mortgage.
Many people have put off their plans to buy a home this year, even if they are still working, simply because they're scared. If you're one of those people, I don't blame you one bit! Some people who have been thinking about refinancing or renewing early, have been frantically trying to close their new mortgage, before their employment is potentially affected.
What are you doing to adapt?
I have always conducted a lot of my business over the phone, as well as through text and e-mail. Before Covid-19, I was having face-to-face meetings about 30% of the time, which I've had to discontinue for the time being.
I've always tried to be more of a support or a teacher to potential customers, so I have really been focusing more on that lately. I'm here for you!
What kind of help do you need?
My business thrives on positive word of mouth and referrals from friends, family, and happy customers! If you hear of someone who is still planning to purchase a home, needs mortgage advice for an upcoming renewal, or needs to consolidate some debt through a mortgage refinance, I would be honoured to help.
What do you want the community to know?
I'm here to help you! If you have been struggling financially up to this point, a catastrophic event can leave you feeling incredibly stressed and anxious. If there is something that I can do to help you, let me know. I'm always more than happy to provide you with advice and resources, even if I can't help you with your mortgage.
Kristen Bellows
Mortgage Broker
phone: 403.598.6789
toll free phone: 877.426.4912
toll free fax: 877.432.4794

email:

[email protected]
#RedDeerStrong – Small business wants to make a big difference to families with 'isolated' children
#RedDeerStrong – Adjusting to isolation? Now's the time for new habits. Studio Pilates will help make fitness part of your new routine.
Southside Dodge donates new van to Ronald McDonald House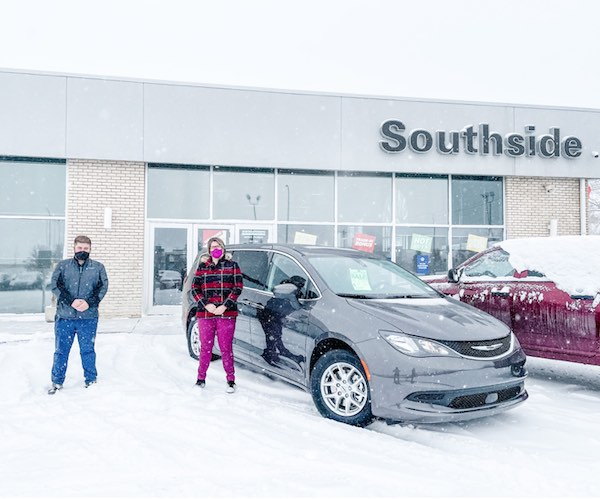 Matt Swainson (Vice President & General Manager, Southside Dodge Chrysler Jeep Ram) -left , Lori Rechlo (General Manager, Ronald McDonald House Charities Alberta – Red Deer House) – right
Submitted by

Sarah Heibein,

Stakeholder Relations Manager, Central Alberta Ronald McDonald House

We've received a donation of use of a Dodge Caravan from Southside Dodge- they've been an incredible support of us over the years. Attached is the photo we took at the dealership when we picked up the keys on Friday.
Ronald McDonald House Charities Alberta, Red Deer House is truly grateful to Matt Swainson and his entire team at Southside Dodge for their steadfast support of our work to keep families together during the unimaginable hardship of the need to travel for medical treatment for their sick or injured child. Our House is not a nice to have, but a need to have, and we are honoured to work with such an amazing community partner in Southside. The use of the 2021 Dodge Caravan will help us to keep our operating costs down so that we can focus on our work to keep families close.
We have operated in the city for over 8 years, ensuring there is a safe and comfortable place for families to rest while they focus on the recovery of their child(ren).
We are grateful to everyone in Red Deer who supports us! 😊
Smiles Thru Lindsey reaching out with a new video message and urging Albertans to look out for each other at this challenging time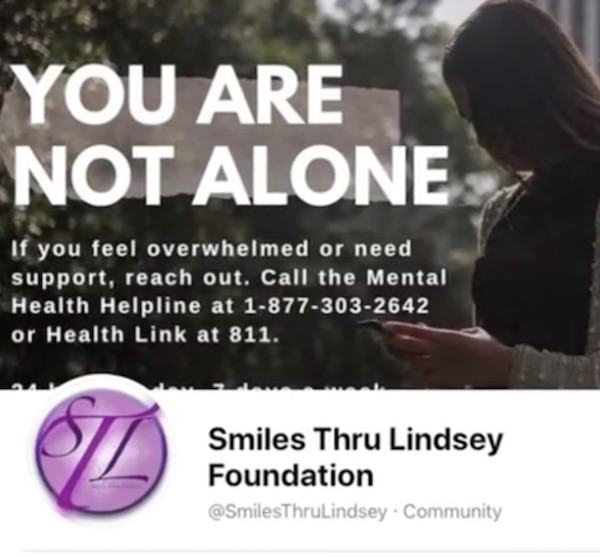 The holiday season is well behind us, we're heading into the coldest part of the winter, and although the days are starting to grow longer there's still a definite lack of daylight in our lives. The winter blues are a real thing and this year we have COVID, a whole new serious problem to add to our mental health issues.
COVID is also the reason the Smiles Thru Lindsey team has not been able do public events for many months. Unable to reach out physically through school visits and fund raisers, Smiles Thru Lindsey is reminding Central Albertans to check in on each other. Also, please follow the Smiles Thru Lindsey Facebook page . They'll lead you to the resources you or your loved ones need right away.
Meet Lindsey and the Smiles Thru Lindsey team in this powerful video. …And remember to check in on the people in your life.
If you'd like to help Smiles Thru Lindsey with a donation please click here.