#RedDeerStrong – Small business wants to make a big difference to families with 'isolated' children

This #RedDeerStrong story submitted by Brandi Heather 0f AMPED2PLAY INC.
What does your business do?
AMPED2PLAY INC. was created as an answer to the critical need in education, health, and business for solutions to account for our loss of physical, cognitive, and social ability to adapt in times of change.
At AMPED2PLAY we believe play is the foundation for growth, adaptation, conflict resolution, connection, and belonging. Without play, we fear uncertainty, difference, and we feel constantly vulnerable.
Our play solutions challenge people to connect or reconnect, their relationship to play, using it as a catalyst for personal, professional, individual, or collective change. We believe that play is when we are most open to taking risks, when we feel our most capable and confident.
http://amped2play.com/about/
How has COVID-19 affected you?
We are a small company of 5 people and we have had to cancel our work with all schools, community and business settings for the time being.
We decided to push forward 3 months early and get our ISO PLAY Box out to families, educators and community leaders who need it now.
We have made it our priority to build and ship as many as possible to help families through this difficult time. We will deliver it right to your door (with gloved hands), or send it through CANADA Post as fast as possible.
We are donating 1$ from every box sold to the COVID-Solidarity Response Fund for the World Health Organization.
https://www.who.int/emergencies/diseases/novel-coronavirus-2019/donate
What are you doing to adapt?
For connection during times of isolation: the play comes to you.
We are launching our ISOPLAY play box 3 months early by working day and night to get it completed.
We know families need this now more than ever. As a small business we want to make a big difference.
ISOLOVEPLAY provides hundreds of physical, cognitive, and social-emotional play opportunities for individuals who are required to be isolated from friends, family, and social events. Each box includes 20+ play materials, play starters, and endless opportunities for play that have been developed by professionals in practice with over 20 years of experience.
Why play in a box? Play is an essential part of staying engaged during a time of illness or isolation. The ISOLOVEPLAY Box creates an opportunity for playful connection, education, movement, challenge, and success. Each product is intentionally chosen to provide multiple play scenarios, in numerous creative ways.
Families who have already had the ISO PLAY Box in their home have told us it made such a difference to their kids day that day and for so many days after. Families are telling us the importance of having an offline option for kids also makes a huge difference for their time and mental health.
What kind of help do you need?
We just want the word out that we have this available for delivery to your door and that it can make a significant difference to send someone play or bring play into your home. We want people to stay safe physically and keep busy mentally.
Research and experience tells us play can make an enormous difference to our physical and mental health.
If people want to order the ISO PLAY Box for themselves or for another family please take a look:
Southside Dodge donates new van to Ronald McDonald House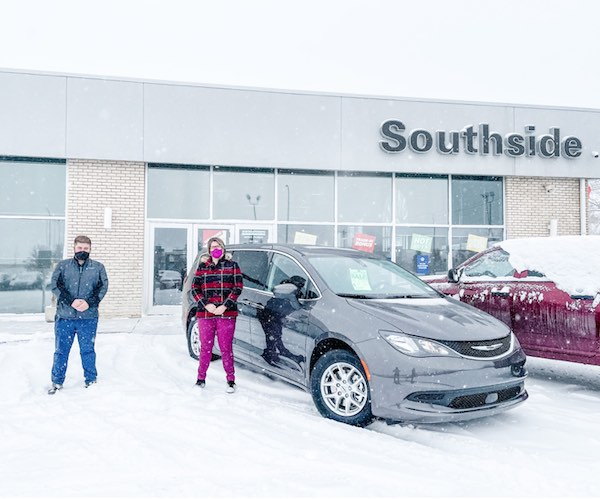 Matt Swainson (Vice President & General Manager, Southside Dodge Chrysler Jeep Ram) -left , Lori Rechlo (General Manager, Ronald McDonald House Charities Alberta – Red Deer House) – right
Submitted by

Sarah Heibein,

Stakeholder Relations Manager, Central Alberta Ronald McDonald House

We've received a donation of use of a Dodge Caravan from Southside Dodge- they've been an incredible support of us over the years. Attached is the photo we took at the dealership when we picked up the keys on Friday.
Ronald McDonald House Charities Alberta, Red Deer House is truly grateful to Matt Swainson and his entire team at Southside Dodge for their steadfast support of our work to keep families together during the unimaginable hardship of the need to travel for medical treatment for their sick or injured child. Our House is not a nice to have, but a need to have, and we are honoured to work with such an amazing community partner in Southside. The use of the 2021 Dodge Caravan will help us to keep our operating costs down so that we can focus on our work to keep families close.
We have operated in the city for over 8 years, ensuring there is a safe and comfortable place for families to rest while they focus on the recovery of their child(ren).
We are grateful to everyone in Red Deer who supports us! 😊
Smiles Thru Lindsey reaching out with a new video message and urging Albertans to look out for each other at this challenging time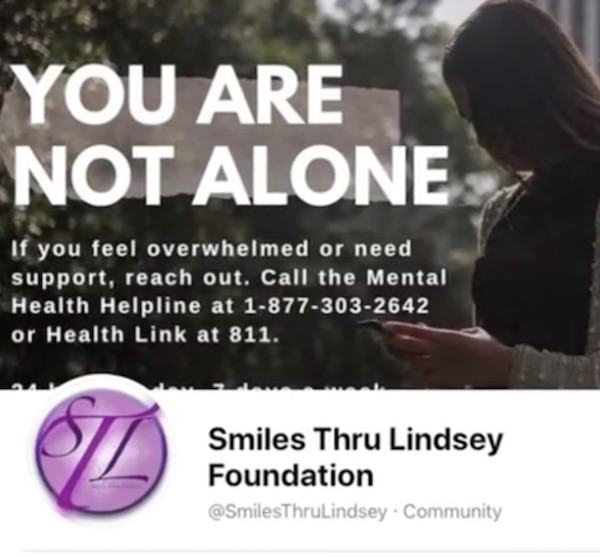 The holiday season is well behind us, we're heading into the coldest part of the winter, and although the days are starting to grow longer there's still a definite lack of daylight in our lives. The winter blues are a real thing and this year we have COVID, a whole new serious problem to add to our mental health issues.
COVID is also the reason the Smiles Thru Lindsey team has not been able do public events for many months. Unable to reach out physically through school visits and fund raisers, Smiles Thru Lindsey is reminding Central Albertans to check in on each other. Also, please follow the Smiles Thru Lindsey Facebook page . They'll lead you to the resources you or your loved ones need right away.
Meet Lindsey and the Smiles Thru Lindsey team in this powerful video. …And remember to check in on the people in your life.
If you'd like to help Smiles Thru Lindsey with a donation please click here.