#RedDeerStrong – Group focussed fitness studio F45 offers fitness opportunities for isolated athletes
F45 is for people who are already in shape and want to maintain, and for those who really want to kick their cardio up a notch. The business is just a few months old and finds itself fighting to pay the rent as COVID-19 wreaks havoc on group gatherings.
What does your business do?
Our studio is a community and group training focused fitness studio. We are the fastest growing fitness network in the world and are happy to bring this to our hometown of Red Deer. We are adaptable for all fitness levels and deliver a 45 minute high intensity Functional training workout. F45. Click here to see our website.
How has COVID-19 affected you?
Due to the concern for our members we made the decision to close our doors. Days later it was mandated by the government. We are only operational for 5 months so this was a huge shock to our new community and finances. We went to zero income overnight.
What are you doing to adapt?
To adapt we are offering live Zoom workouts to members at less than a 50% discount off their regular membership rate. F45 HQ has also produced workouts that are available on our app. This has been amazing to help our members mental and physic health while social distancing.it also has helped cover a few of our needs to pay within the studio.
What kind of help do you need?
Being a very new busy within Red Deer any advertising and awareness to our studio would beneficial . The government has offered some very helpful solutions foe small businesses which we are grateful for.
What do you want the community to know?
We want our community to know that they are not alone. We offer fun and interactive F45Live video workouts that will keep them healthy physically and mentally at a reasonable cost.
We did our first ZOOM live Friday…we worked out the kinks so now we are ready for a full week next Monday! Today we did the new F45 Program GOAT! Awesome Strength workout with a killer Pod 3! It was so great to feel your energy and see your faces again!
If you would like to join the F45Live ZOOM and F45 Gravity ( adding more programs soon) home workouts, today is your last day to join for 19/week. After today it is 24/week.
Just send us a message and we can hook you up! Thanks to over half of our members who have joined.
If you have family members or friends who may be interested and live anywhere across Canada they too can join our F45Live and receive these programs as well. We would appreciate the referral!
#RedDeerStrong – Protecting your vehicle investment is more important than ever. Line-X is here to help!
#RedDeerStrong – If you're struggling and you need to consolidate debt through a mortgage refinance, Kristen is here for you.
#RedDeerStrong – Adjusting to isolation? Now's the time for new habits. Studio Pilates will help make fitness part of your new routine.
#RedDeerStrong – Small business wants to make a big difference to families with 'isolated' children
Southside Dodge donates new van to Ronald McDonald House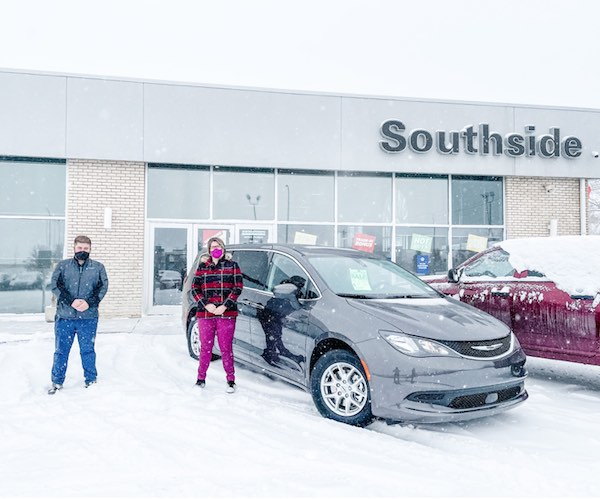 Matt Swainson (Vice President & General Manager, Southside Dodge Chrysler Jeep Ram) -left , Lori Rechlo (General Manager, Ronald McDonald House Charities Alberta – Red Deer House) – right
Submitted by

Sarah Heibein,

Stakeholder Relations Manager, Central Alberta Ronald McDonald House

We've received a donation of use of a Dodge Caravan from Southside Dodge- they've been an incredible support of us over the years. Attached is the photo we took at the dealership when we picked up the keys on Friday.
Ronald McDonald House Charities Alberta, Red Deer House is truly grateful to Matt Swainson and his entire team at Southside Dodge for their steadfast support of our work to keep families together during the unimaginable hardship of the need to travel for medical treatment for their sick or injured child. Our House is not a nice to have, but a need to have, and we are honoured to work with such an amazing community partner in Southside. The use of the 2021 Dodge Caravan will help us to keep our operating costs down so that we can focus on our work to keep families close.
We have operated in the city for over 8 years, ensuring there is a safe and comfortable place for families to rest while they focus on the recovery of their child(ren).
We are grateful to everyone in Red Deer who supports us! 😊
Smiles Thru Lindsey reaching out with a new video message and urging Albertans to look out for each other at this challenging time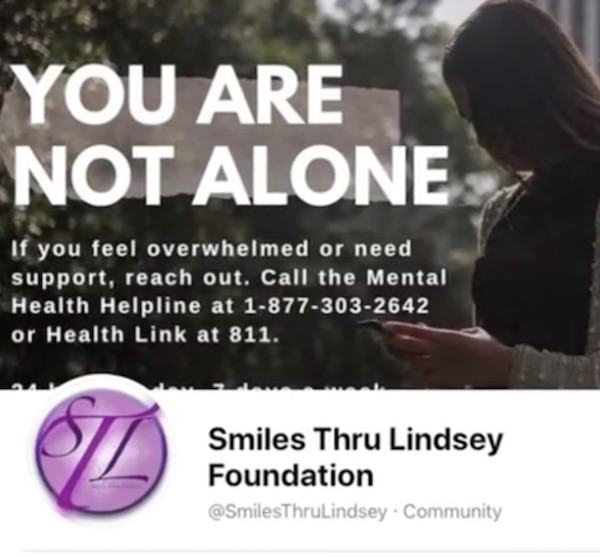 The holiday season is well behind us, we're heading into the coldest part of the winter, and although the days are starting to grow longer there's still a definite lack of daylight in our lives. The winter blues are a real thing and this year we have COVID, a whole new serious problem to add to our mental health issues.
COVID is also the reason the Smiles Thru Lindsey team has not been able do public events for many months. Unable to reach out physically through school visits and fund raisers, Smiles Thru Lindsey is reminding Central Albertans to check in on each other. Also, please follow the Smiles Thru Lindsey Facebook page . They'll lead you to the resources you or your loved ones need right away.
Meet Lindsey and the Smiles Thru Lindsey team in this powerful video. …And remember to check in on the people in your life.
If you'd like to help Smiles Thru Lindsey with a donation please click here.