Questions About Silence on COVID
Questions About Silence on COVID
Only one day was required for Auston Mathews to poke a hole in the National Hockey League's strategy of insisting that teams officially avoid telling the public about COVID-19 intrusions into any dressing room or practice facility during the countdown to the coming Stanley Cup playoffs.
It seems reasonable at this point for an old cynic to suggest the talented Toronto Maple Leafs scorer should be fined for breaking one of his league's unwritten regulations. His crime can be described in one sentence. He confirmed that the coronavirus recently intruded on his system.
He's OK now, he says, and apparently all the testing mechanisms agree, so this will be dismissed as a minor issue, which will please commissioner Gary Bettman and his minions greatly but will continue the deliberate act of keeping knowledge from those often described as essential members of the professional sports family: the fans.
Such control of information is far from unique in the NHL or any other league. Arguably, the National Football League does the best job of levelling with the public on the question of players' injury or illness, largely because keeping the lid on – officially at least – is seen as essential in a sport which triggers so much gambling action, day after day and week after week.
The world's highest-level hockey league, for example, has developed a regular-season system that reveals only whether a player's injury is confined to the upper or lower body. It has yet to be determined where a wrist or hand injury figts on this scale; perhaps it relates to whether the arm was folded or straight at the time of the incident.
There has been no clear explanation for the NHL's decision, except for this news conference comment from Bill Daly, the NHL's deputy commissioner: "We . . .continue to feel that medical privacy is important in this process," he said.
"At least for now, we're going to maintain a policy where the league is announcing (test) numbers and clubs are prohibited from giving any information with respect to COVID test results."
Using privacy as a shield is a handy escape mechanism.
The league and the players' association have agreed that any player can choose not to compete in the workouts or any of the five rounds of playoffs leading to the (still probable) Stanley Cup final in about three months. Fans and media are entitled to speculate whether players such as Edmonton Oilers defender Mike Green or the Calgary Flames' Travis Hamonic are ducking all suggestion of COVID infection by stating in public that family reasons explain their decisions to opt out.
No outsider can fairly suggest these honourable veterans are evading the truth in this or any other case, but this point is obvious: the NHL would rather avoid the truth than reveal it when necessary.
In at least one sense, this is admirable strategy. Already, major-league basketball and baseball are being shaken at training by revelations of fresh coronavirus intrusions. Major League Soccer has suffered most of all, with COVID-19 fears and discoveries forcing teams to pull out of the emergency makeup schedule designed to fill television moments until the other pro leagues could get organized.
Sitting slightly below the surface, however, is the realization that large segments of the public question every piece of information being distributed by politicians and other spokespersons. Professional sport will can not possibly benefit if similar doubts begin to pile up about the accuracy of NHL reporting on this essential issue.
Run/Hike for Red Deer Hospice Takes Place This Sunday at Bower Ponds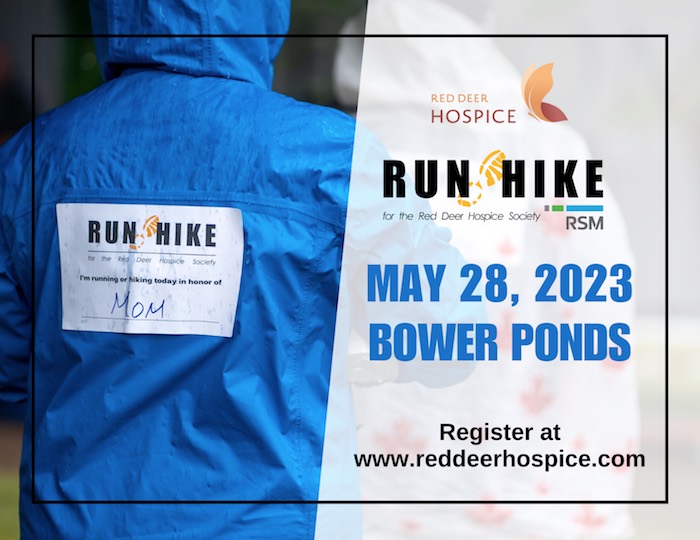 News release from Red Deer Hospice
Red Deer Hospice's 16th Annual Run/Hike event, presented by RSM Red Deer, will take place at Bower Ponds this Sunday.
Registration will open at 9:00am and those wishing to run, walk or stroll the 1km, 3kms or 5 kms will start at 10:00am. A light breakfast and hot, post-race lunch, provided by Mr. Mikes, will be available to participants and live entertainment will be provided by the band Fun House in the amphitheater.
"This will be a day to remember and reflect, while taking in the natural beauty of the trails in and around Bower Ponds," said Jerri Taylor, Executive Director of Red Deer Hospice. "As our main fundraiser for the year, our goal is to raise $38,000." Proceeds and donations will go towards Red Deer Hospice's mission of supporting a peaceful and compassionate end-of-life journey.
Online registration on the Red Deer Hospice website will close at 3:00pm on Friday, May 26, 2023. Those interested in participating in this year's Run/Hike event who have not registered can do so in person on Sunday morning at Bower Ponds.
For more information, visit www.reddeerhospice.com.
Glendale Skatepark now includes on-site mentors from the YMCA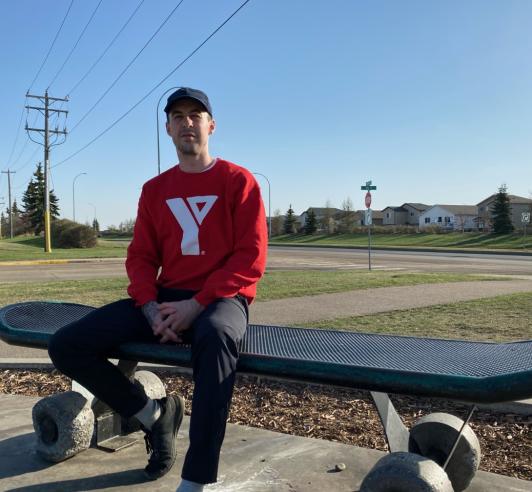 With consistent fair weather and summer right around the corner, skateboarders, BMXers and scooter-riders are excited to return to Red Deer's skateparks. Glendale Skatepark in Red Deer's north side is a popular choice, and has the added benefit of being staffed by Northside Community Centre YMCA's skatepark mentors.
The Y's skatepark mentors are experienced skaters and BMX bikers who want to help make sure the skatepark remains a safe and inclusive space for kids and youth of all skill levels and backgrounds to enjoy. They hang out at the park every day after school and on weekends, offering encouragement, teaching skills and providing water and snacks to anyone who wants it.
"The biggest part [for me] is just creating community engagement and connections," one skatepark mentor explained in a video on the YMCA's social media channels, adding, "engaging with the kids, teaching what you love to do… just being a positive influence on everyone and trying to make this place a better community."
The YMCA Skatepark Mentorship program was piloted in 2021, and after a successful season Border Paving Ltd. stepped up with a generous donation to make it possible for the Y to staff the park all summer long in 2022 and 2023. The Y has since expanded the program, and will have skatepark mentors and youth workers at the Red Deer Skatepark downtown in addition to Glendale, starting in July.
Youth can find YMCA skatepark mentors at the Glendale Skatepark Monday to Friday from 2:30 to 7:30pm, and noon–4pm on Saturdays and Sundays until the end of June. Starting in July, their weekday hours will expand to 12:30 to 8:30pm and they can be found at the Red Deer Skatepark downtown from 10am to 1pm every Tuesday, Wednesday and Thursday.
Visit ymcanab.ca/skatepark to meet Northside Community Centre YMCA's skatepark mentors for 2023 and learn more about youth programs at the Y.