NEW Edmonton Baseball Mystery
NEW Edmonton Baseball Mystery
Unless there's a sudden burst in the amount of information being released by those who speak for the Edmonton Prospects and the still-unnamed baseball team recently established as the new operators of Re/Max Field, a lot of guessing will be going on for at least a little longer.
The mystery: will there really be two university-level baseball teams in the Edmonton area next year?
Up to this point, Pat Cassidy's Prospects have received most of the public attention after being ousted from their previous home in an apparent 'hostile takeover" engineered by Randy Gregg and his followers. Cassidy's biggest announcement came with details and probable pictures of what a new stadium will look like when it opens as the Prospects' home in nearby Spruce Grove. The Gregg group, as usual, stayed silent.
On Thursday, however, entrepreneur Dale Wishewan, founder of the powerful Booster Juice franchise, went public. He is part of the group – also including Gregg's brother Gary – that outlasted the Prospects in a fierce confrontation over which organization would receive city council blessing to operate at Re/Max.
Wishewan promised quick and positive news about where the new team would find a home. One unconfirmed guess: the 12-team Western Baseball Association, which has two teams — Kelowna and Victoria – opposing foes from Washington and Oregon.
A call to one number on the WBA website was not answered.
The Prospects are part of the Western Canada Baseball League, based entirely in Alberta and Saskatchewan. Operators have determined, so far at least, that there is no room for any newcomer intruding on the space of current members.
Wishewan, one of several minority owners tied to the NHL's Vegas Knights, has been a lifetime baseball fan. At a young age, he played in and around tiny Waskatenau and Smoky Lake County, about 90 miles from Edmonton, then progressed to college ball in Oregon.
His interest in baseball became obvious at least a year ago when an Edmonton lawyer organized a meeting for discussion of some small hope that Edmonton might rejoin the Triple-A Pacific Coast League and let participants know that Wishewan was among those likely to attend. He did not appear, but his recent comments reaffirm his love of baseball.
"There's a pretty big announcement that we want to make in the next few weeks," he said. "It'll be the best calibre of baseball that's come to Edmonton in years."
If in fact the Western Baseball Association heads this way, plenty of positive noise can be expected. One WBA player, a Washington product, was taken in the first round of the recent Major League draft. The website says it is common for WBA players to go in high rounds of the MLB selection process.
Cassidy, careful once again to avoid more heat on the Re/Max issue that forced the Prospects to find a new home, refused to comment on Wishewan's statement.
"There is nothing I can say that will affect what will or will not happen," he said. "It would be interesting to see the difference in the fans' approach – Canadian teams playing here with a lot of Canadian content, or American cities that may have no Canadian kids at all."
As always in conflicts such as this, hard feelings can be expected to linger on all sides. One welcome possibility comes to mind: over time, how attractive would a western college playoff – WCBL vs. WBA – become in the public's view?
Neither Cassidy nor Wishewan was asked for an answer to this hypothetical question.
Premier Smith reacts to Liberal Government's announcement on new methane reduction targets at COP 28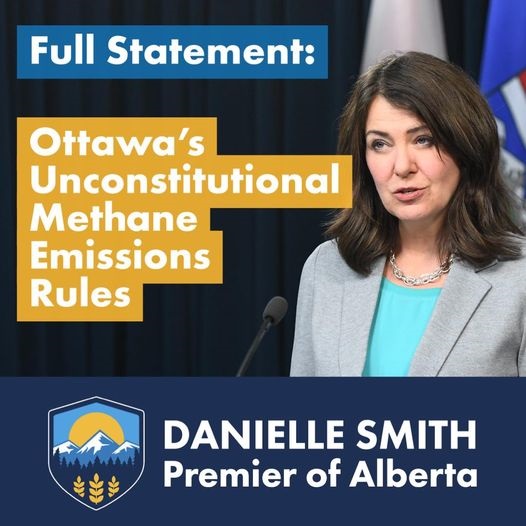 Federal methane emissions targets: Joint statement
"Once again, the federal government is setting unrealistic targets and timelines. Infrastructure can only be updated as quickly as technology allows. For example, Alberta will not accept nor impose a total ban on flaring at this time, as it is a critical health and safety practice during production. Any regulation that completely prohibits this is putting lives at risk"
Premier Danielle Smith and Minister of Environment and Protected Areas Rebecca Schulz issued the following statement on the federal government's proposed methane emissions regulations:
"The federal government has unilaterally established new methane emissions rules and targets to help win international headlines. Instead of building on Alberta's award-winning approach, Ottawa wants to replace it with costly, dangerous and unconstitutional new federal regulations that won't benefit anyone beyond Environment and Climate Change Minister Steven Guilbeault's post-office career.
"Managing emissions from Alberta's oil and gas industry is our constitutional right and responsibility, not Ottawa's, and we are getting the job done. Using a province-led approach, Alberta has already reduced methane emissions from the oil and gas sector by 45 per cent – hitting our target three years early – and we're just getting started.
"Meanwhile, not only is it illegal for Ottawa to attempt to regulate our industries in this manner, Ottawa also hasn't even hit one of its past arbitrary and unscientific emissions targets largely because it has little to no credible expertise regulating the natural resource, agricultural and other industry sectors in this space.
"Ottawa could have helped us keep reducing emissions with joint incentive programs in line with Alberta's Emissions Reduction and Energy Development Plan. It could have listened to the Supreme Court's declaration that the Impact Assessment Act was unconstitutional and abandoned this kind of arrogant and ineffective scheme. Instead, these new regulations threaten our successful province-led approach and impede good work that's already underway.
"Once again, the federal government is setting unrealistic targets and timelines. Infrastructure can only be updated as quickly as technology allows. For example, Alberta will not accept nor impose a total ban on flaring at this time, as it is a critical health and safety practice during production. Any regulation that completely prohibits this is putting lives at risk. A total ban would also be costly, resulting in shut-ins and loss of production.
"This approach will also cost tens of billions in infrastructure upgrades, yet Ottawa has provided virtually no financial support to do so. Thousands of Albertans could be put out of work in the coming years due to these costly regulations. A federal government willing to invest $37.7 billion into just three battery plants in Ontario and Quebec cannot credibly refuse to provide tax credits and financial incentives for producers in Alberta and Saskatchewan to assist with achieving a carbon-neutral economy by 2050.
"For years, Alberta, not Ottawa, has done the hard work and achieved results. We strongly support reducing methane emissions and have invested tens of millions into developing these technologies. Minister Guilbeault must work with us, and not against us, to keep cutting methane emissions and charting a course for carbon neutrality by 2050.
"Given the unconstitutional nature of this latest federal intrusion into our provincial jurisdiction, our government will use every tool at our disposal to ensure these absurd federal regulations are never implemented in our province."
Alberta's Methane Target Reached Early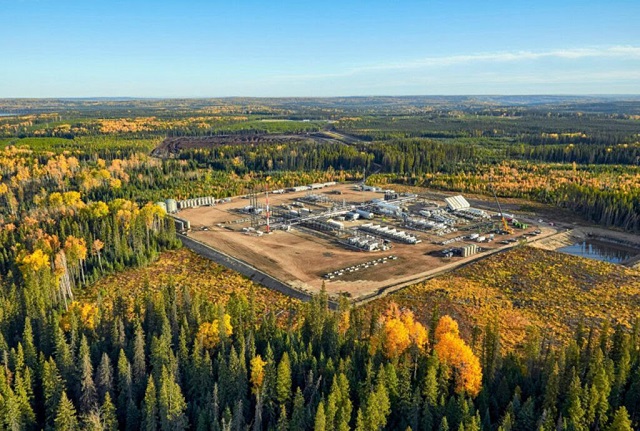 Gas processing plant in northwest Alberta, courtesy of EnergyNow
Courtesy of ENERGYminute
See more articles and infographics from ENERGYminute HERE
---
In a pat-yourself-on-the-back moment, Alberta's oil and gas industry successfully achieved a 45 percent reduction in methane emissions, surpassing the province's mandated target ahead of schedule.
Background: Alberta was the first province in Canada to commit to a 45 percent reduction in methane emissions from the oil and gas sector by 2025, based on 2014 levels. Spoiler alert: Alberta achieved its methane mission three years early.
Their targeted approach to reducing methane emissions from flaring, venting and fugitives has become an example globally, earning national and international awards for its effectiveness and cost-efficiency.
Alberta strong: The government credited the early success to close collaboration with the industry, implementing early action programs such as carbon offsets, tough regulations for all facilities, and enhanced leak detection and repair methods.
Minister of Environment Rebecca Schulz highlighted that this made-in-Alberta approach not only achieved the goal three years ahead of schedule but also resulted in roughly $600 million in savings for the industry compared to the proposed federal program.
Getting the job done: Alberta allocated $57 million from the Technology Innovation and Emissions Reduction fund for methane emissions programs, including:
$25 million in rebates to companies adopting emissions reduction equipment.
$17 million supporting alternatives to detecting and quantifying emissions.
$15 million to help small- and medium-sized operators assess methane reduction opportunities.
Overall, the initiatives eliminated 16.6 million tonnes of carbon dioxide equivalent from the atmosphere.
Looking ahead: Alberta is committed to building on this momentum and collaborating with industry experts to determine the next steps in their emissions reduction journey, aligning with the goal of carbon neutrality by 2050.