More Important Now Than Ever: Remembrance and a few thoughts on this World Suicide Prevention Day
More Important Now Than Ever: Remembrance and a few thoughts on this World Suicide Prevention Day
On August 31, 2019 my sister Kelly and I lost our bright, kind, and beautiful mother Tracey to suicide. In the weeks preceding her death, a major depression Mum had dealt with and overcome several times before in her life came back with a suddenness and intensity that staggered us. It was terrifying to see this episode's impact and how debilitating it was; the helplessness you feel when a loved one is being tormented by their own mind is it's own kind of torture. Still, even through her long and grinding bouts of depression in years past, suicide somehow never felt like a possibility. The very notion was abstract, dark, and seemed impossible- so it was the most shocking and devastating thing we could have imagined that it happened. It's now just over a year later and there are many days we still can't believe she's gone.
Our Mom was our best friend, our biggest cheerleader and just exuded light and kindness. She always wanted to help, whether it was my sister and I, her friends and family or complete strangers- if there was a need for volunteers, she'd be one of the first to sign up. She had so much love for us, for her dogs, for travelling, for golfing, for gardening, for relaxing with drinks on the patio and talking for hours. She was so compassionate and could truly see the good in everyone. When we were growing up, she worked as a registered nurse and often brought home little gifts from patients and their families that she had cared for. She left such an impression on the people she met and this was especially obvious at her memorial, where we were just blown away by the amount of people who attended that had worked with her years, even decades ago. The stories people were generous enough to share with us about our mom were so beautiful- they were such a gift and helped to propel us through that surreal day.
Last year at this time, as we moved through the chaos and fog immediately following Mum's death, I began to see bright yellow billboards all over town stating that '11 Edmontonians attempt or die by suicide per day'. As it turns out, each year, over 50 countries recognize September 10th as World Suicide Prevention Day. So soon after losing my mother this way, the subject of suicide was the only thing on my mind apart from the endless 'Why?'s. This campaign's timing was bananas.
I quickly learned the ads were promoting 11 of Us, a resource portal developed as part of Living Hope: A Community Plan to Prevent Suicide in Edmonton. The Living Hope initiative was developed by a committee of individuals and organizations dedicated to preventing suicides in Edmonton. The plan's objectives include raising awareness and making education on mental health and suicide prevention available to Edmontonians, in most cases free of charge.
Over the past year, I've taken advantage of this initiative and attended excellent courses provided by Living Hope stakeholders including Mental Health First Aid (Basic Course), Safe Talk, Question, Persuade, Refer (QPR), Applied Suicide Intervention Skills Training (ASIST), and Trauma Informed Care. Through these courses I have been lucky enough to meet and share my story with so many kind, compassionate and interesting people, whether they were the ones delivering the course or learning alongside me.
Of course COVID-19 has changed everything. Most of these courses are now offered online, including one I have yet to take called LivingWorks Start which teaches trainees to recognize when someone is thinking about suicide and to connect them with help and support. While many of us are dealing with screen-fatigue, please don't let the idea of one more online session deter you. Most courses don't require more than an hour, but the information you'll learn really could help keep someone with us.
This past year has been the hardest of my life, yet I've been encouraged and inspired by the work and efforts of so many as I try to gain peace and a better understanding of my family's experience. It goes without saying that suicide is a difficult topic- I've come to learn that nothing sucks the air out a room quite like the mention of it. It's much easier to look away, but for World Suicide Prevention Day this year, if your own mental health allows for it, take a moment to read about the experiences of suicide attempt survivors, caregivers, suicide loss survivors, and those at risk of suicide.
We live in a new world now and we're going to need each other more than ever. Like another one of those big yellow 11 of Us billboards I saw recently said, 'There's rarely been a more important time to check in with one another.'
WHERE TO GET HELP
Call 911 if someone is in immediate danger of becoming injured or dying.
In Edmonton: Call The Canadian Mental Health Association's (CMHA) Edmonton Distress Line 24/7 at (780)-482-4357 (HELP)
In Red Deer & across Alberta: Call the Mental Health Help Line at 1-(877)-303-2642
In Calgary: Call the Distress Centre Calgary's Crisis Line 24/7 at (403)-266-4357 (HELP)
New year, old issues: Enbridge, state of Michigan renew Line 5 hostilities in court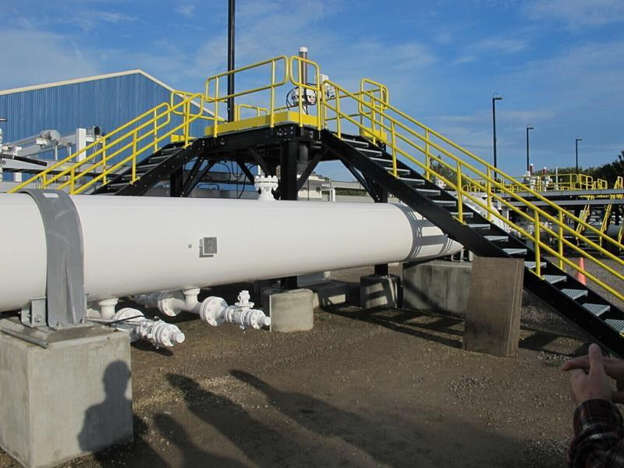 WASHINGTON — Enbridge Inc. and the state of Michigan are renewing their legal hostilities over the future of the controversial Line 5 pipeline — and their latest court battle looks an awful lot like the last one.
Attorney General Dana Nessel and Gov. Gretchen Whitmer were dealt a setback last November when District Court Judge Janet Neff granted Enbridge's request that the case be removed to federal court, a decision that prompted Michigan to abandon that particular challenge.
Instead, the state is focusing its efforts on a separate but similar circuit court action filed in 2019 that spent last year in a state of suspended animation, and which Enbridge is once again arguing should be heard by a federal judge because it comprises an important foreign policy question.
Too late, Nessel argues in her latest tract of court documents, filed Friday with the very same judge who heard the original arguments.
"The present action was pending in state court for nearly two and a half years before (Enbridge) removed it to this court," she says. Federal law makes it clear that cases can only be removed to federal jurisdiction within 30 days of a complaint being filed, the documents note.
"It is more than two years too late, and federal courts do not condone this type of gamesmanship and abuse of the removal statutes."
By Nessel's logic, Enbridge knew perfectly well it could have petitioned to have the case removed when it was originally filed but opted not to do so until now — a "remarkably dilatory" act based on an argument that "defies the facts, the law and basic common sense."
Enbridge has yet to file a response to Nessel's latest brief. However, the company has repeatedly indicated it has no plans to shut down Line 5 voluntarily and will continue to fight in court to keep it running.
The overarching question — whether a dispute over the lawful operation of an international, cross-border pipeline should be heard by a federal judge or at the state court level — is a carbon copy of the battle the two sides fought in front of Neff for the better part of last year.
The clash first erupted in November 2020, when Whitmer abruptly revoked the 68-year-old easement that had long allowed Calgary-based Enbridge to operate the line. She cited the risk of environmental catastrophe in the Straits of Mackinac, where Line 5 crosses the Great Lakes.
The pipeline ferries upwards of 540,000 barrels per day of crude oil and natural gas liquids across the Canada-U.S. border and the Great Lakes by way of a twin line that runs along the lake bed beneath the straits linking Lake Michigan and Lake Huron.
Proponents call Line 5 a vital and indispensable source of energy, especially propane, for several Midwestern states, including Michigan and Ohio. It is also a key source of feedstock for critical refineries on the northern side of the border, including those that supply jet fuel to some of Canada's busiest airports.
Enbridge and its allies, including the federal Liberal government, insist that the pipeline is too vital an energy artery to both countries for it to be suddenly shut down, and the question of its continued safe operation is one to be settled between Ottawa and the White House.
Central to that argument is a 1977 bilateral treaty that was conceived to avoid disruptions to the cross-border flow of energy, one that proved to be a key element in Enbridge's strategy to convince Neff that the controversy should be adjucated by a federal judge.
Canada said late last year that planning was "well underway" for bilateral treaty talks between Canada and the United States in the dispute over the pipeline, although the timeline for formal negotiations has never been publicly disclosed.
Last year, lawyers for the federal government also filed a statement in court expressing support for Enbridge's argument, known in legal parlance as an amicus brief. It was not immediately clear Tuesday whether Ottawa expects to do so again.
The White House has acknowledged that the U.S. Army Corps of Engineers is conducting an environmental assessment on Enbridge's plans to encase the underwater portion of the twin pipeline in a deep, fortified underground tunnel. But they have so far resisted pressure to get involved in the dispute itself.
Critics want the line shut down, arguing it's only a matter of time before an anchor strike or technical failure triggers a catastrophic environmental disaster in one of the area's most important watersheds. Michigan has every right to take whatever steps are necessary to protect it, the National Wildlife Federation said in a statement.
"This motion is critical because if successful, it will allow the state courts to consider for the first time whether the risks of a rupture of Line 5 in the Great Lakes justify the continued operation of the pipeline," said federation attorney Andy Buchsbaum.
"If Enbridge's gamesmanship is successful, it would allow Enbridge to circumvent Michigan's ability to protect the Great Lakes and to tie the case up in federal court by months, if not years, leaving the Great Lakes in great danger."
This report by The Canadian Press was first published Jan. 18,2022.
James McCarten, The Canadian Press
Monahan's two-goal performance powers Calgary Flames past Florida Panthers 5-1
CALGARY — Sean Monahan's first two-goal game of the season helped the slumping Calgary Flames to a surprise 5-1 victory over the NHL-leading Florida Panthers on Tuesday.
After scoring a power-play goal on a deflection at 16:03 of the second period to make it 3-1, Monahan put the game away in the third, making it 5-1 at 6:43, taking a drop pass from Johnny Gaudreau and neatly beating goaltender Spencer Knight on a move from in-close.
Rasmus Andersson, with his first of the season, Matthew Tkachuk and Blake Coleman also scored for Calgary (18-11-6), which snapped a four-game losing streak and won on home ice for the first time since Nov. 29.
The Flames entered the night 2-7-1 in their previous 10 games.
Sam Bennett scored the lone goal for Florida (26-8-5), which had its four-game winning streak and nine-game points-streak (8-0-1) snapped.
The next outing for both teams will be in Edmonton with the Panthers' second stop on a five-game road trip taking place on Thursday. Calgary isn't back in action until Saturday when the Flames play the Oilers at Rogers Place.
Markstrom, who has given up four or more goals in four of his previous five starts, made 28 stops to improve to 13-8-5.
After starting the last seven games, Sergei Bobrovsky got the night off with Knight getting his first start since Dec. 30. Knight made 26 saves. His record falls to 7-5-2.
Calgary got off to a fast start, getting a power play four minutes into the game and taking just 23 seconds to take advantage with Andersson knocking in his own rebound from the slot.
The Flames extended their lead to 2-0 at 11:36 of the first. A stretch of prolonged pressure by Calgary's newly formed second line culminated in Coleman's seventh goal, the assists going to his linemates Andrew Mangiapane and Mikael Backlund.
But Bennett, in his first game back in Calgary scored 12:36 into the second to cut Florida's deficit in half. Bennett was traded to Florida ahead of the trade deadline last season after logging 402 games with Calgary over six seasons. He's been a revelation since joining the Panthers scoring 22 goals in 40 games.
The power play was key for the Flames striking twice on three opportunities after entering the game 0-for-10 during the losing streak.
Gaudreau had his first four-assist game ever on home ice and just the second of his career. Tkachuk also kept his offensive hot streak going with three points. He has 13 points (six goals, seven assists) over his last eight games.
Although the Panthers own the league's best home record at 21-3-0, they haven't enjoyed the same success away from FLA Live Arena, now 5-5-5.
For the Flames, they have struggled similarly at the Saddledome, picking up their first win since Nov. 29. They're 5-4-4 on the year.
Notes: Gaudreau's only other four-assist game was in Nashville on Feb. 21, 2017… It was the first time this season Florida did not get a point from a defenceman… Mason Marchment returned to the Panthers lineup for the first time since Jan. 1. An assist gives him a five-game point streak.
This report by The Canadian Press was first published Jan. 18, 2022.
Darren Haynes, The Canadian Press