Lesley's story: I Have the Tools I Need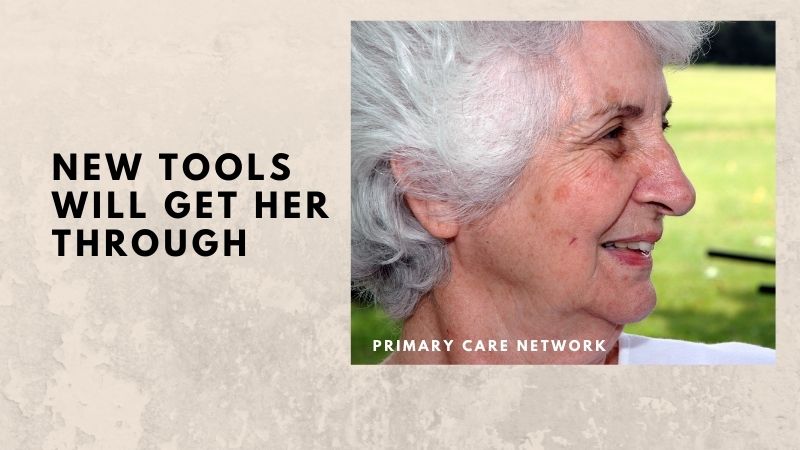 Lesley, a senior living alone, has a history of depression, anxiety and obesity. She had attended a number of RDPCN group programs including Sleep, Happiness Basics and Health Basics and has regular appointments with the psychologist who suggested the Family Nurse could provide her with general support. Lesley had regular visits with the family nurse prior to Covid. Once Covid hit, Lesley felt isolated, lonely, depressed, anxious and sometimes angry. She was no longer exercising or eating heathy and her weight was increasing. Lesley had achieved a 30-pound weight loss, so she did not want to gain it all back. At this point she and the family nurse agreed on weekly phone calls.
The nurse connected her to the Zoom program from an Edmonton PCN titled Senior Centre without Walls. They offered 4 one-hour programs per day and Lesley connected to all of these and found them incredibly helpful. She was part of a group and had something to look forward to each day. Prior to Covid, Lesley enjoyed the interaction with people by volunteering at the library but with the library shut down, that had disappeared. The nurse helped her to dust off and use all of the tools she gained from previous programs and put them back in use- grocery shopping strategies, mindfulness, and gratitude for all she has for example. Other soothing strategies she uses includes hugging yourself and tapping your fingers on your own shoulders. They also chatted about motivation and Lesley said that really helped her to refocus on her overall goal of maintaining health and independence. She started to exercise again and found being outside helped her mood. She could nod at people from afar and enjoy nature. She now enjoys each day and rarely gets wrapped up in what is to come. She has significantly decreased the time she watches the news. She is back to using the food and activity log and slowly losing weight. And she is back to volunteering and really happy to be back at the library.
Lesley is very thankful for the support of the family nurse and their regular calls have moved to monthly as Lesley feels she has a much healthier perspective and is coping better. She is concerned about the winter but knows with the tools she has learned and uses, that she will get through.
To learn more about the RDPCN programs, visit www.reddeerpcn.com
Glenn Anderson adds some colour to the "Day of Golf"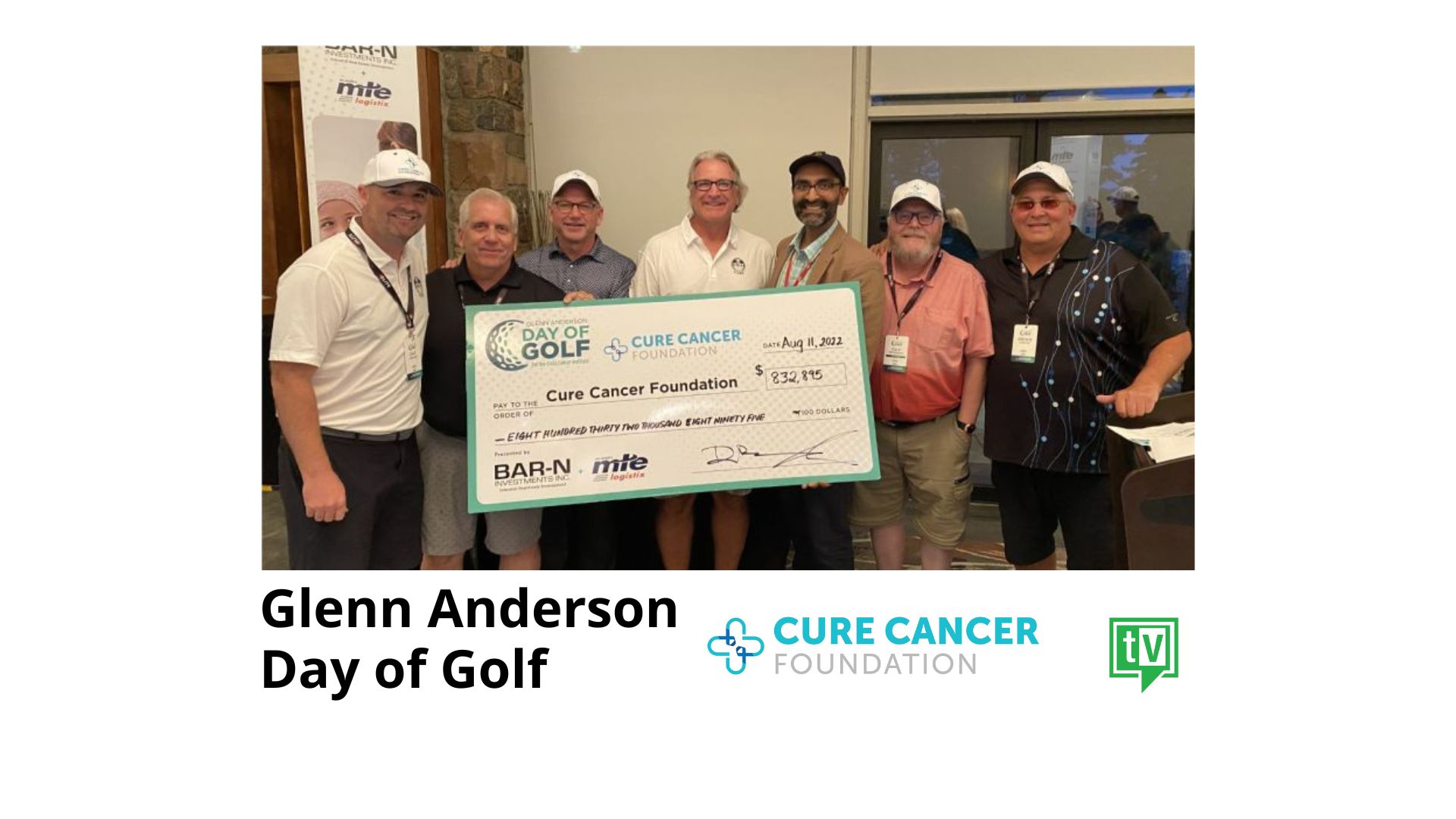 Last week, the 32nd edition of the Glenn Anderson Day of Golf raised an incredible amount of money … in fact more than $832 thousand dollars! As the numbers are tallied up, that total will be closer to $900K! That's a big deal and the money raised will fund cancer research. Congratulations to the organizers and a shout out to the Derrick Club who did an amazing job of hosting the event.
But today's story is more about Glenn Anderson. A class act, Anderson travels up to Edmonton from Florida each year to help make this event a roaring success. He told some great stories at a reception the night before the tournament. If you're an Oilers fan, you'll enjoy this video!
Click here to watch the video on youtube.
Learn more about the Cure Cancer Foundation.
Health Basics was my Kick Start to a Healthier Weight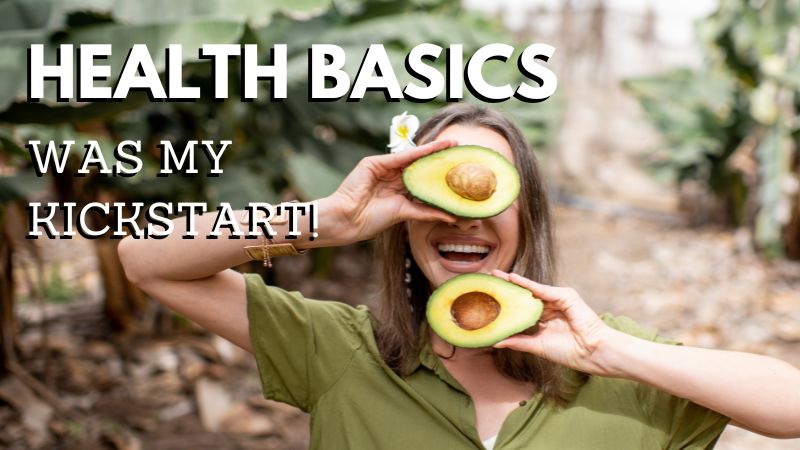 Editor's note: The concepts outlined in this article are important and can be adapted to our current isolated lifestyle.
Health Basics was my Kick Start to a Healthier Weight
I am a retired nurse so I know quite a bit about living healthy. However over my last year of work, I had a sedentary job and I felt tired so I did not put as much energy into my own lifestyle and my weight crept up. I was getting a lot of heartburn and I knew weight loss and lifestyle are the first line treatment.
So, after I retired I asked my doctor to send me to Health Basics. It was good to go every week, to have to be accountable, to have others to discuss my choices with as well as to pick up on things from class that I had let slide. I went through the 8 week program and lost 9 pounds. As I know how important it is to continue living healthy and be accountable to myself, I rejoined TOPS which I was a member of a number of years ago. I also continued with exercise classes and yoga at the Golden Circle and now I am down 17 pounds just over 4 months after I started down this path. I am feeling great: stronger, fitter and I have almost no heartburn. Health Basics has helped me to enjoy retirement!"
PS: "I knew Health Basics is a great kick start on healthy living as my husband had attended it years ago when he was diagnosed with diabetes. He followed the class recommendations and has lost more than 75 pounds over the years and feels great too."
As always Red Deer PCN is here to support your health and wellness. Call 403.343.9100. Mental Health Counsellors are available for therapy and other concerns.