Open Letter to Canadians
August 16, 2021
FOR IMMEDIATE RELEASE
Red Deer – Mountain View, AB
Canada, we are at a turning point. For the past 18+ months, this country has slowly slide into a state of medical tyranny where now one of the major election issues will be bodily autonomy.
Parliament has been reduced to a shell of its former self, consisting of Zoom calls and handouts from the steps of Rideau Cottage. This is not leadership. Not in "normal" times and certainly not in the midst of the greatest crisis that the world has faced since World War II.
Some Members of Parliament (MP) have spoken out against the increasing government overreach into our lives but most have been silent. It takes courage to speak up but it is the duty of an MP to do so.
The Liberal government has implemented or introduced numerous Bills over the course of the pandemic to strip your individual rights and limit your ability to provide for and protect your family.
Bill C-21 removed firearms from law-abiding firearms owners while simultaneously, Bill C-22 eliminated mandatory minimum sentences for firearms crimes. Bill C-10 and Bill C-36, if passed, will severely limit free speech. Carbon tax rates were increased twice during the pandemic and Bill C-12 legislates emissions targets into law, ultimately raising your cost of living while doing nothing to curb emissions in China or India. Billions of your grandchildren's tax dollars have been squandered through sweetheart deals to connected insiders and poorly designed subsidy programs. The government forced Canadians into quarantine "hotels" and have now taken the steps to ban inter-provincial travel for those not taking the government mandated virus treatment. These issues must be addressed and freedoms returned.
How will I do this as one MP of a small political party? By holding regular press conferences on Parliament Hill that feature subject matter experts in order to spark a movement that puts Canadians first. 25% of the population, working together, can change a nation for the better. Do you want to be a part of a movement that returns Canada as the home of "the true north strong and free"? I do.
Sincerely,
Jared Pilon
Libertarian Party Candidate for Red Deer – Mountain View, AB
https://www.jaredpilon.com/
Canadian intelligence flagged Chinese meddling 37 years ago: newly released report
A newly released document shows intelligence officials have been tracking China's attempts to meddle in Canadian affairs for more than one-third of a century. The February 1986 intelligence report warned that Beijing was using open political tactics and secret operations to influence and exploit the Chinese diaspora in Canada. A resident crosses a quiet street near the Central Business District skyline in Beijing, Tuesday, Dec. 13, 2022. THE CANADIAN PRESS/AP-Ng Han Guan
By Jim Bronskill in Ottawa
A newly released document shows intelligence officials have been tracking China's attempts to meddle in Canadian affairs for more than one-third of a century.
The February 1986 intelligence report warned that Beijing was using open political tactics and secret operations to influence and exploit the Chinese diaspora in Canada.
It said China was using new and potentially more potent techniques to accomplish these goals.
The Canadian Press used the Access to Information Act to obtain the report, called "China/Canada: Interference in the Chinese Canadian Community," produced by the federal Intelligence Advisory Committee.
Much of the document remains secret on the grounds disclosure could harm the conduct of international affairs, the defence of Canada or the detection, prevention or suppression of subversive or hostile activities.
Release of the heavily redacted report comes amid pressure on the Liberal government to hold an inquiry into foreign interference in Canada following a series of leaks to the media about purported meddling by China.
The 1986 committee report "demonstrates that this issue has been on the radar of Canadian intelligence for decades," said Alan Barnes, a former intelligence analyst who is now a senior fellow with Carleton University's Norman Paterson School of International Affairs.
Barnes, who recently came across the title of the document during archival research, said the Intelligence Advisory Committee was chaired by the federal security and intelligence co-ordinator in the Privy Council Office.
"Its reports were sent to a wide range of senior officials across government," Barnes said.
The 1986 report advised that the People's Republic of China "has continued its efforts to influence the many large Chinese communities abroad and to exploit those communities for its economic and political purposes."
"In Canada, as in many other western countries, the PRC uses both overt political activities and covert intelligence operations … to achieve those ends," the report added. "New, and potentially more effective, techniques are being used to influence the Canadian Chinese communities."
Cheuk Kwan, co-chair of the Toronto Association for Democracy in China, said he was not surprised by the report.
Kwan said he is aware of Chinese efforts to cultivate individuals and groups to interfere in Canadian affairs dating from the early 1980s, though the activity was at "a very low level" in those days.
"But certainly, they knew what they were trying to do. It was not an accident," he said in an interview.
"I'm glad that at that time, somebody was aware of it. I'll bet nobody took any action."
Kwan said Beijing stepped up efforts to influence Chinese communities in Canada following the bloody 1989 crackdown on pro-democracy protesters in Tiananmen Square, with the aim of burnishing its badly damaged image.
Evidence has surfaced from time to time over the decades indicating interest on the part of Canadian intelligence officials in China's behind-the-scenes actions.
In recent years, the federal government and its security agencies have begun to openly point a finger at Beijing as particularly active in foreign interference activities against Canada.
Representatives of the Chinese government have consistently denied meddling in Canadian affairs.
Leaks to the media from unnamed security sources about alleged Chinese attempts to interfere in the last two general elections have prompted calls for the federal Liberals to explain what Canada is doing in response.
Opposition parties continue to press the government to establish a full public inquiry.
Kwan said while an inquiry could help document the history of China's interference ploys, it would essentially be "looking backwards" but not "going to help you going forward."
The partial release of the intelligence report, 37 years after it was written, illustrates the need for Canada to adopt a proper system for the declassification of historic intelligence and security records after a specific period of time, Barnes said.
Canada is the only member of the Five Eyes intelligence alliance — which also includes the United States, Britain, Australia and New Zealand — that does not have a declassification process for historic records, he noted.
This report by The Canadian Press was first published July 22, 2023.
Bloc leader optimistic Trudeau will call public inquiry into foreign interference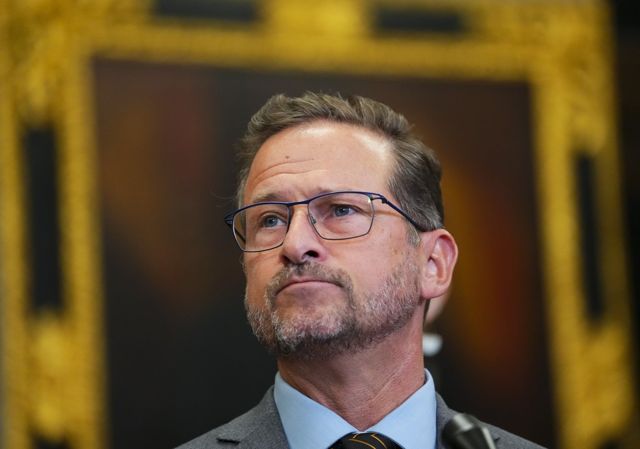 Bloc Québécois Leader Yves-Francois Blanchet speaks to reporters in the foyer of the House of Commons on Parliament Hill in Ottawa, Tuesday, June 13, 2023. Blanchet says he is hopeful the federal government will soon call a public inquiry into foreign interference. THE CANADIAN PRESS/Sean Kilpatrick
Ottawa
Bloc Québécois Leader Yves-François Blanchet says he is hopeful the Liberal government will soon call an independent public inquiry into foreign meddling is Canada's affairs.
Blanchet told reporters today he was encouraged by talks with Intergovernmental Affairs Dominic LeBlanc, adding that an agreement could be reached within hours.
He says he believes that at a minimum, the Bloc and the Liberals would agree on details of the inquiry, which he says might also be supported by the NDP and Conservatives.
The Bloc leader suggests the Trudeau government will eventually accede to all his party's demands, including to launch an inquiry before the House of Commons rises for the summer break.
Blanchet suggests the inquiry would focus on allegations that the Chinese government has interfered in Canadian democracy, but that it would not be restricted to that subject.
All parties agree that the 2019 and 2021 federal election results were not compromised, but opposition MPs say a public inquiry on foreign meddling attempts is the only way for Canadians to feel confident in the electoral system.
This report by The Canadian Press was first published June 21, 2023.