Open Letter to Canadians
August 16, 2021
FOR IMMEDIATE RELEASE
Red Deer – Mountain View, AB
Canada, we are at a turning point. For the past 18+ months, this country has slowly slide into a state of medical tyranny where now one of the major election issues will be bodily autonomy.
Parliament has been reduced to a shell of its former self, consisting of Zoom calls and handouts from the steps of Rideau Cottage. This is not leadership. Not in "normal" times and certainly not in the midst of the greatest crisis that the world has faced since World War II.
Some Members of Parliament (MP) have spoken out against the increasing government overreach into our lives but most have been silent. It takes courage to speak up but it is the duty of an MP to do so.
The Liberal government has implemented or introduced numerous Bills over the course of the pandemic to strip your individual rights and limit your ability to provide for and protect your family.
Bill C-21 removed firearms from law-abiding firearms owners while simultaneously, Bill C-22 eliminated mandatory minimum sentences for firearms crimes. Bill C-10 and Bill C-36, if passed, will severely limit free speech. Carbon tax rates were increased twice during the pandemic and Bill C-12 legislates emissions targets into law, ultimately raising your cost of living while doing nothing to curb emissions in China or India. Billions of your grandchildren's tax dollars have been squandered through sweetheart deals to connected insiders and poorly designed subsidy programs. The government forced Canadians into quarantine "hotels" and have now taken the steps to ban inter-provincial travel for those not taking the government mandated virus treatment. These issues must be addressed and freedoms returned.
How will I do this as one MP of a small political party? By holding regular press conferences on Parliament Hill that feature subject matter experts in order to spark a movement that puts Canadians first. 25% of the population, working together, can change a nation for the better. Do you want to be a part of a movement that returns Canada as the home of "the true north strong and free"? I do.
Sincerely,
Jared Pilon
Libertarian Party Candidate for Red Deer – Mountain View, AB
https://www.jaredpilon.com/
There's no free lunch.. But an O'Toole Conservative Government will pay for half of yours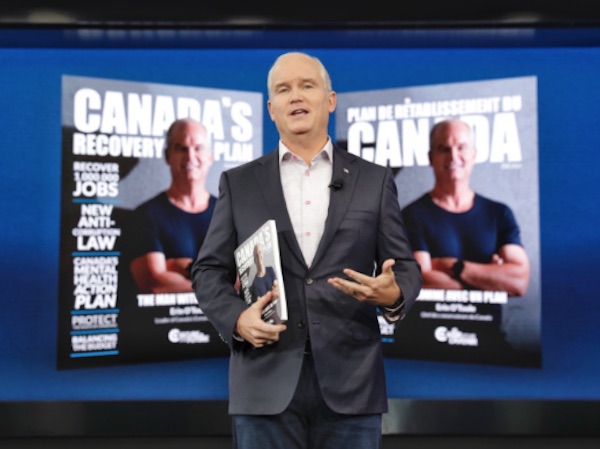 News Release from The Conservative Party of Canada
Hon. Erin O'Toole, Leader of Canada's Conservatives, released his plan to introduce a Dine and Discover program to support the tourism and hospitality sectors.
"The COVID-19 pandemic has had a disastrous effect on Canada's tourism and hospitality sectors," said O'Toole. "A Conservative government will act quickly to recover the one million jobs lost during the pandemic and help these businesses get back on their feet."
Through Canada's Recovery Plan, a Conservative government will introduce a Dine and Discover program to encourage Canadians to support these hard-hit sectors. This initiative will:
Provide a 50 per cent rebate for food and non-alcoholic drinks purchased for dine-in from Monday to Wednesday for one month, once it is safe to do so, pumping nearly $1 billion into these sectors.
Launch the Explore and Support Canada initiative with a 15 per cent tax credit for vacation expenses of up to $1,000 per person to encourage Canadians to vacation in Canada in 2022, helping the tourism sector get back on its feet.
Eliminate the Liberal escalator tax on alcohol.
"We will help Canadians deal with the rising cost of living, while supporting those who work in our hospitality sector," said O'Toole.
If you don't care about securing support for Canada's tourism and hospitality sectors, you have three parties to choose from in this election. If you do, then there is only one choice – Canada's Conservatives.
Backgrounder
To get Canadians back to work, the federal government needs to focus on helping the hardest-hit sectors, including the hospitality and tourism sectors. To support these sectors, Canada's Conservatives will introduce a new Dine and Discover program.
"Dine": Restaurant refund initiative
Once it is safe to do so, Canada's Conservatives will support the recovery of the restaurant sector by providing a 50 per cent rebate for food and non-alcoholic drinks purchased for dine-in service from Monday to Wednesday.
Modelled on a similar program in the United Kingdom, this initiative will encourage Canadians to get back into restaurants on days of the week when restaurants tend to have excess capacity.
The customer will immediately receive the rebate, which will appear directly on the bill. Businesses will receive their rebate from the Canada Revenue Agency (CRA) within days of submitting the claim through a CRA portal similar, to that used for emergency business supports.
There will be no limit on the number of times that an individual customer may use the program, but the program would cover a maximum meal cost of $35 per patron per visit. The program will apply to a wide range of establishments, including but not limited to restaurants, pubs, bars, coffee shops, and canteens.
This will support workers by injecting nearly $1 billion into the restaurant, hospitality, and tourism industries.
"Discover": Explore and Support Canada initiative
Canada's Conservatives will establish an Explore and Support Canada initiative to encourage Canadians to support the recovery of the Canadian tourism and hospitality sectors. Conservatives will create a refundable 15 per cent tax credit for vacation expenses of up to $1,000 per person for Canadians to vacation in Canada in 2022.
For a couple, this would mean savings of up to $300 on their next family trip if they vacation in Canada.
Eligible expenses would include:
Accommodations, including hotels, motels, and other short-term rentals;
Restaurant meals, including delivery fees and tips;
Entry fees to attractions, parks, cultural events, museums, festivals, sporting events, and other attractions; and
Travel, including car rentals, RV rentals, bus rides, taxi rides, airfare, tolls, and parking.
This program will benefit Canadian workers in hotels, restaurants, airlines, festivals, museums, and a wide range of businesses in the tourism and hospitality industries.
This will support workers by injecting over $1.5 billion into these sectors.
Quick Facts:
Restaurants employ 1.2 million Canadians and contribute $95 billion to GDP.
The Canadian tourism industry supports 1.8 million jobs and contributes $102 billion to GDP.
About 533,000 workers in the tourism industry lost their jobs in 2020.

Red Deer – Mountain View, AB
"Voting for who you truly want to is never a waste and if we stopped voting 'strategically' and with our hearts and conscience we would all be better off." – Keith Macintyre, Leader of the BC Libertarian Party
Making the decision to vote for a small political party can be difficult. The political system in Canada may lead you to think that you are wasting your vote or enabling a candidate that you don't support to ultimately get elected if you don't vote for the "lesser of two evils".
In the 2019 Federal Election, Earl Dreeshen won the riding of Red Deer-Mountain View with 80.34% of the vote. The runner-up received 7.26%. It is safe to say that there is no chance that "vote splitting" would result in a Liberal or NDP candidate being elected in the riding.
Before voting I urge you to review the platforms of the big three parties; Conservatives, New Democrats and Liberals. Better yet, watch their campaign rallies and policy announcements. Aside from the colour of the banner under which they operate, I think you would be hard pressed to find any significant differences. Their policies addressing gun control, size of government, vaccine passports, spending plans, budgets, social issues, health care and any other major issue that we face in 2021 are all relatively similar. Why is this? Are the majority of Canadians asking for these policies? Are we all seeking to further establish the deeply entrenched parental relationship that government has taken in our lives?
From knocking on doors throughout my riding, I know this is not the case. Canadians are yearning for change, for freedom and for something different.
The 2021 Federal Election can be different. Show the establishment politicians that you are tired of the games and divisive rhetoric. Tell them that you will no longer accept broken promises, bigger government and less freedom. This year vote based on principle. This year vote with your heart.
Libertarian Party Candidate for Red Deer – Mountain View, AB
https://www.jaredpilon.com/