Judy's story: I'm on the healthy road!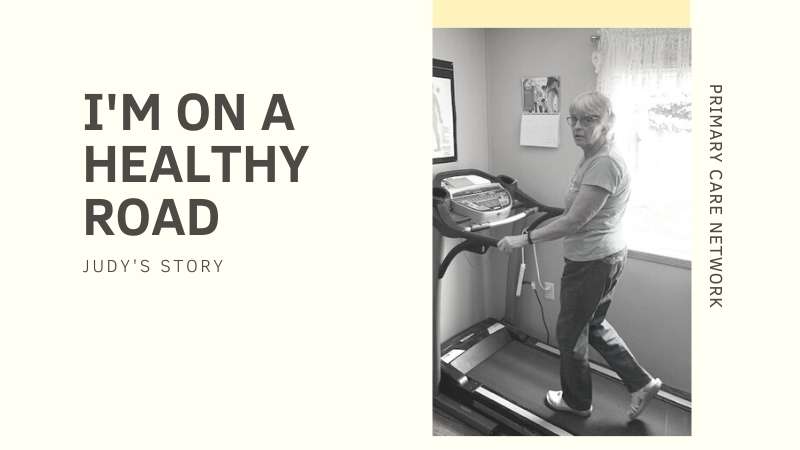 On the Healthy Road!
My journey to better health starting when my doctor told me my blood sugar was at pre-diabetes levels, my blood pressure continued to require medication and I had weight to lose.  He sent me to see the RDPCN nurse. After some appointments there, the nurse referred me to the Health Basics program.
Exercise was my downfall. Working from home, I always found something else to do rather than exercise.  Health Basics increased my awareness. I tracked what I was eating and became more aware of what I ate, when I ate and why I ate. I also realized things that would make me healthier that I wasn't doing.  I realized being healthy is a process and I took one healthy step at a time. I also became aware of the wider variety of options for healthy lifestyle.
My husband and I visited friends over the summer and noted they had lost weight.  This stimulated us to pay even more attention to our food intake. As a result of our overall efforts, I have lost about 32 pounds and my husband has lost 37. My blood sugar is now in the normal range. I have had significant decrease in my blood pressure medication. I have more energy. I enjoy exercising more as it is easier to move around and I have less arthritis pain. Health Basics is an excellent class- it started me on the healthy road. I also have much more confidence in my future health.
Click to learn more about the Red Deer Primary Care Network.
Read more success stories from the Primary Care Network.
RCMP crack firearms trafficking operation based in Blackfalds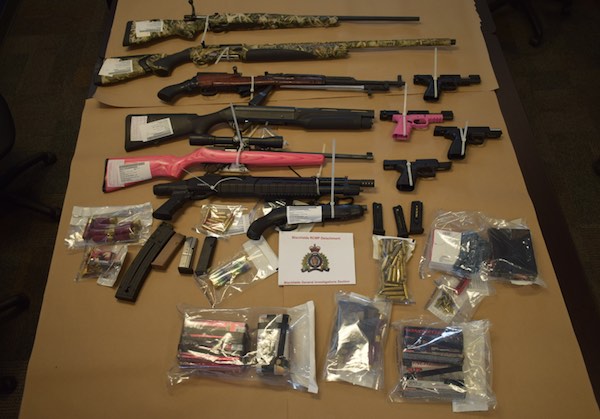 From the Blackfalds RCMP
Blackfalds RCMP – Multi agency attack on firearms trafficking
A comprehensive investigation was initiated in January, and saw at least 11 different partnering detachments, units and agencies collaborating to stop an organized firearms straw buying/trafficking operation.
The investigation was launched by Blackfalds RCMP after receiving intelligence about the possibility of the trafficking.  Extensive evidence had to be gathered which included the engagement of firearms partners; the Chief Firearms Officer, NWEST, Red Deer ALERT and Edmonton Police Service's Firearms Investigation Unit. These units were able to provide expertise related to the dynamics of straw purchasing and trafficking.
Three suspects were identified and targeted in the ongoing investigation.  On Feb. 12, search warrants were conducted at residences in both Red Deer and Blackfalds.  Because there were two different locations, and given the nature of the searches, Blackfalds, Red Deer, Sylvan Lake, Innisfail, Ponoka General Investigation Section Units and Red Deer Crime Reduction Team all provided assistance.  The RCMP Police Dog Services and Emergency Response Team were also on hand to ensure police and public safety.
Three adults were taken into custody. During the execution of the search warrant, a loaded Glock .22 pistol was located with the three adults.  10 firearms and ammunition were seized from the residences.  Some of the firearms were loaded, and had serial numbers tampered with. Continuing investigation led the RCMP to determine other firearms were purchased. The Blackfalds RCMP anticipate seizing two more pistols from a Calgary business.
David Jason Masyk (39), Jason Paul Lafferty (48) and Jennifer Lynn McCagherty (29) were all charged criminally on Feb. 13 related to firearms / firearms trafficking offences.
Lafferty is facing 25 charges, including four counts of firearms possession contrary to prohibition order. Masyk is facing 10 charges, including three counts of Weapons Trafficking and four counts of Weapons possession for the purpose of trafficking and McCagherty is facing 19 charges, including 10 counts of unauthorized possession of a firearm.
Judicial Interim Release hearings were held.  Lafferty did not speak to bail and was remanded into custody until Feb. 17, 2021. Masyk and McCagherty were both released and are set to appear in Red Deer Provincial court on March 17, 2021.
Major fundraising drive by Bower Place to benefit the Child Advocacy Centre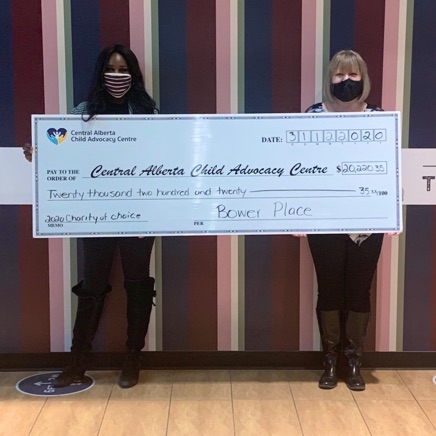 Article submitted by the Central Alberta Child Advocacy Centre
Bower Place Presents Central Alberta Child Advocacy Centre with Donation
The CACAC graciously accepts the 2020 Charity of Choice donation from Bower Place – receiving over $20,000!
The Central Alberta Child Advocacy Centre was thrilled when Bower Place announced they would be the Charity of Choice for 2020, but the year would look much different than years past. For over 6 years Bower Place has been supporting their community by naming a local charity annually and putting on multiple fundraisers, including: pancake breakfasts, exclusive shopping nights and gift-wrapping. 2020 presented many challenging obstacles to all, but the team at Bower Place took it in stride and began to construct new and innovative ways to fundraise for their chosen charity.
"The ability to "give back" to the community is not only our mission, but QuadReal's: "We take seriously our responsibility to make a meaningful contribution in the communities we work and live."  So, we are thrilled that we were able to provide the Central Alberta Child Advocacy Centre with an outlet to garner funds, especially during such an uncertain and tumultuous year. Also, a special thank you to Jen and all the volunteers who helped make our event and programming initiatives successful!" Adwoa Obrenu-Yamoah, Bower Place Manager, Marketing
To fundraise this year Bower Place created a special space for the CACAC: the "Inside Story: Pop-Up". This space not only allowed the CACAC to have fundraising items but allowed them to share their story to all who visited – generating significant awareness in the community of Central Alberta around the issue of child abuse – an invaluable opportunity. Bower Place also partnered with local shops to create two "kits" for sale and held a successful virtual "Girls Night In" craft/fashion event correlated to the sold-out boxes. This was also the first year Bower Place had gone without gift-wrapping, but the team used this as another challenge to create something new, selling "Bower Elves" in the pop-up with 100% of the proceeds donated to the CACAC.
"The entire team at the mall was very supportive and engaged with helping us to highlight the need for our Centre. While they faced many challenges themselves, the focus on helping us remained strong. This organization is rooted in community and plays such a valuable role in our city." Jennifer O'Shea, CACAC Community Events Coordinator
The CACAC would like to extend a huge thank you to the entire Bower Place team: Adwoa, Sonya, Maia, Ryan & the rest of the team! The ability to work through the ever-changing ways of 2020/2021 is inspiring, and the donation of $20,220 to the Centre truly will have a lasting impact. The CACAC would also like to thank all the volunteers who put in countless hours to help make this year a success – their tremendous commitment to the organization is going to create great change here in our community; the CACAC thanks you for your time, advocacy, and support.