In the Great White North, Canadian Hosers get Bronzed EH!
Canadian Hosers get Bronzed EH
Sometimes dreams do come true for Canadian Hosers. After a long eight-year journey, Canada's most famous, "stubby" beer drinking, bacon eating, tuque wearing brothers, Bob and Doug McKenzie, played by Rick Moranis and Dave Thomas, now have two life sized bronzed statues install in downtown Edmonton's ICE District. Sadly, with no fanfare, no press release, no public events-because of the Covid- 19 pandemic, the official unveiling event, for this beautiful work of art created by Edmonton Sculptor Ritchie Velthuis and produced by Calgary's Bronzart Casting Ltd., will have to wait for future date.
It started in late 2011 with a golden idea by Avenue Edmonton magazine publisher Orville Chubb and the magazine's editor Steven Sandor. Then, in the January 2012 edition of Avenue the first public exposure for "a petition" was printed in a column about the farfetched idea asking, "How about a prominently placed sign welcoming people to Melonville? A bronzed Bob and Doug, sitting on a park bench in Churchill Square? A simple plaque? Or maybe a ceremony, festival or annual party?"
Sandor pined about how, "Small towns do it. Big cities do it. But, in Edmonton, we don't mark our pop culture." He continued his argument, "If you are an Oilers legend, you get roads named after you", and a bronze statue! Sandor widen his pitch on how in Minnesota in honour of hometown hero Charles Schulz, you can find Peanuts characters statues sprinkled around the Twin Cities; in fact there are over 100 statues of just Lucille (Lucy) van Pelt, most of them are five-foot tall fibreglass ones, but still. Sandor continued, "in downtown Minneapolis, you'll find a statue of Mary Tyler Moore to honour Mary Richards", the TV associate producer she portrayed. And, "In Toronto's Kensington Market, you can sit next to a statue of actor Al Waxman, CBC's famous King of Kensington."
It wasn't long after the magazine hit the street that Sandor and Chubb thought the idea could actually, "take off, eh", he expands, "My phone started ringing, I would get e-mails, so many fans would telling me stories about meeting the stars, having them shooting in their neighbourhoods, so many fond memories." Sandor doesn't remember any negative feedback.
Now the hard part, the non-profit SCTV Monument Committee was formed, which included an original producer for the star-studded SCTV TV show that stills lives in Edmonton, "We had no idea how much work had to be done, we had to create an official non-profit group, the money, the city's rules for building and permanently placing a statue and so much more." Sandor continues, "So many helped us over the years, Allard Foundation and Westbury Foundation for funds, the city was great over the years, OEG and the Ice District for giving us the final place to install Velthuis' incredible work."
The fictional TV brothers and real life-long friends stayed involved and wanted to "have a voice in the project", Multi-award winning actor Dave Thomas (70), who played Doug McKenzie talked with Edmonton Journal's Fish Griwkowsky, "Rick and I were both surprised and honoured at these statues of the McKenzie brothers," Thomas told the paper. "Despite the time that has passed, we both hold dear the memories of working at the ITV Studios – with the rest of the cast and the Edmonton folks who worked behind the scenes on the SCTV show with us."
The original public unveiling was to happen before the Edmonton Oilers game against the San Jose Sharks on March 27th. Thomas confirmed, "For obvious reasons that has now been postponed." He promised when safe travel is allowed, "We will return to Edmonton to see these statues in person."
Canadian Hosers get Bronzed EH!
Notes from Flight 163, the oilsands shuttle from Toronto to Edmonton
Lauded fashion designer Paco Rabanne dies at age 88
PARIS (AP) — Paco Rabanne, the Spanish-born pace-setting designer known for perfumes sold worldwide and his metallic, space-age fashions, has died, the group that owns his fashion house announced on its website Friday. He was 88.
"The House of Paco Rabanne wishes to honor our visionary designer and founder who passed away today at the age of 88. Among the most seminal fashion figures of the 20th century, his legacy will remain," the statement from Puig said.
Rabanne's fashion house shows its collections in Paris, and is scheduled to unveil the brand's latest ready-to-wear designs during fashion week from Feb. 27-March 3.
The Associated Press
Red Deer Arts Council invites you to experience beautiful works from area artists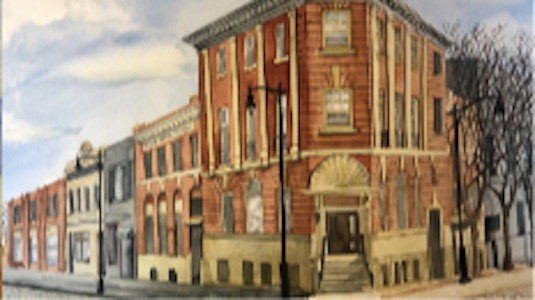 First Fridays Red Deer February 3, 2023
Visit the new, interactive Gallery Guide with map and listings at:
https://www.reddeer.ca/recreation-and-culture/arts-and-culture/art-galleries/gallery-guide/
Title: Mirror, Mirror on the Wall
Oil on Canvas, 2022
Artist: Sharon Wright

Title: The Floral Female Connection
Artists: Sharon Wright
Kiwanis Gallery and Snell Auditorium, 4818 49 Street, in Red Deer Public Library – operated by Red Deer Arts Council
Media: Oils and Mixed Media
Dates: continues to February 20, 2023
#FirstFridaysRedDeer opening reception January 6 from 5:30 – 7:30pm
Gallery/Library Hours: Mon – Thurs: 9 am – 8 pm, Fri: 9 am – 5 pm, Sat & Sun: 10 am – 3 pm
Title: The Brush Decides
Artists: Cathy Fee
The Red Deer Arts Council's New Community Gallery, 6–4919 49 Street
Dates: continues until February 15, 2023
#FirstFridaysRedDeer reception February 3, 2023 from 5pm – 7pm.
Ft. Macleod 1
Digital Print, 2015
Peter Greendale
Title: Found Light
Artists: Peter Greendale
The Viewpoint Gallery, 5205 48 Ave
Media: Digital Photography
Dates: continues until February 24, 2023
First Friday, February 3 the gallery will be open 8am – 8pm
About the Gallery: The Viewpoint Gallery showcases original works of art by individual artists and collectives, and curated exhibitions. The gallery is in the lobby of the City of Red Deer
Creativity Understood.
Culture Services facility. Visit our Viewpoint Gallery page for more information. Hours of operation: Mon – Fri 8:00 am – 4:30 pm; after hours and weekends during scheduled programs.
Title: Upon Further Reflection: Highlights from the Past 50 Years
Dates: December 17, 2022 – March 11, 2023
The MAG will be open with no reception – February 3, 2023 from 5 pm to 8 pm
Join the MAG as part of #FirstFridaysRedDeer for a look at their current exhibits, Upon Further Reflection: Highlights from the Past 50 Years and Landmarks:
A Sense of Place.
Title: A Sense of Place (Detail)
Artist: Carol Lynn Gilchrist
Lacombe's Flat Iron Building (Detail)
Artist: Wendy Meeres

Watercolour, 2016 Watercolour, 2022
Title: At Ease
Artist: Susan Delaney

Riverlands Studio and Gallery, 5123 48 Street
Media: Acrylic, Collage, Mixed Media Paintings
Dates of Exhibition: February 1 – March 15, 2023
Opening Reception: February 3 from 5:30 – 8:30 pm
DESCRIPTION – Gesture, landscape, collage, abstraction, memory, home and history – some of Susan Delaney's long-standing studio interests – are learning to
play well together in her current practice.
http://Facebook.com/RiverlandsStudioandGallery
http://Instagram.com/@clgilchrist_artist
http://Instagram.com/@susandelaneyart
http://Facebook.com/delaneyart
Creativity Understood.
**********
Galleries & Exhibitions with no planned Opening Events
Title: Culmination of Inspiration
Artists: Trenton Thomas Leach
Media: Metal, Glass, Wood, Stone
Lacombe Performing Arts Centre, 5227 C & E Trail, Lacombe
Dates: until February 21, 2023
LPAC hours: Monday – Thursday, 9 AM – 3 PM, and Friday 10 AM – 2 PM.
Description – Inspiration can come through so many sources – from environment, experience, people, and more.
For Trenton, his exhibit,
"Culmination of Inspiration," showcases varied concepts.
Working with musicians, visiting a museum, garnering inspiration through other artists – this exhibit shows a variety of sculptures and wall art that is combines
all sources of inspiration. Trenton creates the art with metal, glass, wood, and stone; always on the lookout for different ways to incorporate different mediums into his art and anticipating the moments that become new sources of inspiration.
Trenton is a Central Alberta Artist that creates public and private sculptures using stained glass and metal. He teaches metal sculpture at the summer art "Series" program at Red Deer Polytechnic and stained-glass classes at Lacombe Performing Arts Centre. Trenton's inspiration for art often comes from nature, travel, painters, and musicians. He has actively been an artist for over 22 years and works in his studio, Rogue Art and Design, here in Lacombe.
Title: Urban Nature
Artists: Members of Contextural Fibre Arts Cooperative
Media: Fibre Arts
Marjorie Wood Gallery in the Kerry Wood Nature Centre, 6300 45 Avenue
Dates: December 18, 2022 – February 17, 2023
No #FirstFridaysRedDeer opening reception for February.
Title: An Exploration of Expression
Artist: Brad Olstad
Velvet Olive Lounge, 4928C 50 Street, Red Deer
Media: Mixed
Creativity Understood.
No reception for February.
Untitled
Mixed Media
Brad Olstad
Artist: Audrey Rits
Corridor Community Gallery, 4501 47A Avenue, Red Deer (lower level at Recreation Centre)
Dates: November 4 – February 2, 2022
Media: Mixed
Open until 5pm on #FirstFridaysRedDeer
About the Gallery: Located adjacent to The City's ceramics studio and recreation studios in the lower level of the Recreation Centre, this space provides a public venue for local artists and allows us to share in the talents and interests of fellow community members. Visit our Corridor Community Gallery page for more information.
Hours of operation: Mon – Fri 5:30am – 10pm, Sat 8am – 10pm, Sun/Holidays: 12 – 5pm.
Artribute Art School, 212 – 4836 50 Street, in the Old Courthouse. Treaty 6 & 7
Art in the Hallway, YMCA Northside Community Centre, 6391 76 Street, Red Deer
Curiosity Art & Framing, Bay 4 – 4676 61 Street, Riverside Industrial
First Fridays Red Deer is the monthly event where downtown art galleries hold exhibit openings and special events.