Red Deer – Mountain View, AB
"Voting for who you truly want to is never a waste and if we stopped voting 'strategically' and with our hearts and conscience we would all be better off." – Keith Macintyre, Leader of the BC Libertarian Party
Making the decision to vote for a small political party can be difficult. The political system in Canada may lead you to think that you are wasting your vote or enabling a candidate that you don't support to ultimately get elected if you don't vote for the "lesser of two evils".
In the 2019 Federal Election, Earl Dreeshen won the riding of Red Deer-Mountain View with 80.34% of the vote. The runner-up received 7.26%. It is safe to say that there is no chance that "vote splitting" would result in a Liberal or NDP candidate being elected in the riding.
Before voting I urge you to review the platforms of the big three parties; Conservatives, New Democrats and Liberals. Better yet, watch their campaign rallies and policy announcements. Aside from the colour of the banner under which they operate, I think you would be hard pressed to find any significant differences. Their policies addressing gun control, size of government, vaccine passports, spending plans, budgets, social issues, health care and any other major issue that we face in 2021 are all relatively similar. Why is this? Are the majority of Canadians asking for these policies? Are we all seeking to further establish the deeply entrenched parental relationship that government has taken in our lives?
From knocking on doors throughout my riding, I know this is not the case. Canadians are yearning for change, for freedom and for something different.
The 2021 Federal Election can be different. Show the establishment politicians that you are tired of the games and divisive rhetoric. Tell them that you will no longer accept broken promises, bigger government and less freedom. This year vote based on principle. This year vote with your heart.
Libertarian Party Candidate for Red Deer – Mountain View, AB
https://www.jaredpilon.com/
There's no free lunch.. But an O'Toole Conservative Government will pay for half of yours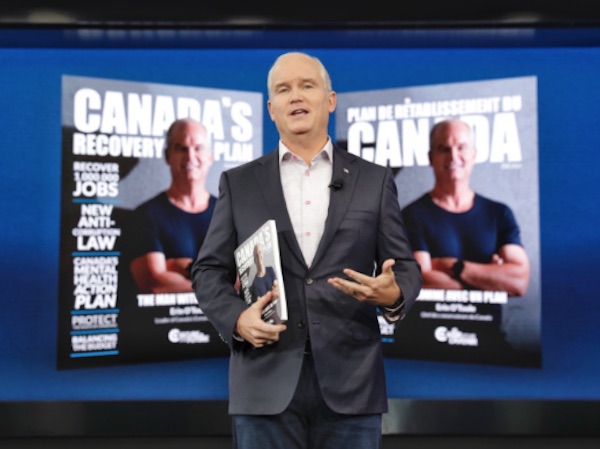 News Release from The Conservative Party of Canada
Hon. Erin O'Toole, Leader of Canada's Conservatives, released his plan to introduce a Dine and Discover program to support the tourism and hospitality sectors.
"The COVID-19 pandemic has had a disastrous effect on Canada's tourism and hospitality sectors," said O'Toole. "A Conservative government will act quickly to recover the one million jobs lost during the pandemic and help these businesses get back on their feet."
Through Canada's Recovery Plan, a Conservative government will introduce a Dine and Discover program to encourage Canadians to support these hard-hit sectors. This initiative will:
Provide a 50 per cent rebate for food and non-alcoholic drinks purchased for dine-in from Monday to Wednesday for one month, once it is safe to do so, pumping nearly $1 billion into these sectors.
Launch the Explore and Support Canada initiative with a 15 per cent tax credit for vacation expenses of up to $1,000 per person to encourage Canadians to vacation in Canada in 2022, helping the tourism sector get back on its feet.
Eliminate the Liberal escalator tax on alcohol.
"We will help Canadians deal with the rising cost of living, while supporting those who work in our hospitality sector," said O'Toole.
If you don't care about securing support for Canada's tourism and hospitality sectors, you have three parties to choose from in this election. If you do, then there is only one choice – Canada's Conservatives.
Backgrounder
To get Canadians back to work, the federal government needs to focus on helping the hardest-hit sectors, including the hospitality and tourism sectors. To support these sectors, Canada's Conservatives will introduce a new Dine and Discover program.
"Dine": Restaurant refund initiative
Once it is safe to do so, Canada's Conservatives will support the recovery of the restaurant sector by providing a 50 per cent rebate for food and non-alcoholic drinks purchased for dine-in service from Monday to Wednesday.
Modelled on a similar program in the United Kingdom, this initiative will encourage Canadians to get back into restaurants on days of the week when restaurants tend to have excess capacity.
The customer will immediately receive the rebate, which will appear directly on the bill. Businesses will receive their rebate from the Canada Revenue Agency (CRA) within days of submitting the claim through a CRA portal similar, to that used for emergency business supports.
There will be no limit on the number of times that an individual customer may use the program, but the program would cover a maximum meal cost of $35 per patron per visit. The program will apply to a wide range of establishments, including but not limited to restaurants, pubs, bars, coffee shops, and canteens.
This will support workers by injecting nearly $1 billion into the restaurant, hospitality, and tourism industries.
"Discover": Explore and Support Canada initiative
Canada's Conservatives will establish an Explore and Support Canada initiative to encourage Canadians to support the recovery of the Canadian tourism and hospitality sectors. Conservatives will create a refundable 15 per cent tax credit for vacation expenses of up to $1,000 per person for Canadians to vacation in Canada in 2022.
For a couple, this would mean savings of up to $300 on their next family trip if they vacation in Canada.
Eligible expenses would include:
Accommodations, including hotels, motels, and other short-term rentals;
Restaurant meals, including delivery fees and tips;
Entry fees to attractions, parks, cultural events, museums, festivals, sporting events, and other attractions; and
Travel, including car rentals, RV rentals, bus rides, taxi rides, airfare, tolls, and parking.
This program will benefit Canadian workers in hotels, restaurants, airlines, festivals, museums, and a wide range of businesses in the tourism and hospitality industries.
This will support workers by injecting over $1.5 billion into these sectors.
Quick Facts:
Restaurants employ 1.2 million Canadians and contribute $95 billion to GDP.
The Canadian tourism industry supports 1.8 million jobs and contributes $102 billion to GDP.
About 533,000 workers in the tourism industry lost their jobs in 2020.
Why Erin O'Toole's Conservatives should be looking over their shoulders at Maxime Bernier's People's Party of Canada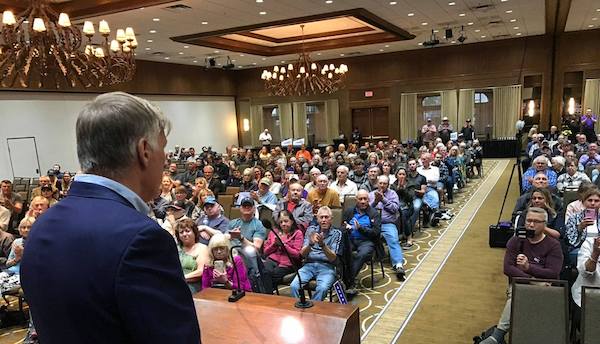 When Maxime Bernier left the federal Conservative party after losing a tight leadership race against Andrew Scheer, he called party leaders "morally and intellectually corrupt" and he started the People's Party of Canada in time to run in the 2019 Federal Election. The results were not very good. The PPC captured just 1.6% of the vote and Bernier lost his own seat.
Despite losing his own seat, Bernier actually managed to make a significant impact in the 2019 election. Here's how.
Although Justin Trudeau's government lost its majority, the distribution of seats meant all three of the main opposition parties would have to join together in order to overcome the Liberals with a vote in Parliament. The Liberals won 157 seats. Together the Conservatives (121 seats) and the BQ (32 seats) had just 153 seats. That meant the NDP with 24 seats actually held the balance of power in Canada's 43rd Parliament.
By splitting the Conservative vote ever so slightly, the PPC did manage to stop the Conservatives from winning 3 more seats from the Liberals. In two Ontario ridings, Kitchener-Constoga, and Richmond Hill, as well as the northern riding of Yukon, the total Conservative and PPC votes would have been enough to defeat the Liberals who won those seats. That means the outcome of the minority government would have been Liberals 154 seats against 156 seats between the Conservatives and the BQ. That just might have made a huge difference in the way the Liberals governed Canada for the last two years.
Fast forward to 2021 and Bernier's PPC still isn't much of a threat at first glance. Take a deeper look though and you can see the potential of a much larger problem for the Conservatives. Half way through the campaign, Justin Trudeau is struggling mightily. The Conservatives look to be in position to win a minority government and Erin O'Toole is currently trending toward majority territory. A difference of 4% or 5% in the popular vote could make all the difference between a minority Liberal government, a minority Conservative government, or even a Conservative majority. Well, 4% or 5% is just where the PPC is sitting in the polls right now.
The PPC is emerging as an option for Conservatives looking for a different approach to major issues. Maxime Bernier stands alone as the only party leader strongly opposed to vaccine passports. When it comes to climate change the PPC is the only party against the Carbon Tax approach to battling what Bernier calls "Climate Alarmism". Standing alone may not have meant much in 2019, but just two years later it seems the PPC is catching on at least in a small way.
Bernier's campaign seems to be gaining momentum as the PPC overtakes the federal Green Part in the polls and Bernier is filling rooms on campaign stops throughout Alberta, Saskatchewan, and BC.
Sights like this must be a tad disturbing to Conservatives concerned about splitting votes on the right side of the spectrum. Conservative supporters have been urging voters considering the PPC to rally around Erin O'Toole who is far and away the front-runner 0n the right. As for Bernier supporters, their best case scenario is to win a few seats and stop the Conservatives just short of a majority government. That might give their fledgling party an undue amount of influence. But it's also a gamble that 'might' result in a significant split of the vote on the right which would be a gift to the Liberals.
As is usually the case when it comes to upstart parties splitting the vote, PPC supporters don't mind the risk. They're circulating campaign videos like this and thinking an alternative voice is critically important right now. Judging by the excitement Bernier's managing to create on the campaign trail, it's starting to look like the PPC might punch well above its weight on Election Day.