ECONOMIC RECONCILIATION IS A PRIORITY AT ENBRIDGE
ECONOMIC RECONCILIATION IS A PRIORITY AT ENBRIDGE
Building and maintaining relationships with Indigenous nations and groups over the lifecycle of our assets is essential to Enbridge's continued success as a leading North American energy delivery company. An important part of how we do business is to work with Indigenous communities to help increase their capacity to participate economically in our projects and operations. Economic engagement ranges from providing training and employment opportunities that build transferrable skills, to the procurement of goods and services from Indigenous businesses. To tap into Indigenous communities' growing capacity and desire to participate in contracting and employment opportunities, Enbridge has adopted a supply chain process that requires prospective contractors to include detailed Socio-Economic Plans that outline how they will include local Indigenous communities and businesses in their work for Enbridge's projects and operations. This approach exemplifies our desire to build long-term relationships which create value for both Indigenous communities and our business.
Enbridge has long recognized that hiring Indigenous businesses supports local employment, gives us the opportunity to understand available services and talent, and helps build trust and relationships. We also appreciate the important contribution that Indigenous businesses make each year to the overall economy.
In 2019, we marked a major milestone, surpassing $1 billion in Indigenous spending since 2011 across our Liquids Pipelines and Gas Transmission businesses. This includes direct spend with Indigenous businesses as well as subcontracting opportunities for Indigenous businesses, suppliers and wages paid to Indigenous workers from our contractors.
Our Line 3 pipeline replacement project (L3RP) is an excellent example of how our supply chain is delivering on our commitment to maximize Indigenous participation. This supports our efforts to advance economic reconciliation in accordance with the Truth and Reconciliation Commission's Call to Action #92.
At $5.3 billion for the Canadian segment alone, the L3RP was the largest capital project in Enbridge's history. It also represented our largest and most successful community engagement effort – including more than 150 Indigenous communities from as far as 300 kilometres from the pipeline right of way.
As of late September 2019, Indigenous spending on the L3RP totaled approximately $440 million for contracting and wages, while more than 1,100 Indigenous men and women were employed on project construction, representing approximately 20% of the overall workforce.
"The economic benefits flowing to Indigenous communities from Line 3 pipeline construction are no accident or happy coincidence," says Enbridge's Dave Lawson, Vice President of Major Projects. "Rather, they are the direct result of our comprehensive and proactive engagement program and the joint commitments between Enbridge and numerous Indigenous communities and groups."
The leaders of several First Nations located along the Line 3 route note that "this economic stimulus benefited more than just the workers, it benefited the families and the Nations we represent." They worked with Enbridge and "found ways to ensure environmental protections, and ways to secure tangible economic benefits and career development commitments for the indigenous people we represent. Enbridge listened and we believe this project has been a success for our people."
Another community benefitting from the L3RP was the Manitoba Metis Federation (MMF). David Chartrand, President of the MMF says, "In order to work on a pipeline you have to have certification, so we got our people all ready and trained a year before the pipeline went in. We were ahead of the game."
"I can honestly say," he adds, "that this is one of the true success stories that we can probably talk about. Enbridge has got a blueprint for other companies if they want to use it."
This focus on engagement and inclusion led to 58 cooperative project agreements with Enbridge, representing the participation of 95 Indigenous communities or groups.
"From the outset, we made a concerted effort to ensure Indigenous communities understood our project, specifically how they might participate and benefit economically," explains Kim Brenneis, Director of Community and Indigenous Engagement. "I think the positive results we've seen speak to Enbridge's strong commitment to inclusion as well as to building mutually-beneficial relationships with Indigenous nations."
Beyond successful engagement, there are three major reasons for the strong Indigenous project participation and spending profile, explains Barry Horon, Director of Supply Chain Management for Projects.
"First, we worked with Indigenous communities to help create the capacity needed to participate in meaningful pipeline contracting and employment opportunities; second, Enbridge adopted a proactive supply chain process that, among other initiatives, required prospective contractors to include detailed Indigenous participation plans in their bids; and third, we implemented a labour strategy to enhance connections between Indigenous job seekers and our primary construction contractors through an online portal and the use of Indigenous labour brokers," says Horon.
Included in the Indigenous workforce were 27 construction monitor and nine liaison positions that provided both Indigenous perspectives and advice to the Line 3 project team. This helped to ensure that Enbridge's environmental mitigation strategies – which were approved by the National Energy Board – were implemented during construction.
Another key component of the labour strategy was the now-completed Line 3 Pipeline 101 training-to-employment program. Over three years, more than 260 Indigenous men and women graduated from the program, many of whom have secured work on the L3RP.
Our experience with the L3RP led to an assessment of how Enbridge's Indigenous engagement practices had evolved over the past few years. An outcome of this process was the introduction, in 2019, of our Indigenous Lifecycle Engagement Framework, which now guides our approach to building and sustaining long-term relationships across our business going forward, including for enhancing Indigenous economic participation in our projects and operation.
The framework was shared with several Indigenous nations in Canada. We are now incorporating their feedback into our planning and we will continue to seek to seek their input to ensure that our approach remains in step with their interests and goals.
Thanks to Todayville for helping us bring our members' stories of collaboration and innovation to the public.
Click to read a foreward from JP Gladu, Chief Development and Relations Officer, Steel River Group; Former President and CEO, Canadian Council for Aboriginal Business.
Alberta premier defends new rules on in-person learning, no mask mandates in schools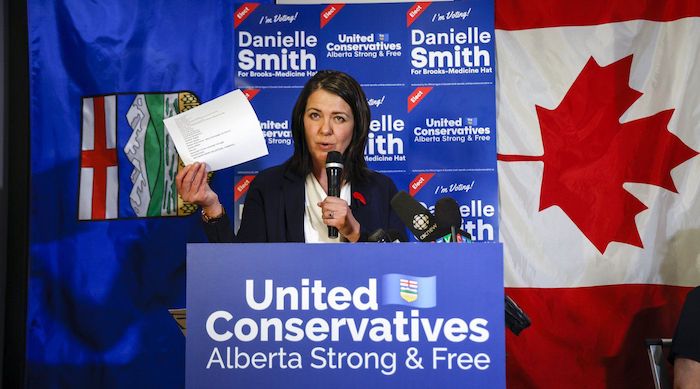 By Dean Bennett and Colette Derworiz
Alberta Premier Danielle Smith is defending new rules ordering schools to provide in-person learning during the current wave of viral illnesses, saying a clear, measured response is crucial for students and parents.
"We need a normal school environment for our children, and we need to make sure that the classrooms stay open to be able to support our parents," Smith said at a news conference in Medicine Hat on Friday.
"That's why we made the decision that we did — to give that clear direction."
Her comments came a day after she announced regulatory changes saying school boards must provide in-person learning. Schools also can't require students to wear masks in school or be forced to take classes online.
The changes take effect immediately.
"Anyone is welcome to wear a mask if they feel that that is the right choice for them, but we should not be forcing parents to mask their kids, and we shouldn't be denying education to kids who turn up without a mask," Smith said.
She has said mask rules and toggling from online to in-person learning adversely affected the mental health, development and education of students during the COVID-19 pandemic and strained parents scrambling to make child-care arrangements when schools shut down.
That's over, Smith said.
"We're just not going to normalize these kind of extreme measures every single respiratory virus season," she said.
School boards have been asking for more direction as a slew of seasonal respiratory and gastrointestinal illnesses, along with some COVID-19 cases, have led to high classroom absentee rates and have jammed children's hospitals.
In Edmonton, Trisha Estabrooks, board chair for Edmonton Public Schools, said the decision provided the clarity that the board was seeking.
"All Albertans now understand that it's not within the jurisdiction, and nor should it ever have been within the jurisdiction of individual school boards, to make decisions that belong to health officials," said Estabrooks.
She said the province has made it clear that any future public health order would supersede the new rules.
The in-person learning change applies to grades 1-12 in all school settings, including public, separate, francophone, public charter and independent schools.
The masking change applies to those same grades and schools, but also to early childhood services.
The Opposition NDP criticized the new rules, saying it's unrealistic to force schools to be all things to all students while also handling a wave of viral illnesses and not providing additional supports to do it.
Jason Schilling, head of the Alberta Teachers' Association, said the government needs to work with school boards to figure out how to make this work.
"You have schools that are struggling to staff the building, (they) can't get substitute teachers, teachers are sick, they're covering each other's classes, principals are covering the classes," Schilling said in an interview.
"And then to say if you go online, you are to still offer the same programming in person — we just don't have the people to do that."
Wing Li, communications director for public education advocacy organization, Support our Students, said it will be difficult for schools to offer hybrid learning without any additional resources.
"There are no teachers," Li said in an interview. "Pivoting online was mostly due to staffing shortages, which is worse now three years in."
Li said online learning is challenging for students but, when temporary and supported, can keep schools and communities safe from spreading illness.
"This is a quite aggressive use of the Education Act to enshrine an ideology," she said.
This report by The Canadian Press was first published Nov. 25, 2022
Don't have a cow: Senator's legen-dairy speech draws metaphor from bovine caper
OTTAWA — Haven't you herd? A dramatic tale of 20 escaped cows, nine cowboys and a drone recently unfolded in St-Sévère, Que., and it behooved a Canadian senator to milk it for all it was worth.
Prompting priceless reactions of surprise from her colleagues, Sen. Julie Miville-Dechêne recounted the story of the bovine fugitives in the Senate chamber this week — and attempted to make a moo-ving point about politics.
"Honourable senators, usually, when we do tributes here, it is to recognize the achievements of our fellow citizens," Miville-Dechêne began in French, having chosen to wear a white blouse with black spots for the occasion.
"However, today, I want to express my amused admiration for a remarkably determined herd of cows."
On a day when senators paid tribute to a late Alberta pastor, the crash of a luxury steamer off the coast of Newfoundland in 1918 and environmental negotiators at the recent climate talks in Egypt, senators seated near Miville-Dechêne seemed udderly taken aback by the lighter fare — but there are no reports that they had beef with what she was saying.
Miville-Dechêne's storytelling touched on the highlights of the cows' evasion of authorities after a summer jailbreak — from their wont to jump fences like deer to a local official's entreaty that she would not go running after cattle in a dress and high heels.
The climax of her narrative came as nine cowboys — eight on horseback, one with a drone — arrived from the western festival in nearby St-Tite, Que., north of Trois-Rivières, and nearly nabbed the vagabonds before they fled through a cornfield.
"They are still on the run, hiding in the woods by day and grazing by night," said Miville-Dechêne, with a note of pride and perhaps a hint of fromage.
She neglected to mention the reported costs of the twilight vandalism, which locals say has cost at least $20,000.
But Miville-Dechêne did save some of her praise for the humans in the story, congratulating the municipal general manager, Marie-Andrée Cadorette, for her "dogged determination," and commending the would-be wranglers for stepping up when every government department and police force in Quebec said there was nothing they could do.
"There is a political lesson in there somewhere," said the former journalist.
Miville-Dechêne ended on what could perhaps be interpreted as a butchered metaphor about non-partisanship: "Finally, I would like to confess my unbridled admiration for these cows that have found freedom and are still out there, frolicking about. While we overcomplicate things, these cows are learning to jump fences."
This report by The Canadian Press was first published Nov. 26, 2022.
Marie-Danielle Smith, The Canadian Press