COASTAL GASLINK PIPELINE PROJECT SETS NEW STANDARD WITH UNPRECEDENTED INDIGENOUS SUPPORT AND PARTICIPATION
COASTAL GASLINK PIPELINE PROJECT SETS NEW STANDARD WITH UNPRECEDENTED INDIGENOUS SUPPORT AND PARTICIPATION
Coastal GasLink (CGL) is a 670-kilometre pipeline that will deliver natural gas from northeastern British Columbia to LNG Canada's export terminal in Kitimat, B.C. As part of Coastal GasLink's commitment to ensuring Indigenous and local communities are able to fully benefit from the construction and operation of the pipeline, we successfully negotiated 20 project and community agreements that clearly demonstrate our commitment to their communities for the long-term.
The Coastal GasLink Pipeline Project has set a new standard for Indigenous engagement and participation in critical energy infrastructure project development and construction. Since the project was first announced in 2012, thousands of hours have gone into listening and collaborating with Indigenous and local communities to create a project that is delivering on environmental and cultural protection, including $1-billion in long-term economic benefits through jobs and contracting opportunities.
"Integrity, collaboration and respect are at the heart of Coastal GasLink's commitment to creating lasting opportunities for Indigenous communities in northern British Columbia and we're proud of the relationships we've built," said Tiffany Murray, Coastal GasLink's director of Indigenous Relations.
"There is unprecedented support for this pipeline project from Indigenous and local communities, including agreements with the 20 elected First Nations along the right of way. Our engagement started at the early conceptual phase and continues today," added Murray. "We are committed to engaging and working collaboratively on the project as it moves through construction and into operations."
Coastal GasLink is a 670-kilometre pipeline that will safely deliver natural gas from northeastern B.C. to the LNG Canada liquefaction facility in Kitimat, B.C., connecting clean, sustainability produced Canadian energy to the world and ultimately, playing a critical role in the reduction of global greenhouse gas emissions and air pollution in Asia.
Construction launched in early 2019 following more than six years of rigorous review and environmental assessment. From the beginning, the project team focused on building relationships based on mutual trust and respect by providing meaningful opportunities for participation in project planning and jobs and local contracting prospects for Indigenous and local businesses and their communities.
A milestone moment was marked in June 2018 when leadership from a number of Indigenous groups and Coastal GasLink celebrated the announcement of the commitment for $620 million in contract awards to northern British Columbia Indigenous businesses for the project's right- of-way clearing, medical, security and workforce accommodations. To date, Coastal GasLink has exceeded its commitments and awarded approximately $720 million in contracts to Indigenous and local businesses.
More than one-third of the field work completed on the project was conducted by Indigenous people and traditional knowledge was considered in its planning and design. The project continues to prioritize Indigenous and local hiring and held 25 Economic Summits along the route in 2018 and 2019 to connect interested job seekers and businesses with potential opportunities. Additionally, a variety of training programs continue to support Indigenous and local trainees and students. To protect Indigenous culture and values along with the environment during project construction, a Construction Monitoring and Community Liaison Program (CMCL) has been launched. The program provides opportunities for Indigenous community members to participate in construction within their traditional territory for the purposes of observing, recording and reporting on implementation of construction activities to their communities. It will continue through construction of the pipeline, which is planned for in-service in 2023.
Transparency is core to the CMCL program with Indigenous communities by meaningfully participating in the project to monitor the work that is being done. That open, relationship-based approach is something that Coastal GasLink believes is integral to the success of the projec
Harry Bodewitz, a program coordinator who is working closely with CMCL advisors from several Indigenous communities along the project corridor, has seen the value of the program. As construction ramps up, additional CMCL advisors will be brought on to be involved in the program.
"Something might have been planned initially, but once we actually get to the field, that plan may change, or get modified, to make sure it's done right," said Bodewitz. "In the CMCL Program, we have an opportunity to observe what's going on, discuss it and share that with our communities."
For Mike Gouchie, a CMCL coordinator from Lheidli T'enneh First Nation, the program provides a chance to be out in the field to make sure what matters to his community and neighbouring community CMCL advisors, is at the forefront of the construction program.
"As a CMCL coordinator, I'm able to assist the CMCL advisors to be out in the field with inspectors, construction management and myself to visit sites of interest, to understand the scope of the project in our territories and make sure environmental issues are identified," he said.

Whether it's in the field or at the table with First Nation leaders for monthly meetings, Coastal GasLink has involved Indigenous communities every step of the way.
"I'm proud of the relationships we have built and the work we've done on this project," said Murray.

"We believe that by building meaningful, long-term relationships based on trust and integrating feedback into our project, we will create an extraordinary legacy of safety and respect for communities and the environment."
Background: The Canadian Energy Compendium is an annual Energy Council of Canada initiative which provides opportunity for cross-sectoral collaboration on a topic of shared interest across the Canadian energy sector, produced with the support of Canada's national energy associations and Energy Council of Canada's members. The stories contributed to the 2019 edition, Indigenous Energy Across Canada, highlight current conversations celebrating Canada's dynamic energy sector and encouraging its continuous improvement.
Thanks to Todayville for helping us bring our members' stories of collaboration and innovation to the public.
Click to read a Foreward from JP Gladu, Chief Development and Relations Officer, Steel River Group; Former President & CEO, Canadian Council for Aboriginal Business
United Conservatives jump out to early lead in tight Alberta election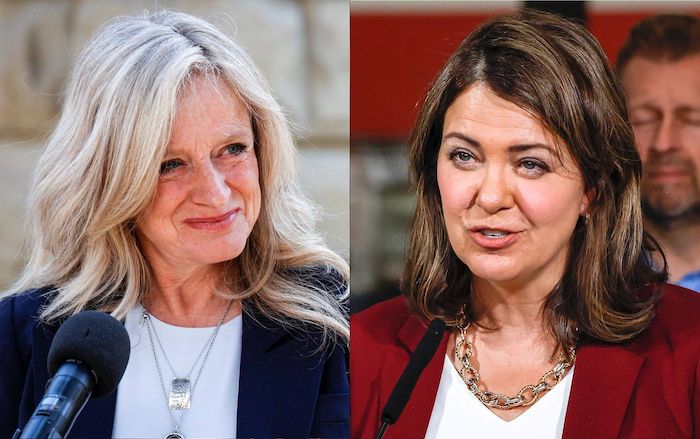 By Dean Bennett
Alberta's United Conservative Party jumped out to a lead over the NDP in early returns Monday in what was forecast to be a tight race in the provincial election.
Danielle Smith's UCP was holding strong in its traditional rural strongholds while Rachel Notley's NDP was faring well in Edmonton, where it won all but one seat in 2019.
Early results were still mixed in the key battleground of Calgary.
The UCP is seeking a second mandate while the NDP is fighting to regain the majority government it lost to the UCP in 2019.
Polling have suggested a close contest between the two parties, with support for smaller parties falling off.
Advance polls set a record of 758,540 votes cast, eclipsing the previous record of more than 700,000 in 2019.
The campaign has taken place alongside a record-breaking spring for wildfires in Alberta. Ten communities were under evacuation orders Monday.
Elections Alberta set up alternate voting locations for those displaced. Evacuation was added as an eligible reason to vote by special ballot and mobile voting stations were placed in evacuation centres.
Calgary has been seen as the campaign's battleground and half of the top 10 advance polling stations were in that city. Two were in Edmonton suburbs.
To win, the NDP would have to continue its dominance in Edmonton, flip the majority in Calgary and hope for some help in smaller cities, while defeating scores of UCP incumbents including cabinet ministers.
The NDP needs to swing 20 seats in the 87-seat legislature.
The UCP won 63 seats under then-leader Jason Kenney in 2019 to 24 for Notley's NDP.
Polls suggest the UCP should continue its near total domination in rural areas and smaller centres, giving it a cushion of up to 40 or so seats to reach the 44 needed to form a majority government.
The month-long campaign has been dominated by the economy and health care.
Albertans are struggling with high costs for consumer goods, a shortage of family doctors and long waits in emergency rooms.
Smith has promised to keep Alberta the lowest-tax regime in Canada.
Her government, she says, would introduce a law to mandate a referendum before any personal or corporate income tax hikes. There would also be tax changes to benefit those making more than $60,000 a year, at a cost of $1 billion annually to the treasury.
The NDP promised to maintain Alberta's status as Canada's lowest tax regime. It pledged to end the tax on small businesses and raise the corporate income tax to 11 per cent from eight per cent, which it says would help pay for investments in health and education while keeping the books balanced and maintaining the lowest corporate rate in Canada.
The NDP also promised legislation to counteract UCP policies that hiked the cost of utilities, auto insurance, a range of fees and tuition.
Both leaders promised to preserve the publicly funded health system while creating more primary care teams — physicians accompanied by related specialists such as nurses and therapists — so more Albertans are able to access a family doctor and not clog emergency wards for care.
Polls showed trust was a key issue, with Notley viewed more favourably than her party and vice versa for Smith.
Smith was dogged during the campaign by past comments she made comparing those who took the COVID-19 vaccine to credulous followers of Adolf Hitler. A report also came out mid-campaign from the province's ethics commissioner that concluded Smith undermined the rule of law by pressuring her justice minister to end the criminal court case of a COVID-19 protester.
This report by The Canadian Press was first published May 29, 2023.
Police looking for these 3 suspects after Super 8 Motel in Innisfail robbed early Monday morning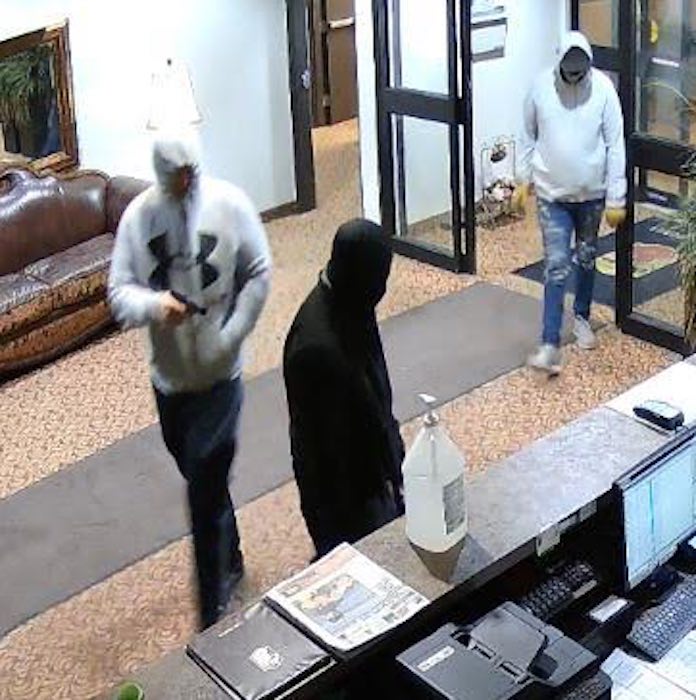 Innisfail RCMP investigate robbery
Innisfail Ala. – On May 29, 2023, at approximately 4:10 a.m., the Super 8 motel in Innisfail was the victim of an armed robbery. Three male suspects entered the hotel, two of which had firearms. Money was demanded from the manager. All three left the motel in a vehicle which is described as:
Chevrolet Dura Max truck
Sliver
Lifted
The suspects are described as:
Suspect #1: Caucasian male, tall and muscular. Wearing jeans and a grey Under Armour hoody. He was carrying a pistol.
Suspect #2: Caucasian male, short. Wearing all black. He was carrying a sawed off shotgun
Suspect #3: Caucasian male tall with a chubby belly. He was wearing a grey hoody, jeans and a black ball hat.
If you have information about this incident, please call the Innisfail RCMP at 403-227-3341 or call your local police. If you want to remain anonymous, you can contact Crime Stoppers by phone at 1-800-222-8477 (TIPS), by internet atwww.tipsubmit.com, or by SMS (check your local Crime Stoppers www.crimestoppers.ab.ca for instructions).