Canadian hockey heroes Dr. Hayley Wickenheiser and Ryan Straschnitzki coming to inspire Red Deer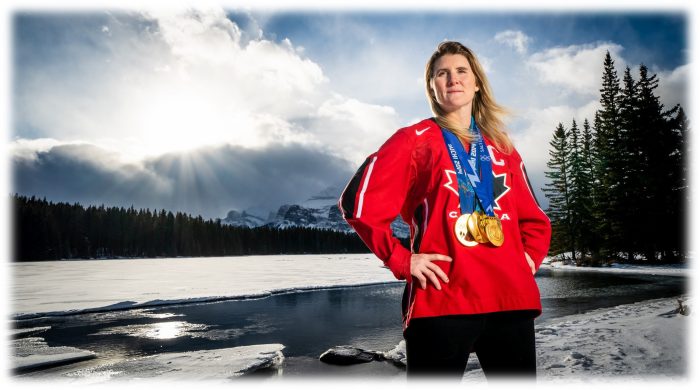 TLC is thrilled to present 'An Evening with The Lending Cupboard' on June 16!
Olympic women's hockey team gold-medalist Dr. Hayley Wickenheiser and Ryan Straschnitzki, who survived the Humboldt Broncos bus crash, will be our special guests for 'An Evening with The Lending Cupboard' on June 16th. This fundraising event will feature an inspirational evening with a delicious dinner, 50/50 draw and silent auction items!
"When I think of this event, I reflect on our community which has been so resilient and has continued to look forward," explained Dawna Morey, TLC's executive director. "I also believe this can be a celebration after two years of not being able to come together in the ways we were so used to.
"I can't think of a better way to celebrate then to have two inspirational people like Dr. Hayley Wickenheiser and Ryan Straschnitzki come and speak to us," she added. "It just aligns so well with what we do at The Lending Cupboard.
"We've read about the journeys that both of these individuals have gone through in their lives – their accomplishments, overcoming of adversity. It's inspirational for us, because that is what we hope we can also help people do here at The Lending Cupboard. In planning events like this, there has to be a connection with what we do here at The Lending Cupboard. I think Hayley and Ryan exemplify that.
"Most importantly for us, is that we serve our clients with dignity – and we can't do that without the community's support," said Morey. "So this is a way for the community to come out and support us, and at the same time, really enjoy an evening with two incredible people."
Morey also pointed out there are still a number of ways for businesses to support An Evening with The Lending Cupboard through a range of sponsorship opportunities.
For tickets, please visit www.lendingcupboard.ca/events.
Take the Family Friendly Challenge to help your kids grow up great!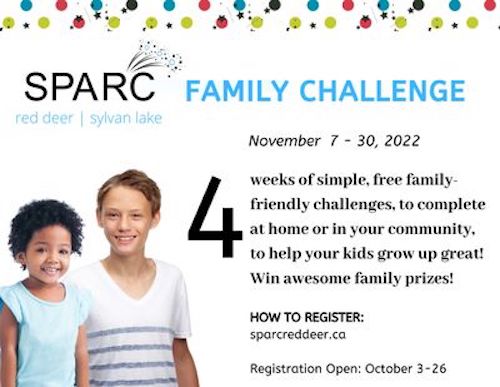 Submitted by Alberta Health Services
SPARC Red Deer & Sylvan Lake Family Challenge
SPARC Red Deer and SPARC Sylvan Lake, are pleased to announce a free, fun family challenge to run in the month of November.
The SPARC Family Challenge offers 4 weeks of simple, free, family-friendly challenges, to complete at home or in your community, to help your kids grow up great! By participating in the SPARC Family Challenge, you can create strong positive connections with your kids and within your family. The purpose is to educate families about the 40 Developmental Assets, which are research-proven life experiences or building blocks which all children need to grow up healthy, caring, and responsible.
Research shows that the higher number of these assets a young person has, the more likely they are to thrive and to engage in positive behaviours, and avoid risky behaviours. Through every day, achievable activities, we can build assets in our kids and help them thrive.
Families will have a choice between two options each week that meet their own family interests and capabilities. Families can win awesome prizes at the end of the 4 weeks by completing the post survey.
For more information, and to register, visit sparcreddeer.ca and follow us on Facebook, Instagram and Twitter.
Registration deadline is October 26th.
Community Better Celebration October 15th, 2022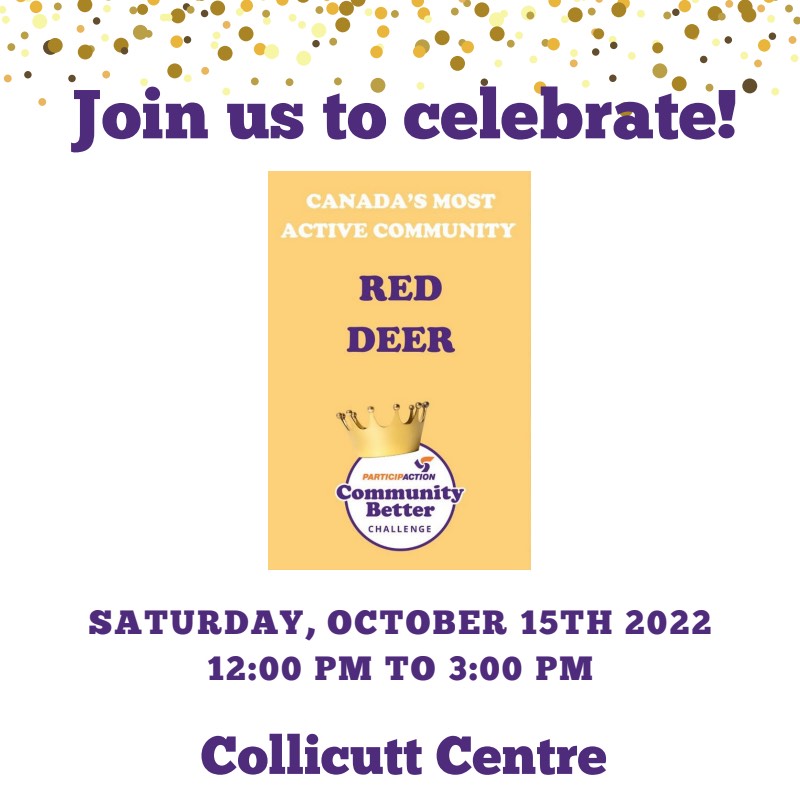 The City of Red Deer was crowned the "most active community in Canada" in the Community Better ParticipACTION Challenge June 2022. Now we get to celebrate together!
We want to thank all citizens for helping us win by celebrating and getting active on October 15th, 2022 at the Collicutt Centre from 12:00-3:00pm.
The event will kick off with a warm welcome by Mayor Johnston, followed by fun activities. There will be free swimming, skating and field house activities. There will also be local organizations showcasing how you can stay active year round in our wonderful City.
Please note: Free skating is from 12:30-2:00pm and you must provide your own skates. Access to activities will be based on facility capacity limits and on a first come basis. Hope to see you there!