Headliners Wickenheiser and Straschnitzki lead the way at Lending Cupboard fundraiser with $10,000.00 donation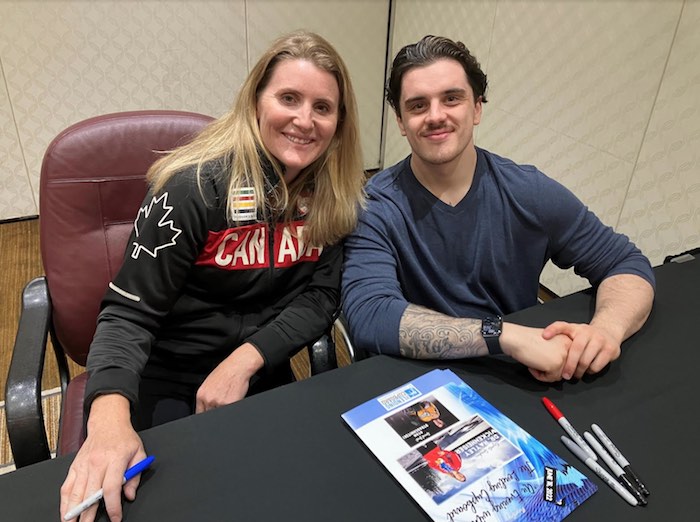 'An Evening with The Lending Cupboard' proves an inspiring, community-building event
Special guests Dr. Hayley Wickenheiser and Ryan Straschnitzki strongly endorse TLC's vision
'An Evening with The Lending Cupboard', held on June 16th at the Cambridge Hotel in Red Deer, proved to be an exciting, inspiring event featuring Dr. Hayley Wickenheiser and Ryan Straschnitzki.
"When I was contacted to come and do this, it was a no-brainer given what I do now in medicine," explained Wickenheiser, who is also of course a highly-acclaimed Olympic gold medalist and author in her own right. "This is a brilliant idea. I don't know why we aren't doing this across the country – it makes a lot of sense!
"It provides a very valuable service in the community…if we can help to raise that profile, that's so good."
During the event, Wickenheiser shared many details of her own memorable journey, reflecting on the hockey dreams that have been intrinsic to her life from a young age. She then interviewed Straschnitzki onstage, giving him the opportunity to reflect on the Humboldt bus crash of April 6, 2018 and the courageous steps he has taken to re-build his life since.
"My entire process from the time of the accident has made me realize how this kind of support really helps out," explained Straschnitzki, adding that bolstering awareness about the service is critical as well. "It's such a great idea, and it benefits so many people. The more the word can be spread about it, there's even more of an impact that can be made. "Being in a wheelchair these past four years, I've realized how inaccessible things can be when you live with a disability, so I think it's important to raise awareness about these kinds of programs," he added. "I think it's a great initiative!"
Executive Director Dawna Morey also commented on how thankful she was for how the event unfolded, and how inviting Wickenheiser and Straschnitzki – who turned out to be a powerful duo – was indeed the right choice. "I'm humbled that they joined us, and I'm also humbled by their incredible generosity – having donated $10,000 back to The Lending Cupboard."
Amanda Blair, TLC's Board Chair, said she was blown away by the generosity of all the attendees, including of course Wickenheiser and Straschnitzki – and the overall support from the community. "Seeing everyone pull together just gives you that faith in humanity – it warms your heart," she said. "Everyone there was also super enthusiastic about it – I think a lot of people learned more about The Lending Cupboard, which is also what we are trying to do."
Pop-up Spray Parks – City bringing family fun to your neighbourhood this summer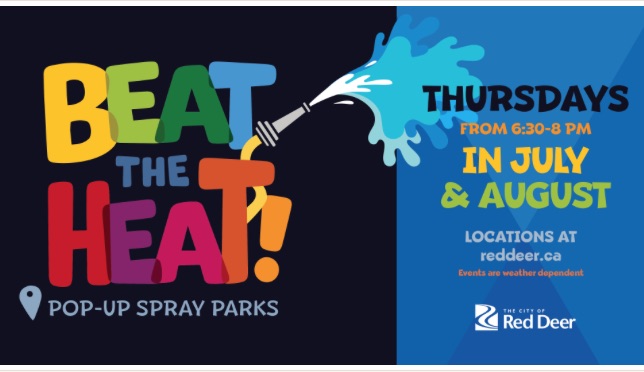 Pop-up spray parks are back this summer
Pop-up spray parks are gearing up again in Red Deer, set to visit eight neighbourhoods across the city this summer. The first pop up is set for this Thursday, July 7 at Barry Wilson Elementary School.

Families and friends are invited to join Red Deer Emergency Services, Municipal Policing Services and the Red Deer RCMP to beat the heat at pop-up spray parks every Thursday this July and August.

Each spray park will run every Thursday from 6:30 – 8 p.m., visiting neighbourhoods across the city as follows:
| | | |
| --- | --- | --- |
| Date | Location | Address |
| July 7 | Barry Wilson Elementary School | 300 Timothy Drive |
| July 14 | G.H. Dawe School | Holt Street & 59 Avenue |
| July 21 | St. Francis of Assisi School | 321 Lindsay Avenue |
| July 28 | Anders Park | Ayers Avenue & Anders Street |
| August 4 | Kentwood Park | Kendrew Drive & Kent Street |
| August 11 | Don Campbell Elementary School | 99 Irving Crescent |
| August 18 | Joseph Welsh Elementary School | 4401 – 37 Avenue |
| August 25 | Johnstone Park | Jordan Parkway & Jennings Crescent |
Events are weather dependant and will be cancelled if weather warnings are in place. The City will provide updates on social media each week if events are in question due to weather.
Information and schedule are available online at www.reddeer.ca/PopUpSprayParks.
For more information, please contact:
Corporate Communications
The City of Red Deer
Complete list of winners of the 2022 Red Deer Hospital Lottery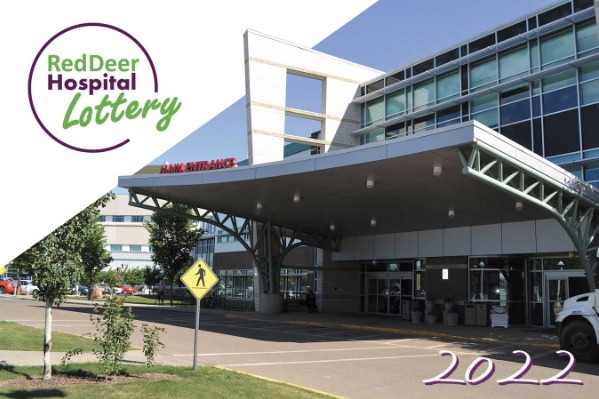 Congratulations to our 2022
Grand Prize Dream Home Winner!
Congratulations to our 2022
Mega Bucks 50 Winner!
RICHARD PEART of Red Deer Alberta with Ticket Number RDHH800236043 is this years Mega Bucks 50 Prize $332,280.00!
| Ticket | First Name | Last Name | City | Prize |
| --- | --- | --- | --- | --- |
| RDHD400123017 | CECILE | ASHLEY | RED DEER | Cash Prize $1000.00 |
| RDHC302106007 | LYNDA | HAND | LACOMBE | Cash Prize $1000.00 |
| RDHB201583004 | DAN & WENDY | KOYICH | SYLVAN LAKE | Cash Prize $1000.00 |
| RDHB201030004 | BOBBI & JOHN | WILLIAMS | MILLET | Cash Prize $1000.00 |
| RDHC301217004 | JACK | WESSELMAN | STETTLER | Cash Prize $1000.00 |
| Ticket | First Name | Last Name | City | Prize |
| --- | --- | --- | --- | --- |
| RDHB201467002 | CAROL | RAMAGE | PENHOLD | SodaStream Source Sparkling Water Maker Package |
| RDHC302228002 | ALLISON | FINDLAY | CALGARY | SodaStream Source Sparkling Water Maker Package |
| RDHD401875014 | SHAUNA | MARTIN | RED DEER | SodaStream Source Sparkling Water Maker Package |
| RDHC300237007 | PERRY | PARKER | RED DEER | SodaStream Source Sparkling Water Maker Package |
| RDHD400651022 | BRENDA | FISCHER | RED DEER | SodaStream Source Sparkling Water Maker Package |
| RDHD401747013 | MICHAEL | WALLACE | BENALTO | SodaStream Source Sparkling Water Maker Package |
| RDHC300105010 | N. | LAMBERT | RED DEER | SodaStream Source Sparkling Water Maker Package |
| RDHB207799005 | JACKIE | FRASER | SYLVAN LAKE | SodaStream Source Sparkling Water Maker Package |
| RDHC302216005 | MARION | LAVALLEE | LACOMBE | SodaStream Source Sparkling Water Maker Package |
| RDHD400202017 | RICHARD | KLASSEN | RED DEER | SodaStream Source Sparkling Water Maker Package |
| RDHD400257004 | STACEY | SCHAFER | CALGARY | Hand-crafted Willlow Bird Feeder |
| RDHD401498010 | Jesse | Paulsen | Red Deer | Hand-crafted Willlow Bird Feeder |
| RDHD401380017 | STAN | PROHL | RED DEER COUNTY | Hand-crafted Willlow Bird Feeder |
| RDHD401922004 | GARY | BAGSTAD | ROCKY MOUNTAIN HOUSE | Hand-crafted Willlow Bird Feeder |
| RDHC300291007 | GILLIAN | EVANS | SYLVAN LAKE | Hand-crafted Willlow Bird Feeder |
| RDHD401727023 | PAT | WHITE | WATER VALLEY | Hand-crafted Willlow Bird Feeder |
| RDHC301635008 | GAIL & GARRY | KUNSTMAN | STETTLER | Hand-crafted Willlow Bird Feeder |
| RDHD401089017 | ROLAND | CYRE | RED DEER COUNTY | Hand-crafted Willlow Bird Feeder |
| RDHC301140004 | KATHLEEN | SVEDERUS | RED DEER COUNTY | Hand-crafted Willlow Bird Feeder |
| RDHB208001002 | Melanie | Holland | Red Deer | Hand-crafted Willlow Bird Feeder |
| RDHA101392001 | JUDITH | BABCOCK | EDMONTON | MOZA Mini-MI Handheld Smartphone Gimbal with Wireless Charging |
| RDHD401556007 | RED AND KAREN | SORENSEN | STETTLER | MOZA Mini-MI Handheld Smartphone Gimbal with Wireless Charging |
| RDHB200207005 | CAL & JANICE | MCGUCKIN | DRUMHELLER | MOZA Mini-MI Handheld Smartphone Gimbal with Wireless Charging |
| RDHD400079002 | ASHLYN | ABEL | BLACKFALDS | MOZA Mini-MI Handheld Smartphone Gimbal with Wireless Charging |
| RDHD400597004 | YVONNE | WICKBERG | BLUFFTON | MOZA Mini-MI Handheld Smartphone Gimbal with Wireless Charging |
| RDHB203064004 | LORI | ZULTOK | EDMONTON | MotoMaster Jump Starter Safety Kit. 44 pc |
| RDHB200277003 | MONTY | CARTER | SYLVAN LAKE | MotoMaster Jump Starter Safety Kit. 44 pc |
| RDHC303802003 | JIM | PARSONS | TEES | MotoMaster Jump Starter Safety Kit. 44 pc |
| RDHB207735004 | RODNEY | ROSEVEAR | SUNDRE | MotoMaster Jump Starter Safety Kit. 44 pc |
| RDHB208068005 | LAURIE | PITTENDREIGH | RED DEER COUNTY | MotoMaster Jump Starter Safety Kit. 44 pc |
| RDHC300688009 | ARLENE | COMO | ROCKY MOUNTAIN HOUSE | $250 Superstore Gift Card |
| RDHD400187017 | ROBERT | ROE | CARDSTON | $250 Superstore Gift Card |
| RDHB204576005 | ADELE | WALDO | RED DEER | $250 Superstore Gift Card |
| RDHB201338002 | GERALD R | QUANTZ | ECKVILLE | $250 Superstore Gift Card |
| RDHB202424002 | MARIE | KOSIK | OLDS | $250 Superstore Gift Card |
| RDHB202312005 | BERT & GRACE | LETOURNEAU | OLDS | $250 Superstore Gift Card |
| RDHD400674019 | DOUGLAS | SKOREYKO | RED DEER | $250 Superstore Gift Card |
| RDHD401186022 | GARY | CROCKER | ERSKINE | $250 Superstore Gift Card |
| RDHB205297001 | JUSTIN | MELCHIOR | BLACKFALDS | $250 Superstore Gift Card |
| RDHB203047001 | MYRA AND/OR JAMES | CRONE | SYLVAN LAKE | $250 Superstore Gift Card |
| RDHB203151003 | JOYCELYN | BAZA | RED DEER | $250 Superstore Gift Card |
| RDHB203845002 | JENNIFER | TOMNUK | RED DEER | $250 Superstore Gift Card |
| RDHB203032003 | CINDY | BOHNET | RED DEER | $250 Superstore Gift Card |
| RDHC303646008 | GLENN A | ENGELHARDT | DUFFIELD | $250 Superstore Gift Card |
| RDHB204358005 | KLARA | COZENS | RED DEER | $250 Superstore Gift Card |
| RDHB201136004 | GLORIA | ZUKIWSKY | RED DEER | $250 Superstore Gift Card |
| RDHD400798012 | DENISE | SUMNER | LACOMBE COUNTY | $250 Superstore Gift Card |
| RDHB200606001 | DONNA | KOOIMAN | RED DEER COUNTY | $250 Superstore Gift Card |
| RDHD401739008 | NEHAL | RAWAL | EDMONTON | $250 Superstore Gift Card |
| RDHC300928001 | LARRY & LORETTA | OXAMITNY | KIRRIEMUIR | $250 Superstore Gift Card |
| RDHB200423004 | MARY | GLENN | RED DEER | $250 Superstore Gift Card |
| RDHD401190008 | IAN | BREWSTER | RED DEER | $250 Superstore Gift Card |
| RDHD400344002 | DUANNE | HRONEK | HALKIRK | $250 Superstore Gift Card |
| RDHB202373003 | NORRIS & LAURIE | TAIT | ERKSINE | $250 Superstore Gift Card |
| RDHD400801012 | MAHASRI & PRIYANI | WEERASOORIYA | EDMONTON | $250 Superstore Gift Card |
| RDHC302101010 | VENTA | CARLSON | RED DEER | $250 Superstore Gift Card |
| RDHD401000001 | GAIL | SANDERS | STETTLER, ALBERTA | $250 Superstore Gift Card |
| RDHB203085003 | ROB | PORKKA | RED DEER | $250 Superstore Gift Card |
| RDHB200768005 | DEAN | PEACOCK | AMISK | $250 Superstore Gift Card |
| RDHD400406016 | JEFF & DOLORIS | MCALLISTER | WARBURG | $250 Superstore Gift Card |
| RDHC300962007 | LENA | WILLSON | RED DEER | Keurig Coffee Maker |
| RDHB207257001 | JOHN | HEYNEN | CALGARY | Keurig Coffee Maker |
| RDHD400986009 | GLENN | ALWARD | RED DEER | Keurig Coffee Maker |
| RDHC302011003 | KIMBERLY | CARYN | BENTLEY | Keurig Coffee Maker |
| RDHC300284001 | BARBARA | MALEY | RED DEER | Keurig Coffee Maker |
| RDHB201664001 | GLENDA | MILNE | DIDSBURY | Instapot 8Qt. Duo Crisp Pressure Cooker |
| RDHD400135017 | CLARENCVE | VERVEDA | ALIX | Instapot 8Qt. Duo Crisp Pressure Cooker |
| RDHC301389005 | CALVIN | SWARBRICK | LACOMBE | Instapot 8Qt. Duo Crisp Pressure Cooker |
| RDHD400218003 | WAYNE | NORTON | SHERWOOD PARK OUTER SOUTHWEST | Instapot 8Qt. Duo Crisp Pressure Cooker |
| RDHB200667002 | GORDON | HUTCHINSON | RED DEER | Instapot 8Qt. Duo Crisp Pressure Cooker |
| RDHD401883025 | DIANNA | WALLS | RED DEER COUNTY | DJI Mini SE Drone Flycam |
| RDHB200152001 | LEONARD | FLAMAN | CALGARY | DJI Mini SE Drone Flycam |
| RDHD401519025 | CAROL F | JAFFRAY | RIMBEY | DJI Mini SE Drone Flycam |
| RDHB200611002 | SONJA | VIS | OLDS | DJI Mini SE Drone Flycam |
| RDHA105415001 | BRAD | MCNEILL | YELLOWKNIFE | DJI Mini SE Drone Flycam |
| RDHD401643005 | JODY | PETTIGREW | SYLVAN LAKE | Family Games Night Package |
| RDHD401193021 | BRUCE | BURUMA | RED DEER | Family Games Night Package |
| RDHC301134010 | MICHELINE | ANDERSEN | CALGARY | Dyson Pure Cool Me Air Purifier Fan |
| RDHC302614008 | ALBERT & JEAN | MAPPIN | BYEMOOR | Dyson Pure Cool Me Air Purifier Fan |
| RDHD401905011 | MATILDA | KLEINSASSER | RIMBEY | Dyson Pure Cool Me Air Purifier Fan |
| RDHB202008001 | CURTIS | ELLIOTT | RED DEER | Dyson Pure Cool Me Air Purifier Fan |
| RDHD401721022 | DANIELLE | DOBSON | RED DEER | Dyson Pure Cool Me Air Purifier Fan |
| RDHC300745004 | KATHARINE | BARR | RIMBEY | Acer Chromebook Spin 11.6 |
| RDHD401044007 | HAILEY | MACKENZIE | LACOMBE | Acer Chromebook Spin 11.6 |
| RDHB200564002 | MIKE AND LAURA | ONEILL | RED DEER | Acer Chromebook Spin 11.6 |
| RDHD400761003 | ERIKA | JOHN | EDMONTON | Acer Chromebook Spin 11.6 |
| RDHC303399007 | ANTONIA | INDENBOSCH | LETHBRIDGE | Acer Chromebook Spin 11.6 |
| RDHD400312022 | MIKE | FROLEK | THREE HILLS | Canvas Sydney Egg Swing |
| RDHD400644020 | BARRY | WENGER | CALGARY | Canvas Sydney Egg Swing |
| RDHD400186009 | BRIAN | PHIPPEN | WESTEROSE | Breton Outdoor Fire Pit Table 40,000 BTU |
| RDHC300027006 | LINDA | BRYANT | RED DEER | Breton Outdoor Fire Pit Table 40,000 BTU |
| RDHC303829002 | JOHN | GAFFNEY | LEDUC | Camping Accessories & Spikeball Game |
| RDHB207937005 | JACK | GIBB | HIGH LEVEL | Camping Accessories & Spikeball Game |
| RDHD400081009 | SHELLEY | BLACK | LACOMBE | Dyson V11 Torque Cordless Vacuum |
| RDHB201420004 | RICHARD | OST | LACOMBE | Dyson V11 Torque Cordless Vacuum |
| RDHB207535004 | ANTHONY W | PETRUNIA | RED DEER | Dyson V11 Torque Cordless Vacuum |
| RDHB202180003 | GLEN AND BETTY | MACE | RED DEER COUNTY | Dyson V11 Torque Cordless Vacuum |
| RDHB201962005 | DOUG | MARCHMENT | LACOMBE | Dyson V11 Torque Cordless Vacuum |
| RDHC300279007 | DAVID AND MARY | CHAFFIN | RED DEER COUNTY | $1,000 Scooter/Skateboard Gift Card |
| RDHD400217007 | KEN | NELSON | RED DEER | $1,000 Gift Card for Skiing Accessories |
| RDHC301383006 | TERRY | WELTY | RED DEER | Canvas Bala Section Patio Furniture Set. 6 pc |
| RDHD400527023 | JIM | SHERBINO | RED DEER COUNTY | LG 55 4K HDR Television |
| RDHB202633005 | LINDA | STANGER | DRUMHELLER | LG 55 4K HDR Television |
| RDHD401083018 | VERNA | GALLIVAN | VALLEYVIEW | LG 55 4K HDR Television |
| RDHB205046001 | SHIRLEY | GRADEN | WETASKIWIN | LG 55 4K HDR Television |
| RDHC303677010 | GLENN | PIERCEY | RED DEER | LG 55 4K HDR Television |
| RDHD401115013 | LORRAINE | HORLICK | CALGARY | LG 55 4K HDR Television |
| RDHD401767018 | LINUS | HOLLMAN | CALGARY | LG 55 4K HDR Television |
| RDHC302171002 | GRAHAM | VANDERWATER | RED DEER | LG 55 4K HDR Television |
| RDHC303048006 | CANDACE | WILSON | BENTLEY | LG 55 4K HDR Television |
| RDHB207658004 | RANDY | BROADHEAD | SHERWOOD PARK | LG 55 4K HDR Television |
| RDHD401418014 | DAVE | NELSON | EDSON | Panasonic Chair with Heated Foot & Calf Massage |
| RDHC301567010 | AUDREY L | DAINES | INNISFAIL | 2022 GMC Yukon SLT |