Headliners Wickenheiser and Straschnitzki lead the way at Lending Cupboard fundraiser with $10,000.00 donation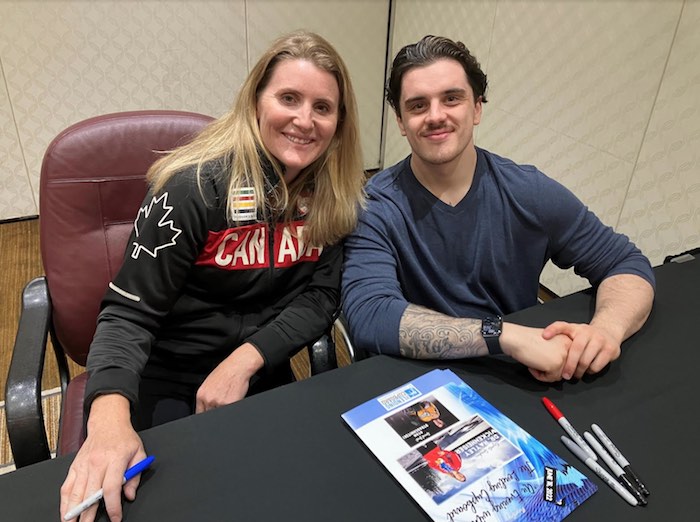 'An Evening with The Lending Cupboard' proves an inspiring, community-building event
Special guests Dr. Hayley Wickenheiser and Ryan Straschnitzki strongly endorse TLC's vision
'An Evening with The Lending Cupboard', held on June 16th at the Cambridge Hotel in Red Deer, proved to be an exciting, inspiring event featuring Dr. Hayley Wickenheiser and Ryan Straschnitzki.
"When I was contacted to come and do this, it was a no-brainer given what I do now in medicine," explained Wickenheiser, who is also of course a highly-acclaimed Olympic gold medalist and author in her own right. "This is a brilliant idea. I don't know why we aren't doing this across the country – it makes a lot of sense!
"It provides a very valuable service in the community…if we can help to raise that profile, that's so good."
During the event, Wickenheiser shared many details of her own memorable journey, reflecting on the hockey dreams that have been intrinsic to her life from a young age. She then interviewed Straschnitzki onstage, giving him the opportunity to reflect on the Humboldt bus crash of April 6, 2018 and the courageous steps he has taken to re-build his life since.
"My entire process from the time of the accident has made me realize how this kind of support really helps out," explained Straschnitzki, adding that bolstering awareness about the service is critical as well. "It's such a great idea, and it benefits so many people. The more the word can be spread about it, there's even more of an impact that can be made. "Being in a wheelchair these past four years, I've realized how inaccessible things can be when you live with a disability, so I think it's important to raise awareness about these kinds of programs," he added. "I think it's a great initiative!"
Executive Director Dawna Morey also commented on how thankful she was for how the event unfolded, and how inviting Wickenheiser and Straschnitzki – who turned out to be a powerful duo – was indeed the right choice. "I'm humbled that they joined us, and I'm also humbled by their incredible generosity – having donated $10,000 back to The Lending Cupboard."
Amanda Blair, TLC's Board Chair, said she was blown away by the generosity of all the attendees, including of course Wickenheiser and Straschnitzki – and the overall support from the community. "Seeing everyone pull together just gives you that faith in humanity – it warms your heart," she said. "Everyone there was also super enthusiastic about it – I think a lot of people learned more about The Lending Cupboard, which is also what we are trying to do."
Addiction Recovery: City hosting full day information session on "Recovery Oriented Systems of Care"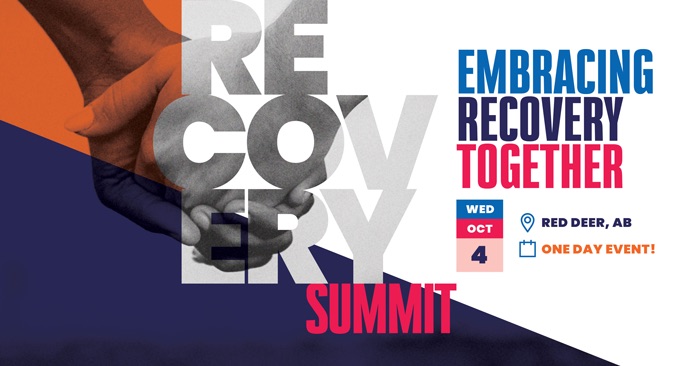 Embracing Recovery Together
Come together in Red Deer for a one-day conference focused on building an understanding of what a Recovery Oriented System of Care is, and what implementation can look like for Red Deer specifically.
Join industry, not-for-profits, government, and interested members of our public to learn, grow, build and start a journey towards recovery.
The word "recovery" can have various meanings in various contexts. For the purposes of an ideal coordinated response, it means helping individuals maintain forward momentum toward better wellness and fulfillment, across all dimensions of their life – physically, mentally, emotionally, spiritually and culturally.
When:
Wednesday, October 4 – 7:30 a.m. until 4 p.m.
Where:
Westerner Park (4847A 19th Street)
Event Details:
7:30 – 8:30 a.m. – Breakfast & Registration
8:30 – 9:15 a.m. – Welcome & Opening Prayer with Mayor Ken Johnston and Elder Lynn Jonasson
9:15 – 10:15 a.m. – Opening Plenary: Let's Get to Work with Alison Jones Webb
10:15 – 10:30 a.m. – Coffee break
10:30 – 11:15 a.m. – Breakout Option #1: What is Recovery, Recovery Capital and Recovery Oriented Systems of Care (ROSC) with Paul W. Sobey, MD
10:30 – 11:15 a.m. – Breakout Option #2: Understanding Trauma and Behaviour with Elicia Miller
11:15 – 11:30 a.m. – Break
11:30 a.m. – 12:15 p.m. – Breakout Option #3: Conversation with Elder Lynn Jonasson
11:30 a.m. – 12:15 p.m. – Breakout Option #4: Panel discussion with Kath Hoffman, Reed Charbonneau, Ben Borger, Samantha Shortneck and Sarah Fleck
12:15 – 1 p.m. – Lunch break
1 – 3:30 p.m. – Afternoon Keynote: "Whole of Society Approach" to Recovery with Dr. Alina Turner
3:30 – 4 p.m. – Closing remarks with the Honourable Dan Williams, Minister of Mental Health and Addiction
More information about the facility, including directions, can be found here: https://westernerpark.ca/
More information about Red Deer, hotels, what to do, and restaurants, please visit Tourism Red Deer
Thank you to the Government of Alberta for providing financial support for this event. For more information about the Provincial Government's approach, please read the report here: Toward an Alberta Model of Wellness
*Note: If the cost of the conference is a barrier to attending, please reach out to [email protected] and we would be happy to work with you to ensure everyone has the opportunity to attend.
Speaker Bios
THE JACKPOT IS OVER $14000 AND THE WINNER WILL TAKE HALF!!!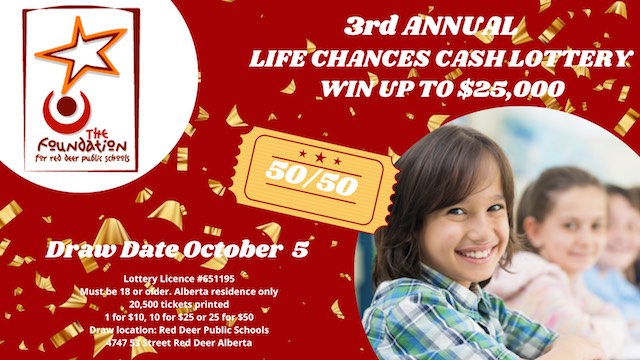 GET YOUR 50/50 TICKETSTODAY!!!! Winner could take home up to $25,000!!!
The Foundation for Red Deer Public Schools supports programs that have a significant impact on the LIFE CHANCES of students across the Division. By purchasing a ticket to support our 50/50 cash lottery you are giving students opportunities to have better life chances.
From giving kids a Bright Start to school to reconnecting with students so they graduate and cross the Finish Line, the Foundation helps students who face challenges in school and makes things better. We motivate struggling students and inspire them to read and write through Reading College. For students who come to school without basic needs, we give them that needed Step Up.
With the support from the Foundations 50/50 Life Chances Raffle, you are providing a student with opportunities that will improve their life. They can't always control the situations they're in but with your help students will continue to have these chances.
Don't miss your chance, CLICK HERE to buy your tickets today – Draw will be held on October 5! Good luck!
NOTE: This raffle is open to all community members in Alberta and over the age of 18.