"We're doing our best to be prepared for anything"
Little more than a month ago, members of the Alberta Colleges Athletic Conference – and the fans and parents who care about this under-valued level of college sport — were seriously focused on next week – specifically a Monday morning meeting in Medicine Hat.
For many years, interest and intensity have grown at this time of year. The month of May marks the formal start of preparation for the coming season, primarily soccer and golf and cross-country. A lot of details are needed to have everything ready when the first flag flies.
This year is bound to be different. Possible change, everywhere, is set for debate during the five-day annual general meeting.
Mark Kosak, the ACAC's chief executive officer, made clear his belief that the major issues, time and money, must be faced head-on. Several outlines will be considered in a virtual meeting – "lots of protocols and requirements in place." All participants have some insight to his combination of caution and aggression.
"So many complexities, so many variables," Kosak said. "We're doing our best to be prepared for anything." He specified the pressure of dealing with COVID-19, of course, but also dealt with an ongoing issue in minor and amateur sports at all levels: "Everybody has financial troubles" that existed long before the pandemic arrived.
Front and centre is the need for the Augustana Vikings to complete the elimination of men's soccer (the women's program will survive) and to continue the community- and alumni-led bid to keep men's hockey alive despite intense financial pressures. An interesting conundrum presented by Kosak: the backlash faced by Keyano College officials when they eliminated their Huskies hockey team a few years back and resulted in an about-face. "We have a proposal from Keyano to enter both men's and women's hockey; now, Keyano has agreed to wait until next year for a decision."
"Honestly, there's no real chance to tell what's going to happen," Jason Richey, head of the NAIT Ooks athlete program, said in a brief recent discussion. "As far as I can tell, the only way to avoid cutting some of our early sports is if, somehow, the distancing regulations are changed in time, but it's too early to count on that, I think."
Three options – all tied to the paced of reopening the economy — will be discussed in Medicine Hat. One Saskatchewan team, the Briercrest Clippers, may face regulations different from the bulk of ACAC members.
Kosak's proposals:
* Start on schedule, Sept. 15 or thereabouts, with first-term sports such as soccer, cross-country and golf;
* Prepare for a potential Oct. 1 start, requiring less play in those three sports but maintaining full activity in the others.
* Eliminate the early events if necessary and prepare to begin remaining sports after Christmas. keeping them at the busiest possible level: futsal indoors rather than the outdoor game; maybe one full golf tournament in the fall; possibly a series of indoor track meets.
Kosak and others have been somewhat successful, in building fan interest in the ACAC, whose sports have been attended for years by mostly small crowds. Some growth in regional and national interest has shown in college-level championships, although crowds still remain far below the level of attendance for Canada's national university playoffs.
'We are going to proceed': Trial moving ahead for accused in Alberta doctor's death
RED DEER, Alta. — The trial for a man charged in the slaying of a family doctor at a central Alberta medical clinic is going ahead as scheduled.
Deng Mabiour, 54, had been deemed fit last year to stand trial on a charge of first-degree murder in the death of Dr. Walter Reynolds, who was killed at the Village Mall Walk-In Clinic in Red Deer, Alta., last summer.
At his last appearance in March, Mabiour was told that a further assessment was going to be done and that he was being held on a mental-health warrant at the Southern Alberta Forensic Psychiatry Centre in Calgary.
No mention was made of the second assessment on Wednesday, but Mabiour has been transferred from the psychiatry facility back to the Calgary Remand Centre.
"We are going to proceed with this trial," said Court of Queen's Bench Justice Paul Belzil, who appeared by video from Edmonton.
Mabiour, wearing a blue prison jumpsuit and accompanied by two sheriffs, made his first in-person appearance in court since his arrest and sat quietly through most of the proceeding.
"Do as you want," he said.
Mabiour, despite urging from the judge to get a lawyer, repeated his intention to represent himself at his trial, which is scheduled from Nov. 22 to Dec. 17.
"This is a criminal trial and it's my duty to make sure you're getting a fair trial. You're facing a very serious charge here, sir," said Belzil.
"I recommend that you do not do so, sir, but you have a right to represent yourself."
The case is to return to court May 20 to discuss a number of applications, including one from the Crown pertaining to Mabiour acting on his own behalf.
"The purpose of that, Mr. Mabiour, is there's a provision in the Criminal Code that allows the court to make an order that you not examine civilian witnesses," the judge explained.
The accused was asked if he understood what was happening and if he had any questions.
"My question is do you believe that my case is connected with a human rights abuse case?" Mabiour asked.
Reynolds, a 45-year-old father of two, was attacked with a weapon while working at the clinic on Aug. 10. He died in hospital.
One witness told media that she was in the waiting room when she heard cries for help and saw a man with a hammer and a machete.
RCMP have said the crime was not random and the two men knew each other through the clinic, although they have not said if Mabiour was a patient of Reynolds.
This report by The Canadian Press was first published April 14, 2021
— Follow @BillGraveland on Twitter
Bill Graveland, The Canadian Press
Alberta supports the development of Small Modular Nuclear Reactors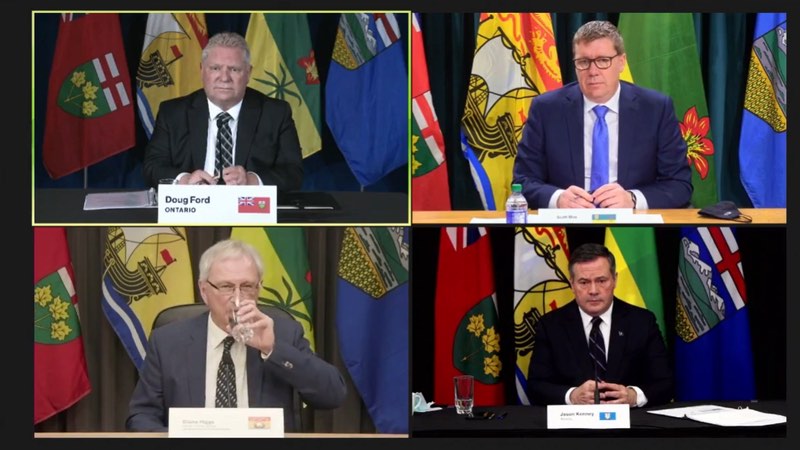 Alberta signs small modular nuclear reactor MOU
Alberta has signed a memorandum of understanding (MOU) with New Brunswick, Ontario and Saskatchewan to support the development of small modular nuclear reactors (SMRs).
Premier Jason Kenney signed the MOU, previously signed by the three other provinces, on April 14. He joined New Brunswick Premier Blaine Higgs, Ontario Premier Doug Ford and Saskatchewan Premier Scott Moe at a virtual event where the premiers shared the findings of a study that examined the feasibility of SMRs in Canada.
"Alberta has always been committed to clean, affordable energy. Small modular reactors are an exciting new technology that could be used in the future to significantly cut greenhouse gas emissions, for example by generating power for Canadian oilsands producers. Nuclear is the cleanest form of electricity production, and with SMRs is now more affordable and scalable for industrial use. We are excited to be part of this group that will help develop Canadian SMR technology."
"Today's announcement confirms the commitment of our provinces to advancing SMRs as a clean energy option, leveraging the strength and knowledge of each of our jurisdictions. This study confirms the feasibility of small modular reactors in Canada and outlines a path forward to deploy this new clean, safe, reliable and competitively priced power. This new technology will help attract investment, create high-skilled jobs and contribute to our growing economy."
"Our government believes the best way to ensure that Canada becomes a leader in advanced small modular reactor development and deployment is through continued engagement and partnerships. New Brunswick has already attracted two tremendous vendors in ARC Clean Energy Canada and Moltex Energy who are now developing their capacity and generating local economic development in the province. New Brunswick is well-positioned to be a world leader in the SMR field."
"It is important that our provinces take these next steps together to continue leading the development of cutting-edge small modular reactors for the benefit of future generations. Ontario is home to a world-class nuclear industry, which we will leverage as we continue our critical work on this innovative technology in order to provide affordable, reliable, safe and clean energy while unlocking tremendous economic potential across the country."
With the addition of Alberta to the MOU, all provinces involved have agreed to collaborate on the advancement of SMRs as a clean energy option to address climate change and regional energy demands while supporting economic growth and innovation.
The SMR Feasibility Study, formally requested as part of the MOU in December 2019, concludes that the development of SMRs would support domestic energy needs, curb greenhouse gas emissions and position Canada as a global leader in this emerging technology. SMRs are nuclear reactors that produce 300 megawatts of electricity or less. They can support large established grids, small grids, remote off-grid communities and resource projects.
The study, conducted by Ontario Power Generation, Bruce Power, NB Power and SaskPower, identifies three streams of SMR project proposals for consideration by the governments of Ontario, New Brunswick and Saskatchewan.
Stream 1 proposes a first grid-scale SMR project of approximately 300 megawatts constructed at the Darlington nuclear site in Ontario by 2028. Subsequent units in Saskatchewan would follow, with the first SMR projected to be in service in 2032.
Stream 2 involves two fourth generation advanced small modular reactors that would be developed in New Brunswick through the construction of demonstration units at the Point Lepreau Nuclear Generating Station. By fostering collaboration among the various research, manufacturing, federal and provincial agencies, an initial ARC Clean Energy demonstration unit plans to be ready by 2030.
Moltex Energy Inc.'s waste recycling facility and reactor is preparing to be ready by the early 2030s. Through ongoing support and collaborations, these advanced technologies could start being deployed as early as 2030 in support of the industrial needs in areas like Saskatchewan, Alberta and around the globe.
Stream 3 proposes a new class of micro-SMRs designed primarily to replace the use of diesel in remote communities and mines. A five-megawatt gas-cooled demonstration project is underway at Chalk River, Ont., with plans to be in service by 2026.
The report identifies the potential for all three streams to create employment and economic growth benefits for Canada, as well as opportunities to export technology and expertise to address global issues such as climate change and energy reliability.
The next action identified in the MOU is the development of a joint strategic plan, to be drafted by the governments of Alberta, New Brunswick, Ontario and Saskatchewan. The plan is expected to be completed this spring.
The partner provinces will continue to work together and across the nuclear industry to help ensure Canada remains at the forefront of nuclear innovation while creating new opportunities for jobs, economic growth, innovation and a lower-carbon future.