Update: Virtual concert raises more than $40K for Cancer Research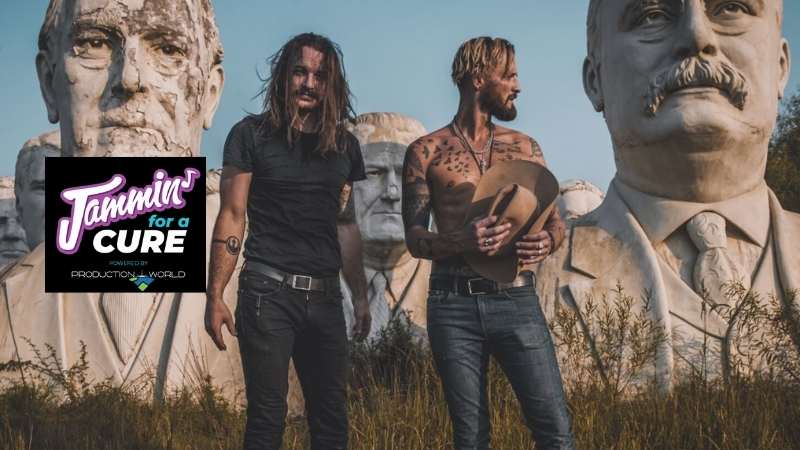 This weekend's Jammin' For a Cure concert raised more the $40,000 for Cancer Research, with funds raised being earmarked for the work of Dr. Michael Chu, a clinician scientist at the Cross Cancer Institute. His research is for a new treatment known as Chimeric antigen receptor (CAR) T-cell therapy.
The 18 hour live performance was a great event.  If you missed it, we have the links right here for you.
Friday:  Click here 
Saturday: Click here.
If you missed the show on the weekend, check it whenever you wish, and share it. The concert featured some really good performance from local, regional, national, and international artists.  A highlight for me was El Niven and the Alibi. After doing some crazy tours, one from Tijuana to La Paz, performing fully amplified street concerts, and another from Edmonton to New York, across to L.A. and back to Edmonton.  More than 400 shows over 3 years hones your skill, and this trio has a ton of skill.
Here's a video they recently released called Likker.   If you like the thoughts of a mash up between a 6'5″ Freddie Mercury, Frank Zappa, Commander Cody, and then you put an old worn telecaster in this volatile combination of a man's hands, and say to him, go out and do something magical, and maybe just a bit crazy, then El Niven should appeal to you. Click here to learn more about El Niven and the Alibi.
Original story from March 26, 2021
I think we can all agree that few of us have been touched more by cancer than any other disease. One of the organizations trying to make a difference is the Cure Cancer Foundation, founded by a group of volunteers with a desire to more directly fund research and treatment programs.
And, what better way to raise money than with live music. Let's face, it's been an awful year without clubs and bars open, and no concerts and festivals. So maybe take a break from Netflix this weekend and take some time and catch some amazing talent, many of whom you've listened to in your favourite venue over the years. Many have been very busy creating new work during this last year and I'm sure you'll hear some excellent new music throughout the weekend. In fact, here's something recent from Brett Kissell.
Jammin' For a Cure is a live concert event taking place over 18 hours, starting tonight at 6 PM when Alberta's own Brett Kissel kicks off a night of great music with artists that include Clayton Bellamy, Martin Kerr, and Jesse Roads.  (The full list of talent and the schedule is below).
Saturday, the music begins at noon with Confounded Dials.  Some excellent solo artists and bands will perform throughout the day, including Josh Sahunta, Dahlia and the Villains, Stephanie Harpe Experience, Maria Dunn, Stevon Kayla, and John Hewitt.
Alfie Zappacosta kicks of the evening slate of acts Saturday night at 6 PM followed by artists like Hailey Benedict, Bardic Form, Amy Metcalfe, Kesara Kimo and guest Evrlove, and runs right through to 11:40 PM with Canadian Coldwater Revival closing the show.
I have been invited to appear on this bill as well and I'm pretty pumped to strap on a guitar and perform on Saturday at 3:40 PM for a 20 minute set. Having lost my mom to ovarian cancer in 1994, I do what I can to help.
And a big shout out to Jon Beckett and his talented, experienced team at Edmonton's Production World for making all of this possible.
Remember these are free concerts.
Here's the link for Friday (tonight).
Here is the link for Saturday.
Friday Line up
6-6:40 PM Brett Kissel
7-7:40 PM FKB
7:40-8 PM Olivia Rose
8-8:40 PM Clayton Bellamy
8:40-9 PM Stevon and Kayla Artis
9-9:40 PM Martin Kerr
10-10:40 PM Jesse Roads
11-11:40 PM Guitarface
Saturday starting at noon
12-12:40 PM Confounded Dials
12:40-1 PM Tracy Lynn Byrne
1-1:40 PM Josh Sahunta
1:40-2 PM Brenda Dirk
2-2:40 PM Dahlia and the Villains
2:40-3 PM Kaylee Caura-Lee
3-3:40 PM Kane Incognito
3:40-4 PM Lloyd Lewis
4-4:40 PM Stephanie Harpe Experience
4:40-5 PM Maria Dunn
5-5:40 PM Stevon Kayla and the Heavenly Band
5:40-6 PM John Hewitt
6-6:40 PM Alfie Zappacosta
6:40-7 PM Hailey Benedict
7-7:40 PM Bardic Form
7:40-8 PM Amy Metcalfe
8-8:40 PM El Niven and the Alibi
8:40-9 PM Darrell Barr
9-9:40 PM Kesaro and Guest Artist Evrlove
9:40-10 PM Danny Floyd Cole
10-10:40 PM Jusjrdn and DJ Kwake
10:40-11 PM Mightberea
11-11:40 PM Canadian Coldwater Revival
The whole purpose is to raise money.  Here's the link to make a donation right now.
As well, there's a host of great silent auction items you can bid on, from autographed jerseys to signed guitars. Click here to get started.
About Cure Cancer Foundation
Cancer doesn't stop. No matter what's going on in the world, Cancer is always there, hurting those we love. Jammin' For A Cure will be raising money for Dr. Michael Chu, a clinician scientist at the Cross Cancer Institute, who is leading the charge with a new treatment known as Chimeric antigen receptor (CAR) T-cell therapy.
This therapy turbocharges the immune system to create killer immune cells that can wipe out cancers. This alters the patient's own cells to be a new "barcode reader" and find the hiding cancer cells. This treatment is predicted to make the most significant difference in blood cancers such as multiple myeloma, leukemia, and lymphoma patients, even those with multiply relapsed cancers.
We want to help fund great research like this to help Albertans, and people everywhere, receive the treatment they need. Your support will provide hope to people who would otherwise die of their cancer – despite all the best-known treatments. You are giving people a better chance of a cancer-free outcome and more time with their families, friends, and loved ones.
Todayville is very happy to support this event. Click here to read more stories on Todayville.
Calgary mayoralty candidate, pastor both released after alleged COVID-19 violations
CALGARY — A Calgary mayoralty candidate and a pastor who were both arrested for allegedly violating COVID-19 laws over the weekend were released from custody Monday pending future court appearances.
Calgary police allege Kevin J. Johnston, who is running in this fall's municipal election and has been a vocal supporter of anti-lockdown protests, was in violation of a court order when he attended illegal gatherings Saturday. 
An injunction obtained by Alberta Health Services on May 6 mandates that event organizers comply with public health restrictions, including masking, physical distancing and attendance limits. 
The Court of Queen's Bench also imposed a restraining order on Johnston last week. It required that he stay at least 100 metres away from health officers and not publish any threats or hate speech directed at them.
Johnston's lawyer asked the court if his client's interim release would preclude him from continuing to campaign for mayor. He was assured it would not.
"From AHS' interests, as long as there is compliance with the two orders enjoining conduct, it doesn't matter to us what Mr. Johnston does or doesn't do," said Mark Jackson, who was representing Alberta Health Services, the agency that delivers healthcare in Alberta.
Johnston has appeared regularly online, promoting far-right ideology, and AHS has said he has been aggressive and threatening towards two particular health workers as well as to its general workforce. 
He expressed concern from the prisoner's docket Monday about being required to wear a mask.
"I simply cannot wear a mask. I'm already feeling the anxiety of this right now and I'm sweating. I'm bothered by having to have this on. I could not possibly wear a mask for that entire amount of time," he told the court.
Johnston has been ordered to return to court June 16 to deal with contempt charges for violating the directive.
About 20 people, meanwhile, gathered outside the Calgary court in support of Pastor Tim Stephens, who was arrested Sunday for organizing a church service at Fairview Baptist Church. Police allege the service did not comply with public health orders. 
Holding signs that said "Free Pastor Tim" the supporters prayed and sang hymns prior to the court appearance.
Police said they received repeated calls from concerned citizens about services at Fairview Baptist Church in recent weeks, and that Stephens was proactively served a copy of the May 6 order last weekend. 
But his lawyer said the order has been modified by a judge, which narrows its scope, and Stephens was not in violation.
"The effect of that amendment to our understanding was essentially that the May 6 order would only be applicable to the respondents and people who were under their direction. That would not include Mr. Stephens," said Leighton Grey.
The contempt matter will also be heard June 16.
Edmonton Justice Adam Germain said he has been directed to deal with all matters related to violations of the COVID-19 court orders.
"The reality may be there are going to be other arrests in the Calgary area and elsewhere and that I may see the same personnel appearing in front of me," Germain said.
This report by The Canadian Press was first published May 17, 2021.
Bill Graveland, The Canadian Press
Alberta and Manitoba intensive care units feeling strain of COVID-19 cases
Health officials in Alberta and Manitoba warned Monday that they were reaching new peaks for intensive care admissions, even as more stable case counts and expanded vaccine rollouts buoyed hopes in several other provinces.
Alberta Premier Jason Kenney said the province's intensive care units were currently treating more than 240 patients, surpassing all previous records. Of those patients, 186 have tested positive for COVID-19, he said. 
"Many of these are people who are sedated because they're on respirators, unable to breathe on their own and who cannot have any human contact except through layers of (personal protective equipment)," he told a news conference. 
He said many of the places with highest hospitalization rates were rural areas, proving that COVID-19 isn't just a "big-city problem." 
Kenney said that while the province's new COVID-19 case numbers have stabilized, he expects hospitalizations to continue to rise for the next week or so as more ill Albertans enter the system.
Despite the dire warnings, Kenney said he still hoped to ease public health restrictions soon, once vaccination rates climb further and hospitalizations drop. He urged Albertans to encourage their families and friends to get the shot, describing vaccines as "our way to get back to normal."
It was a similar story in Manitoba, where health officials reported 120 patients in intensive care beds across the province, including more than 70 with COVID-19.
Lanette Siragusa, the province's chief nursing officer, said it was likely the province would soon exceed the second-wave record of 129 patients set last December.
"We don't know if we're at the peak yet and how long that's going to be, but as we continue to see 400, 500 cases, we know that's going to have an impact on the acute-care system," she told reporters.
She said the province has had to scale back non-urgent and elective surgeries in order to meet the needs of fighting COVID-19. However, Sirgusa said the province was not yet at the point of having to ration care and will look at "all other available options" before invoking a triage protocol. 
Several provinces were further expanding their vaccine rollouts on Monday as they continued the push to vaccinate their adult populations.
Ontario was originally scheduled to lower vaccine access to people as young as 30 but instead said Monday that all adults in the province can book an appointment starting Tuesday.
The Doug Ford government said it will stop sending half its doses to COVID-19 hot spots, where those 18 and up have been eligible to get vaccinated, and will instead distribute vaccines across the province on a per-capita basis.
While the move was criticized by members of the opposition and some mayors, who said the province should keep focusing on hard-hit areas, Health Minister Christine Elliott said there would be enough shots to meet demand.
She added that local health officials would be able to direct doses to where they were most needed, including hot spots.
"We have large quantities of vaccines coming in, so I feel confident that the local medical officers of health will know the areas within their regions that they need to continue to target," she said.
Ontario's vaccine expansion is possible because of an early delivery of 1.4 million doses to Canada from manufacturer Pfizer-BioNTech.
Quebec opened a drive-in vaccine clinic at Montreal-Trudeau International Airport on Monday and announced it was sending musicians to play at some vaccine centres as an incentive to get people to receive the shot.
Health officials in Quebec reported 551 new COVID-19 infections, which was the lowest daily number of new cases since September.
Health Minister Christian Dubé said Sunday that the province was just 85,000 appointments shy of meeting its goal of having 75 per cent of adults with at least one dose of vaccine or an appointment booked to get one.
This report by The Canadian Press was first published May 17, 2021.
The Canadian Press