Tie A Yellow Ribbon Around the Old Oak Tree and Time Machines
The prominence of video and media classes in High Schools today is not by accident.
With the incredible popularity of YouTube, Vimeo and other video platforms, people today watch everything from church services to teens playing video or card games! Incredibly, with enough views, these activities are monetized.
The history of photography classes in Alberta traces back more than years with the availability of home developing equipment. As many old timers could attest, even during the 1930s, small business people developed photos in their sheds and offices. There is anecdotal evidence of this occurring around Torrington in the late 1930s and I am sure in many other communities.
Museums and provincial archives are full of family pictures lying dormant and orphan with no connection to living families. Local history books are the recipient of such treasure. Upon the passing of older relatives, such pictures are commonly taken out and split up, never to be seen again.
In the 1970s in Torrington School, Ed Lasiuta taught students the basics of still and videography with scattered results. Many pursued photography later in life while some students helped recreate their grand parents lives. In other communities, other inspired teachers introduced their students to life time hobbies as well.
An example of school video follows below:
Music by Tony Orlando and Dawn
Home photography as we know it today, with everyone having a image capturing device in our hands, was not always accessible to everyone. It was a privilege to even have a camera in many cases and was a luxury. Families who were fortunate to own a camera, whether it was professional or the classic Brownie, or Fuji/Pentax/Canon recorded life around them both formal and informal.
Those who also took to 8mm movie cameras in the 1950s and 40s (if you were very well heeled) had the power to record more than birthdays and anniversaries. Adolph Hitler had a yen for videography and all of his color movies survive to this day. The British have most of their war efforts captured on B/W movies!
They had time machines!
No longer did they have to dig into their memories to remember Grandma and Grandpa, but only to look in their family photo albums and watch a family movie.
Today, people scan through their thousand pictures of food, cats and download memes and humorous posters to find family history. If people back up their images or download them to their home computers, they will have them close to forever.
But family photos and movies, the type that our grandparents took and kept and shared with us when we visited are truly precious and priceless. Anyone who has albums with photos from the 40s and 50s can relate to the treasure we have the opportunity to share with our future generations. Older photos of homesteads and great great grandparents have greater treasure.
With the power of digitization, it is possible to protect and restore those images and memories for our children. When once, only ONE person had access to such time capsules, now every family member can for posterity.
I have heard of families who have restored 8mm films for family reunions and 100 year farm celebrations have seen aunts and uncles weep when seeing parents, grand parents and long gone friends and family members.
As a 4th generation generation photographer and image digitizer, I often help families with their personal time capsules. I am honored to be part of their journey and remembrances.
In our present state of distancing ourselves, such ideas are counter cultural but they give us life as much as a shot of vitamin B12.
Within my own family, I have seen the power of family pictures and the bonding that occurs when we view our great grandparents walking down a sidewalk. For those who were there, we can remember their voice and taste the treats that somehow magically appeared. It is in those times we realize how much we truly need each other, and how our past binds us and prepares us for the future.
One thing for certain, when this time of social distancing is over and we can celebrate together in public one more time, photo albums and memories will flow once more. And our community will be stronger for it.
Family Wedding, 1950s.
Please feel to contact me at [email protected] if you need help preserving you family time capsule for future generations! I would be honored to be part of your journey.
Southside Dodge donates new van to Ronald McDonald House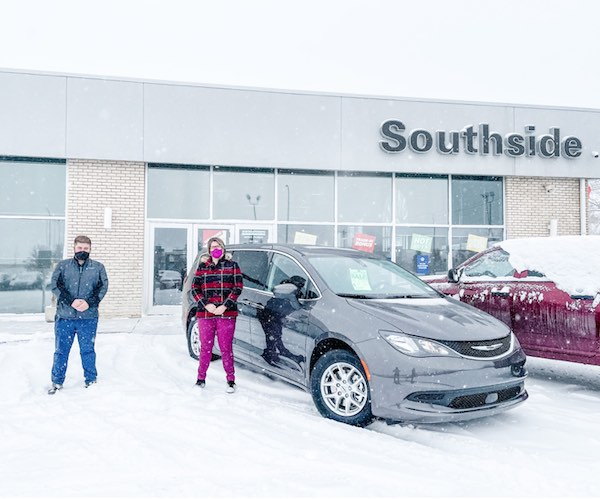 Matt Swainson (Vice President & General Manager, Southside Dodge Chrysler Jeep Ram) -left , Lori Rechlo (General Manager, Ronald McDonald House Charities Alberta – Red Deer House) – right
Submitted by

Sarah Heibein,

Stakeholder Relations Manager, Central Alberta Ronald McDonald House

We've received a donation of use of a Dodge Caravan from Southside Dodge- they've been an incredible support of us over the years. Attached is the photo we took at the dealership when we picked up the keys on Friday.
Ronald McDonald House Charities Alberta, Red Deer House is truly grateful to Matt Swainson and his entire team at Southside Dodge for their steadfast support of our work to keep families together during the unimaginable hardship of the need to travel for medical treatment for their sick or injured child. Our House is not a nice to have, but a need to have, and we are honoured to work with such an amazing community partner in Southside. The use of the 2021 Dodge Caravan will help us to keep our operating costs down so that we can focus on our work to keep families close.
We have operated in the city for over 8 years, ensuring there is a safe and comfortable place for families to rest while they focus on the recovery of their child(ren).
We are grateful to everyone in Red Deer who supports us! 😊
Smiles Thru Lindsey reaching out with a new video message and urging Albertans to look out for each other at this challenging time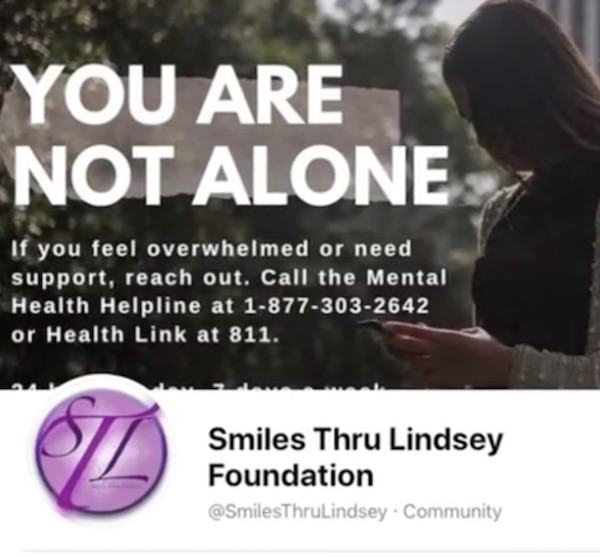 The holiday season is well behind us, we're heading into the coldest part of the winter, and although the days are starting to grow longer there's still a definite lack of daylight in our lives. The winter blues are a real thing and this year we have COVID, a whole new serious problem to add to our mental health issues.
COVID is also the reason the Smiles Thru Lindsey team has not been able do public events for many months. Unable to reach out physically through school visits and fund raisers, Smiles Thru Lindsey is reminding Central Albertans to check in on each other. Also, please follow the Smiles Thru Lindsey Facebook page . They'll lead you to the resources you or your loved ones need right away.
Meet Lindsey and the Smiles Thru Lindsey team in this powerful video. …And remember to check in on the people in your life.
If you'd like to help Smiles Thru Lindsey with a donation please click here.