Part IV:  Clerical Errors Affect Real People!
Medical clerical staff are significant workers in the health centres.
Not only do they support the doctors and nurses in their roles, but they also ensure accurate results which turn into statistical analysis for future treatment recommendations.
But consider the case of my mother, who was allegedly diagnosed with Covid 19 at a seniors' home and consequently spent two weeks in isolation (quarantine) as per government policy.
Nearly two weeks later, a note was added to her file of which the content follows:
November 27, 2020
Dear Resident/Family Member
I am writing to you to confirm that we have had no other residents at …. test
positive for COVID-19. With that being said, we have taken many residents off isolation today
due to a clerical error from AHS that resulted in a false positive reporting.
The director of the facility ends the letter off with an interesting paragraph:
Please also know that the best defense against the spread of this virus are actions that are well
within each of our control: stay home as much as possible, practice physical distancing (2
metres)/ wash your hands regularly/ use good cough etiquette and avoid touching your mouth.
 Without playing the victim card, what is the consequence of this clerical error to the individual who made the error?
For my mother, she lost 2 weeks of her life isolated in her apartment with a hazmat suit, masks and gloves in front of her unit.  She could not receive visitors and was not able to see her family.
Like any senior, student, teacher or worker who may have received a false positive, they are not faceless or nameless.  Errors have real life consequences.
This marks the 5th time of isolation in the retirement home.  Of these 5 times, ALL were due to policy i.e. 2-week isolation for a negative test or returning from a trip to visit family.  While initially based on a positive indicator, this last circumstance was triggered by a hallway disinfection during which she had coughing symptoms and a test was administered.  It turns out the particular disinfectant used by the home may trigger a coughing reaction.
However, the test was conducted and the positive was overturned.  Mea Culpa.
I have to wonder what the clerical staff who erred received for their gaffe?  The note is not clear as to if the clerical error was on the part of the technician or the individual entering the results. Either is unacceptable-technical or clerical side.  Or the alternate questions, how many other people had their lives turned upside down due to the error?  We also have to wonder how many people were contact traced and as well had to isolate?
We can probably estimate that for each false positive, 5 people were requested to be tested and if the test was incorrect OR the clerical staff erred there could be as many as 50 false results that day.
Province wide, what was the impact on the daily fright report?  If again, 50 people were false, our daily numbers would fall.  Perhaps more results were incorrect?   We do not know, but we do know that peoples' lives are not to be tampered with and such activities should not be merely accepted.
Extending the argument system-wide, it is these types of errors that continue widespread criticism of our response to the virus.  Clerical errors can cause elevated numbers and create more panic (and thereby justify more extreme measures) just as inaccurate or no reporting of other diagnosis such as the influenza and related deaths, suicides, automobile accident fatalities, drug overdoses due to depression and potential  prescription related deaths (#3 in the US).
It is well know by anyone who has undergone physiotherapy for shoulder or leg injuries that if your left arm is injured that you will over compensate on the right side.  Therefore as one limb heals, the other can also be injured leading to another cycle of physio.  The same principle should apply to our health system.
While Covid 19 is a 'real' virus with real world threat, it must be considered as part of a larger pie to give world citizens a balanced view of our national health threats else our go to strategy for health management is crisis instead of calm and long term nutritional and holistic approaches.
Clerical errors not withstanding, errors must be publicly acknowledged and corrected.  Incorrect positive tests (cases) must be modified and appropriate actions taken to ensure honesty in health reporting.  The citizens of our cities, provinces and countries deserve truth from our health providers and ministries.  Responsibility and accountability MUST be part of a responsible and responsive health system.
To take a quote out of context, "One small misstep for man, one large misstep for mankind."
Central Alberta COVID cases fall below 1,000 – Mike York Update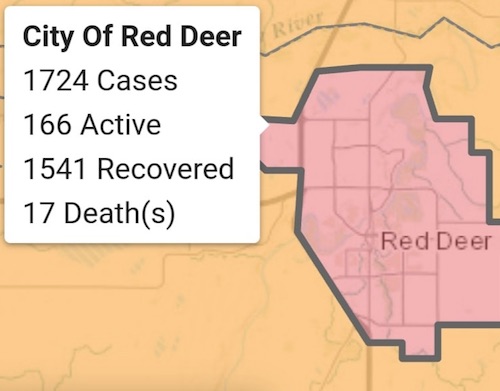 The AHS Covid-19 report for Wednesday January 20, 2021 is as follows.
Firstly, Alberta had a slight increase in new cases reported today with 669. There were also 996 recoveries so it's good to see the recoveries still surpassing the new cases!
In the Central Zone, 48 new cases and 148 recoveries reported today.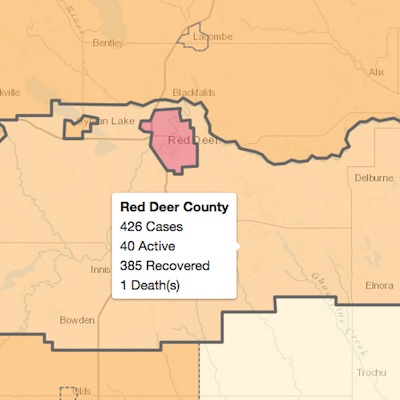 There was one more death recorded as well.
The number of active cases has now declined to under 1000.(949)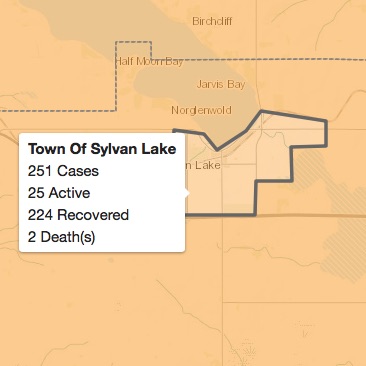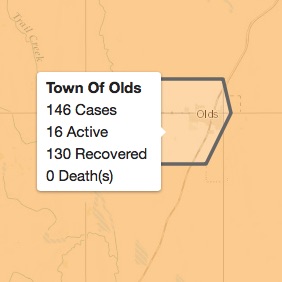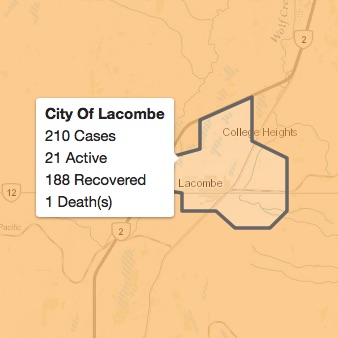 There are now 59 people in hospital of which 10 are in ICU.
In the city of Red Deer, just 9 new cases reported today along with 14 recoveries.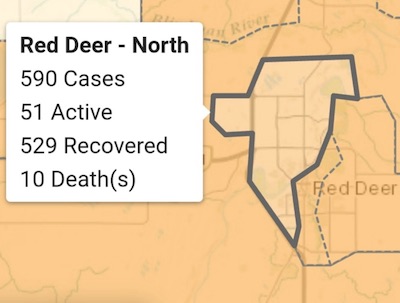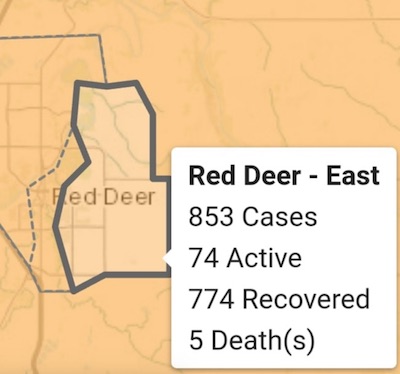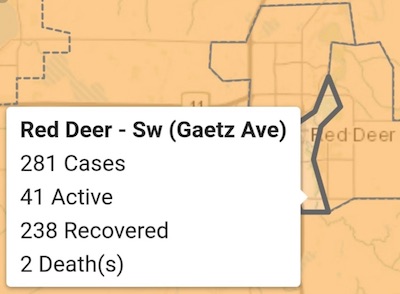 The cities current active cases have now dropped to 166.
We have currently 14 people in RDRH with the virus, 10 in the ICU.
Cheers to you all.
Active COVID cases continue to fall – Mike York update for January 17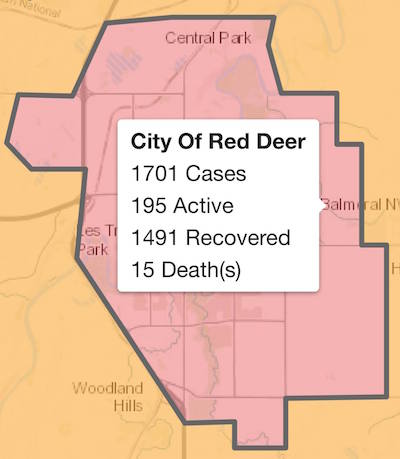 January 17 COVID update – noticeable drop of 15 active reported cases in Red Deer to 195 after 10 new cases but 23 recoveries. Unfortunately, there were also 2 new deaths bringing the total to 15.
Active cases are down from 1,209 to 1,182, with 8,209 cases to date. Hospitalizations sit at 65, down four, and ICU admissions are up one to 12. All ICU admissions in Central Zone are at Red Deer Regional Hospital.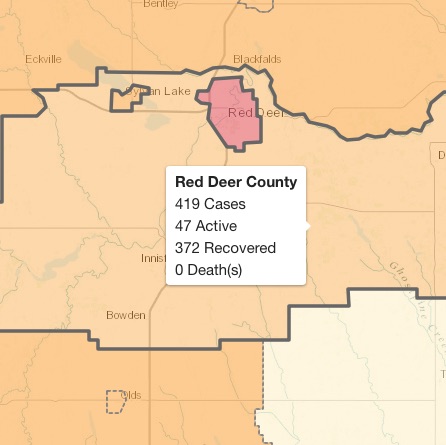 Red Deer County has 47 active cases, up one, the town of Sylvan Lake has 35, even with Saturday, and Olds has 27.
Lacombe County has 28 active cases, down one, and the city of Lacombe has 21, down six.
Ponoka County has 381, an increase of 15, though most cases there are in Maskwacis.
Clearwater County, which includes Rocky Mountain House, has 86 active cases, up two, and Brazeau County, which includes Drayton Valley, has 33, up two.
Mountain View County has 24, up two, Kneehill County has seven, down two, and County of Stettler has six, the same as yesterday.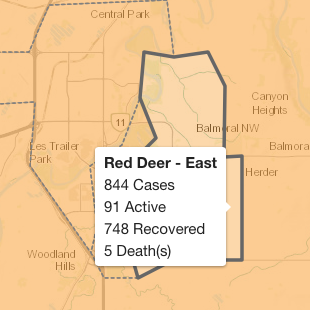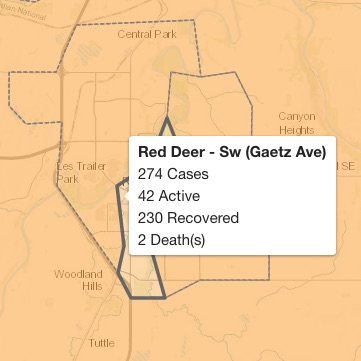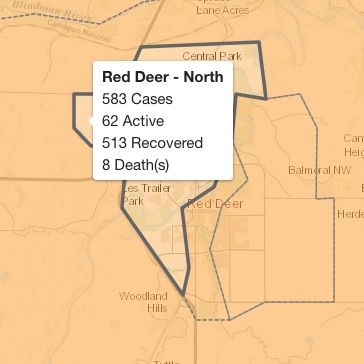 Meanwhile in Red Deer, the eastern section of town has dipped below 100 active cases for the first time in many weeks.  Cases are falling in Red Deer North (62) and in the South West as well (42).