Short Story-Bad Day in Bethlehem
The Judean streets were dusty that day. Weeks without rain had left vast areas of the countryside wanting for moisture, and the ox cart trails puffed up dirt in their wake. Crowds of milling people gathered in the marketplace, bartering and bantering for their daily bread. The sounds of life flowed freely from the connecting side streets and thoroughfares.
One man suddenly st
opped his purposeful stride, and turned around. He yelled out "Tobias!"
A few feet away, a tall gangly worker slowed down, and cocked his head.
"Tobias!" The other man said more quietly.
This time, Tobias stopped, and turned around.
"Shalom Tobias." he said.
A wave of recognition crossed his face and he ran towards the speaker, and gave him a warm hug.
"Shalom." he responded.
Both men laughed.
"Tobias, how long has it been since I saw you? It must be three, perhaps four seasons at least. What are you doing now?" the rough speaker commented.
Tobias nodded.
"Four, and I was away for all the time, with a trading caravan. The world is wonderous, but full of difficulty. Even as far as Baghdad, I found deceitful men. I had thought…."
The other smiled in response.
"Yes, men here are men there. They wake, break fast, work, and cheat. Just like here, except in a different language."
Tobias continued.
"What have you been doing son of Joseph? Not that I was here to keep track you know."
"Spent some time in the desert. My men and I have been traveling the country, teaching and caring for the downtrodden."
Tobias' face brightened, then a shadow fell across his tired eyes.
"Teaching? Caring? Downtrodden? Have you joined that Samaritan band? You know the one that heals, feeds, and generally ticks the Pharisees off. By the way, have you heard this joke. Two pharisees go into a public house…."
The son of Joseph listens carefully, then nods at the punch line.
"No, the way I heard it. Never mind, what else is happening with you? That is a nasty scar on your face, and your carriage is stiff? When did that happen?"
"Well", Tobias answered. " I was in Baghdad when three men jumped me for the gold in my purse. If not for a kind family, I would have surely perished in the streets. I stayed for some time in their house, healing, and then teaching their child. But, I missed the trading life, and somehow I find myself here. I am married now to Isabel, from down the street where I lived as a child. But, people here are not that different, there I was robbed by the natives, here, the Roman government takes more than their share."
The other man smiles.
"Where are you staying now? Surely, as a teacher you must have a comfortable residence? How many students do you have? An old friend, acquaintance really, debtor of mine had several of the ruling families employ his teaching skill, and he did quite well. I think he even hired some of the children themselves when they were older" Tobias rambled on.
"Well, I don't really have a permanent home. I stay where I teach, and I receive what their gratitude demands of them."
Tobias slapped dirt off his tunic, and looked up at the sun.
"It's time to go inside, the sun is high in the sky. By the way, would you break fast with me now. My treat, Yahweh has been good to me this week." he offered, shaking his money pouch.
"Yes. I would. What Inn do you suggest? I usually eat at the Gilded Cup. They know me quite well there." he answered.
Both men turned and walked down the dusty side streets.
"If only Elisha were here, he would bring down rain on these streets! Come, let us enjoy each others company."
The two men entered the Gilded Cup and sat down. The serving girl wandered over and looked at them. Tobias laughed, and the son of Joseph smiled. "Your daily best for two old friends. Bring us a jug of your best!" Tobias said joyfully.
The food and drink arrived, and the men began to eat.
"How is your father Tobias? Last I saw him, he was working in the next village."
Tobias spat out the words. "My father, drank all his earnings away, then he gave away his belongings to the poor, and died two seasons ago. I inherited nothing save his name, and a dusty empty shop. With my meagre savings from the East, I have built up a little trade, but it could have been more. Much more."
"And your brothers?"
"Cheaters. Greedy crooks. It is they who gained the contents of the shop he owned. I hope never to see them again. Other then that, well. Married, with some surly brats. But, surely I turn your spirit with these family troubles. What of your father, and good mother?"
The son of Joseph ate slowly.
"Joseph passed his shop onto me several seasons past. I passed it to my brothers who deserved it far more than I. Joseph passed into sleep when I was a young apprentice. Mary, still lives in our house, with my brothers. I see her often."
"You gave your shop away? You are a skilled craftsman. Look at your hands, those are the hands of a carpenter, a worker. I have but a silver tongue, and not the business sense to match" Tobias said passionately. "If only I were here to advise you."
"I have other business to do. I still build, but not of stone and wood. Let me show you something some monks showed me once."
The son of Joseph put his hand on Tobias' shoulder, and turned it slightly. Rubbing his rough hands over the fine silk shirt that covered it, he closed his eyes. Tobias blinked, then moved his shoulder, twisted it, and looked in astonishment at his friend.
"How did you do that? Are you a magician? An angel perhaps? A demon?"
The son of Joseph nodded.
"No, just something they taught me. How does it feel now?"
Tobias moved his arm some more. Then he flexed his muscles and hands. A smile crossed his face.
"Praise be to God, the God of my fathers! It has never felt better" Tobias exclaimed.
"Now really, how did you hurt your arm?"
Tobias looked down in shame.
"It was I who robbed the poor in Baghdad, and was beat in return. I am so ashamed. That is why I am back here. I was blindfolded, and led out of the city, then left to die in the desert. I made it home half dead. I am so angry, and so ashamed of myself. My father would disown me if he knew."
The carpenter laid his hands on the shoulder of Tobias, and said quietly "I think he would accept you back with arms of forgiveness, if he were with us, and not asleep in God. It's never too late to start again. Never."
Tobias looked at his friend, and nodded.
"I think you are right. Perhaps I can start again. I did mention Isabel didn't I? Well, I wasn't exactly truthful there either. We are at the moment, as we say, not exactly talking right now. I go there now, and perhaps, we'll see I guess."
"You will speak again. This I do know."
Both men got up and left the Inn.
"What of you, carpenter? What does the future hold for the mysterious son of Joseph?" Tobias asked, his heart lightened.
"Betrayal. Suffering. False accusations. Crucifixion. And hope, for all men."
Tobias stepped back in shock.
"How can you find hope in all of that? Surely you do not know the manner of your death? Crucifixion? Where is the hope in that?"
"Do you not know Who I am Tobias, son of Zebediah?" He asked?
Tobias averted his eyes.
"I know who you used to be, the carpenter, the son of Joseph and Mary. I do not know who you are now."
The carpenter stepped closer to Tobias, then looked into his eyes, and spoke.
"I am the Light, the Truth and the Way. I am Emmanuel. I am Jesus, the good Shepherd. And Tobias, I am your friend. Go in peace to serve the Lord your God, with all your heart, all your mind, and all your soul, and He will give you rest."
Tobias looked blankly at Jesus. Then turned away, and yelled back "And rest I shall have! Shalom Jesus. If you and your men ever need some goods from the East, or a place to sleep, you know the shop, just around the corner…"
As Tobias walked away, Jesus lifted his heart up in thanks, and stared at the crowd in the street. A voice boomed over the noise of the merchants.
"Jesus…"
THE JACKPOT IS OVER $14000 AND THE WINNER WILL TAKE HALF!!!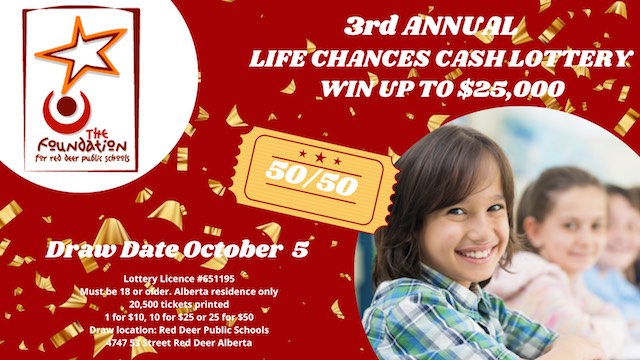 GET YOUR 50/50 TICKETSTODAY!!!! Winner could take home up to $25,000!!!
The Foundation for Red Deer Public Schools supports programs that have a significant impact on the LIFE CHANCES of students across the Division. By purchasing a ticket to support our 50/50 cash lottery you are giving students opportunities to have better life chances.
From giving kids a Bright Start to school to reconnecting with students so they graduate and cross the Finish Line, the Foundation helps students who face challenges in school and makes things better. We motivate struggling students and inspire them to read and write through Reading College. For students who come to school without basic needs, we give them that needed Step Up.
With the support from the Foundations 50/50 Life Chances Raffle, you are providing a student with opportunities that will improve their life. They can't always control the situations they're in but with your help students will continue to have these chances.
Don't miss your chance, CLICK HERE to buy your tickets today – Draw will be held on October 5! Good luck!
NOTE: This raffle is open to all community members in Alberta and over the age of 18.
Shelly Flint Appointed as New CEO of Westerner Park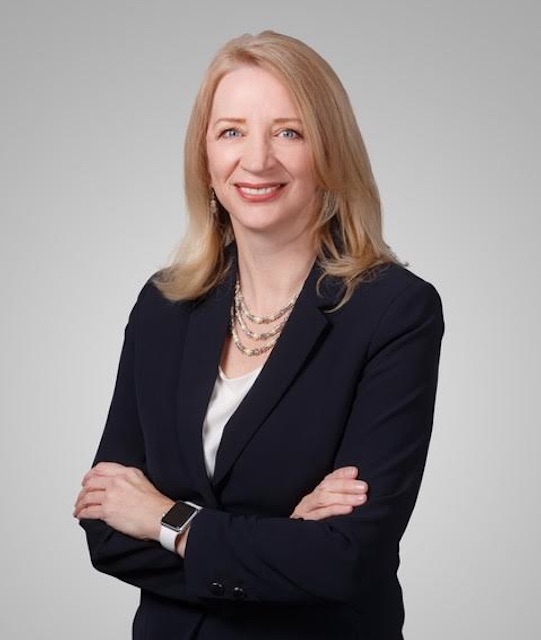 Westerner Park, a distinguished agricultural society and premier exhibition venue in the heart of Central Alberta, is pleased to announce Shelly Flint as its new Chief Executive Officer (CEO). This decision culminates a thorough and extensive search process, with the Board of Directors expressing their enthusiasm for the promising journey ahead under Shelly's leadership.
Tyler Nightingale, President of the Board of Directors, shared his excitement about the appointment, stating, "After a comprehensive search, we are thrilled to welcome Shelly. Her extensive experience, skill set, and knowledge align seamlessly with the strategic direction of Westerner Park, ensuring a positive and enduring impact on both the organization and the community at large."
Tara Lodewyk, Red Deer City Manager, added, "Shelly immediately connected with the mission of Westerner Park and the value it brings to the culture of our city and region. We are looking forward to working together and are confident in her leadership of Westerner Park."
For the past two decades, Shelly has served as a senior executive, spearheading diverse teams within Alberta's dynamic entertainment and finance sectors. Her tenure as the former CFO at the Calgary Stampede equips her with a distinctive insight into the intricacies of Westerner Park, enabling her to adeptly navigate its challenges and leverage its opportunities. Coupled with her roots in Central Alberta, Shelly is poised to steer the Park towards growth and long-term sustainability.
Shelly expressed her eagerness to join Westerner Park, saying, "I was thrilled at the opportunity to return to Central Alberta, where I grew up! Leading this purpose-driven organization will allow me to contribute to my community and affect meaningful change."
Shelly Flint's robust leadership, commitment to community, and extensive experience makes her an exceptional choice to lead Westerner Park into the future. The entire Westerner Park team eagerly anticipates the positive impact she will bring to this renowned institution.
About Westerner Park
Westerner Park is Central Alberta's largest tradeshow, agricultural, sports, entertainment, and convention facility. A not-for-profit organization and agricultural society, Westerner Park typically generates $150 million annually in economic activity, hosting over 1,500 events and 1.5 million visitors each year.