The Secret To The Joe Rogan Podcast
Joe Rogan may not have a University degree, but he has ingested far more information than he would have otherwise received with even a Master's degree. When you can read, and you have an open mind, it's amazing how much you can learn.  Of all the books Joe has read, I'm willing to bet he's spent some time with Dale Carnegie's, "How to Win Friends, and Influence People".   Being well-read though is only one part of what has made The Joe Rogan Experience Podcast, the most successful podcast on earth. Joe has a larger audience than any show on Fox, CNN, MSNBC, CBS, or any other major network.  Joe doesn't just have the largest Podcast, he has the largest audience…period. 
Inspired at least in part by Joe Rogan, myself and millions of other people have been trying to emulate his success by starting our own Podcasts.  It doesn't matter what the topic, somewhere there is a Podcast talking about it.  Whether you're interested in ceramic figurines, ten pin bowling, astronomy, or quilting, there is a Podcast for you…and it's usually FREE!  
Much to the disappointment of many Joe Rogan emulators, their Podcasts usually fall far short of their expectations. Instead of amassing an audience of millions, they discover that they are lucky to have an audience of dozens.  Due to these unfavourable results, the vast majority of podcast hosts give up, fold up their tent, sell their gear on kijiji, and pretend their failure never happened.  Most who fail never fully understand WHY they failed, or how to fix it.  Here are some considerations for you, if you wish to either start your own podcast or re-launch a stagnant one. 
First, let's be honest…Joe had a head start. It's a lot easier to succeed at a Podcast if you already have a following who is interested in your opinions. Gaining a following is the toughest part, so if you're going to make it, you're going to have to earn your audience…it won't just happen on its own, nor will it happen by accident. Although pre-existing notoriety is a significant bonus, it's only part of the recipe. Numerous late-night hosts have started their own podcasts, only to discover that their late-show talent doesn't translate to their podcast talent.  Despite their running start, these celebrities have not been successful in transitioning their existing audience to the podcast format.  Here's what they're missing. 
People hang out with people they like and trust.  When you tune in to the Joe Rogan Experience (JRE) you don't feel like you're being force-fed a contrived narrative, instead, you feel like you're chatting with a good friend. Listening to the JRE is like having a virtual coffee shop chat with the most interesting people on the planet, who have interesting ideas. In contrast, listening to the news feels like we're being told what to think, and how to behave. A newscast pretends to be the unsullied purveyor of truth, though in recent years the credibility of this claim has been eroded worse than the wheel wells of a 1973 Chevy truck.  We don't trust the news, because they have proven themselves to be untrustworthy.  
Joe doesn't tuck us into the fold by proclaiming that he is the holder of the truth.  Instead, Joe takes us on a journey of curiosity and shows us how to ask meaningful questions about interesting topics. Mr. Rogan models what it is to set your ego aside, and be open to the truth, whatever that may be.  Being proven wrong is a Freddy Kruger level nightmare for many people, and they'll fight to be right till their last breath.  Joe shows us a different way, the way of courageous curiosity. 
The skeptic is forever looking through the lens of "What's wrong with this picture?"  A person who chooses curiosity over skepticism looks through the lens of "What's the truth of this picture?"  Joe's rare ability to disconnect from the outcome, and just follow the evidence is part of his magnetic charm. He earns our trust, by being willing to admit when he is wrong, and by rarely stating his opinions as facts. Joe doesn't actually "know" much, but he is aware of much. He follows the Socratic philosophy of, "the only true wisdom, is in knowing you know nothing". On most topics, Joe's just guessing, as are the rest of us and he doesn't try to hide it. 
All of the above culminates to: Rule#1. Dig for the truth, not for validation that you are right. 
Rule #2.  Prioritize substance over bling.  
A client of mine is a sales rep for Bacardi. He once told me that with enough money thrown into a marketing campaign, you can sell a whole lot of any liquid, but only for a short time.  If it tastes like skunk piss, the marketing campaign will only yield short term success.  For long term success, there must be quality in the substance of your message, not just clickbait.  
Having celebrities on your show doesn't hurt, …but it's not as important as the topics you discuss. If you're not going to say anything original, then at least convey your thoughts in an original way.  Ride the waves or relevance by being quick to discuss trending topics, but ensure to pose meaningful questions, and get beyond the surface of a story. 
Rule #3.  Respect your audience
Respecting your audience, means being a professional. Being a professional, means being prepared.  Provide your audience with decent quality audio for starters. If you don't have a good quality microphone, you better have exceptional skills as an orator and be extremely likable for the audience to overlook your audio shortcomings.   If you are interviewing a guest, have a plan.  Make sure your launch straight into an engaging first question. The first question sets the tone, and the pace for the rest of the interview.  If you get off to a slow start, it's tough to recover. 
Rule #4.  Be 100% honest and transparent. 
Like selling piss in a bottle, if you put out clickbait, your success will be short-lived.  It's difficult to gain the trust of an audience, but it's very easy to lose that trust. You won't get more than a second chance at best, so resist the temptation to B.S. your audience. 
***disclaimer*** parody doesn't count, as long as your work is clearly a parody. EG: My recent "Trump" interview was a parody done with a professional impersonator, but some people thought it was real.  The show notes have all the contact information for the impersonator, to ensure I'm not accused of violating Rule #4. 
Mark Meincke
Redline Real Estate
403-463-4313
Buy the Home Seller's Bible by clicking HERE
Buy "Why not Me?" HERE
For more stories, visit Todayville Calgary
'Boiling point': Alberta doctors warn of health system collapse as COVID cases climb
CALGARY — Alberta's health-care system is on the verge of collapse, warns a group of physicians who are pleading with the government to strengthen public health measures to fend off a relentless fourth wave of COVID-19.
Dr. Shazma Mithani, an emergency room physician in Edmonton, said a staffing crisis, overwhelmed intensive care units and mixed messaging from the province has created a "dire" situation.
Her biggest fear, she said, is that doctors will need to triage patients should hospitalizations continue to mount.
"We don't want to have to make these decisions where we're choosing who gets to have (intensive) care or not. And we're getting closer and closer to that every day," Mithani said in an interview.
Alberta Health Services, the province's health-care provider, said in a statement Wednesday there were 258 intensive care beds in the province, which includes 85 added spaces. It said intensive care unit capacity sat at 87 per cent — just slightly below a seven-day average of 91 per cent.
Mithani said the government needs to listen to frontline health-care workers and implement stronger public health restrictions to prevent the health system from crumbling.
"This is much, much worse than I think people understand," she said. "We, as health-care workers, are telling you that things are very dire, that ICU beds are running out, that we are stretched very thin in terms of our hospital capacity."
On Friday, the Government of Alberta reinstated an indoor mask mandate for public spaces and an alcohol sales curfew at 10 p.m. It also announced a $100 incentive for unvaccinated Albertans who get their shots in response to an intensifying crisis.
Dr. Ilan Schwartz, an infectious disease specialist at the University of Alberta, said those efforts are "all but meaningless."
"They are worse than doing nothing at all because now it is going to delay the government from taking more definitive action," Schwartz said during a panel discussion Wednesday with advocacy group Protect Our Province.
Dr. Darren Markland, an intensive care physician in Edmonton who was also on the panel, said the government should consider vaccine passports and a circuit-breaker lockdown, which is a tight set of restrictions for a limited amount of time to curb ongoing transmission of COVID-19.
Relying solely on vaccinations won't reign in a growing fourth wave driven by the highly contagious Delta variant, added Mithani.
It takes at least six weeks for people to build full immunity against COVID-19 because vaccine shots need to be separated by a month and then allow another two weeks to develop protection.
In the meantime, there are no signs COVID-19 cases and hospitalizations are slowing. There were 647 Albertans in hospital Wednesday due to COVID-19, with 147 of those patients in intensive care. Hospitalizations jumped by 7.5 per cent from Tuesday. Another 18 people died in a 24-hour period.
The doctors with Protect Our Province said there are risks related to government inaction. Those risks, they said, include reduced health-care access for Albertans and increased burnout among health-care professionals.
Alberta Health Services announced late Wednesday that all scheduled, elective surgeries and outpatient procedures in the Calgary Zone have been postponed for the rest of the week. It said on social media the move was necessary to deploy qualified staff to intensive and critical care units.
"The situation really has come to a boiling point," said Schwartz.
"It's going to be a while before the premier and the chief medical officer of health will be willing to step back and accept that these actions have failed to immediately curb transmission and by that point, we're going to be in dire, dire trouble."
This report by The Canadian Press was first published Sept. 9, 2021.
Alanna Smith, The Canadian Press
Calgary Beer is Back! Calgary Craft Brewer reimagines one of Alberta's most iconic brands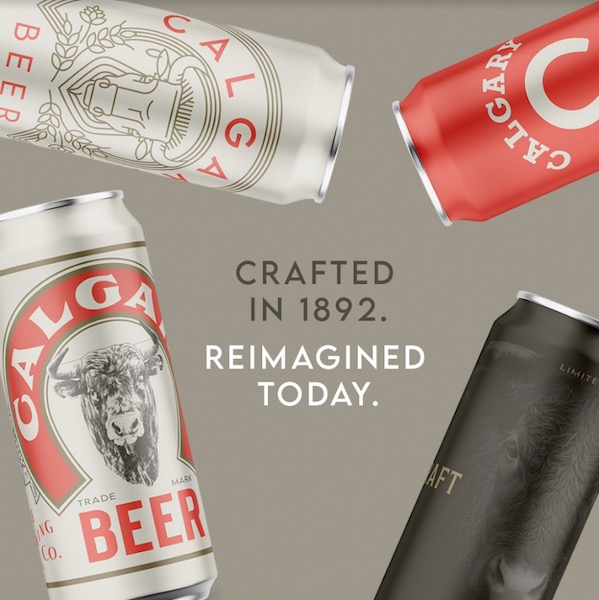 From technology, to communication, all the way to beer, our world is changing more rapidly every day.  Who could have imagined how the brewing industry would be turned upside down by craftsmen and entreupreneurs who risk it all for their passion to create a better product right in their community?
In a world that used to be very predictable, everyday another new craft beer hits the market.  It's hard to keep up, though many of us are doing our best.  Despite all the excitement around the new tastes and all the clever marketing needed to get those beers into our hands, we all know a few people who are 'holding out'.  Maybe they don't like change.  Maybe they don't know where to start.  Maybe they're perfectly fine with the same safe brew they've been tasting for their entire adult lives.  Maybe they should know one of Alberta's finest craft brewers is bringing back a familiar brand, offering a ton of comfort and enjoyment, one sip at a time.
The renowned brand "Calgary Beer" is back!  And of all the craft brewers in Southern Alberta, Village Brewery is the natural choice to have taken on this "reimagined" project.  Village Brewery was established by seven veterans of the brewing business, all with an equal passion for beer, and for their community.  It made perfect sense for this group to recognize their roots by recreating some local history in the town they love so much.  Just in case you didn't know, Village Brewery turns 10% of their profits, back to the Calgary community.
When Village Brewery Re-launched Calgary Beer they were nice enough to make their Head Brewer Jeremy McLaughlin available for a few questions.
Here's Jeremy McLaughlin.
1) Why are you bringing "Calgary" back?
The Calgary Beer brand is an important part of beer history in Calgary. It dates back to 1892 and the brand imagery is iconic and represents the origins of beer in Calgary. At Village Brewery, we have always been about supporting the community and bringing people together around beer. The idea of being able to produce something under this brand just fits so well with what we stand for at Village. It's special to us because we were given an awesome opportunity to modernize both the label and the recipe for today's craft beer fans.
2) Is this the exact same "Calgary" I drank many years ago?
Since the core ideology of this was to modernize the brand, we were not going to be using the same Export Lager style or name and decided to go with "Craft Lager". We felt this would reach the audience that Village reaches already. The main distinction, in terms of ingredients, is a significant hop character (from Ella, Sabro and Enigma), which make up the flavour profiles of a lot of craft beer.
3) Talk about the "craft" version. The can looks fantastic by the way. Curious about that and the beer itself.
The beer is really something that we as a brewery were looking to explore, a Craft Lager or dry-hopped lager is very much in the realm of beer profiles that can be interesting to new craft drinkers but something that experienced craft connoisseur would find interesting as well. A breakdown on ingredients and vital stats should get the conversation started here:
-ABV is 5.00%
-IBU: 15
-Colour: Light Gold
-Clarity: Light/Moderate Haze -Malt: Rahr 2-Row
-Yeast: Escarpment's Krispy Kveik
-Hops: Ella, Sabro and Enigma (all mainly used as a dry-hop). These are symbolic to the ideology of the project (modernization and reimagining, while paying respect). These hops are developed through breeding programs, which modernized historical varieties of hops.
The can design was by Jackson and includes 4 versions
-A vintage throw-back to the original design
-A modernized vintage design featuring design concepts that are popular in craft breweries today (line art)
-A more high design variation that is black with the bull image wrapping the can
-A minimalistic version featuring a red backdrop and a white horseshoe, focusing on clean and crisp presentation
All Alberta residents can purchase this limited edition lager by clicking this link.