The Raptors (Ridgefield Raptors that is) are coming to Edmonton next summer
At first word that the Raptors will be spending a few days in Edmonton next summer, sports fans might be excused for jumping up and down at the thought of a high-profile NBA event.
But the Raptors under discussion play another game — baseball — and they're based not in Toronto but in Ridgefield, Wash., a small centre near the Washington-Oregon border which claims fewer than 10,000 residents in its Wikipedia profile. Edmonton — officially labeled the Riverhawks — is now a partner in the West Coast League, which develops college players and has seen several top prospects selected in recent Major League Baseball drafts.
Also joining this week are teams based in Kamloops and Nanaimo, bringing the British Columbia contingent to four teams. Victoria and Kelowna were already members of what now is a 15-team organization.
Teams currently occupy Yakima, Wenatchee, Walla Walla and Port Angeles in Washington, as well as Bend, Corvallis and other communities in Oregon.
The city of Edmonton confirmed months ago that the Edmonton Prospects of the Western Canadian Baseball League would not be returning to Re/Max Field. Several years of association with Pat Cassidy and the Prospects had led to difficult feelings on both sides.
The Prospects are developing a new facility in Stony Plain. It will be ready for competition in 2022. Cassidy has said his team will find another place to play in 2021. All comments on next year and beyond are based, of course, on the progress of local, provincial and national fights against COVID.
Randy Gregg, the former Edmonton Oilers defenceman who led the new group's campaign to function in Re/Max Field, unveiled his new organization at a well-attended news conference and said several options concerning the WCBL were considered but "there were continuing roadblocks."
During months of negotiation, Gregg and his supporters did not communicate with the public. Neither did city council. "When you sign a non-disclosure agreement, you have to abide by it. Your signature has to mean something," he said.
Gregg insisted the Riverhawks organization has no ill feelings about the WCBL. "It might have worked well," he said. A few casual remarks were made about the potential value to this entire region if both the WCBL and the WCL are profitable.
The Edmonton approach includes sharing in travel costs for existing West Coast League teams. Similar situations made it difficult for a pair of so-called "independent" teams to operate in the years after the Edmonton Trappers were sold and Edmonton had no significant baseball.
Gregg is convinced the new load of travel costs will not be insurmountable. The Riverhawks are a collection of 28 contributors. He also pointed out that at least a couple of Edmonton's new partners are owned or controlled by owners with major-league connections.'
"We've got a big job ahead of us," he said. "We know that a lot of baseball fans have never seen a game at Re/Max Field."
As things were unfolding between the Prospects and city officials, there were regular suggestions that no lease would have been granted for the WCBL in 2021. "Can you imagine what it would feel like to have no baseball for maybe three or four years in this great sports city?"
Last week our nation ran into a spree of high-profile miracles
Red Deer family needs a little support as toddler spends 3rd birthday in Children's Hospital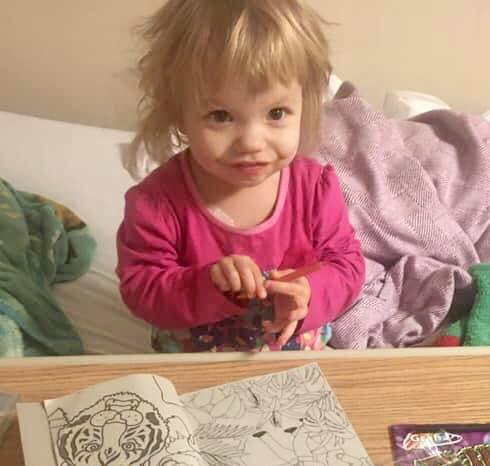 Article submitted by Roxzane Sisson Armstrong.
It's time for:  
Coffee for Codeigh!
This is a challenge I am starting for my sweet cousin's fundraiser.
Please share, share, share and have some fun challenging others!
Details in the pictures attached.
Fundraiser can be found at:
From gofundme
It's been about a month since our last update. When last we left you, Codeigh Mae was in the hospital for a "tune up" to her dialysis as we attempted to manage her ever changing sodium levels.
Her and Dad spent close to two weeks at the children's hospital making changes to various medications and when we came home, Codeigh Mae's hospital schedule was changed to twice a week – once for Albumin and bloodwork and once to get a shot to increase her red blood cell count, which seemed to keep dropping – a common complication of Congenital Nephrotic Syndrome and the secondary conditions it causes, such as blood clots and low iron.
We notice during this time home that Codeigh Mae doesn't have the same energy levels, she's puffy and she's peeing less – even on Albumin days, when we're used to getting very full wet diapers. After multiple instances of very high blood pressure, it was decided to send her back to the children's hospital.
She's now been there for a week and we're not 100% sure what the going home plan looks like. She even spent her 3rd birthday in the hospital!
Codeigh Mae is really throwing these doctors for a loop. They've noticed her bloodwork will be dramatically different based on what time of day it's taken at or whether it comes from her arm or her port. As soon as they get control of one set of numbers (for example, her sodium), other numbers will go crazy (like her potassium). Her blood pressure has also been hard to manage and on multiple occasions she has had what is called a hypertensive crisis, in which the blood pressure reaches dangerous levels. Her hemoglobin (or red blood cell count) has also been incredibly low – nearing transfusion territory, which we need to avoid for transplant reasons.
Yesterday, Dad met with the surgeon to discuss and get consent for a double nephrectomy. The actual term is Radical Bilateral Nephrectomy – radical meaning the whole kidney (not just a part of it) and bilateral meaning both kidneys.
Yes, you can live with no kidneys!
Essentially, her kidneys, which still function even though she's on dialysis, are releasing a hormone that tells her blood vessels to constrict – which causes her blood pressure to rise. Remove the kidneys, remove the hormone and cascades that cause funkiness in her other numbers and you almost remove the problem. The dialysis becomes her kidneys entirely and we don't have to worry about what the actual kidneys are doing and what role they place in the process.
While the surgeon feels comfortable doing the surgery while her hemoglobin is low, the team has ultimately decided to try to boost the hemoglobin as much as we can prior to surgery – which will hopefully negate the need for a transfusion during.
They expect at least another month before we go for the nephrectomy (hence why the title of this update includes May) and are optimistic that Dad and Codeigh Mae will get to come home before we're admitted again for another undetermined amount of time.
So that's what we know so far! Be sure to follow Caring for Codeigh Mae on Facebook for more regular updates as they happen:
http://facebook.com/codeigh.mae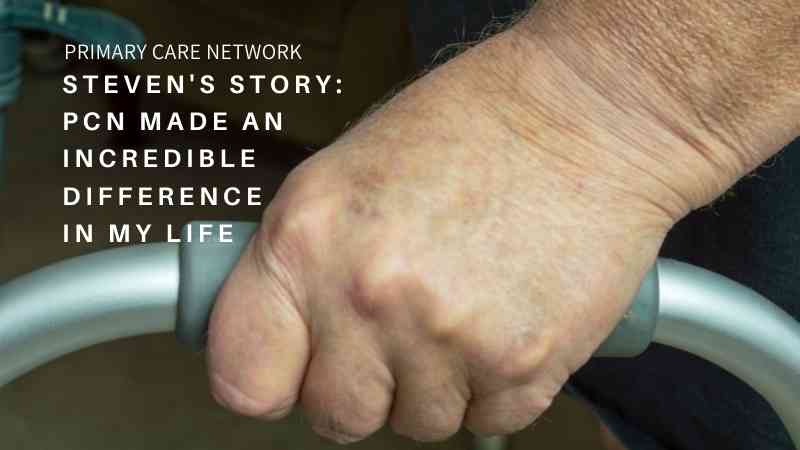 Every day is a new day!
Life was challenging for Steven after a series of 5 heart attacks that have affected his physical and mental health over the last 10 to 12 years. Steven became quite isolated and had little interaction with anyone.  He was on a number of medications which changed over time, yet he never felt good. He also tried different doctors and finally ended up with one who referred him to the RDPCN. He has taken both the Happiness program and the Moving on with Persistent Pain program twice, and also taken Health Basics, Anxiety to Calm, Quit Smoking, and used the services of a pharmacist and mental health counselor.
The PCN staff has connected him with other community resources such as the Golden Circle. His medication has been decreased and he has gained perspective on different healthy solutions to his challenges.
Steven says the PCN has made a tremendous difference in his life. He has gained social skills and confidence which started through interacting with the PCN staff.  Gradually he has put his foot forward and used the skills he learned to connect with other people and programs.  He is a very different person than he was two years ago. It is much easier for him to talk to people. He does lots of walking using his walker. And he has a much healthier perspective: Every day is a new day and he makes the most of it!
Steven's wife and daughter have attended PCN programs on his recommendation and loved them. Steven says every connection with the PCN has been is very positive and very educational!
Click here to learn more about the Red Deer Primary Care Network.
Cick here to read more success stories from the PCN.