Thanks to these amazing businesses and organizations that support Todayville throughout the year.
Someone once said a startup business is like a teenager; awkward, needs money, and needs a hug. We feel that way sometimes as a business that launched here in Red Deer just 2 years ago. As Christmas shopping draws to a fever pitch and the hopes for a happy(er) New Year dance through our heads, we'd like to thank these companies for supporting us this past year. Consider them when making choices on where to take your business.
Abbey Platinum Master Built
Abbey Platinum Master Built is a major Central Alberta Home Builder with an extensive portfolio of accomplishments in quality building from starter to luxury estates homes, renovations and commercial constructions. We offer one of the largest builder lot inventories with lots available in Blackfalds, Lacombe, Penhold, Red Deer and Sylvan Lake.
With Abbey Platinum's experience as a custom home builder, acreages became a natural fit. Our Project management team and partners meticulous commitment to quality that's shows in the wide variety of homes we build. We are the highest award winning builder in Central Alberta carrying such accolades as Renovator of the Year and 5-time Builder of the Year. Learn more.
Alberta Global Talent
As an employer, have you been looking for ways to increase your access to talented potential employees for your business? Even in the current economy it's not always easy to find great employees. Especially as the baby-boomers retire and Canadians are not having enough children to take their place in the work force, we can expect demand for employees to increase. What if we could help you find employees with talent, a strong work ethic, and willingness to do a variety of jobs and to learn?
Central Alberta employers have reported positive impacts of adding diversity to their employee group. Learn more.
Alberta Podcast Network
The Alberta Podcast Network, powered by ATB, builds audiences for Alberta-made podcasts and connects those listeners to Alberta-based businesses and organizations. We pay our member podcasts to spread the word about ATB and our other sponsors. We also promote affiliated podcasts that are produced by our sponsors. And our network is set up so that our members cross-promote each other, thus building each other's audiences and increasing the number of listeners, which helps our sponsors, too. Listen to some great podcasts from Alberta podcasters.
Alberta Pork Producers
We are one of 16 Commodity Marketing Boards and Commissions in Alberta. We are a non-profit organization representing all of Alberta's hog producers with a democratically elected board of directors. We represent producers' interests to the government, the industry, the media, the general public and other groups associated with the pork industry.
We currently collect a $1.00 levy on each market hog and $0.25 on pigs under 50 kilograms that are sold out of Canada. These funds are used for the research, development, growth and promotion of the Alberta pork industry. Learn more.
Alberta Sport Development Centre
The Alberta Sport Connection has established a network of Alberta Sport Development Centres (ASDC) across the province. The main purpose of the ASDC network is to coordinate and enhance services available to Alberta's emerging athletes and coaches. These regional centres provide services to athletes and coaches residing in rural and urban areas allowing athletes to develop and train at a high level without leaving home. The ASDC Network supports the idea of a holistic training approach in order for athletes to reach their optimal athletic potential. By combining sport science applications with support from experts in areas such as nutrition, sport psychology and injury prevention, each centre helps coaches, parents and athletes build an ideal environment for enhanced athletic development and performance. Learn more.
Alberta Sports Hall of Fame and Museum
The Alberta Sports Hall of Fame & Museum provides a family friendly interactive experience. You will be surprised by what you discover inside! Have fun, laugh, play and discover Alberta sports heroes together. The Alberta Sports Hall of Fame and Museum is an interactive, hands-on celebration of Alberta's sporting history. With over 7,000 square feet of exhibit space includes a multisport area with virtual baseball, basketball, football, hockey, and soccer, a 200 meter wheelchair challenge, a Treadwall climbing wall, the Orest Korbutt Theatre, Hall of Fame Gallery and much more. Learn more. Click here to watch videos of the 2018 Inductees.
BILD Central Alberta
Originally established in 1956 as a chapter of the Housing and Urban Development Association of Canada (HUDAC) to serve the needs of the local home building industry, the local association has enjoyed steady growth to bring us where we are today, an association of 160 plus member organizations. Learn more.
Black Creek Developments
In operation since 2014, Black Creek Developments Inc. has been defining the urban landscapes of Central Alberta.Based out of Sylvan Lake, our expert architects and building designers set the stage for our talented project managers and tradesmen to build refined commercial property that enables communities to grow and prosper. Our principles of building with
integrity
,
superiority
, and
distinction
makes Black Creek Developments the premier developer in Central Alberta.
Learn more
.
Black Wolf Custom Homes
Black Wolf Custom Homes is distinguished in the art of home building. With decades of industry experience and experts that have honed their craft, talent, and eye for braiding functionality and sophistication in the home, we are ready to build yours. With a Bauhaus philosophy, Black Wolf Custom Homes believes in the harmony of design and function. One should be able to move within their space with swiftness and ease in their day-to-day activities. Learn more.
2019 Canada Winter Games
From February 15 until March 3, 2019, Red Deer and central Alberta will welcome the nation for the 2019 Canada Winter Games. Featuring 19 sports, over 150 events and a major arts and cultural festival, the 2019 Canada Winter Games will welcome up to 3,600 athletes, managers and coaches and more than 20,000 visitors.
The 2019 Games will be the largest event ever hosted in Red Deer and central Alberta and one of the largest events to be hosted in Alberta in over three decades, since the 1988 Calgary Olympics. Learn more.
Central Alberta Child Advocacy Centre
The Central Alberta Child Advocacy Centre is a not for profit organization rooted in the protection and recovery of today's most innocent and vulnerable – our children. Together with our partners and stakeholders – Central Region, Children's Services, Central Alberta Sexual Assault Support Centre, Alberta Health Services, Alberta Justice and Education by Alberta and the RCMP – we provide integrated services that ensure that a child can share their story, and have it safely heard. Our team of dedicated professionals provide a coordinated approach that supports the recovery of the children, youth and families affected by abuse, helping them to overcome adversity with the promise and possibility of a healthy future. Learn more.
Chatters
We offer professional salon services that are always on trend. At Chatters, we understand that your hair is your best accessory and that a cut & colour that truly flatters you is a must have. Our stylists receive the highest levels of training and are continually updating their skills with the industry's top educators to give you the season's freshest looks. We are a family salon offering services for ladies, men and children. Learn more.
Earl Dreeshen MP
Earl was most recently elected in 2015 as the first ever Member of Parliament for the riding of Red Deer – Mountain View. Previously, Earl served two terms as the Member of Parliament for Red Deer following his successes in the elections of 2008 and 2011. Currently serving as the Deputy Shadow Minister for Agriculture and Agri-Food, Earl has prior experience as the Vice-Chair of the Standing Committee on Industry, Science and Technology and as a Member of the Standing Committees on International Trade, Health, Public Accounts, Ethics, and Aboriginal Affairs. Learn more.
Ellis Bird Farm
Ellis Bird Farm is both a non-profit company and a working farm. It was established in 1982 to carry on the legacy of Lacombe-area conservationists, Charlie and Winnie Ellis, when their farm was purchased by Union Carbide Canada Ltd. At the time, Charlie and Winnie operated one of the largest bluebird trails in Canada and had established their farmstead as a haven for wildlife. Learn more.
Horse Racing Alberta
Horse Racing Alberta (HRA), is a private not-for-profit corporation that was established with the Alberta Governments proclamation of the Racing Corporation Act in 1996. The HRA was established to lead a racing industry renewal and to manage industry self-regulation. Learn more.
Kennedy Wealth Management
Whether are looking to invest in order to build your financial future, or to secure what you have already earned, professional investment, estate, insurance, and financial planning advice is critical. Combining specific goals, such as maximizing retirement income, protecting principal, leaving an estate for your family, or just simplifying your life financially, takes experience, and training. The Kennedy Wealth Management Group, led by Rod Kennedy, devote themselves to fully understanding your comprehensive financial situation, life goals, and tolerance for risk, when creating and managing a strategy that is right for you. Learn more.
Kipp Scott GMC Cadillac Buick
Kipp Scott GMC Cadillac Buick is a family-owned business that has proudly served Red Deer, and all of Alberta, for 50 Years since first opening our doors in 1968. Treating our customers with respect has always been our number-one priority, and we believe when it comes to selling vehicles, honesty is the best policy. Rest assured we'll do everything we can to make sure you leave our dealership 100% satisfied. Learn more.
One Eleven Grill
An inviting and stylish restaurant tucked into the heart of Red Deer just waiting for you to discover or rediscover. Opened on the first day of November in 2011, One Eleven has been thoughtfully and skillfully preparing delicious food and drinks for Central Alberta for years. Our passion is STEAK! We are committed to quality, serving only the very best locally-owned, grass fed Alberta Triple AAA Beef in both classic and unique cuts. Our warm, inviting ambiance is the perfect backdrop for everything from a romantic evening, a gathering with friends and family and even a quiet business lunch during the week. At One Eleven we're committed to your total satisfaction and we celebrate the people and food of Red Deer and Central Alberta every day. Learn more.
Operation Teacup
It all started over a conversation about giving back. Before long Charlie MacDonald and Michelle Tetreault decided to combine passions for Canada's military and Canadian Football and the idea for Operation Teacup was born. "Operation" Teacup is a worthy name for this day long endeavour because it takes the planning abilities of a military mission to pull it off. In fact… the military actually does help pull it off! Learn more.
Proverus LLP
ProVerus LLP was formed with a particular focus on the needs of owner-operated businesses in Central Alberta. By making your business our specialty, we can offer more of what you need. With a strong blend of experience and education, we offer a unique combination of contemporary professional skills and traditional, time-honoured values. Learn more.
Pursuit Physio Therapy
Our clinic is designed to help you achieve your health goals. Our team is works towards your success and recovery. Leanne Schlachter and Nicki Julien are the owners of Pursuit Physiotherapy. Pursuit Physiotherapy opened in September 2006 after identifying a need for a better delivery of care in Red Deer. Part of this plan includes booking adequate time for comprehensive assessments allows us to formulate an individualized treatment plans. Learn more.
Red Deer Christmas Bureau
We at the Red Deer Christmas Bureau believe in sharing our culture and tradition with other members of our community. Even though some of our clients have never experienced a traditional Christmas celebration we believe everyone should be able to enjoy fellowship, friendship and family during the holiday season. Learn more.
Red Deer Hospital Foundation Festival of Trees
Start your Christmas season off right! Whether you're looking for activities for the entire family or something fun to do with that someone special, the Red Deer Festival of Trees is Red Deer's premier Christmas community fundraiser, kicking off the Christmas season! Every year the Westerner transforms into a Christmas wonderland for all to enjoy. Learn more.
Red Deer Orthodontics
Dr. Cheba is a certified specialist in orthodontics and the owner of Red Deer Orthodontics. He grew up in Calgary and attended the University of Calgary for his Bachelor of Science, so he is no stranger to Alberta. Dr. Cheba was accepted into the dental program at the University of Manitoba, and after graduation remained in Winnipeg to practice general dentistry in a large group practice for five years. In 2009, Dr. Cheba returned to the University of Manitoba for his postgraduate program in orthodontics. Learn more.
Red Deer Public School District
School boards help shape the future of our communities by governing the education of young people. As citizens of your community, school board trustees make strategic decisions about the direction, delivery and quality of public education. As people entrusted with the care and education of children, we are responsible and accountable to parents and the community at large. This accountability means it is important to stay in touch with community stakeholders. By doing so, we are in a better position to understand and reflect in our decision making what all citizens value and want from their local public schools. Learn more.
Red Deer Regional Catholic Schools
In our schools, students are offered a Catholic world-view. They are being prepared to go out and transform the world in light of the Gospel. Our schools are also places of great diversity. Students of all intellectual, cultural and faith backgrounds are welcome. Our faith permeates the entire life of the school. Parents entrust their children to us and we take this very seriously. Our schools are safe and welcoming. They offer academic excellence along with many extra-curricular programs. Our teachers are committed to engaging students in their learning and forming them to become life long learners and critical thinkers. They are being given the knowledge, freedom and confidence needed to reach their full potential. Learn more.
Red Deer Regional Hospital Lottery
Watch a story about last year's winner of the dream home lottery.
Riverview Insurance Solutions
Our personalized approach is what sets us apart from our competitors. We care deeply about our client's welfare and pride ourselves on being the stabilizing factor in this ever-changing world. We take the time to get to know you and learn what you expect from your coverage and what you expect from us. From there, we will present you with several options and educate you on the pros and cons of each to assist you in making an informed decision. Learn more.
Rotary Club of Red Deer
Our differing occupations, cultures, and countries give us a unique perspective. Our shared passion for service helps us accomplish the remarkable. WHAT MAKES US DIFFERENT? Our distinct point of view and approach gives us unique advantages. Learn more about Rotary International. Learn more about Rotary's 2018 Citizen of the Year
Safari Salon and Spa
Safari welcomed its first guests in 2003 with a goal of creating a truly exceptional luxury experience for residents in Red Deer and Central Alberta. Our team visits luxury spas all over the world in an effort to continually improve what we do. We want our guests to feel like they are on a mini vacation each and every time they visit. Our customer surveys tell us we hit the mark on a very consistent basis! Learn more.
Scott Subaru
Scott Subaru is committed to providing the highest levels of customer service through our unsurpassed knowledge of the Subaru vehicles we sell and service. Our staff of automotive professionals takes pride in representing the Subaru brand and are specialists in the innovative design, advanced technology, and superior performance that the brand represents. Safety and engineering is at the centre of a totally fulfilling Subaru driving experience. Learn more. Find out about their new dealership, Canada's first Passive Haus.
Expert Security Solutions
Keeping your family and home secure is our first job. Unlike other systems that rely on your cable or phone connection, Alarm.com systems have a dedicated cellular connection. Internet or broadband down? No problem. Power outage? We've got you covered with battery backup. Phone line cut? Not an issue. Learn more with this article from Todayville.
Speedpro Signs
Welcome to Speedpro Signs Red Deer! At Speedpro Signs we excel at providing solutions to your marketing challenges. Identifying your needs and offering innovative solutions that are efficient with your budget and will exceed your expectations is what we do best! Whether you are looking for a basic sign, a product that you have never seen or a full service installation display; we are the creative professionals that will meet your deadlines within budget. Learn more.
Sheraton Celebrity Dance Off
Christine Moore, event co-chair, says: "On behalf of the Sheraton Celebrity Dance Off 2019 Cabinet, I am delighted to announce our partnership with the Friends of Red Deer Regional Hospital Centre. With roots going back to 1904, this group of dedicated volunteers have fundraised to support the care and comfort of patients at our hospital. Over the last 38 years, they have raised over $7 million. They exemplify everything about volunteerism and giving back to the community. They are the unsung heroes of our hospital. Learn more.
St. Eugene Golf Resort and Casino
Located just five minutes from the Canadian Rockies International Airport in southeastern British Columbia, St. Eugene Golf Resort & Casino features a full-service, three-diamond hotel with 125 rooms and suites, the Casino of the Rockies, and a Les Furber-designed, championship golf course. Our Resort also offers the best dining in the Cranbrook and Kimberley region with our signature St. Eugene Smokehouse, and pub-style options at our golf and casino restaurants. Other amenities include our brand new spa and the Health Club containing a fully equipped gym, outdoor pool heated year round, relaxation pools, sauna and steam room. The beautiful Spanish-colonial-styled Resort you see today was once the St. Eugene Mission, a residential school for First Nations youth. Today, we employ approximately 250 people and have become an entertainment destination for people across North America. The owners and associates at St. Eugene Golf Resort & Casino are proudly devoted to sharing our First Nations culture as well as the history of our magnificent Resort. Learn more.
TD Mortgage Diane Prospero
I am available outside of normal banking hours, including evenings and weekends, to suit your schedule. Whether you are purchasing a home, looking to transfer a mortgage or refinancing an existing mortgage to consolidate debt, I can help you find the best mortgage solution. Whether you are a first time home buyer or a seasoned homeowner, I am committed to making your mortgage experience comfortable and easy.
A resident of Red Deer County, I serve Central Alberta and surrounding areas and have a true understanding of the community. Learn more.
The Lending Cupboard
TLC is a unique non-profit organization operating in Red Deer and serving a growing number of communities in Central Alberta. We loan more than 1400 pieces of medical equipment and aids to daily living each month. We are supported by volunteers who contribute more than 11,000 hours each year. In 2018 we served in excess of 10 thousand clients. Learn more.
Tommy Guns
With 70+ locations across Canada and the world, our guests come to us to look and feel their best. Our renowned Hot Towel Shaves, unique styles, and relaxing head massages are the epitome of male grooming. Learn more.
Vellner Leisure Products
This is a 3rd generation family business which began in Red Deer with H.T. Vellner and father J.R. (Bob) Vellner in 1951 and has helped RV enthusiasts from around the world to enjoy the healthy family fun of the RV Lifestyle. We are dedicated to maintaining the tradition of fair and honest dealing and to remain in the forefront of an exciting industry built on a foundation of family values and healthy outdoor recreation. Please enjoy our site and come back often as we continue to offer new and exciting products and information to enhance your RV experience. Learn more. Watch this cool timelapse of Vellner's setting up at the 2018 RV Show at Red Deer's Westerner Park.
Westerner Park
Since 1891, Westerner Park has been a place for Central Albertans to gather and celebrate community events. Westerner Park is both an agricultural society and registered not-for-profit. We invest all of our earnings back into the improvement of our buildings, our grounds and our amenities. Each year, Westerner Park generates more than $150 million in economic activity, more than 1.5 million visitors come through our gates to celebrate over 1,500 unique events. From weddings and banquets to hockey games and agricultural shows, we continue to be there as Central Albertans join to share in their most memorable moments. It's our legacy, and it's always in mind as we work to ensure Westerner Park remains Central Alberta's "destination for celebration" for generations to come. Learn more.
If you'd like to be one of our great partners and enjoy the benefits of having your stories told and your ads carried on todayville.com, please contact us.
Rookie goalie Jaxson Stauber in form as Blackhawks dump Flames 5-1
By Darren Haynes in Calgary
Rookie goaltender Jaxson Stauber made it two wins in as many career starts by making 34 stops on Thursday to help the Chicago Blackhawks to a 5-1 victory over the Calgary Flames.
Taylor Raddysh, Boris Katchouk, Jason Dickinson, Sam Lafferty and Connor Murphy, into an empty net, scored for Chicago (15-28-4), which entered the game last in the NHL's overall standings. Max Domi had an assist to extend his point streak to four games (one goal, three assists).
Jonathan Huberdeau scored for Calgary (23-17-9). The Flames sit outside of a playoff spot in the Western Conference after last season finishing atop the Pacific Division.
Markstrom had 24 stops for the Flames. Winless in his last four decisions (0-3-1), his record fell to 13-13-5. That's 10 times this season Markstrom has received one or no goals for support.
With Alex Stalock (concussion) out, Stauber made his NHL debut on Saturday in a 5-3 win in St. Louis.
The undrafted 23-year-old is in his first pro season after signing as a free agent last March after playing the previous two years with Providence College. He began the season with AHL Rockford.
Tied 1-1 after 20 minutes, Chicago seized control in the second period with three unanswered goals.
At 9:39, Katchouk one-timed a pass from Luke Philp past Markstrom, who was screened.
Chicago made it a two-goal lead at 15:37 when both Flames defencemen Nikita Zadorov and MacKenzie Weeger went to Patrick Kane, leaving the middle of the ice open. Kane's pass sent Dickenson in alone and he beat Markstrom over his shoulder.
Just 30 seconds later, another defensive miscue from the Flames resulted in a two-on-one rush with Colin Blackwell setting up Lafferty for his eighth goal of the season.
The Flames outshot the visitors 18-6 in the third period, but couldn't beat Stauber. The scattered booing from disgruntled fans throughout the stanza was at its loudest at the final buzzer as Calgary players left the ice.
In a listless first period from the home side, Chicago scored first at 17:47 when Raddysh beat Markstrom under his arm.
The Flames would tie it in the final minute. Huberdeau took a pass from Kadri and made a slick move to tuck the puck behind Stauber.
TOEWS AND TANEV OUT
Both teams were without key players. Calgary defenceman Chris Tanev (upper body) was out. His spot was taken by Connor Mackey, a healthy scratch the last 16 games.
Chicago was without captain Jonathan Toews (non-COVID illness). Philp was inserted into the lineup and recorded his first NHL point.
MILESTONE FOR TOFFOLI
Tyler Toffoli played in the 700th game of his career. He has played 86 games for the Flames.
Toffoli has also played for Los Angeles (515), Vancouver (10) and Montreal (89).
UP NEXT
Blackhawks: Wrap up a three-game road trip on Saturday in Edmonton.
Flames: Are back in action Friday night in Seattle.
—
This report by The Canadian Press was first published Jan. 26, 2023.
Premier Danielle Smith sent this letter to PM Justin Trudeau today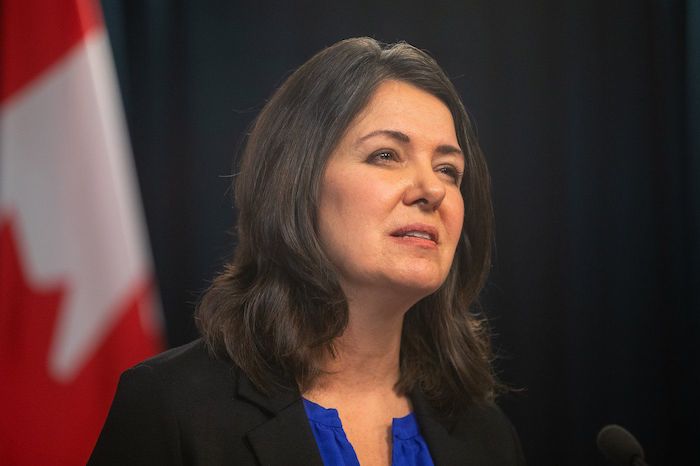 An alternative to Just Transition: Premier Smith
Alberta Premier Danielle Smith invites Prime Minister Justin Trudeau to work with her to develop "Sustainable Jobs" legislation as an alternative to the proposed "Just Transition" legislation.
Dear Prime Minister:
I am writing to once again raise Alberta's serious concerns with the proposed federal 'Just Transition' legislation. The world needs more Canadian energy, not less. It would be premature and ill-advised to signal the end of a vibrant, thriving industry that has the ability to reduce Canada's and the world's emissions through technological innovation and increased exports of LNG and other clean burning fuels the world so desperately needs. It is also critical to the security of our nation and allies to lessen dependence on fuel sources from unstable, undemocratic and dangerous countries with atrocious environmental records.
Simply put, the world needs more Canadian energy and technology, not less, and as the owner of the world's third largest oil and gas reserves and the most advanced environmental technology on the planet – we need to signal our intention to provide substantially more of both.
According to your government's own predictions, the federal Just Transition initiative alone will risk a full 25 percent of Alberta's economy and 187,000 jobs in Alberta, while also causing major disruptions and displacement to 13.5 percent of Canada's workforce. At a time when Canadians are struggling to afford basic services and goods, Canada's oil and gas sector offers some of the highest wages in Canada, which translates to strong business and community support across the country. Signalling a move away from these types of high paying jobs, threatens the national economy, and the livelihoods of hundreds of thousands of workers across the country at a time when good jobs are needed the most. It also creates a chilling effect on investors considering large scale investments in the Alberta and Canadian energy sector.
Prime Minister, we are at a crossroads in Alberta's relationship with the Federal Government. We can continue with the endless court challenges, legislation to protect jurisdictional rights and inflammatory media coverage over our disagreements, or, as is my strong preference, Alberta and Ottawa can work in partnership on a plan that will signal to all Canadians and investors from around the world that our governments have cooperatively designed a series of incentives and initiatives intended to achieve the following objectives:
Substantially decreasing Canada's and Alberta's net emissions;
Accelerating private and public investment in projects and infrastructure that utilize and develop Carbon Capture Utilization and Storage (CCUS), Bitumen Beyond Combustion, Geothermal technology, petrochemicals, hydrogen, lithium, helium, zero-emissions vehicles and nuclear technologies;
Attracting and growing a larger skilled workforce to fill positions in both the conventional energy sector as well as emerging industries using the technologies cited above; and
Significantly, and through the lens of global emissions reduction, increasing the export of LNG and other responsibly developed conventional oil and natural gas resources to Europe, Asia and the United States.
Prime Minister, all of the above objectives need to be clearly articulated and integrated into any Federal legislation or policies your government seeks to implement in the coming months, or that legislation will face irrepressible opposition from Alberta. I genuinely do not want to see that happen.
Further, this proposed legislation must be developed through cooperative discussions with affected provinces – namely Alberta. I would therefore invite you to meet with me in February on this matter, after which I would propose we have our appropriate ministers and officials meet repeatedly in the coming months with the goal of coming to a joint agreement on the key items to be included in your contemplated legislation so that it can be introduced and passed by the end of Spring.
Further, I request that you take to heart, and acknowledge publicly, the following items, in an extension of good faith to Albertans:
Immediately drop the verbiage of "Just Transition". Accordingly, rename the "Just Transition Act" to the "Sustainable Jobs Act";
Vow that all provisions of any forthcoming legislation will be designed to incentivize investment and job growth in both the conventional energy sector as well as in emerging industries utilizing Carbon Capture Utilization and Storage (CCUS), Bitumen Beyond Combustion, petrochemicals, hydrogen, lithium, helium, geothermal, zero-emissions vehicle and nuclear technologies;
Demonstrate that no provision of the Act will be designed to phase out or reduce Alberta's conventional oil and natural gas sector and workforce (as we are already experiencing a workforce shortage in this sector);
Commit your Government to actively partnering with Alberta to expand LNG exports to Asia and Europe as part of our nation's overall emissions reduction strategy; and
Promise that you and your Government will work with Alberta in partnership to set reasonable and meaningful emissions reductions targets and will not unilaterally impose such targets on Alberta's energy, agriculture and other industrial sectors on a go forward basis.
Investments by Alberta's oil and natural gas industry are driving the creation of the very clean technologies needed to bring emissions down both in Canada and around the world. Oil and natural gas companies representing the majority of production in Canada are investing $24 billion on projects to help reduce annual GHG emissions from operations by 22 million tonnes by 2030, and have committed to emission neutrality by 2050. Putting an end to or hampering this important work, and continued tepid support for increased LNG export, is the best way for your government to fail in its goal of reducing our nation's and the world's emissions. It would be the ultimate example of scoring on our own net.
The Alberta energy sector has grown and thrived through innovation, providing good paying jobs for thousands and contributing billions of dollars in tax revenue for all levels of government. They will continue to evolve and adapt to new technologies in search of new low to zero-emitting fuel sources like hydrogen and provide new, high-paying skilled jobs for decades to come. It is essential that the federal government stands shoulder to shoulder with Alberta to reduce emissions and continue to develop our oil and natural gas and future energy sources responsibly, while also positioning Canada as the optimal solution to global energy needs and security.
Prime Minister, we can and must work together. Operating in political silos, as adversaries on this issue, is getting us nowhere, and I believe all Canadians are tired of seeing it. Canada should be the world's greatest energy superpower. It can be, if we come together collaboratively in pursuit of that objective. There is no limit to our nation's potential.
Let's turn the page starting with a meeting between us next month followed by a dedicated effort to craft "Sustainable Jobs" legislation that a vast majority of Albertans and Canadians will welcome and support. The consequences of missing this opportunity will be dire for the Canadian and Alberta economies, workforce and environment.
I look forward to your prompt reply.