Jann Arden featured speaker on Monday at The Lending Cupboard's first annual "Winter Luncheon"
Jann Arden will be the featured speaker when The Lending Cupboard hosts its first annual Winter Luncheon on Monday at Red Deer's Sheraton Hotel.
The Lending Cupboard serves more than 10,000 clients each year, many of whom are aging.  The "Winter Luncheon" is a new initiative designed to bring education and awareness to the many issues members of community face, in this case, Alzheimer's.
"The Lending Cupboard is introducing this new event to continue to bring awareness to our organization and the services that we provide to central Albertans." said Dawna Morey, Executive Director of The Lending Cupboard. "This includes our clients that are dealing with long term illnesses such as Alzheimer's".   
"We chose Jann Arden because she speaks so passionately about her painful journey dealing with her Mom's Alzheimers", says Morey.  "As one of our country's most-enduring and endearing artists, we really hope that she can help us create new connections to our community, raise our profile and raise some money.  We are a non-profit organization and rely heavily on fundraising and volunteers to operate."
This short video gets right to the heart of why this organization is so vital to our community.
Jann Arden knows all about Alzheimer's. Here's a link to a blogpost Arden penned earlier this year called Being With Mom, about her journey dealing with her mom's disease.  It sets the tone for what she'll speak to when she's here in January. Being with Mom is a deeply personal and heartfelt story written in a voice that's clearly Arden's.
"The Lending Cupboard has played an important role in the communities of central Alberta since 2006, ensuring individuals and their families have the support of medical equipment and daily living aids regardless of their income, status, or ability.  We are extremely grateful for the support that our community partners and individuals have entrusted to us to ensure we are "Paying It Forward – Enhancing Mobility, Independence & Dignity."
Dawna Morey, Executive Director, The Lending Cupboard
As a renowned musician and bestselling author, Jann Arden can bring a hall full of people to tears through song, only to have them, moments later, rolling in the aisles from her off-the-cuff comedy. Whether she's performing her music, hosting an event, or telling her deeply personal and affecting stories, Arden's wisdom and wit shine in everything she does.
Arden catapulted onto the Canadian music scene in 1993, with the release of her debut album, Time For Mercy. She boasts 19 top-10 singles, and has received eight Juno Awards, including "Female Artist of the Year" and "Songwriter of the Year." She has also been recognized with 10 SOCAN Awards; four Western Canadian Music Awards; a Much Music Video Award; three Prairie Music Awards; and an Alberta Recording Industry Association Award. She has also been honoured with a star on Canada's Walk of Fame, and inducted into the Canadian Association of Broadcasters Hall of Fame.
Of course, never one to settle on a single discipline, Arden was the host of Being Jann on CBC Radio; she has been a judge on television's Canada Sings; and has appeared on the Rick Mercer Report and in several sitcoms. She is also a returning co-host of CTV's The Social.
On stage, Arden was part of the cast for the Canadian tour of The Vagina Monologues. Her most recent album of original material is These Are The Days, released in early 2018.
Arden is the author of several books, including, If I Knew, Don't You Think I'd Tell You?; I'll Tell You One Damn Thing and That's All I Know; Falling Backwards; and her memoir, Feeding My Mother — a piercingly honest account of her experience with her mother, who is in the grip of Alzheimer's.
Listen to Arden's hit song "Good Mother".
What is The Lending Cupboard?
TLC is a unique non-profit organization operating in Red Deer and serving a growing number of communities in Central Alberta.  We loan more than 1400 pieces of medical equipment and aids to daily living each month.  We are supported by volunteers who contribute more than 11,000 hours each year.  In 2018 we served in excess of 10 thousand clients.
What is Alzheimers?
Alzheimer's is a form of dementia that affects 564,000 Canadians, with the number is expected to reach 937,000 in 15 years, according to Alzheimer's Society Canada.
It's not yet known what causes Alzheimer's. Risk factors include smoking, high blood pressure, diabetes, high cholesterol, obesity, alcohol, low levels of formal education, depression, head injuries, family history and being female.
Alzheimer's Society Canada says that warning signs include the following:
Memory loss affecting day-to-day abilities–forgetting things often or struggling to retain new information.
Difficulty performing familiar tasks–forgetting how to do something you've been doing your whole life, such as preparing a meal or getting dressed.
Problems with language–forgetting words or substituting words that don't fit the context.
Disorientation in time and space–not knowing what day of the week it is or getting lost in a familiar place.
Impaired judgment–not recognizing a medical problem that needs attention or wearing light clothing on a cold day.
Problems with abstract thinking–not understanding what numbers signify on a calculator, for example, or how they're used.
Misplacing things–putting things in strange places, like an iron in the freezer or a wristwatch in the sugar bowl.
Changes in mood and behaviour–exhibiting severe mood swings from being easy-going to quick-tempered.
Changes in personality–behaving out of character such as feeling paranoid or threatened.
Loss of initiative–losing interest in friends, family and favourite activities.
Please join us for a moving and memorable luncheon on January 28th.
Alberta production Pipe Nation seeking to tap musical talent for soundtrack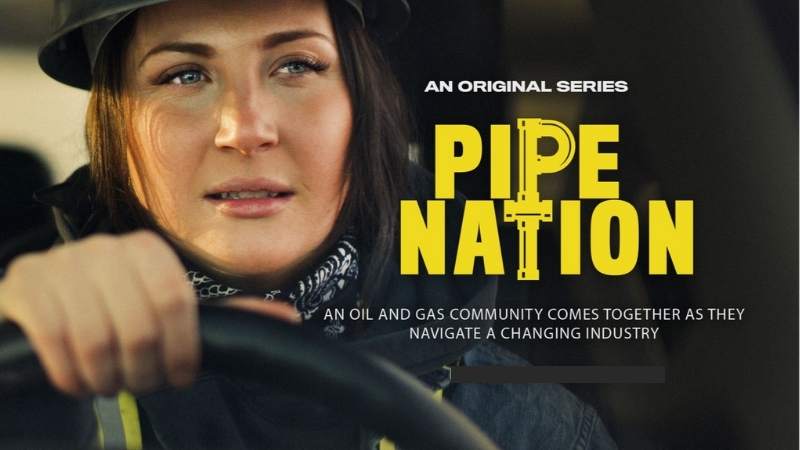 Here are the details.
January 13, 2021
Edmonton-AB, CANADA-​One of the largest independently funded tv-series in Canada, Pipe Nation, is seeking talented musicians to round out its soundtrack as the pilot episode nears completion.
The director, Raoul Bhatt, and executive producer, Dan Svedberg, are seeking submissions from Canadian and American artists to collaborate on the show's soundtrack.
The dramatic series is told through the experiences of a single mother working in the male-dominated, oil and energy industry. The pilot was filmed in August and September of 2020 in the picturesque mountains of Canada and the Edmonton area. 18 scenes and 180 takes were captured in Sundre, Alberta, which was transformed into the fictitious town of Hardwell. A great deal of effort has been put into this pilot including a $300,000 built for the show pipeline, a medical helicopter, and a long list of heavy equipment worth $180 million.
The scenes are now in editing, where the crucial process of pairing beautiful scenes with dramatic music is underway. Several genres of music including, rock, blues, country, electronic dance music, and classical will be used in the series. The show's soundtrack will be released on Apple Music, Amazon, Spotify and Google Play Music in the coming months. Director, Raoul Bhatt and his team have been in post-production for the last three months​. ​The pilot tv-series is expected to be complete by February 2021.
Musicians, labels, bands looking to collaborate or submit their work, please contact Executive Producer & Sound Designer, Daniel Svedberg, and Director, [email protected]
Read more on Todayville.
The Gift You Don't Even Know You Didn't Need…
A Jesse Roads & Friends Merry Christmas
– the gift you don't even know you didn't need…
"Probably not the worst Christmas special…"
– Jesse Roads
Well friends I am beyond excited to share with you the gift you don't even know you didn't need… I had the idea to do some sort of a Christmas special for quite some time now. I felt like it was more important than ever this year. With such a lack of joy and camaraderie among the masses (especially within the arts community due to cancellation after cancellation wreaking havoc on all of our mental health) it was clear that I could, at the very least hit my Rolodex and reach out to some of my buds.
Unlike many of my peers and fellow performers, I have been blessed with a production team and the ability to create some amazing content throughout this crazy wild global pandemic, from songs to streams and the start of a movie, so much has come from this. I feel a sense of responsibility to not let that go to waste and to do everything I can to grow as an artist while contributing to society's wellbeing somehow. Well it's Christmas! Why not get at it and spread a little festive cheer for the season. I love Christmas, always have.
Turns out some of my buds love it too! I am so very thankful to the performers that were able to jump on board with this project. All of which did so out of the kindness of their own hearts. I even managed to somehow get Clayton Bellamy of the Road Hammers to say yes! From the likes of Randi Boulton to Curtis Labelle and Devin Cooper the special is stacked!
The show is free of charge to watch and enjoy. All we ask is that you spread a little kindness wherever and however you can. Thats it. Be kind with purpose, on purpose. Click below for the show, don't forget to like and subscribe!
Jack Semple BB King Tribute concert showcases one of Canada's finest guitarists