Staying active during COVID
Staying active during COVID
During this unprecedented time, exercise becomes even more important to help with anxiety and stress. Let's use exercise and physical activity to help manage any overwhelming negative emotions. We can continue to be active, despite of the pandemic with a few easy changes in our lives. Here's Jonah, a family nurse and health basics coach from the Red Deer Primary Care Network.
Red Deer Primary Care Network (RDPCN) is a partnership between Family Doctors and Alberta Health Services. Health professionals such as psychologists, social workers, nurses and pharmacists work in clinics alongside family doctors.
In addition, programs and groups are offered at the RDPCN central location. This improves access to care, health promotion, chronic disease management and coordination of care. RDPCN is proud of the patient care offered, the effective programs it has designed and the work it does with partners in health care and the community.
Read more stories from the Red Deer Primary Care Network.
Take the Family Friendly Challenge to help your kids grow up great!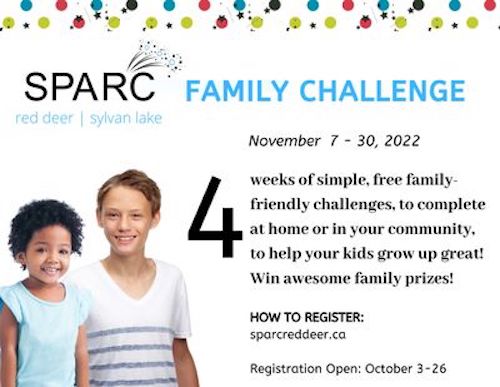 Submitted by Alberta Health Services
SPARC Red Deer & Sylvan Lake Family Challenge
SPARC Red Deer and SPARC Sylvan Lake, are pleased to announce a free, fun family challenge to run in the month of November.
The SPARC Family Challenge offers 4 weeks of simple, free, family-friendly challenges, to complete at home or in your community, to help your kids grow up great! By participating in the SPARC Family Challenge, you can create strong positive connections with your kids and within your family. The purpose is to educate families about the 40 Developmental Assets, which are research-proven life experiences or building blocks which all children need to grow up healthy, caring, and responsible.
Research shows that the higher number of these assets a young person has, the more likely they are to thrive and to engage in positive behaviours, and avoid risky behaviours. Through every day, achievable activities, we can build assets in our kids and help them thrive.
Families will have a choice between two options each week that meet their own family interests and capabilities. Families can win awesome prizes at the end of the 4 weeks by completing the post survey.
For more information, and to register, visit sparcreddeer.ca and follow us on Facebook, Instagram and Twitter.
Registration deadline is October 26th.
Community Better Celebration October 15th, 2022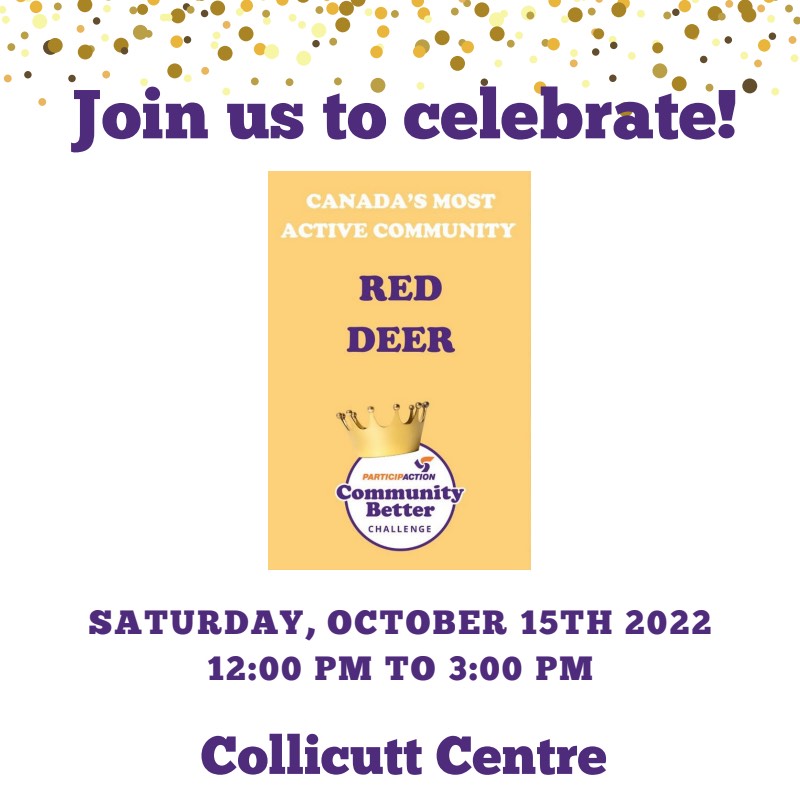 The City of Red Deer was crowned the "most active community in Canada" in the Community Better ParticipACTION Challenge June 2022. Now we get to celebrate together!
We want to thank all citizens for helping us win by celebrating and getting active on October 15th, 2022 at the Collicutt Centre from 12:00-3:00pm.
The event will kick off with a warm welcome by Mayor Johnston, followed by fun activities. There will be free swimming, skating and field house activities. There will also be local organizations showcasing how you can stay active year round in our wonderful City.
Please note: Free skating is from 12:30-2:00pm and you must provide your own skates. Access to activities will be based on facility capacity limits and on a first come basis. Hope to see you there!