Inspired to be Healthy
I have had high blood pressure for a number of years along with fatty liver disease, a bad back, excess weight and have ankles that swell and hurt upon standing for a length of time or during travel. I had been trying to lose weight for some time through eating a bit better and some exercise when I could. However, I wasn't as committed as I could be, and I needed a push to make progress. When I went to my doctor and discussed my health, she suggested I attend Health Basics.
I loved the program! It inspired me to take my health more seriously and showed me great results for doing that. The coaches were not judgmental at all and really made you feel good about yourself. I learned lots and have implemented lots that I learned. Over the 8-week program, I lost 4 pounds and 3.5 inches off my waist. My blood pressure has come down and stayed down. I am to the point where my medications can be lowered.
My back was sensitive and when I did too much, it would hurt which kept me from engaging in too much exercise. Now I find with increased exercise, I have strengthened my core and have very few back pains. For the longest time when I would stand for shopping or travel on a plane, my ankles and legs would swell and cause me a lot of pain for a few weeks. That is pretty well gone now, likely due to improved circulation. I do a half an hour exercise class online every day. I have started an exercise group once a week with 6 friends, so we keep each other motivated. I have shared my success story with many who also want to take Health Basics. As a result of taking this program I am all enthused and fired up for life and I really want to be healthy. It feels great!
Learn more about the Primary Care Network.
Take the Family Friendly Challenge to help your kids grow up great!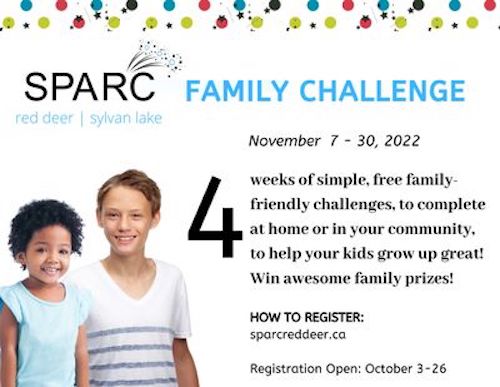 Submitted by Alberta Health Services
SPARC Red Deer & Sylvan Lake Family Challenge
SPARC Red Deer and SPARC Sylvan Lake, are pleased to announce a free, fun family challenge to run in the month of November.
The SPARC Family Challenge offers 4 weeks of simple, free, family-friendly challenges, to complete at home or in your community, to help your kids grow up great! By participating in the SPARC Family Challenge, you can create strong positive connections with your kids and within your family. The purpose is to educate families about the 40 Developmental Assets, which are research-proven life experiences or building blocks which all children need to grow up healthy, caring, and responsible.
Research shows that the higher number of these assets a young person has, the more likely they are to thrive and to engage in positive behaviours, and avoid risky behaviours. Through every day, achievable activities, we can build assets in our kids and help them thrive.
Families will have a choice between two options each week that meet their own family interests and capabilities. Families can win awesome prizes at the end of the 4 weeks by completing the post survey.
For more information, and to register, visit sparcreddeer.ca and follow us on Facebook, Instagram and Twitter.
Registration deadline is October 26th.
Community Better Celebration October 15th, 2022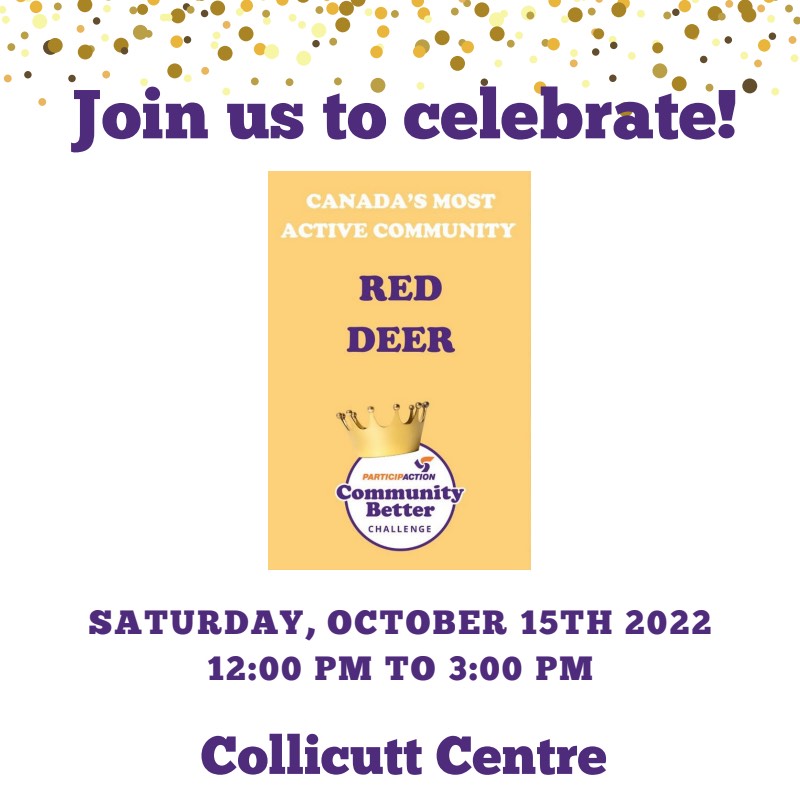 The City of Red Deer was crowned the "most active community in Canada" in the Community Better ParticipACTION Challenge June 2022. Now we get to celebrate together!
We want to thank all citizens for helping us win by celebrating and getting active on October 15th, 2022 at the Collicutt Centre from 12:00-3:00pm.
The event will kick off with a warm welcome by Mayor Johnston, followed by fun activities. There will be free swimming, skating and field house activities. There will also be local organizations showcasing how you can stay active year round in our wonderful City.
Please note: Free skating is from 12:30-2:00pm and you must provide your own skates. Access to activities will be based on facility capacity limits and on a first come basis. Hope to see you there!