Red Deer Volleyball stars named to First All-Tournament National teams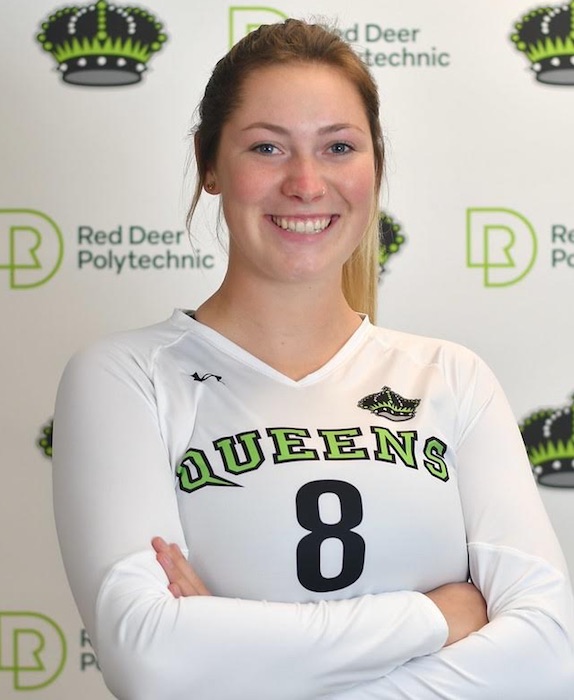 Red Deer Polytechnic Athletics is proud to announce The Granary Kitchen RDP Athletes of the Week:
1. Tess Pearman – Queens Volleyball
Hometown – Ponoka, AB
Bachelor of Education Elementary (3rd year)
Tess Pearman provided the Red Deer Polytechnic Queens Volleyball team with energy and strong play at the Canadian Collegiate Athletic Association (CCAA) National Championship. The Alberta Colleges Athletic Conference (ACAC) Women's Volleyball South All-Conference team selection was instrumental in helping the Queens earn bronze in Charlottetown. Pearman was also selected to the CCAA Women's Volleyball First All-Tournament team.
In the national championship quarter-final, the student-athlete from Ponoka recorded a match high 11 kills in a sweep over the Mount Saint Vincent Mystics, Atlantic Collegiate Athletic Association (ACAA) Champions (25-19, 25-19 and 25-16). In a CCAA semi-final, Pearman accumulated a team high 15 kills in a setback against the Vancouver Island University (VIU) Mariners, (PACWEST Wildcard) who eventually won their fourth consecutive CCAA title (23-25, 19-25 and 24-26). She was extremely efficient on the left side (0.467 hitting percentage) and was named the Queens Player of the Game.
The third-year outside hitter had another solid performance in the Queens' dominant three set victory over Les Rouges de Saint-Boniface (Manitoba Colleges Athletic Conference Champions) in a national bronze semi-final (25-13, 25-17 and 25-9). The Bachelor of Education Elementary student led the team with three service aces, and added six kills (0.357 hitting percentage), and 10 digs.
In the bronze medal match, Pearman accumulated 15 kills in a five set victory over the Lynx d'Édouard-Monpetit, Réseau du sport étudiant du Québec Champions (16-25, 25-22, 17-25, 25-21 and 15-12).
Pearman's leadership and skill helped contribute to a memorable 2021/2022 season for the Queens Volleyball team. The squad remarkably went 22-1 during the regular season and playoffs, achieving ACAC gold and national bronze.
2. Cody Boulding – Kings Volleyball
Hometown – Prince George, BC
Bachelor of Kinesiology (3rd year)
Cody Boulding was an effective leader and player for the Red Deer Polytechnic Kings Volleyball team at the CCAA National Championship in Quebec. The six-foot-five middle helped guide the Kings to a national bronze medal and was selected to the CCAA First All-Tournament team.
The RDP Kings nearly completed a comeback against the host Limoilou Titans in the CCAA Quarter-final match. Down two sets and trailing in the third, the Kings pushed the Titans to five sets, but couldn't complete the rally (19-25, 21-25, 25-23, 25-16 and 10-15). The Bachelor of Kinesiology student totaled 10 kills, two aces and a block, and was named the Kings Player of the Game.
The ACAC Men's Volleyball South All-Conference team member provided a presence at the net and from the service line in the Kings' three set victory over the Canadian Mennonite University Blazers, Manitoba Colleges Athletic Conference Champions, in the national bronze quarter-final (25-17, 25-11 and 25-17).
The Red Deer Polytechnic Kings swept the St. Thomas Tommies, Atlantic Collegiate Athletic Association Champions, in a CCAA bronze semi-final (25-20, 25-18 and 25-18). Boulding contributed five kills and three of the Kings' 10 service aces.
In the bronze medal final, Boulding recorded two kills and four blocks in the Kings' four set victory over the Redeemer Royals, Ontario Colleges Athletic Association Wildcard (25-21, 25-16, 23-25 and 25-20). Boulding brought a hardworking effort throughout the entire 2021/2022 campaign. He set an example on and off the court and was important to the Kings' success, earning ACAC gold and CCAA bronze.
For more information on Red Deer Polytechnic Athletics, the student-athletes and teams, please visit: rdpolytechathletics.ca.
Asylum seeker deal between U.S. and Canada won't stop drama at border, advocates say
RCMP officers approach a woman entering Canada via Roxham road on the Canada/US border in Hemmingford, Que., Saturday, March 25, 2023. THE CANADIAN PRESS/Graham Hughes
By Marisela Amador in Plattsburgh
About a dozen asylum seekers hoping to start a new life in Canada saw their plans hit a snag on Saturday afternoon when they learned an unofficial crossing between the Canadian and U.S. border no longer offered the safe passage they'd come to expect.
An expansion to the 2004 treaty known as the Safe Third Country Agreement took effect while they were en route to the Roxham Road crossing from New York to Quebec, making it illegal to claim refugee status at the entry point where thousands had previously succeeded.
The new rules kicked in Saturday morning, stunning newcomers as they disembarked from a bus that brought them to Plattsburgh, N.Y. only to learn of the change from assembled media.
"Wow," said a man from Colombia with a look of disbelief on his face. He did not give his name but said in Spanish that he was travelling with his wife and young son. A few minutes later, he approached The Canadian Press and asked if Roxham Road was truly closed.
Up until Friday, lines of taxis would be stationed at the bus stop waiting to carry asylum seekers to Roxham Road. On Saturday afternoon, only one van showed up.
The driver, who declined to provide his name, ferried two Colombian families to the crossing, only shrugging when asked if he knew his passengers risked possible arrest once they reached their destination.
A sign emblazoned with such warnings for illegal asylum seekers now looms over the Roxham Road crossing. But experts who work directly with those seeking refugee status in Canada say they doubt such cautions, and the new migration rules they're intended to uphold, will do much to deter cross-border traffic.
Restricting access to the border and preventing migrants from accessing a safe pathway into the country will only incentivize bad-faith actors, said Abdulla Daoud, executive director of Montreal-based The Refugee Centre.
"This type of decision-making … in the past, has led to the creation of many human traffickers and smuggling rings," Daoud said in an interview on Friday. "Canada never really had to deal with that too much. But now I think we're going to see the numbers increase because these individuals are not going to go away."
The new rules were announced on Friday during U.S. President Joe Biden's trip to Ottawa.
It was described in U.S. documents as a "supplement" to the Safe Third Country Agreement. That treaty prevents people in either Canada or the United States from crossing the border and making a refugee claim in either country — but until now, it only covered official points of entry.
The agreement now applies along the nearly 9,000-kilometre border, including at unofficial crossings like Roxham Road.
All was quiet there on Saturday, with mostly members of the media on-hand awaiting the arrival of new would-be asylum seekers.
The sign installed on Friday and unveiled at midnight when the new agreement took effect now warns newcomers that it is illegal to enter Canada through Roxham Road.
"You will be arrested and may be returned to the United States. Refugee claimants must request protection in the first safe country they arrive in," it reads.
The executive director of Home of the World, a shelter for asylum seekers and migrants in Montreal, said it is possible that would-be refugees determined to cross into Canada may end up dying by taking dangerous routes into the country.
"It's very possible that people will try to cross over using more hidden places and get stuck in the woods for two weeks and end up losing their lives," Eva Gracia-Turgeon said in an interview. "We are talking about not only individuals but also families and pregnant women and young children who are going to cross. So potentially, there will be more drama at the border."
One American official also voiced concern about the impact the new deal would have on residents on the U.S. side of the border.
"This becomes a local issue when you still have an influx of people coming here," said Billy Jones, an assembly member in the New York state legislature. "If they are denied entry, where are they going? What are they doing? As well as the humanitarian part of it. We don't want people stranded along the border, oftentimes not prepared for the conditions that we have out here."
The expanded Safe Third Party Agreement will also see Canada commit to welcoming 15,000 immigrants from across the Western Hemisphere this year, more than three times the number previously intended.
But Jenny Kwan, the New Democrat critic for Immigration, Refugees and Citizenship, said widening official pathways to refugee status will do little to ease pressures at the border.
"In 2022, nearly 40,000 migrants entered the country through Roxham Road," she said in a statement in which she roundly condemned the expanded agreement. "This ineffective measure will not protect Canadians — it will only further endanger and marginalize asylum seekers fleeing persecution and trying to come to safety in Canada."
Both Kwan and the Canadian Council for Refugees also criticized the Liberal government for proceeding with the expansion while the country's top court is still grappling with questions about the constitutionality of the original deal.
"The Supreme Court (of Canada) is expected to rule soon on whether the existing Safe Third Country Agreement violates the Canadian Charter of Rights and Freedoms — it is shocking that the Canadian government is extending the Agreement while the question of the constitutionality of the Agreement is before the Court," the council said in a statement.
At least one asylum seeker indicated he planned to press on with efforts to come to Canada.
A man identifying himself only as Herman said he arrived in New York on Friday after fleeing Congo and hopes to join relatives currently living in Ottawa.
His wife and four kids remain in his home country, but Herman — speaking in French — said there's no choice but to forge ahead with the search for a new home.
"I miss them, but the conditions over there are dire," he said.
This report by The Canadian Press was first published March 25, 2023.
Huge, deconsecrated Roman Catholic church in N.S. Acadian community now up for sale
An aerial photo of St. Bernard Roman Catholic Church in St. Bernard, N.S., on the province's southwestern coast, is seen in an undated handout photo. The deconsecrated church is being sold for an asking price of $250,000, though it will require extensive repairs, says the former church treasurer, Suzanne Lefort. THE CANADIAN PRESS/HO-Travis Baker
By Michael Tutton in Halifax
A huge, deconsecrated Roman Catholic church that has been a landmark to the Acadian community in southwestern Nova Scotia is up for sale.
St. Bernard Church officially closed last summer as the number of people attending mass in the 1,300-square-metre building had fallen to about 30 to 40 people.
It was listed on Thursday for private sale with an asking price of $250,000.
The listing says during the church's 32-year construction over 8,000 blocks of granite were transported by railroad and oxen from Shelburne, N.S., to the small community 35 kilometres north of Digby. The church officially was completed in 1942.
Its interior is coated in plaster and framed by religious statues, with Douglas fir plywood from British Columbia used in the pews and wall panels.
However, Suzanne Lefort, a former treasurer of the parish council, said in an interview that it's been estimated last year that thorough repairs would cost over a million dollars for improvements to the roof, water system and the 28,000 cubic metre interior.
"One part of the roof should be shingled, but because of the height you'd need cranes. So what would be a normal shingling job for a roof gets to be much more expensive," she explained.
"Whoever takes it over will have to put some money into it now."
Lefort, 72, said she hopes an investor purchases the building and gives it a fresh purpose that benefits the community.
She said she and some other parishioners now attend another Roman Catholic church in the Parish of Notre Dame d'Acadie in Clare, N.S., which is an amalgamation of six parishes.
Jean Le Blanc, the president of the Heritage Society of St. Bernard, said in an interview Saturday he's hoping that the church will be converted into apartment units that address the shortage of housing in the rural area.
"Hopefully, if somebody does buy it we (the community) will have some input as to what they will actually do with it," he said.
Le Blanc said a study by an architect had indicated that the building would be viable as a housing development with about 28 units, if the provincial government or donors assisted.
Le Blanc said he's also hoping that artifacts from the church will find homes within the area, rather than being sold or disposed of.
Lefort said it's expected that items such as religious statues and a crucifix that was behind the altar will be stored in another parish.
A spokeswoman for the diocese of Halifax-Yarmouth was not immediately available for comment on Saturday evening.
This report by The Canadian Press was first published March 25, 2023.