Practical health information available to everyone – Thanks to the Primary Care Network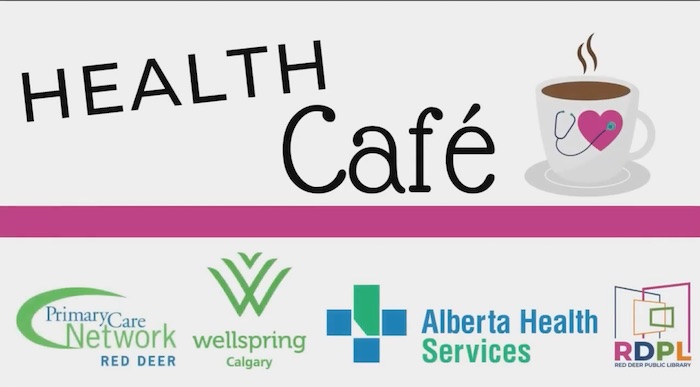 Health Cafes offer loads of practical health information
Sessions hosted by the Primary Care Network run regularly throughout the year
By Mark Weber
The Primary Care Network's Health Cafes tap into all kinds of practical health information for residents to utilize.
Hosted on a monthly basis, the sessions, which are currently held virtually, cover a wide gamut of topics that can make a real difference in people's day-to-day lives, organizers say.
"We try to run the Health Cafes monthly, and we partner with the Red Deer Public Library," explained Julia Vallance, the PCN's program manager and a registered nurse. "They are all run virtually right now – you can either watch them via Facebook Live of you can go on afterwards and watch it from the library or the PCN Youtube page," she said. "If you
join it 'live', it would be on the Red Deer Public Library's Facebook page."
'Living Well with an Elevated Weight' runs April 27 at 4 p.m. and will be hosted by Dr. Sereyrath Ngeth, Recreation Therapist Lynsey Hermary and Jonah Saringo, a family nurse. "Come learn refreshing and up-to-date information
to help you live happy and healthy at your best weight," noted the web site. Topics range from weight stigma to treatment options including lifestyle, medication and surgery. "After that, we are running a Health Café with the City of Red Deer and Alberta Health Services on May 17 at 1 p.m., and it's going to be on 'Year of the Garden'," said Vallance.
It's all part of a City of Red Deer initiative to encourage folks to get outside and be more active by gardening through the spring and summer. "We are also going to have Denise Fredeen of Alberta Health Services' Mental Health who will talk about how being outdoors can really impact people's mental health in a positive way. We will also have one of our coaches, Lynsey Hermary, talk about some of the different things we can all do outside – other great options out in the community,' she added.
And on June 15, a Health Café on 'Post-partum Mental Health' is set to start at 1 p.m. This session will be hosted by Ivy Parsons of AHS and PCN Family Nurse Michelle Abbott.
This 60-minute session is an introduction to what's involved with the transition into motherhood.
"The post-partum adjustment period can be challenging as new mothers navigate low moods, sleepless nights and anxiety."
"They'll also be talking about what are normal expectations to have after having a baby. What are the common challenges women face? What is considered normal and what goes into the realm of the 'not-so-normal' – those kinds of topics," she said.
Meanwhile, staff at the local office, located at 5120 47 St., also offer a range of ongoing workshops from Anxiety to Calm, Happiness Basics and Moving on With Persistent Pain to Relationships in Motion, Sleep and Journey Through Grief. Others include My Way to Health (formerly Health Basics), Strong and Steady (which focuses on bolstering one's strength and flexibility), and H.E.A.R.T.S which has been designed to help families through the loss of a child during pregnancy or shortly after birth.
Several individual programs are available as well via the PCN, from help with diabetes, blood pressure and cholesterol to pharmacy queries to assistance with everything from quitting smoking to learning more about housing or financing.
Lorna Milkovich, the PCN's executive director, noted that there is always an emphasis on designing the workshops to be primarily skills-based, interactive and experiential. Most are available in either four or eight-week modules as well.
A key goal these days is also to bolster awareness of all these programs, and to spread the word that they are completely accessible to the public at no charge as well, she said. And as Vallance pointed out, positive feedback as to the programs' impact shows the information indeed can make a profound difference.
Another exciting new tool this year is the introduction of a downloadable publication called My Self-Care Journey, which is available on the PCN web site. Hard copies can also be picked up at the PCN office at no charge.
As Milkovich pointed out, the PCN is also a one-stop-shop for those looking for further information about health and wellness resources in the community.
For more about the PCN, check out reddeerpcn.com or call the office at 403-343-9100.
Liberals table bill delaying medically assisted dying expansion to March 2024
OTTAWA — The federal government is seeking to delay the extension of assisted dying eligibility to people whose sole condition is a mental disorder until March 17, 2024.
Justice Minister David Lametti introduced a bill seeking the extension in the House of Commons on Thursday.
The Liberal government agreed to expand eligibility in its 2021 update to assisted dying law after senators amended the bill, arguing that excluding people with mental illness would violate their rights.
That law put a two-year clock on the expansion that is set to expire on March 17. The Liberals now have six weeks to pass the new legislation, which would add another year to the delay.
Lametti said earlier that he is expecting agreement among other parties and senators to pass the bill in that short time frame.
Helen Long, CEO of advocacy organization Dying With Dignity Canada, said in a statement that keeping people with mental disorders from accessing assisted dying is "discriminatory and perpetuates the stigma that they do not have the capacity to make decisions about their own health care."
Before Lametti tabled the bill, the group had urged the federal government to make the delay "short and effective."
But Conservative MP Michael Cooper said on Twitter that the delay is not enough and the "dangerous expansion" needs to be scrapped altogether.
Tories have argued that it is difficult for doctors to tell when a person's suffering due to a mental disorder is past the point of treatment, so the policy could lead to avoidable deaths.
"One year won't resolve the problems. Experts are clear that irremediability cannot be determined for mental illness," Cooper said.
Mental Health and Addictions Minister Carolyn Bennett was expected to join Lametti at a news conference about the delay later on Thursday.
This report by The Canadian Press was first published Feb. 2, 2023.
B.C. premier does not rule out side talks with PM at national health gathering
Ottawa – British Columbia Premier David Eby says he's optimistic about next week's meetings with Prime Minister Justin Trudeau and other premiers about health-care funding.
Eby says getting the premiers and Trudeau together in Ottawa leads him to believe a deal to increase core transfer dollars from the federal government to provinces and territories is within reach.
The premiers want Ottawa to cover 35 per cent of health-care costs, up from the current 22 per cent.
Trudeau has said the funding will come with strings attached, including sharing health data and outcomes for a national database.
Eby and several B.C. cabinet ministers are in Ottawa today, where he said he expected to discuss health, public safety, climate change and housing issues with Trudeau and members of his cabinet.
The premier says the primary goal at next week's talks remains making progress on an improved national health funding transfer agreement, but he did not rule out the possibility of the province engaging in separate talks with Trudeau about health care.
"We'll be talking about core funding for provinces, but with the ability for provinces to have discussions with the federal government about key areas of provincial priority," said Eby at a news conference in Ottawa. "I am convinced that B.C.'s priorities are not necessarily the same as Quebec's or Nova Scotia's or Newfoundland's."
This report by The Canadian Press was first published Feb. 1, 2023.