Practical health information available to everyone – Thanks to the Primary Care Network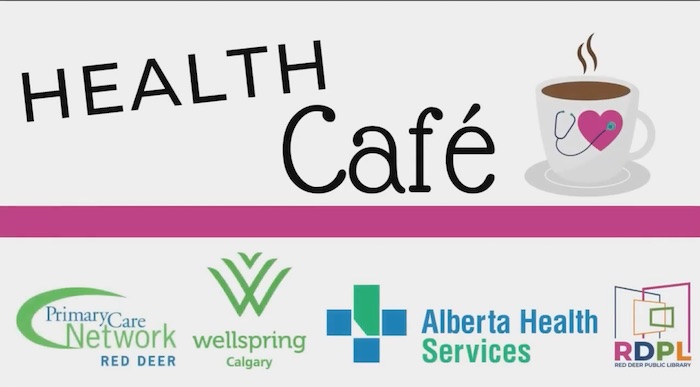 Health Cafes offer loads of practical health information
Sessions hosted by the Primary Care Network run regularly throughout the year
By Mark Weber
The Primary Care Network's Health Cafes tap into all kinds of practical health information for residents to utilize.
Hosted on a monthly basis, the sessions, which are currently held virtually, cover a wide gamut of topics that can make a real difference in people's day-to-day lives, organizers say.
"We try to run the Health Cafes monthly, and we partner with the Red Deer Public Library," explained Julia Vallance, the PCN's program manager and a registered nurse. "They are all run virtually right now – you can either watch them via Facebook Live of you can go on afterwards and watch it from the library or the PCN Youtube page," she said. "If you
join it 'live', it would be on the Red Deer Public Library's Facebook page."
'Living Well with an Elevated Weight' runs April 27 at 4 p.m. and will be hosted by Dr. Sereyrath Ngeth, Recreation Therapist Lynsey Hermary and Jonah Saringo, a family nurse. "Come learn refreshing and up-to-date information
to help you live happy and healthy at your best weight," noted the web site. Topics range from weight stigma to treatment options including lifestyle, medication and surgery. "After that, we are running a Health Café with the City of Red Deer and Alberta Health Services on May 17 at 1 p.m., and it's going to be on 'Year of the Garden'," said Vallance.
It's all part of a City of Red Deer initiative to encourage folks to get outside and be more active by gardening through the spring and summer. "We are also going to have Denise Fredeen of Alberta Health Services' Mental Health who will talk about how being outdoors can really impact people's mental health in a positive way. We will also have one of our coaches, Lynsey Hermary, talk about some of the different things we can all do outside – other great options out in the community,' she added.
And on June 15, a Health Café on 'Post-partum Mental Health' is set to start at 1 p.m. This session will be hosted by Ivy Parsons of AHS and PCN Family Nurse Michelle Abbott.
This 60-minute session is an introduction to what's involved with the transition into motherhood.
"The post-partum adjustment period can be challenging as new mothers navigate low moods, sleepless nights and anxiety."
"They'll also be talking about what are normal expectations to have after having a baby. What are the common challenges women face? What is considered normal and what goes into the realm of the 'not-so-normal' – those kinds of topics," she said.
Meanwhile, staff at the local office, located at 5120 47 St., also offer a range of ongoing workshops from Anxiety to Calm, Happiness Basics and Moving on With Persistent Pain to Relationships in Motion, Sleep and Journey Through Grief. Others include My Way to Health (formerly Health Basics), Strong and Steady (which focuses on bolstering one's strength and flexibility), and H.E.A.R.T.S which has been designed to help families through the loss of a child during pregnancy or shortly after birth.
Several individual programs are available as well via the PCN, from help with diabetes, blood pressure and cholesterol to pharmacy queries to assistance with everything from quitting smoking to learning more about housing or financing.
Lorna Milkovich, the PCN's executive director, noted that there is always an emphasis on designing the workshops to be primarily skills-based, interactive and experiential. Most are available in either four or eight-week modules as well.
A key goal these days is also to bolster awareness of all these programs, and to spread the word that they are completely accessible to the public at no charge as well, she said. And as Vallance pointed out, positive feedback as to the programs' impact shows the information indeed can make a profound difference.
Another exciting new tool this year is the introduction of a downloadable publication called My Self-Care Journey, which is available on the PCN web site. Hard copies can also be picked up at the PCN office at no charge.
As Milkovich pointed out, the PCN is also a one-stop-shop for those looking for further information about health and wellness resources in the community.
For more about the PCN, check out reddeerpcn.com or call the office at 403-343-9100.
Excess deaths in Canada and most western nations remain very high long after pandemic deaths subside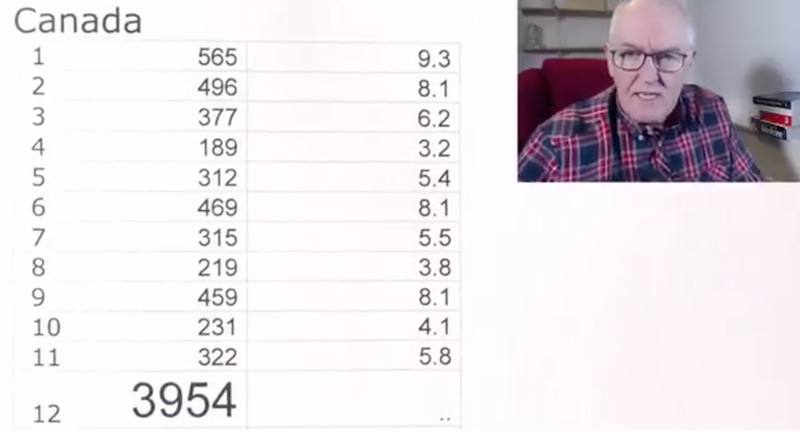 The numbers for 2023 are rolling in and they show a disturbing trend in most of the wealthy nations in the world. In Canada, the United States, and virtually every country in Western Europe, the excess rate of death is astounding and so far unexplained by officials in any nation.
British health researcher Dr. John Campbell shares official data from the OECD (Organization for Economic Co-operation and Development) and wonders why the media doesn't seem to notice or care.
Confirmation of excess deaths in 2023 for US, UK, Canada, Australia, NZ, Netherlands, and Denmark. However, deaths are lower than expected in Poland, Hungary, and Sweden.
OECD data https://stats.oecd.org/index.aspx?que…
New app uses AI to help Calgary medical students practise interacting with patients
A Calgary medical student has developed a new app that allows future doctors to work on their diagnostic and communication skills before they set up their practices. Eddie Guo, seen in an undated handout photo, is a second-year student at the University of Calgary's Cumming School of Medicine. He says that one of the challenges in medical school is becoming better at interacting with patients. THE CANADIAN PRESS/HO-University of Calgary
By Bill Graveland in Calgary
A Calgary medical student has developed an app that allows future doctors to work on their diagnostic and communication skills before they set up their practices.
Eddie Guo, a second-year student at the University of Calgary's Cumming School of Medicine, said one of the challenges beyond the book learning in medical school is becoming better at interacting with patients.
As a result, he's turned to the rapidly growing area of artificial intelligence to create a number of virtual patients, with a variety of health conditions, that a student can talk to.
"It's good to get more than just two or four hours of the practice we get in medical school to really be able understand what it's like to communicate in a real-life scenario," said Guo.
"We think it's a good idea to have more than a few hours of practice before actually going out into the wild and seeing patients for the first time."
Guo created a program, called OSCE-GPT, where the computer is the patient. Users choose the patient's gender and can select a scenario or let the computer decide on one for them.
"I'm Ben Johnson and I've been having some really bad abdominal pains over the past two days. It's in the right upper quadrant and it spreads to my back," said the robotic male voice in the program.
"I've also been feeling nauseous and vomiting. I'm here in the emergency department because of the pain."
The AI patient can answer questions about its condition and, after the conversation, provides feedback to the student along with a list of other questions that could have been asked.
Guo said until he is finally allowed on the medical wards, the only other interactions he gets are with standardized patients, professional actors who present with various conditions.
"As you can imagine, they're really quite good at their job, but they're also very expensive," Guo said.
"We don't get that much opportunity really to practise speaking with a patient, and so what this app was born out of was a lack of possibility to practise."
Guo collaborated with medical resident Dr. Mehul Gupta. He said this kind of additional help will make for better doctors.
"One of the things we learn again and again in medical school, and that's reinforced again in residency, is that the history you take from a patient is almost 99 per cent of the diagnosis that you make and the impression you make on a patient the first time you speak with them is long-lasting," Gupta said.
"If you have the opportunity to practise to tailor your questions to see how you could have done better, you really do become a better doctor overall."
Guo said the app is still being upgraded and at this point there is no image of a patient that shows up on the screen. He said he is hoping that things like a chest X-ray, a CT scan or a picture of someone's skin could be incorporated into the program.
Within the first month of the app's launch, more than 550 health-care trainees from Canada and across the world including Europe, India, Saudi Arabia and the United States signed on.
This report by The Canadian Press was first published Sept. 22, 2023.