RDP Kings Volleyball CCAA National Championship Preview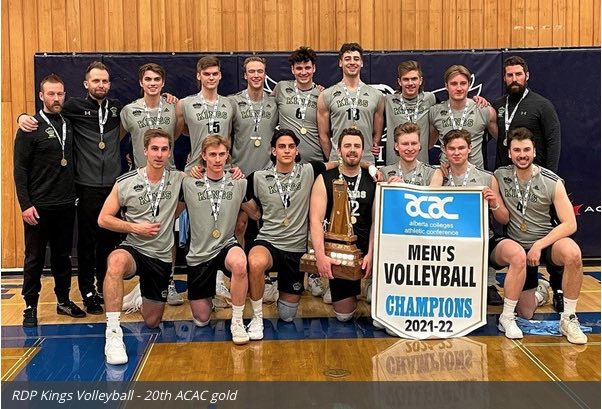 The two most storied men's volleyball programs in the Canadian Collegiate Athletic Association (CCAA) will meet on the opening day of the national championship in Québec City.
In a national quarter-final, the Red Deer Polytechnic Kings will challenge the host Limoilou Titans on Friday, March 25. The RDP Kings, who are 20-time Alberta Colleges Athletic Conference (ACAC) Champions, lead the CCAA with 13 national gold medals. The Titans follow with 11 titles.
Red Deer Polytechnic Kings Volleyball Head Coach Aaron Schulha expects a lively Titans gymnasium.
"It is going to be fun atmosphere for sure. Limoilou is a mainstay at the national championships and will be a tough first round opponent," he said. "However, I think our team thrived off being the bad guys up in Edmonton for our ACAC Championship and it will be a similar environment on Friday. They are always well coached, so we will have to execute at a high level."
Limoilou Head Coach Rock Picard has been part of the Titans coaching staff since 1993. Picard has coached his team to 10 Réseau du sport étudiant du Québec (RSEQ) titles. The Titans last earned national gold in 2018. The Limoilou Titans won RSEQ bronze this season.
Outside hitter Reece Lehman (9)
As many conferences across Canada navigated athletic competition throughout COVID-19, this season has been pushed later than usual, including the recent completion of championship games in the Ontario Colleges Athletic Association (OCAA).
"It's been a little different than past years with the OCAA not finishing up their conference finals until last Thursday. Things seem a little more rushed than normal with video exchange not happening until Monday," said Schulha. "However, we now have video on Limoilou and will continue to prepare our guys in a similar fashion to what we have done all year."
Setter Maddux Greves (4)
During the playoffs, the Kings have progressively elevated their play and achieved a four set victory over the host NAIT Ooks in the ACAC gold medal match. Since that win, the team has practiced with varying levels of intensity.
"It's always a fine line to walk at this time of year between keeping the guys healthy and keeping them match ready," explained Schulha. "Our practices last week were lower impact than we're accustomed to, but we will ramp up the game play the next couple of days and be well prepared for Friday."
The Red Deer Polytechnic Kings will play the Limoilou Titans on Friday, March 25 at 4 pm MDT.
Fans will be able to watch the match online.
The six other teams competing at nationals are:
Géants du Saint-Jean-sur-Richelieu – Réseau du sport étudiant du Québec (RSEQ) gold
St. Thomas Tommies – Atlantic Collegiate Athletic Association (ACAA) gold
Camosun Chargers – Pacific Western Athletic Association (PACWEST) gold
CMU Blazers – Manitoba Colleges Athletic Conference (MCAC) gold
Humber Hawks – OCAA gold
Redeemer Royals – OCAA wildcard
At the conclusion of Friday's competition, the time of the Kings' next game along with their opponent will be listed online.
Middle Dillon Gauci (18)
Kaylee Raniseth skips RDP Queens to 5 and 0 record on the weekend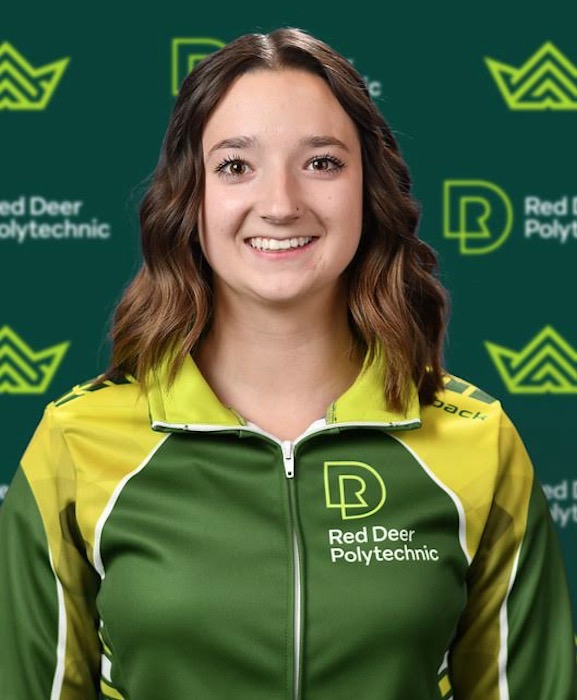 Red Deer Polytechnic Athletes of the Week
Red Deer Polytechnic Athletics is proud to announce the Mr. Mikes RDP Athletes of the Week:
1. Kaylee Raniseth
Hometown: Delburne, Alberta
Bachelor of Education Elementary (2nd year)
Skip Kaylee Raniseth and the Queens Curling Club could not have a better weekend after going undefeated in the Winter Regional hosted by Concordia University. Coming into the weekend, Head Coach Brad Hamilton knew they needed to have a good weekend to have any sort of chance at placing in the top 4 after just finishing with a 3-2 record at the Fall Regional. Hamilton got what he wished for and more as the Queens went 5-0 on the weekend, which includes a 7-2 victory over the Concordia University Thunder, who were also undefeated coming into the Sunday draw against the Queens.
The Queens now sit in first place in the league as they prepare for the championships on March 3-5 in Lloydminster. This is partially due to the hard work Raniseth put in during the weekend in Edmonton. Her competitive curling experience was on display with both her strategy and shot-making. Raniseth will be a vital piece to the puzzle as the team moves forward and competes for a championship come March.
Congratulations Kaylee and we wish you and the Queens luck as the team looks to avenge last year's tough gold medal loss!
2. Eduardo Crespo
Hometown: Mococa, Sao Paulo, Brazil
Academic Upgrading (2nd year)
Eduardo Crespo was a key player for the Kings Basketball team as they were able to defeat the Ambrose University Lions in back-to-back tough games. Both games could have gone either way with the Lions taking the lead multiple times in the game but that did not stop the Kings from keeping their composure and battling to take the lead back. Crespo finished with 16 points on Friday night and then topped that off with a 34-point night, 41-minute performance on Saturday evening. This includes a layup in the last five seconds that sent this game into overtime where the Kings would win 92-91.
On this five-game winning streak, the Kings are on, Crespo is averaging 22 points and just over 31 minutes on the floor. On the year, he is ranked 3rd in the ACAC with 30.8 points per 40 minutes. According to Head Coach Darren Graham, if Crespo can stay healthy and out of foul trouble, he can be the best player on the floor on any given night as with his size and ball-handling skills, he can play all the positions.
Congratulations Eduardo and good luck to you and the Kings in the tough two games ahead of the team against the Trojans!
This Week in Red Deer Polytechnic Athletics is sponsored by Elite Chiropractor and Sports Medicine
This week in RDP Athletics features a Bell Lets Talk Gameday. With the official Bell Lets Talk Day on Wednesday, January 25, RDP Athletics has decided to host their own event on Saturday evening, January 28 which features both volleyball teams and Queens Hockey. There will be an opportunity to connect with
various mental health organizations within Central Alberta
The volleyball festivities will start at 6 pm as the Queens take on the SAIT Trojans with the Kings to follow at 8 pm. Both these teams will be in Calgary to face the Trojans on Friday night as well.
Queens Hockey will play on a rare Thursday night in Olds at 7 pm to kickstart their weekend before rematching the Olds College Broncos at the same time on Saturday night. These two schools are combining forces for a mental health initiative to show there is strength in unity. The Broncos will be putting on their
Make Some Noise for Mental Health event on Thursday with the Queens hosting a Bell Lets Talk Day on Saturday.
Speaking of hockey, the Kings Hockey team will play two home games this weekend as they take on the Portage College Voyageurs and fight to stay at the top of the conference. The game on Friday will be a normal 7 pm start with the Saturday game being in the afternoon at 1 pm.
Lastly, the basketball teams will kick off the home schedule with two games against a very tough SAIT Trojans team. As the Queens look to continue their five-game winning streak, they will take on the Trojans at 6 pm with the men putting their winning streak on the line following the end of the women's game.
Just a reminder to stay tuned to the RDP Athletics social media platforms as there will be a daily post up until this Saturday from one of the athletes regarding mental health as this is the last week of the Make Some Noise for Mental event.
Please refer to the information below for more details.
Basketball
Queens (8-6) vs SAIT Trojans (8-5)
• Friday, January 27 | 6 pm at Gary W. Harris Canada Games Centre
• Saturday, January 28 | 6 pm in Calgary
Queens Basketball is now above .500 and riding a five-game winning streak after two great wins against the Ambrose University Lions. The Queens really have turned it around after starting the season 0-3, they are now 8-6.
Head Coach Avery Harrison said he takes full responsibility as the coach of the team for how the team started the season.
"We are a totally different team. It is fun to watch. The biggest change was I got off their backs and let them play. I didn't do a good enough job coaching in the first semester and was mad at myself. We got some great responses from the players in a feedback session with the coaches which forced change and led to
the team being more successful."
But the schedule does not get any easier as battle with the SAIT Trojans this weekend, who sit right behind them in what is a very tight South Division. Between first and seventh place, there is just a six-point difference.
The Queens will be in Red Deer on Friday and travel down to Calgary for the second weekend in a row on Saturday. Both games start at 6 pm.
Kings (8-6) vs SAIT Trojans (7-6)
• Friday, January 27 | 8 pm at Gary W. Harris Canada Games Centre
• Saturday, January 28 | 8 pm in Calgary
The Kings are following in the Queens footstep, or the other way around, either way, both teams are playing well as the men are also riding a five-game winning streak. But these two wins against the Ambrose University Lions this past weekend did not come easy for them as one of the games needed overtime. It was
a tight one, but the Kings pulled through with a win.
Now, they got a huge test ahead of them as they take on the SAIT Trojans, who are looking much different than they did in the first semester which saw the team only win three games but have won four of their five games to start the winter semester.
Saturday night's player of the game Eduardo Crespo said their team won the ACAC Championship last year, so they are always going to be a tough matchup. "They have good players, probably not the same chemistry that they had last year, but they are still doing well. They got players who can score at any time on the court. We want to be able to shut down these players which means we got to put in a lot of work during practice this week."
Crespo completed his night with 34 points on Saturday, which included the tying basket to send it to overtime. The Kings will start their weekend in Red Deer and then travel down to Calgary for a rematch with both games starting at 8 pm.
Hockey
Queens (7-3) vs Olds College Broncos (2-8)
• Thursday, January 26 | 7 pm in Olds
• Saturday, January 28 | 7 pm at Gary W. Harris Canada Games Centre
After dropping a 3-2 contest against the NAIT Ooks in their lone game this past weekend, the Queens will be back on the ice with two games this week against the Olds College Broncos. Together with Olds College, RDP Athletics will be hosting a collaboration mental health event that will start with the game on Thursday night in Olds for their Make Some Noise for Mental Health event and then end with the polytechnic's Bell Lets Talk event. The purpose of collaborating with the Central Alberta institution is to emphasize that there is strength in unity as both schools are a part of the ACAC, which includes 15 other
post-secondary schools, 2500 student-athletes, and many coaches that can all come together to promote mental health in a more positive light.
The Queens will play on Thursday evening in Olds and then have a day off before facings the Broncos in a rematch on Saturday evening. Puck drop just after 7 pm for both games.
Portage College Voyageurs (3-13-1) at Kings (10-6-1)
• Friday, January 27 | 7 pm
• Saturday, January 28 | 1 pm
As the Kings Hockey team struggles to win on home ice in the 2023 year, they will be tested this weekend as they face the Portage College Voyageurs in back-to-back home games. Earlier on in the season, the Kings split the weekend (5-3W, 3-2L) with the Voyageurs in Lac la Biche. But they now will face them in the
Gary W. Harris Canada Games Centre where they have lost two straight games with 10 goals against and just four goals for.
Head Coach Trevor Keeper they are playing very well and have defeated some very good teams lately. "They play hard. They forecheck and they hit. Up until the past couple of weeks, we were undefeated at home and now we are playing sloppy, especially on Saturday nights. This week with the quick turnaround on
Saturday, we will have to be dominant and get our home mojo back."
The Kings will play at 7 pm on Friday and 1 pm on Saturday afternoon with both games in the Gary W. Harris Canada Games Centre.
Volleyball
Queens (7-6) vs SAIT Trojans (7-6)
• Friday, January 27 | 6 pm in Calgary
• Saturday, January 28 | 6 pm at Gary W. Harris Canada Games Centre
With a victory on Saturday night in Calgary, the Queens got their first win of the 2023 year after falling to the Ambrose University Lions on Friday evening in five sets. The second match was very different as the Queens came out of the gate fast and dominant as they swept the Lions three straight to take the match.
But ahead of them is yet another tough test in the SAIT Trojans this weekend as the Queens sit tied in second place with the Trojans in what is a very tight race for a playoff spot in the South Division. As of right now, four points is the difference between second place and sixth place. With most teams still needing to
play five or six matches, any team has a chance to secure a spot in the ACAC Championships.
Head Coach Talbot Walton explained that consistency needs to be better in the team. "I think we need to be more consistent from the service line which puts them out of system a bit more. Our service receive needs to be a little more structured so we can run a better offence and separate the opposing blockers to give our hitters a prime opportunity for a kill."
The Queens will play their second straight match in Calgary on Friday at 6 pm with the same start time on Saturday evening in Red Deer at the Gary W. Harris Canada Games Centre.
Kings (12-1) vs SAIT Trojans (4-9)
• Friday, January 27 | 8 pm in Calgary
• Saturday, January 28 | 8 pm at Gary W. Harris Canada Games Centre
The Kings continue to prove their dominance over ACAC competition as they extend their winning streak to double-digits now with their 10th straight win. But it was not easy as five of the seven sets played, they were competing alongside the Lions. In the other two sets the Kings outplayed Ambrose and proved they are a
force to be reckoned with.
Head Coach Aaron Schulha said as they battle with the Trojans, the team's service pressure component will need to be better. "During every match, we talk about having a sense of pride in winning the serve and receive battle because we know how physical we are at the net. Ultimately, the game of volleyball comes down to serve and pass which is something we talk about a lot over the season."
The Kings will be in Calgary on Friday to take on the Trojans before heading home for a rematch on Saturday evening with both matches starting at 8 pm.
Queens Soccer rookie Sensation Sein Furuyama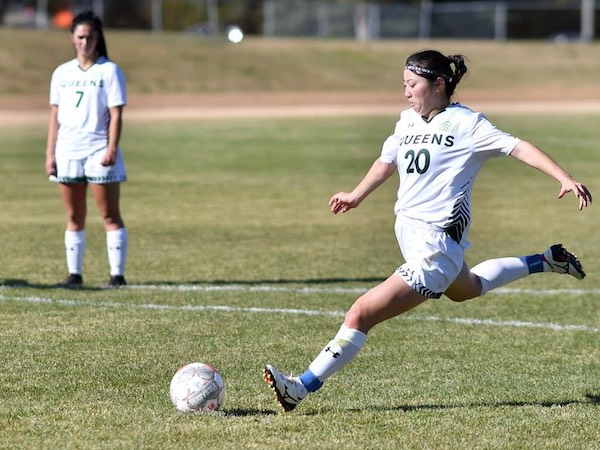 By Seth Slomp of Red Deer Polytechnic Communications
Sein Furuyama 'Lives. Eats. Breathes. Soccer. Repeat.'
Absolutely brilliant. Kind-hearted. Enthusiastic. Amazing. Caring. Team-player. Unbelievable. These are just some attributes that describe one international player, who made a mark on the Red Deer Polytechnic Queens Soccer team as well as in the Alberta Colleges Athletic Conference (ACAC). But all-in-all, no word can do justice to what this player accomplished this year Sein Furuyama, who hails from Kobe, Japan, is 21 years old and has been playing soccer since the age of seven. She chose the sport because her older brother played it and she liked it the most out of all the other sports she tried.
"I was playing in Fukui High School, and we made it to nationals. I was a right-wing at the time and we managed to just win one game. I scored a couple of goals, and it was also a good time similar to this season in Red Deer."
When asked about the differences between Japanese and Canadian soccer, Furuyama explained they do not have player of the game honours. If somebody played well, they did not get recognized. At the end of the season, they had a banquet but did not have supper or an awards ceremony. All that was involved in this formal event was speeches from players and coaches which Furuyama found boring.
"I really like the system in the ACAC because it was a rare experience for me as I was able to evaluate the results I had over the past season. The physicality in the matches is totally different as there are only like one to three fouls a game in Japan, where I find there are a lot more fouls called in Canada."
The Japanese-striker wanted to come to Canada and study English before her future was decided, which has been an incredible experience for Furuyama so far. She explained living away from home and her parents is something she is used to as the Academic Upgrading student-athlete started living alone at the age of 15.
Throughout two years in Canada, the ACAC rookie has toured Vancouver, Victoria and Montreal which she really enjoyed. Furuyama also really enjoyed a place not too far from Red Deer.
"These places were definitely a good experience as it was nice to get out of Red Deer for a bit and see a bit more of Alberta and Canada. I also went to Banff which was my favourite of all the places. It was really pretty. I like the life in Canada, and I am having a great time."
She did not just come here to tour around and learn English, Furuyama was recruited by Queens Soccer Head Coach Mahziar Peyrow to play for his team in the ACAC. The 2022 South Coach of the Year thought it would be nice to add an international athlete to a program that
has never had one.
"I wanted to bring something different to our game. I worked for many months on recruiting Sein. She came very highly recommended from her coaches in Japan and it showed in her game play. She's extremely disciplined, talented, and technically sound. Sein is very coachable even with the language barrier"
It took 18 months for Furuyama to play her first match with the Queens, but it did not take long for her to leave a mark on the ACAC. In her debut match against a strong SAIT Trojans squad, she scored two of the Queens' three goals in the 4-3. She went scoreless the next game but followed that up with a total of 12 tallies against the Medicine Hat College and the Ambrose University Lions. This started a goal streak which saw her score 23 goals in six games, which put herself in good position to break the ACAC Single Season Goal Record. This was previously held by Kayla Michaels, who played for the NAIT Ooks, and scored 26 goals in the 2014/2015 season. At this point, she was just two away from breaking the record, but it took some time as she went scoreless against the University of Alberta-Augustana Vikings and the Lethbridge College Kodiaks. On October 16, history was made for Furuyama as she capitalized on two shots against the Rattlers to tie and break the record in the same game. She added two more goals to extend the record in a single season to 29.
The captain of the Queens, Alisha Coules, who is graduating from the Queens Soccer program this year, explained Furuyama is amazing and unique in her own way.
"Despite her successes and accomplishments on the provincial and national collegiate level, she acknowledged everyone that contributed to her achievements and looked at the team who got her there. She 'Lives. Eats. Breathes. Soccer. Repeat.' which is definitely evident in her commitment to the sport, her gameplay and to the team."
With a record-breaking season in her first year playing in Alberta, she was awarded not only the Women's South Rookie of the Year but also the South Player of the Year honour. On top of all this, Furuyama was named to the All-Conference and All-Canadian squad for her incredible performance in her rookie season and also finished with a gold medal around her neck at the championships in Lethbridge.
Sein and Alisha became a dynamic duo in the conference at the top of the Queens formation and Peyrow said they both understood what the team worked on every training session and were able to break the back line well. They stayed close to each other and worked off each other's touch very well. When asked about why Furuyama, a natural goal scorer, and herself worked well together, Coles described she was able to do what she did best – playmaking.
"This year was phenomenal because it allowed me to do what I did best and fulfill my role as a playmaker on the team. Sein is phenomenal at working off and on the ball. She has an amazing shot, so it created that dynamic duo at the front end, which gave the opposing team something to worry about."
The graduating nursing student added the international player was game smart and was able to exploit gaps in the opposing defensive line. Coules said that she seemed to be a lot quicker than the rest of the league and had a powerful shot, which made her stand out from the rest of the female athletes.
Even though all her honours were individual awards, Furuyama the kind-hearted, caring, enthusiastic person that she is, recognized her accomplishments as a team win.
"I really enjoyed my time with my teammates and was happy with everything. My individual results are thanks to everyone: my teammates, coaches, and of course the fans. I can't get those awards without the people that supported me throughout the year. Lastly, I want to thank my parents too. I really appreciated the support I got from the bottom of my heart."
As of now, Furuyama is considering coming back next year but first must go back to her university in Japan and graduate. Once this happens, the South Player of the Year hopes to come back to play with her Queens teammates as this was a season Furuyama will never forget.