RDP Kings Volleyball CCAA National Championship Preview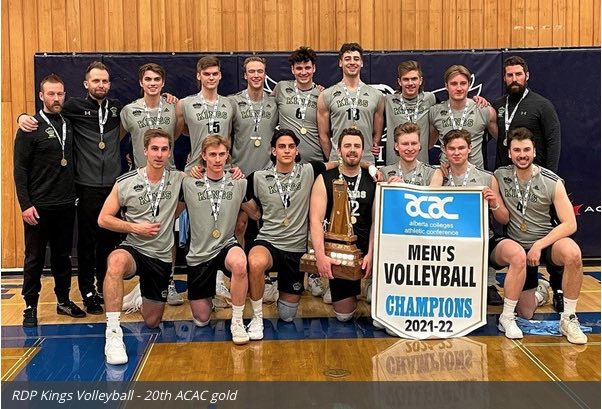 The two most storied men's volleyball programs in the Canadian Collegiate Athletic Association (CCAA) will meet on the opening day of the national championship in Québec City.
In a national quarter-final, the Red Deer Polytechnic Kings will challenge the host Limoilou Titans on Friday, March 25. The RDP Kings, who are 20-time Alberta Colleges Athletic Conference (ACAC) Champions, lead the CCAA with 13 national gold medals. The Titans follow with 11 titles.
Red Deer Polytechnic Kings Volleyball Head Coach Aaron Schulha expects a lively Titans gymnasium.
"It is going to be fun atmosphere for sure. Limoilou is a mainstay at the national championships and will be a tough first round opponent," he said. "However, I think our team thrived off being the bad guys up in Edmonton for our ACAC Championship and it will be a similar environment on Friday. They are always well coached, so we will have to execute at a high level."
Limoilou Head Coach Rock Picard has been part of the Titans coaching staff since 1993. Picard has coached his team to 10 Réseau du sport étudiant du Québec (RSEQ) titles. The Titans last earned national gold in 2018. The Limoilou Titans won RSEQ bronze this season.
Outside hitter Reece Lehman (9)
As many conferences across Canada navigated athletic competition throughout COVID-19, this season has been pushed later than usual, including the recent completion of championship games in the Ontario Colleges Athletic Association (OCAA).
"It's been a little different than past years with the OCAA not finishing up their conference finals until last Thursday. Things seem a little more rushed than normal with video exchange not happening until Monday," said Schulha. "However, we now have video on Limoilou and will continue to prepare our guys in a similar fashion to what we have done all year."
Setter Maddux Greves (4)
During the playoffs, the Kings have progressively elevated their play and achieved a four set victory over the host NAIT Ooks in the ACAC gold medal match. Since that win, the team has practiced with varying levels of intensity.
"It's always a fine line to walk at this time of year between keeping the guys healthy and keeping them match ready," explained Schulha. "Our practices last week were lower impact than we're accustomed to, but we will ramp up the game play the next couple of days and be well prepared for Friday."
The Red Deer Polytechnic Kings will play the Limoilou Titans on Friday, March 25 at 4 pm MDT.
Fans will be able to watch the match online.
The six other teams competing at nationals are:
Géants du Saint-Jean-sur-Richelieu – Réseau du sport étudiant du Québec (RSEQ) gold
St. Thomas Tommies – Atlantic Collegiate Athletic Association (ACAA) gold
Camosun Chargers – Pacific Western Athletic Association (PACWEST) gold
CMU Blazers – Manitoba Colleges Athletic Conference (MCAC) gold
Humber Hawks – OCAA gold
Redeemer Royals – OCAA wildcard
At the conclusion of Friday's competition, the time of the Kings' next game along with their opponent will be listed online.
Middle Dillon Gauci (18)
RDP Queens drop Trojans, share first place in the south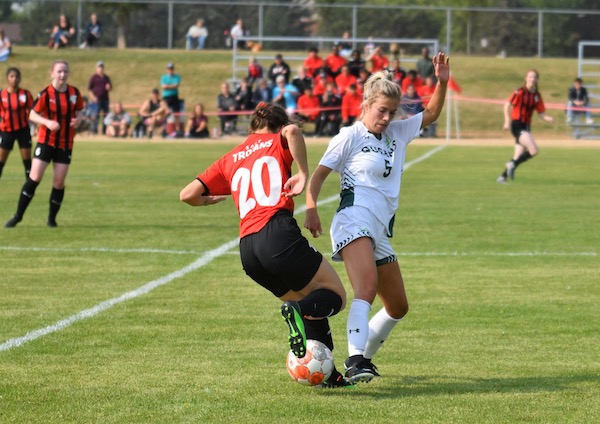 Ever since the Red Deer Polytechnic Queens were edged by the SAIT Trojans 4-3 in the season opener, they had the October 2 rematch circled on their calendars.
Despite playing the Trojans tough in the first game, the RDP Queens had several injuries and ill student-athletes, and believed if they were healthy and played up to their potential they could topple the defending Alberta Colleges Athletic Conference (ACAC) Champions.
That belief turned into reality Sunday afternoon in Calgary.
The visitors struck twice in the first half and earned an impressive 2-1 road decision over the second ranked women's soccer team in the Canadian Collegiate Athletic Association (CCAA).
In the 28th minute, Queens first-year striker Sein Furuyama controlled the ball on the left side and fired a high shot that eluded Trojans goalkeeper Erin Mergen into the right side of the net. It was Furuyama's league leading 19th goal of the season.
Furuyama (20)
The RDP Queens kept the pressure on and went up by a pair of goals 11 minutes later. Alisha Coules set up Grace Smith and the Bachelor of Commerce student found space in the left side of the net.
The 2-0 lead held until the 68th minute. On a two-on-one, SAIT's Meaghan Wiebe, the 2021/2022 ACAC Women's Soccer Rookie of the Year, elected to shoot and beat Queens goalkeeper Abby Kotyk with a low shot.
Both Kotyk (five saves) and Mergen (four saves) were unbeatable over the final 22 minutes and the Red Deer Polytechnic Queens sealed a 2-1 victory.
The RDP Queens (6-1-0) and SAIT Trojans (6-1-0) now share first place in the south.
Edmonton's Estel Quinteros was recognized as the Queens Player of the Game.
E. Quinteros (8)
Harleen Singh was named the Trojans Player of the Game.
The Red Deer Polytechnic Queens (6-1-0) will play the Ambrose University Lions (0-8-0) on Friday, October 7 on the road.
Janet Alvarez Perez (6)
RDP Kings Cross Country Running team finishes first, Queens place third at Grand Prix #3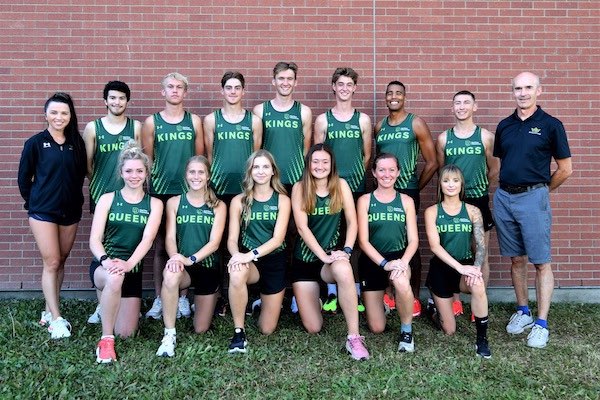 The Red Deer Polytechnic Cross Country Running team had another solid showing in its third conference competition of the 2022/2023 Alberta Colleges Athletic Conference (ACAC) season.
At Running Room Grand Prix #3, the Red Deer Polytechnic Kings earned top spot and the RDP Queens captured third.
RDP Kings
Lacombe's Daniel Szucs (27:49) had another strong race and placed fourth among ACAC male competitors over 8 km. Ethan Duret (29:10) finished seventh. Teammate Ben House (29:57), who is a first-year Bachelor of Science in Biological Sciences student, was eighth. Red Deer's Axsivier Lawrence (31:03) placed 11th.
House
SAIT's Moktar Said (26:17) took top spot among ACAC male runners and helped the Trojans finish second. The Lethbridge College Kodiaks Men's team wrapped up third.
RDP Queens
Lacombe's Jenica Swartz (24:09) paced the Queens over 6 km, placing second among ACAC female runners. Swartz was only four seconds behind first place Reese Bendiksen (24:05) of the University of Alberta Augustana Vikings.
Three members of the Queens finished 11 seconds within one another.
Justine Larson (27:01) completed the race in 12th spot. Teammate Myah Cota (27:08) followed seven seconds later in 13th and Three Hills' Melissa Ray (27:12) placed 15th.
Cota
The St. Mary's University Lightning Women's team grabbed first place. The Medicine Hat College Rattlers were second.
There is one more grand prix before the championships.
St. Mary's University will host Running Room Grand Prix #4 on Saturday, October 15 in Calgary.
The ACAC Cross Country Running Championships will take place on Saturday, October 29 in Edmonton.