Queens Volleyball CCAA National Championship Preview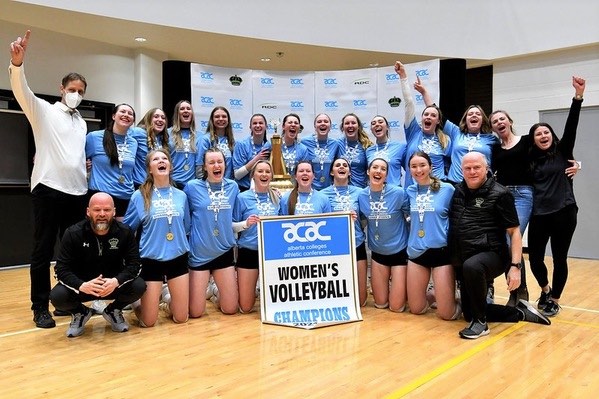 The stage has been set for the Canadian Collegiate Athletic Association (CCAA) Women's Volleyball National Championship in Charlottetown, PEI. The top eight teams from across the nation have been determined and are gearing up for three days of intense competition, beginning March 25.
With a four set Alberta Colleges Athletic Conference (ACAC) Championship victory over the Lakeland College Rustlers on March 12, the Red Deer Polytechnic Queens won gold and solidified a spot in the national championship.
Since then, the Queens have been training and focusing on what made them successful throughout an undefeated regular season (16-0) and ACAC playoff run.
"Practice has been going really well. We are just fine tuning areas of our game," said Chris Wandler, Red Deer Polytechnic Queens Volleyball Interim Head Coach. "It was tough to prepare specifically for our opponent before knowing exactly who we would be facing. We are relying on our learnings and what we've been doing throughout the entire year."
The Red Deer Polytechnic Queens will begin nationals against the Mount St. Vincent University (MSVU) Mystics, from Halifax, on Friday, March 25.
"The Mystics are the Atlantic champions. This week we are watching video of them and formulating a more specific game plan," explained Wandler. "We are focusing on taking care of our game and playing Queens Volleyball, so they have to adjust to our style of play."
Led by head coach Derrick Brooks, a two-time Atlantic Collegiate Athletic Association (ACAA) Coach of the Year, the Mystics swept the St. Thomas Tommies (25-20, 25-22 and 25-18) in the ACAA Women's Volleyball Championship. In that match, MSVU second-year outside hitter Marcy MacNeil had a game high 15 kills along with 14 digs.
The Queens have depth and many impact players of their own. In the ACAC gold medal match, outside hitters Tess Pearman and Jaiden Ferguson recorded 13 kills each. ACAC Women's Volleyball South Player of the Year Anna Carlson was very efficient on the right side, contributing 12 kills with a 0.455 hitting percentage. Setter Emma Letkeman (41 assists) also connected with middles McKenna Olson (seven kills) and Sydney Rix (five kills) in that match. Once again, libero Kaylee Domoney was the team's defensive backbone, accumulating 17 digs and three assists.
Letkeman (18)
In 2019/2020, the RDP Queens captured CCAA bronze after steadily improving throughout the championship. The Red Deer Polytechnic Queens Volleyball team will be looking for its fourth national gold medal, previously winning in 2015, 2014, and 1984.
The team and coaching staff will fly to Charlottetown on Wednesday.
The Red Deer Polytechnic Queens will play the MSVU Mystics in a national quarter-final on Friday, March 25 at 10 am MDT. Fans will be able to watch the match online.
The six other teams participating in the national championship are:
Holland Hurricanes – ACAA hosts
Humber Hawks – Ontario Colleges Athletic Association (OCAA) gold
Douglas Royals – Pacific Western Athletic Association (PACWEST) gold
VIU Mariners – PACWEST wildcard and winner of the past three CCAA Championships
Les Rouges de Saint-Boniface – Manitoba Colleges Athletic Conference (MCAC) gold
Lynx d'Édouard-Montpetit – Réseau du sport étudiant du Québec (RSEQ) gold
After Friday's match, please refer to the CCAA schedule to see when the Queens will play next.
Red Deer Polytechnic Athletics announces Harrison as Queens Basketball Head Coach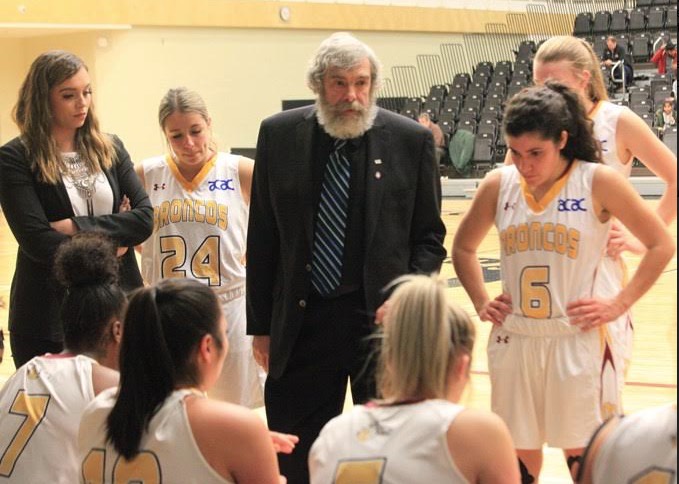 Red Deer Polytechnic Athletics has named Avery Harrison the new head coach of the Queens Basketball program.
"We are extremely excited to add Avery to the Red Deer Polytechnic coaching staff. He brings decades of experience, a proven championship mindset, and the ability to harness the potential in each student-athlete," says Randy Stewart, Manager Athletics and Student Life. "In addition to being an excellent coach and mentor, Avery has the innate ability to develop a winning culture and to be successful at the highest level."
The five-time Alberta Colleges Athletic Conference (ACAC) Women's Basketball Coach of the Year has helped to guide his teams to five ACAC Championships and three Canadian Collegiate Athletic Association (CCAA) titles over 23 years as a head coach in the league. Harrison has led his teams to the national championships 10 times, which is the most for an ACAC Women's Basketball Head Coach. Harrison was also an ACAC Assistant Coach for 11 years.
In this role, Harrison worked with legendary SAIT Trojans Head Coach Phil Allen, who is an ACAC Hall of Fame Coach and a member of the Alberta Sports Hall of Fame, and a major influence on Harrison's coaching career. Together, they led the Trojans to four ACAC Championships and one CCAA gold medal.
Harrison has had post-secondary coaching stints at Mount Royal College, Lethbridge College, SAIT, and most recently at Olds College from 2017 to 2020. During his tenure in Olds, Harrison built the Broncos into both ACAC and CCAA Champions in 2019.
With Harrison's leadership, 46 of his players have earned spots on ACAC All-Conference teams and 12 student-athletes have been recognized as All-Canadians.
Harrison is looking forward to coaching and sharing his expertise with the Queens, who qualified for last year's playoffs for the first time since 2009/2010.
"I am excited to have the opportunity to join the Red Deer Polytechnic Queens Basketball program as their new head coach," he says. "We have a great mixture of veterans and I think one of our first goals is to establish a winning culture in our locker room. We need to create an on-court identity that the team can be proud of, so we can go out and give our best effort every night."
This past season, the Red Deer Polytechnic Queens (7-9) finished fifth in the south and then were downed by the Medicine Hat College Rattlers in a playoff division quarter-final.
Looking to the 2022/2023 season, the returning players and new recruits will all benefit from Harrison's leadership.
One key returning student-athlete to the Queens is Amy Szymanek, who has been a leader on the team and within RDP Athletics. The team MVP and co-chair of the Polytechnic's Student-Athletes Advisory Council (SAAC) is entering her fourth season. She led the Queens with 15.1 points per game last year. The Bachelor of Education student's talent, leadership, work ethic, and impact on the game resulted in a 2022 ACAC Women's Basketball Second All-Conference team selection. Sophie Melin (12.6 points per game), Lauren France (10.6), Heena Sidhu (7.7), and Keanna Richards (6.1) are also expected to return for the 2022/2023 season.
Harrison will immediately step into his head coaching duties at the Polytechnic.
More information about Queens Basketball, including the roster and schedule, will be available in the fall at: rdpolytechathletics.ca.
Sarcevic joins Red Deer Polytechnic Kings Soccer as Head Coach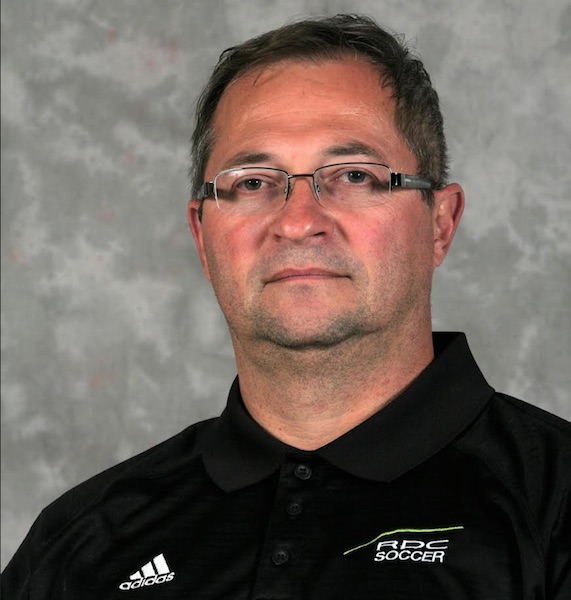 After an extensive search, Red Deer Polytechnic Athletics has named Ado Sarcevic the head coach of the Kings Soccer team.
Sarcevic brings an impressive playing and coaching resume to the Polytechnic, along with a familiarity of the RDP Soccer program and Alberta Colleges Athletic Conference (ACAC).
"We are thrilled to have Ado lead the Kings into the 2022/2023 season. He was a professional soccer player in Europe and former Yugoslavia, and has successfully coached at a variety of levels," says Randy Stewart, Manager Athletics and Student Life. "Ado has previously assumed an assistant coach role with the Kings Soccer team for two years. We look forward to following the progression of the Kings as they strive to build upon last year's second place regular season record in the south division and ACAC bronze medal."
The Red Deer Polytechnic Kings Soccer team has evolved into one of the elite squads in the conference.
Along with winning hardware this past season, the Kings earned ACAC silver and placed sixth at nationals in 2019/2020, ranking as the top ACAC team in the Canadian Collegiate Athletic Association (CCAA). The 2020/2021 season was cancelled due to COVID-19.
Sarcevic has been an integral leader in growing soccer in central Alberta. He established the Red Deer Renegades, which provide competitive options for youth to develop and enhance their skills within Red Deer City Soccer Association (RDCSA). Sarcevic also served as Renegades Technical Director for a decade.
In addition, Sarcevic assumed the role of RDCSA General Manager and coached U12 to U18 squads, winning three U18 Alberta Championships with the Renegades. He also coached the Renegades Women's team in the Alberta Major Soccer League and worked with central Alberta coaches to grow their expertise.
"I am very excited for this wonderful opportunity to become a member of Red Deer Polytechnic as Kings Soccer Head Coach," says Sarcevic. "I'm looking forward to building exceptional soccer players, but most importantly, developing great citizens of our communities."
Sarcevic will officially begin his coaching duties on May 2, 2022.
More information about Kings Soccer, including the roster and schedule, will be available in the fall at: rdpolytechathletics.ca.