RAGING FIRES, BUILDING BRIDGES

Open Letter to Canadians
January 11, 2021
FOR IMMEDIATE RELEASE
Red Deer – Mountain View, AB
"We've been conditioned to think that only politicians can solve our problems. But at some point, maybe we will wake-up and recognize that it was the politicians who created our problems."
"We, the American people are not each other's enemies. The enemies are those people behind the curtain jerking everybody's chains and trying to divide us up by age, by race, by income."
Ben Carson, a retired neurosurgeon and a 2016 Republican Party presidential candidate.
While the quotes are tailored to the American political climate, both should resonate with Canadians.
Many Canadian politicians have stated their shock in response to the events that unfolded in Washington, DC on January 7, 2021. Sadly, anyone paying attention to American political discourse over the past number of years likely isn't surprised.
Right vs. left. Conservative vs. Liberal. Poor vs. rich. Black vs. white. Old vs. young. Identity politics has become mainstream in recent years. What happen to the term "Canadians"?
Each time a crisis unfolds, politicians are quick to stoke the flames of division. Sides are drawn, guards put up and the fires rage out of control. A political system rooted in division benefits no one and is not sustainable in the long-term. In this political climate, we all lose.
We have given up a significant amount of autonomy and freedom over the past year in the name of the "greater good". But have we stopped to ask why politicians are in a better place than us to make decisions that impact our families?
Reliance on government to make personal decisions and provide basic necessities is detrimental to our society. It creates a culture of dependence, increases corporate lobbying and results in larger, more inefficient government. It creates winners and losers and further stokes raging fires. Politicians leverage this division to maintain power. This needs to change if we are to regain trust within our communities and return to prosperity.
The backbone of a prosperous society is freedom of speech and debate. We cannot look to silence those whose opinions we disagree with.
Instead, we must bring all ideas to the table and rationally determine which ideas bring the most benefit to the largest number of Canadians.
We must embrace our differences and learn that there is no single path to success. It is through a balanced approached that we will find solutions to our most challenging problems.
We must learn to build bridges. To meet on common ground. To think of others.
We must realize that no one political party or politician is our saviour. The problems we face can be defeated through our own merits. We do not need government to solve our problems, we are born with that inherent capacity.
How can we accomplish this? How can we tackle all of the major problems that plague this country?
Self-reliance and personal responsibility.
We all have talents and abilities to be contributing and successful members of Canada. We do not need government to dictate the path we take. We do not require approval of establishment politicians in order to decide what is best for ourselves and our families. We are free citizens of a free nation and we can succeed if we come together.
The road forward is not easy. The devastation many have seen over the past year will not soon be forgotten or repaired. Now is not the time for economic experiments or utopian dreams.
We must be grounded in the principles that have benefited us in the past; hard work, innovation, determination and a spirit of resiliency. We must expect the same from our elected leaders.
Canada is the greatest nation on earth. But this badge of honour does not come without hard work and sacrifice. Together, we can overcome the challenges we face and the obstacles in our path. We can calm raging fires. We can build bridges.
In closing, I urge Canadians to come together. To realize that your neighbours' success is ultimately your success. When Western Canada prospers, Eastern Canada prospers and vice versa. We are all inter-connected and interdependent. We are Canadians.
Sincerely,
Jared Pilon
Candidate for Red Deer – Mountain View, AB
https://www.jaredpilon.com/
No News Is Good News: When Facts Don't Matter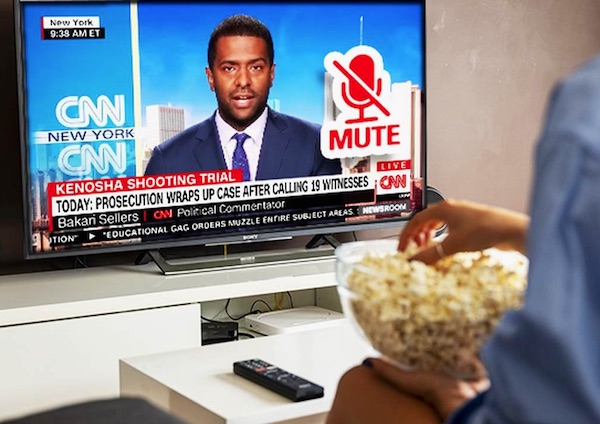 The facts are crystal clear. The man travelled across state lines with an unregistered gun to take part in a political demonstration in Kenosha, Wisconsin. When the demonstration turned into a riot he found himself confronted by another person wielding a weapon. He pointed his gun first at the person.
But Kyle Rittenhouse shot him in the arm before he could pull the trigger. The person in question is People's Revolution member Gaige Grosskreutz. Grosskreutz,, who has arrests for domestic abuse, prowling, trespass, two DUIs, felony burglary and two charges of carrying a firearm while intoxicated, travelled from Illinois with an illegal handgun and later was a key witness in Rittenhouse's trial, inadvertently sinking the prosecution by admitting he pointed his gun first.
If the news about crossing state lines with an unregistered gun etc sounds familiar, it's because that was the much-repeated media allegation against then-17-year-old Rittenhouse. The charge was a lie about Rittenhouse (he obtained his registered AR-15 in Wisconsin) but true of Grosskreutz who had no permit for his gun. Yet Rittenhouse was, predictably, the person Wisconsin state attorneys charged, not Grosskreutz.
Another lie receiving considerable international media play was that Rittenhouse shot and killed three black men. (All victims were white men with criminal records. One survived.) Or the MSNBC Joe Scarborough claim that Rittenhouse sprayed bullets widely. Or that Rittenhouse was a known white supremacist and the episode was an assault on BLM supporters.
Or that Jacob Blake, whose shooting by police inspired the spasm of violence in Kenosha, was an innocent father killed by cops. Blake, who is alive, was not, as media portrayed him, another urban black saint like George Floyd, but a sexual-assault perp who attacked police then tried to escape in a stolen car with three kids. As we wrote in August 2020, "To celebrate this creep downtown Kenosha was burned, businesses destroyed, at least two people killed and $2 million raised."
For these reasons consumers of liberal media outlets watching the Rittenhouse trial were bewildered by discrepancies between the evidence and what they'd been continually fed by their favourite talking heads on TV.However you feel about the case— and feelings are very strong— the least the media could do is get the facts right to condemn Rittenhouse. But when the U.S. president pre-judges those facts there's more safety in the company of online liars and dissemblers. (Canadian media gleefully picked up on all the Rittenhouse lies and spread them gratuitously.)
The taking-sides pattern continues in nearby Waukesha, Wisconsin, where a career criminal names Darrel Brooks drove his SUV through a Christmas parade of kids, families and grannies, killing six and injuring dozens more. Because Brooks is black and has said clever stuff like "KNOCK WHITE PEOPLE DA FUC- OUT", this mass murder is receiving something less than Rittenhouse blanket coverage from your legacy media. Page 22 in the NY Times. The Washington Post call is it a "tragedy caused by a SUV". Go figure.
We have entered a time where narratives supersede facts in reporting. Newspapers refuse contrary stories or do only white-on-black crime, not the 94 percent of blacks who murder other blacks. Twitter bans inconvenient research or videos that upset the Covid establishment. Donald Trump is the most prominent example of Big Tech making a non-person for his questioning the 2020 presidential election results. There are dozens more.
In a typical Canadian example of censoring the news, a recent CBC PEI story on a handful of positive Covid cases (none of them hospitalized) drew comments on its website comparing PEI's stringent efforts to stop the virus with those of Florida where the state has been open for some time. The comments were taken down. So was an inquiry to CBC about why the comments were nuked. Standards and practices, don't you know. But Biden's libels on Rittenhouse remain on CBC media.
The difference from a decade ago is that media has succumbed to the mission creep of self worship. Where once stories were assembled to create a picture of the day's news, stories are now assembled to support a preordained picture. One that flatters the cult of journalists with their moral superiority.
And so what is that narrative? Is it racial? Gender fluidity? Binary? All of the above? The new reality is class— a generation of educated whites, many in the knowledge, government or media industries. Their Woke opinions are like the electric cars, private schools, summer cottages, pink pussy hats and other trappings they accumulate to cement their superior status. Talismans of their significance.
Probably the distinctive feature of the new journalism— entrenched by the Trump tenure— is to flatter these people by punching down on lesser educated whites for their gullibility and lack of class consciousness. Witness Stephen Colbert, Samantha Bee, SNL.
As Barack Obama so wittily observed, they are the people who "cling to their guns and religion", making them perfect targets for wags such as Howard Stern who is, apparently, now tired of liberalism. "I used to be into freedom, but I'm not anymore." Stern said. "I don't feel good about what's going on in my country. I might have to run just to clean this f**king mess up.".
Kyle Rittenhouse, whose tears were labelled white privilege, was the perfect embodiment of the 75 million "guns and religion" crowd who voted for Donald Trump in 2020. So Rittenhouse, not black sexual-assault guy Jacob Blake, served as the show-trial for people looking out for the latest hot take.
Biden's plummeting polling seems to say that, in America at least, the media's means of dividing cultures is not working. But the 12 months till the 2022 midterms is a long time in politics. And the media has its ways. With facts a fungible commodity, we wouldn't bet against the culture war getting hotter before it ever cools down.
Bruce Dowbiggin @dowbboy is the editor of Not The Public Broadcaster (http://www.notthepublicbroadcaster.com). The best-selling author of Cap In Hand was nominated for the BBN Business Book award of 2020 for Personal Account with Tony Comper. A two-time winner of the Gemini Award as Canada's top television sports broadcaster, he's also a regular contributor to Sirius XM Canada Talks Ch. 167. His new book with his son Evan Inexact Science: The Six Most Compelling Draft Years In NHL History is now available on http://brucedowbigginbooks.ca/book-personalaccount.aspx
The book that could spell the end of Anthony Fauci and the incredible push for vaccine mandates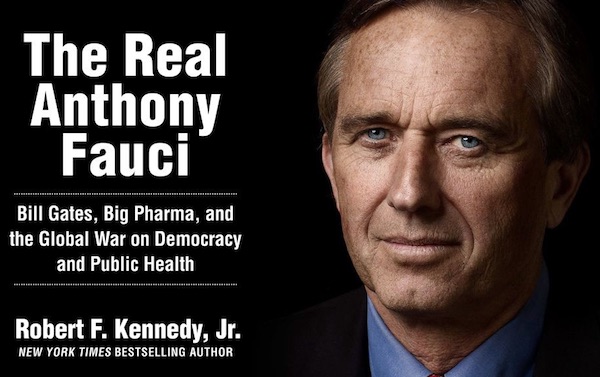 In the end, it all comes down to well meaning but twisted ambition, with a nice big helping of good old fashioned and really evil, greed.
At the beginning of this time we'll forever simply call 'covid', we dutifully lined up in front of our neighbourhood Costco while the owners of small independently owned stores were forced to lock their doors and watch helplessly as the businesses they built over a lifetime of blood, sweat, and tears drifted away from them. Over time, we've become accustomed to measures like masks and distancing rules, and regulations that allow 18,000 people to watch a hockey game (mostly without masks), or 100,000 people to watch a football game (entirely without masks), while the parents of grade 12 athletes can not come into a gym to watch their own children compete for a long prepared for championship title.
Today we wait to see which vaccine mandate will rock someone's world next. It's become clear over the last several months of mandates that a good percentage of people (somewhere around 25%) feel they're being forced into a vaccination they aren't so sure about taking (they're still not approved) and a further percentage of people (8 to 10%) will simply not agree to take an emergency ordered vaccine. I'm not saying any of this is right or wrong. I'm just saying it clearly makes no sense. I'm just saying..
Everyone I've talked to since covid has begun, and I mean EVERYONE has admitted in private conversation if not very publicly, that this restriction makes no sense, or that restriction is contradictory to another one. EVERYONE admits the various restrictions, rules, and regulations our governments have used to respond to covid just don't add up. And for the few people who can't bring themselves to admit it, even to a close friend.. just ask yourself how the "two weeks to flatten the curve" is going at the two year mark.
For me, the biggest mystery in an ocean of mysteries has been the complete lockdown on access to and information about medical therapies. Anyone who puts in the effort to look behind the curtain of attack articles, can see there are preventative treatments, early treatments, and now "long covid" treatments which are showing tremendous success. As you can see at ivmmeta.com and ivmstatus.com, 0ver 25% of the world's population has access to at least ONE of the effective treatments. While millions of Canadians chuckle at unintelligent, simple people who take Ivermectin (horse paste they call it), those poor simple people in nations such as India and Japan have nearly eliminated covid. Here, all we hear is that vaccines are the ONLY answer. Usually they say it's "the best way" to fight covid. They leave out the part where they've banned every other way of fighting covid. You can argue if you want about how widespread Ivermectin use is in India and Japan, but you can't really argue with data. Take a look at these graphs from worldometers.com and you'll have to conclude something different is going on in countries where early treatment options aren't always the butt of the latest woke-joke.
Sorry for the long lead-in. If you stayed with it, here's the reward. There's a new book out by best selling author and life long US Democrat Robert F. Kennedy Jr. Yes, this is the son of THE Bobby Kennedy, and the nephew of President John F Kennedy. If you're one of the millions of 'simple' people like me who just can't understand why we're not even allowed to talk about actually treating covid, this book will set out an argument that makes it all finally come together. That's what The Real Anthony Fauci is all about. Either this book is shedding a WORLD of lies, or it will put AN ENTIRELY NEW LIGHT on what is driving the forces behind covid-19 vaccine mandates. If you have a bit of time, check out the video interview below with RFK Jr. The allegations go well beyond disturbing and right to shocking. It's going to be interesting to see if this book will make a difference. For me. I don't really care what happens to Dr. Fauci. I just want politicians to show courage and stand up for the most vulnerable people. It's time to save lives by allowing Albertans, and Canadians to use some of the two dozen or so medical treatments which have emerged to fight covid in the last two years.
Here's the description of this book by Amazon
Pharma-funded mainstream media has convinced millions of Americans that Dr. Anthony Fauci is a hero. He is anything but.
As director of the National Institute of Allergy and Infectious Diseases (NIAID), Dr. Anthony Fauci dispenses $6.1 billion in annual taxpayer-provided funding for scientific research, allowing him to dictate the subject, content, and outcome of scientific health research across the globe. Fauci uses the financial clout at his disposal to wield extraordinary influence over hospitals, universities, journals, and thousands of influential doctors and scientists—whose careers and institutions he has the power to ruin, advance, or reward.
During more than a year of painstaking and meticulous research, Robert F. Kennedy Jr. unearthed a shocking story that obliterates media spin on Dr. Fauci . . . and that will alarm every American—Democrat or Republican—who cares about democracy, our Constitution, and the future of our children's health.
The Real Anthony Fauci reveals how "America's Doctor" launched his career during the early AIDS crisis by partnering with pharmaceutical companies to sabotage safe and effective off-patent therapeutic treatments for AIDS. Fauci orchestrated fraudulent studies, and then pressured US Food and Drug Administration (FDA) regulators into approving a deadly chemotherapy treatment he had good reason to know was worthless against AIDS. Fauci repeatedly violated federal laws to allow his Pharma partners to use impoverished and dark-skinned children as lab rats in deadly experiments with toxic AIDS and cancer chemotherapies.
In early 2000, Fauci shook hands with Bill Gates in the library of Gates' $147 million Seattle mansion, cementing a partnership that would aim to control an increasingly profitable $60 billion global vaccine enterprise with unlimited growth potential. Through funding leverage and carefully cultivated personal relationships with heads of state and leading media and social media institutions, the Pharma-Fauci-Gates alliance exercises dominion over global health policy.
The Real Anthony Fauci details how Fauci, Gates, and their cohorts use their control of media outlets, scientific journals, key government and quasi-governmental agencies, global intelligence agencies, and influential scientists and physicians to flood the public with fearful propaganda about COVID-19 virulence and pathogenesis, and to muzzle debate and ruthlessly censor dissent.