RAGING FIRES, BUILDING BRIDGES

Open Letter to Canadians
January 11, 2021
FOR IMMEDIATE RELEASE
Red Deer – Mountain View, AB
"We've been conditioned to think that only politicians can solve our problems. But at some point, maybe we will wake-up and recognize that it was the politicians who created our problems."
"We, the American people are not each other's enemies. The enemies are those people behind the curtain jerking everybody's chains and trying to divide us up by age, by race, by income."
Ben Carson, a retired neurosurgeon and a 2016 Republican Party presidential candidate.
While the quotes are tailored to the American political climate, both should resonate with Canadians.
Many Canadian politicians have stated their shock in response to the events that unfolded in Washington, DC on January 7, 2021. Sadly, anyone paying attention to American political discourse over the past number of years likely isn't surprised.
Right vs. left. Conservative vs. Liberal. Poor vs. rich. Black vs. white. Old vs. young. Identity politics has become mainstream in recent years. What happen to the term "Canadians"?
Each time a crisis unfolds, politicians are quick to stoke the flames of division. Sides are drawn, guards put up and the fires rage out of control. A political system rooted in division benefits no one and is not sustainable in the long-term. In this political climate, we all lose.
We have given up a significant amount of autonomy and freedom over the past year in the name of the "greater good". But have we stopped to ask why politicians are in a better place than us to make decisions that impact our families?
Reliance on government to make personal decisions and provide basic necessities is detrimental to our society. It creates a culture of dependence, increases corporate lobbying and results in larger, more inefficient government. It creates winners and losers and further stokes raging fires. Politicians leverage this division to maintain power. This needs to change if we are to regain trust within our communities and return to prosperity.
The backbone of a prosperous society is freedom of speech and debate. We cannot look to silence those whose opinions we disagree with.
Instead, we must bring all ideas to the table and rationally determine which ideas bring the most benefit to the largest number of Canadians.
We must embrace our differences and learn that there is no single path to success. It is through a balanced approached that we will find solutions to our most challenging problems.
We must learn to build bridges. To meet on common ground. To think of others.
We must realize that no one political party or politician is our saviour. The problems we face can be defeated through our own merits. We do not need government to solve our problems, we are born with that inherent capacity.
How can we accomplish this? How can we tackle all of the major problems that plague this country?
Self-reliance and personal responsibility.
We all have talents and abilities to be contributing and successful members of Canada. We do not need government to dictate the path we take. We do not require approval of establishment politicians in order to decide what is best for ourselves and our families. We are free citizens of a free nation and we can succeed if we come together.
The road forward is not easy. The devastation many have seen over the past year will not soon be forgotten or repaired. Now is not the time for economic experiments or utopian dreams.
We must be grounded in the principles that have benefited us in the past; hard work, innovation, determination and a spirit of resiliency. We must expect the same from our elected leaders.
Canada is the greatest nation on earth. But this badge of honour does not come without hard work and sacrifice. Together, we can overcome the challenges we face and the obstacles in our path. We can calm raging fires. We can build bridges.
In closing, I urge Canadians to come together. To realize that your neighbours' success is ultimately your success. When Western Canada prospers, Eastern Canada prospers and vice versa. We are all inter-connected and interdependent. We are Canadians.
Sincerely,
Jared Pilon
Candidate for Red Deer – Mountain View, AB
https://www.jaredpilon.com/
Big Can Be Beautiful. It Can Also Take Your Life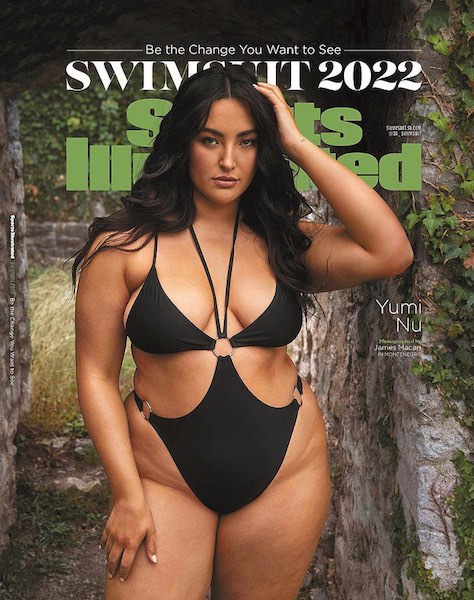 When we go to our local swimming pool there is ample evidence of the fat of the land (including your correspondent). The display of plus-sized pork among our fellow swimmers (most 50+) is breathtaking. The Parnassus of lard has to be the 60-ish gentleman who wears a Speedo on his 375-pound-plus body as he swims laps. We assume there's a Speedo in there somewhere, captured by rolling mounds of cellulite on his glutes.
While alarming to see so many who've lost the battle to fat, at least these souls are making the attempt to stay healthy. God bless them. When we see them lower themselves into the pool we have to wonder at those who've completely given up on the concept of a healthy figure. How do they live?
The notion of what constitutes a beautiful body is in the news again as Sports Illustrated featured plus-sized model Yumi Nu on the cover of its annual swimsuit edition. The swimsuit edition is the annual display of beautiful female bodies that traditionally sent nuns and librarians into a censorship fury worthy of Twitter. (And found its way between the mattresses of teenaged boys.)
In what is clearly Woke symbolism, Time Warner's magazine is attempting to placate another stigmatized group— plus-sized women— by displaying Nu in all her rounded beauty. "See, it's normal to be wearing XXX-sized clothing" is the message. (The magazine also features Elon Musk's mother and four NBA models in the edition).
This comes at a time when plus-sized rapper Cardi B has made highly sexualized twerking a thing in her graphic videos. It seems to now be hip to placate people who've lost the battle against Cheetos in a masturbatory celebration of a blubbery freedom.
Canadian author/ psychologist Dr. Jordan Peterson spoke for those not amused by SI's project. "Sorry. Not beautiful. And no amount of authoritarian tolerance is going to change that. It's a conscious progressive attempt to manipulate & retool the notion of beauty, reliant on the idiot philosophy that such preferences are learned and properly changed by those who know better."
But there was a cascade of approval for SI's choice, recognizing that beauty is in the eye of the beholder. Many found Nu stunning and sexy. Feminists applauded her acceptance of bodaciousness. Fair enough.
Two quibbles. One small and the other massive. First— this will be lost on feminists— the SI Swimsuit edition was created in the 1960s to defeat a stereotype that fit sportswomen were tomboys, unattractive and vaguely butch. In their own way, the early SI models destroyed those stereotypes while pleasuring hetero men. They convinced women that muscles aren't a bringdown.
The more significant point— lost on SI and Time Warner— is that the time of Covid, with its choked hospitals and healthcare system, is hardly the moment to celebrate people who exceed their body-fat index. In fact it might be described as a reckless message that allows people with hereditary or cultural vulnerability to diabetes, stroke and heart attacks to put off weight reduction.
As we wrote last October, obesity is the silent killer of millions infected with the virus. But one buried by governments, media and health authorities who decided to make vaccine-resisters the real villain of the piece.
"Friends and neighbours we have thought otherwise sane are now seriously demanding that unvaccinated people be sent to the back of the line for health care till all the vaccinated people are satisfied. This triage is equal measures of fear, spite and blithering ignorance of the facts of single-payer health.
Take this example: one of the factors established very early in the pandemic was the vulnerability of obese and morbidly obese— especially in the elderly. The AMA reports, "The vast majority—78%—of U.S. patients hospitalized with COVID-19 were overweight or had obesity. The numbers for intensive care, invasive mechanical ventilation and death were nearly the same."
According to the CDC, 42.4 percent of U.S. adults have obesity. While some are obese for genetic or disease-related reasons, the vast proportion of the obesity is lifestyle induced. The World Obesity Federation has shown that death rates from COVID-19 have been 10 times higher in countries where more than half of the population is overweight.
Yet there is no call from the media and its acolytes to punish the obese for clogging the healthcare system. No demand they be put to the back of the line. Why? Because it doesn't suit the narrative of right-wing extremism the way that non-vaxxers do. Too many allies of Woke land— in and out of politics— would be shoved down the line if fat were targeted.
University of Oxford researchers found, "Excess weight is a modifiable risk factor, and investment in the treatment of overweight and obesity and long-term preventive strategies could help reduce the severity of COVID-19 disease."
Yet when was the last time you heard Justin Trudeau or president Joe Biden suggest dropping weight to lessen the burden on healthcare? The last time would be the first time, as they have been mute on lifestyle adaptions to clear the ICUs.
It goes the same for smokers, drinkers, drug abusers and more who— under Canada's healthcare rulers— receive the same treatment in emergency rooms as do those who live clean. According to the howler monkeys of vaccine enforcement only non-vaxxers should be culled from the herd for flooding ICUs."
It's not the first time that Wokedom has stifled information contrary to their societal control. It won't be the last. In the battle of the bulge it's not a fashion statement. It's a matter of life and death. It's also a matter of saving the healthcare system.
Bruce Dowbiggin @dowbboy is the editor of Not The Public Broadcaster (http://www.notthepublicbroadcaster.com). The best-selling author was nominated for the BBN Business Book award of 2020 for Personal Account with Tony Comper. A two-time winner of the Gemini Award as Canada's top television sports broadcaster, he's also a regular contributor to Sirius XM Canada Talks Ch. 167. His new book with his son Evan Inexact Science: The Six Most Compelling Draft Years In NHL History is now available on http://brucedowbigginbooks.ca/book-personalaccount.aspx
The Great Reset doesn't care if you believe it exists and Canada is on the front line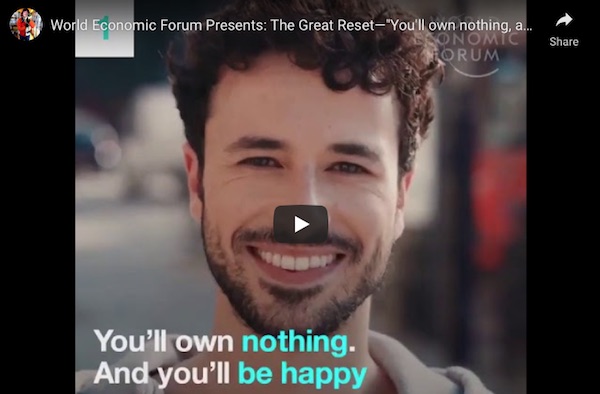 If you're among the many people (can is possibly be the majority?) who still believe The Great Reset is an unfounded conspiracy theory, this article is for you.
The Great Reset 'conspiracy theory' has been around for years. If you don't know what it is, here's a brief explanation. It basically submits that some of the world's wealthiest and most powerful people are using some of the world's largest companies (which they own) as well as many of the world's richest nations (which they run) to execute a plan to completely change the way our society works (which they don't like very much). The theory is, these people who refer to themselves as "the elite" are planning to cripple the power of nation states and concentrate that power in a world governing body (like the World Economic Forum). This new powerful "elite" would exercise control over everyone, everywhere. They will completely change our supply chains, our economic systems and our energy systems in an effort to unite the world to protect the environment. There's more to it, but that gets in most of the main points.
So this is the "theory". But is there a "conspiracy" around this?
According the the Merriam-Webster Dictionary 'conspiracy' means simply "The act of conspiring together". The Oxford dictionary spices that up a little. According to Oxford, 'conspiracy' means "A secret plan by a group of people to do something harmful or illegal". Seems like it's going to be easier to prove the Merriam-Webster version, but by the end of this article you'll see how the Oxford definition might just work as well.
When it comes to all of the people who are not actively conspiring to change the world, there are roughly four categories of understanding The Great Reset. Either you:
Have no idea there is a Great Reset
Accept there is a Great Reset, but doubt the ability and the organization of the people conspiring.
Accept there is a Great Reset, accept the ability of the conspirators, but either agree with their intentions, or at least not oppose their intentions due to your concern for a more fair economic system and an impending world devastating environmental disaster.
Accept there is a Great Reset, and oppose the intentions of the conspirators because you personally value individual freedoms above everything else.
Group 1 is huge. Recent US polling shows half of Americans aren't even aware of the Great Reset. It's not like the people behind the reset aren't writing and talking about it. It's just that at least half of Americans haven't seen them do it. That means we need to establish how it is possible in this age of information, that information of this magnitude is not being distributed to everyone. This part of my explanation is critical to understanding how very intelligent people can be completely unaware of information other people take for-granted.
It all comes down to this. We've all experienced the vast chasm of division and hatred in society of late. In this atmosphere of doubt and suspicion, there is really only one one thing in the entire world that absolutely everyone can believe in. President Donald Trump is a capital A a-hole. Even the "Don" would likely agree with that, right? But here's the thing. When the rude TV star began his stunning run through the primaries, the world quickly divided between those who backed Trump and those who absolutely despised the orange tsunami.
How did this happen? Well a very large number of people, many of them living in 'middle' America had had it with the quality of the people running, to run America. When a second Clinton announced a Presidential bid they collectively shouted NOOOO. Then they set out in search of the exact opposite of the establishment. They found it in an orange sun rise of vitriol, emerging over the high rises of Manhattan. When Donald Trump threw his hair, ehem.. his hat into the ring, they had their guy. It wasn't because of his experience, or that they believed he was ultimately qualified for the job. Trump's crowning quality was the exact thing most people hate about him. You see it was that massive, bulbous, all encompassing ego that was the key. Only someone with an ego this out of control would be capable of resisting and even going on the attack against the oncoming onslaught of opposition from the embedded establishment and the mainstream media who despise him with a passion.
Trump will likely claim differently, but he didn't invent divisiveness. The world was already moving in this direction. But like every huge event in history, it all starts with one bullet, one border crossing, and sometimes one very unusual Orange head of hair. Camps divided around Trump's blinding ego. Guess which side the establishment was on? Guess which side the media was on? Guess what this would mean to the distribution of information?
Personally, when the orange glow emerged from Manhattan I tuned out. Not understanding what was happening, I dismissed the orange storm as a weather system that would fizzle out when people got sick of it. I tuned out of mainstream media because I only had so much time for the gong show that was (and remains) the media coverage of the orange blowhard. This is what saved me. I had to go looking elsewhere for information. I would soon find there was more information here, and different takes on the information everyone 'knows'.
If you still depend on mainstream media you may not know or have time for an entire new world of information that has developed on the internet over the last few years. Comedians who used to turn to late night TV to analyze the daily news through humour (I understand they are still there), have turned to long form and as it turns out, extremely informing conversations in a series of compelling podcasts. They are joined by former media types and some pretty sharp up and coming minds. While their late night and daytime TV competition unite in their humorous hatred of all things Donald, these longer form conversations have tended to go deeper, due simply to the length of the presentation. Conversations often run past two and three hours, and "sound bites" are more like 5 to 15 or even 30 minute explanations of single issues. Yes it is wise to avoid a number of them, just like you would avoid a number of TV programs, but you dismiss many others at your own expense.
You don't need to agree with them to find them compelling. They are talking about events, people, and issues (including The Great Reset) you will not even find on regular mainstream media. It is not uncommon for these podcaster / interviewers to be covering topics that my friends who rely on mainstream media won't hear about for months, or even years. A great example of this is the Hunter Biden laptop. If you've been paying attention to this new online media, you'd have known about this since the fall of 2020. For those who rely on regular media, they only discovered the exact same information when it was finally confirmed by the New York Times in March of 2022. The fact they call this breaking news is hilarious (and disturbing) for those who read the original articles from the New York Post, about 20 months ago! Here's a link to a retrospective look at Biden laptop news from The NY Post from December 2020!
Now on to The Great Reset. If you haven't already clicked on the link in the fist sentence of this article here's another opportunity.
OK now at least you know The Great Reset is a real thing. So we move on to people who find themselves in group 2 which doubts that the Reset will ever amount to any actual resetting. This group would say these 'elites' live really far away, and they're probably harmless to us because it's not like they have any control over us. Not in our country. Well. That all depends on how far away you live from people like Canada's Deputy Prime Minister Chrystia Freeland. Canada's Deputy PM is also on the Board of Trustees of the WEF. If that's not a conflict of interest, they probably need to redefine conflict of interest. Don't take it from me. Take it from the founder of the World Economic Forum Klaus Schwab. (You mean the Klaus Schwab who researched, wrote, and published the book COVID-19: The Great Reset, less than 6 months after Covid-19 was a thing?.. Yes. that's the guy.) In this short video from way back in 2017 Schwab brags about the success of a WEF program called Young Global Leaders. In Schwab's own words, the WEF has "penetrated" Canada's federal cabinet. Sounds kind of conspiratorial.. and a little bit less like a theory when he says it.
If we want to know if this should be disturbing to us we need to know what Earth's elites are planning for us. Well the WEF was kind enough to tell us exactly what The Great Reset will mean to.. well.. the rest of us. This (in)famous video reveals just how different life will be for the average person by 2030. It doesn't say how "the elite" will live, though we can expect they'll have slightly different rules. Alas, I'm getting ahead of myself. Here's a list of the 8 things the WEF has been kind enough to let us know we need to prepare for by 2030. I understand this video originally came out in 2016. I first saw it in 2020. In five years it's been circulated widely. Though it's no longer featured on the WEF website, there are copies all over the internet.
Recap:
1) We'll own nothing. Ouch. (Obviously the elite will own everything and since they're smarter than us we'll be very happy to know they're taking care of us so well). It's being said by opponents of this idea that people who own a bit of land are perhaps the greatest risk to this environmental movement. It's bad for the environment for us to own property or even your own home. Especially because we decide what happens there. Do we keep animals? Do we cut down trees or burn around on recreation vehicles or inefficient farm machinery? All bad for the environment. All that will change.
2) The US will no longer be the world's superpower. (Hmmm… Don't these things often change after brutal wars?) Regardless instead of one superpower, there will be a few important nations. Wonder if that will make the world more secure, or less secure?
3) They plan to use 3D printers to make human organs (lucky for us).
4) We will not be allowed to eat meat very much anymore (cows and pigs and sheep are bad for the environment). Hey, speaking of conspiracies, I mean series of seemingly related facts that are probably just random.. Did you know Bill Gates is the largest private owner of 'farmland' in the United States? Not sure when the software magnate and WEF "Agenda Contributor" took up farming. I'm sure none of this is related to what Mr. Gates is going to allow us to eat in the future (nervous smile). Although Gates also happens to be a big investor in synthetic meat. Did I mention he's an 'agenda contributor' with the WEF?
5) One billion people in the world will have to move due to climate change (Not sure if that applies to the beach homes of the elite). (Also not sure why scientists and engineers will stop doing what they've always done and help us cope and adapt if conditions are changing quickly and significantly.)
6) Polluters will have to pay to emit carbon dioxide. We already know how this feels in Canada.
7) We will be prepared to travel in space (I'm ready to go now). The logic here is that the earth will be so ruined by us, that we better be prepared to go destroy an entirely different planet. What could go wrong?
Finally and maybe most disturbing of all..
8) Western Values will have been tested to the breaking point. Some probably like the sound of that. But in the history books I've read, when a society's values are tested "to the breaking point" that tends to look incredibly violent and warlike. (In my opinion number 8 is going to be really challenging to accomplish at the same time as the everybody will be happy part in number 1. Maybe that's why they put them so far apart in their list.). By the way, you have to wonder what they mean by "western values"? Is this finally being enlightened enough to turf Christianity and those silly laws that western societies adopted from those traditional religious beliefs. Can't wait to find out what the new traditions will be! This outta go over well (Imagine Jerry Seinfeld saying that.)
OK. If you don't find this a tad disturbing that might mean you are personally in favour of The Great Reset. It's still a free country so that's just fine with the rest of us. However the introduction video above is very much prior to the official launch of The Great Reset. That took place in the opening months of the Covid-19 pandemic. It would be better to judge how this is actually going to work by looking at how this New World Order (that's what they're calling it now) is unfolding. Now that the resetters have been resetting for about two years, how's it going so far? Here's a report from Glenn Beck. Glenn is a conservative pundit and broadcaster. If you follow the mainstream media you will know him as a radical far right conservative (and maybe a lunatic). If you don't see Beck through that filter you will acknowledge that he sometimes says very interesting things. Things like this. By the way, pay attention to the background behind the speakers at this "world government" conference. Then ask yourself if this group might be planning a new world order.
It's puzzling that the Canadian media doesn't give this any coverage. I guess there are simply more important things to talk about than whether our own federal cabinet is working in our interest or in the interests of really rich people who plan to OWN EVERYTHING in just a few short years. Oh this is probably nothing but you may have heard about the federal NDP party making a deal to secure the federal government right up to 2025. That party is lead by the guy who now is Co-Prime Minister Jagmeet Singh. Guess what?
Speaking of Canada. You may find this conversation between the British podcast sensation Russel Brand and Nick Corbishley interesting. Nick is the author of Scanned: Why Vaccine Passports and Digital IDs Will Mean the End of Privacy and Personal Freedom. As Canadians it is interesting to hear how people in other countries are seeing The Great Reset, and how Canadians are "world leaders". Yippee?
If you've managed to find your way through the longest article ever, you will certainly now be able to acknowledge The Great Reset or New World Order exists. The question now is, do you believe this is a good thing or do you think we should resist it as things were working pretty well before they launched this? We can get into that later. At the very least the massive number of people who dismissed the "conspiracy theorists" as slightly insane will see there is a reason many people are concerned. In the end, as all philosophers know we need to establish the facts, before we can decide whether we agree with them or not.
Finally my wise friend Garett reminded about the joke that's been circulating for many months now on social media. Every time it turns out another conspiracy theory was actually a conspiratorial fact, someone passes it around again. If you haven't seen it yet it might help with your outlook in the future. Goes like this. "What is the difference between a conspiracy theory and the truth? — About 6 months!"