Active COVID cases continue to fall – Mike York update for January 17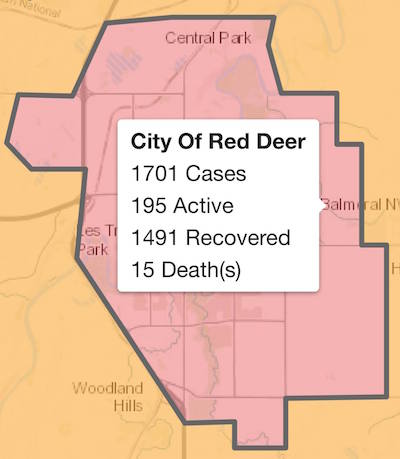 January 17 COVID update – noticeable drop of 15 active reported cases in Red Deer to 195 after 10 new cases but 23 recoveries. Unfortunately, there were also 2 new deaths bringing the total to 15.
Active cases are down from 1,209 to 1,182, with 8,209 cases to date. Hospitalizations sit at 65, down four, and ICU admissions are up one to 12. All ICU admissions in Central Zone are at Red Deer Regional Hospital.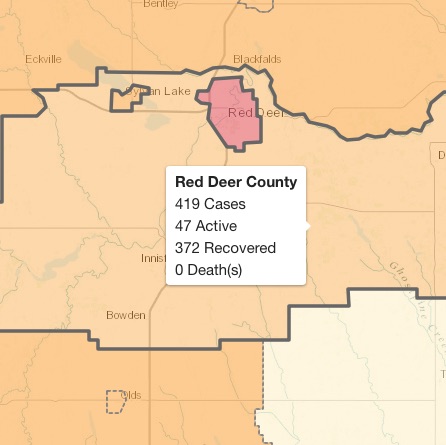 Red Deer County has 47 active cases, up one, the town of Sylvan Lake has 35, even with Saturday, and Olds has 27.
Lacombe County has 28 active cases, down one, and the city of Lacombe has 21, down six.
Ponoka County has 381, an increase of 15, though most cases there are in Maskwacis.
Clearwater County, which includes Rocky Mountain House, has 86 active cases, up two, and Brazeau County, which includes Drayton Valley, has 33, up two.
Mountain View County has 24, up two, Kneehill County has seven, down two, and County of Stettler has six, the same as yesterday.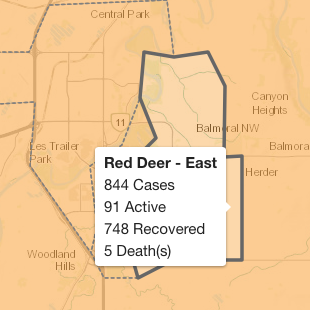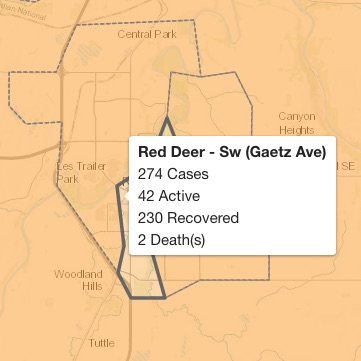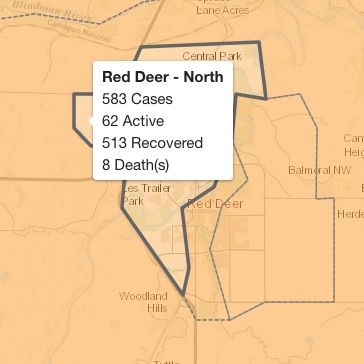 Meanwhile in Red Deer, the eastern section of town has dipped below 100 active cases for the first time in many weeks.  Cases are falling in Red Deer North (62) and in the South West as well (42).
Covid vaccines available at 9 Red Deer pharmacies – Locations and contact information
From the Province of Alberta
COVID-19 immunization program
To ensure fair access to all Albertans needing to be immunized and to prevent unnecessary wastage of vaccine doses please book ONLY one appointment per person. Do not book multiple appointments at multiple sites.
Who is eligible to receive the COVID-19 vaccine through a pharmacy?
Pharmacies are able to offer immunizations to seniors 75 years of age and older (born in 1946 or earlier) living in the community.
Alberta Health Services will offer the vaccine directly to residents in retirement centres, lodges, supportive living and other congregate living facilities.
Where can I get the vaccine?
Below is a list of participating pharmacies. You must book an appointment with the pharmacy closest to you to receive the vaccine. No walk-ins will be permitted.
Due to limited vaccine quantities and storage and handling requirements, only select pharmacies in Edmonton, Red Deer and Calgary are able to participate in the vaccine rollout at this time. Once there is adequate COVID-19 vaccine supply, distribution will be expanded.
Pharmacies are listed in alphabetical order.
Johnstone IDA Pharmacy
100-2 Jewell Street
403-348-8203
Loblaw Pharmacy #1579
Red Deer Superstore
5016 51 Ave
403-350-3530
London Drugs #24
109-2004 50 Ave
403-342-1242
Notre Dame Pharmasave
1109-2827 30 Ave
403-588-3195
Save-On-Foods Pharmacy #6682
6720 52 Ave
403-343-7744
Shoppers Drug Mart #2306
1 Chambers Ave
403-342-5548
shopersdrugmart.ca/en/health-and-pharmacy/covid-19?ShortURL=covid
Shoppers Drug Mart #326
Bower Mall Location
A6-4900 Molly Bannister Drive
403-343-3355
shopersdrugmart.ca/en/health-and-pharmacy/covid-19?ShortURL=covid
The Medicine Shoppe Pharmacy #341
130-2950 22 Street
403-343-8831
medicineshoppe.ca/en/alberta/red-deer/the-medicine-shoppe-pharmacy-341-7041122
Wal-Mart Pharmacy #3075
Parkland Mall Shopping Centre
6375 50 Ave
403-347-1123
Surge in demand as more Alberta seniors eligible for COVID-19 vaccine
CALGARY — Alberta Health Services says more than 12,000 seniors born in 1946 and earlier have booked appointments for COVID-19 vaccinations so far this morning.
Chief medical officer of health, Dr. Deena Hinshaw, has said there are 230,000 Albertans in that age group and has urged those eager to get their shots to be patient as there will be hiccups along the way.
Shortly after bookings opened, several people on social media complained about the appointment website crashing and calls not going through to the province's 811 Health Link line.
The Calgary Police Service told people via Twitter to exercise caution and not to call 911. 
The provincial health agency says additional staff are on hand to handle the surge in call volumes to 811. 
The agency is urging people not to call hospitals or clinics directly to book appointments, but notes work is underway to make vaccines available at pharmacies.
This report by The Canadian Press was first published Feb. 24, 2021.
The Canadian Press