Our sports history has value
Simple confirmation that the Alberta Sports Hall of Fame has been operating without its standard financial aid from the provincial government prompted some interesting response during the last few days.
In a casual conversation, executive director Tracey Kinsella mentioned last week that COVID-19 made it necessary to cancel at least two annual fund-raisers – the Hall of Fame induction ceremony and its annual invitational golf tournament in Red Deer – and she was concerned about meeting routine expenses.
Consistently, the government's contribution of $302,000 a year has been in the hands of Hall of Fame officials before the middle of the year. She expressed only mild frustration,, understanding that the coronavirus pandemic and other major financial issues have created major problems far from the world of sports. She did state that government staff members, working below the level of elected or appointed officials, have told her of their efforts to have the money forwarded as quickly as possible.
Perhaps this delay must be seen as part of a long and ongoing drop in Alberta's financial support to amateur sports at all levels. In the 10-year period ending in 2019, the reduction reached $5.1 million – an average of $500,000 per year. We should hope not.
Some comparative figures seem to be well worth serious study:
* The economic impact of the 2019 Canada Winter Games in Red Deer was $110 million; impact of the 2018 Alberta Winter Games was $3.4 million for the Fort McMurray-Wood Buffalo area and $5.6 million for this host province;
* In 2018-19, Alberta Sport Connection, a sport delivery system disbanded months ago by the UPC, provided $7.2 million to be shared among 80 provincial sport organizations that delivered programming to more than 788,000 Albertans;
* Leduc hosted the 2016 Alberta Summer Games with an economic impact of $3.6 million for the area and $4.9 million for the province.
Still, government aid has dropped. Some citizens suggest minor and amateur sports should not receive government support during troubled times. Today it might be wise to ask Fort McMurray if that community will value the 2022 Arctic Winter Games? The record shows that numerous small- and mid-sized business stepped up during the 2018 Games, a difficult time for fire victims and petroleum companies that have served as a backstop to countless community and area projects.
After the severe floods earlier this year, it's safe to guess that any international program that will improve community morale while adding some vital dollars to the public purse will be welcome. Incidentally, they're headed to Wood Buffalo because COVID-19 forced cancellation of the scheduled 2020 event in Whitehorse. Fortunately, some of the dollars set aside and unused in the Northwest Territories have already arrived in Fort McMurray.
These days, surrounded by a crippled economy, I wonder if Alberta now wishes the 2026 Commonwealth Games were headed for Edmonton and 2026 Winter Olympics were coming to Calgary. Both possibilities were seriously discussed before being nixed.
During my five-year term as chair of Alberta Sport Connection, the organization received steady criticism for finishing third of fourth – usually in the rear of Quebec and Ontario – in provincial medal counts. I tried regularly to help almost any government official to focus on the cost of doing business.
It made no impact to point out that Alberta's per-capita investment in sport programs is (or was) the second-lowest in Canada. Sorry, I can't remember which province spent less, but I am sure that Saskatchewan receives $24.39 per capita and Newfoundland gets $8.36 per capita.
Alberta receives $3.85 per capita although 82 per cent of Albertans say in polls that they believe sport contributes to quality of life. And those I have spoken to say clearly that the Alberta Sports Hall of Fame has value.
Alberta extends electricity rebate program until December at a cost of about $600M
Edmonton – The Alberta government says it will extend its electricity rebates until the end of the year as the cost of living continues to rise.
Dale Nally, who's the associate minister of natural gas and electricity, says the United Conservative government is doubling the rebate to help reduce the financial burden on Albertans.
The government says the electricity rebate program will now offer about $600 million in relief through 2022.
It says the program will provide nearly two million homes, farms and small businesses with a monthly $50 bill credit each month from July until December.
The government says it will also provide a natural gas rebate to millions of Albertans starting in October, which will continue until March 2023 if prices remain high.
Last week, Finance Minister Jason Nixon announced a $3.9-billion surplus for the 2021-22 fiscal year ending March 31.
This report by The Canadian Press was first published July 6, 2022.
Telus Corp. marks opening of Telus Sky in downtown Calgary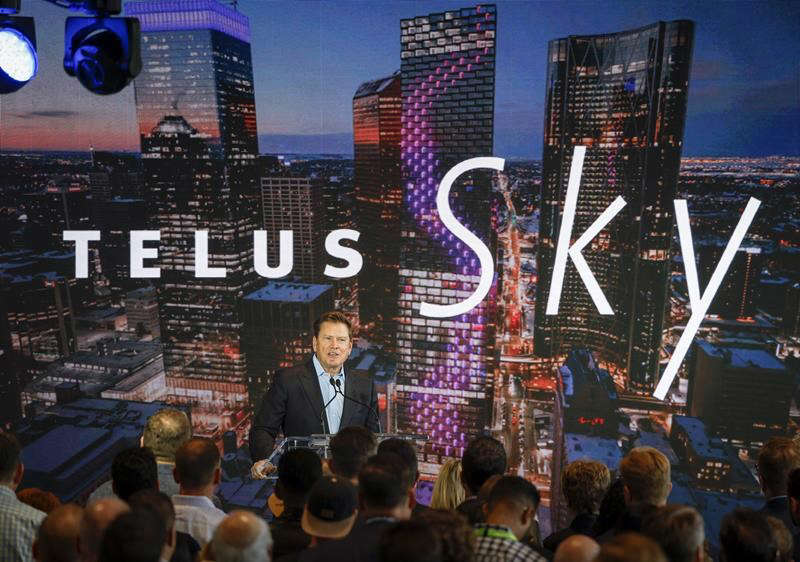 CALGARY — Telus Corp. marked the opening of its new 60-storey Calgary headquarters on Wednesday.
The new $400-million skyscraper, Telus Sky, has been in development for nine years and is now the third-tallest building in downtown Calgary. It features 750,000 square feet of office and retail space as well as 326 rental homes.
The building's eye-catching design, by architects Bjarke Ingels Group (BIG) and Dialog, along with developer partner Westbank and Allied, starts with a rectangular floorplate and then gradually twists as it rises.
Integrated into the facade of Telus Sky is Canada's largest public art display. "Northern Lights" by Canadian author and artist, Douglas Coupland, creates a light show across the building's exterior.
Telus Sky will be home to more than 1,600 Telus employees. It joins TELUS Garden in Vancouver, TELUS Harbour Toronto, TELUS House Ottawa, and Place TELUS Québec as one of the company's LEED (Leadership in Energy and Environmental Design) Platinum-certified buildings.
Among the building's environmental features is a storm water management system that recycles rainwater for use in washroom toilets, reducing the building's municipal water demand by 70 per cent.
This report by The Canadian Press was first published July 6, 2022.
Companies in this story: (TSX:T)
Amanda Stephenson, The Canadian Press