Stopping Crime Debt in its tracks….
For years, Canadian criminals have been robbing their fellow citizens blind.
This is no secret, and with the wave of bust and boom economies, home break-ins and vehicle theft have been a curse to our society.  Yet, despite promises of greater funding by federal and provincial governments and increased scrutiny via security cameras and Citizens On Patrol there has been no great reduction in crime rates.
To the everyday citizen, not only is there frustration when someone is struck with theft-personal or business and IF the individual is caught, there is no punishment that seemingly impacts their poor personal choices.
After all, is not theft violating one of the 10 Commandments?
Not only that, but even IF an individual or crime ring IS caught in a sting AND charges are laid by RCMP, the odds are that most or all of the convictions will be thrown out and the perpetrator (s) will be free to commit crimes once again AND escape without penalty.  Meanwhile, those whose goods have been stolen are left to pick up the pieces and face increased insurance costs and security issues.
Therein lies the crux of our dilemma.
We have a legal system that is supposed to punish law breakers.
The question is whether or not a thief, or ring of thieves are ever penalized accordingly.
Let me tell you about a real life case that occurred in Central Alberta where a house was repeatedly reported for disturbances at all hours of the night and over a period of a couple of years, police raided the house and took truck loads of stolen items out of the garage.  During that time, this home also was used to sell drugs and was involved in a vehicular homicide case.
More than 50 charges were laid to 2 individuals.
Fewer than 5 charges were laid and during their crime spree, they were released and broke bail AND stole vehicles and led police on a chase through another community.
The final value of items stolen was upwards of $500,000 yet there was no financial penalty to the individuals and it can be assumed that after their minimal jail time, they went back to work stealing the fruits of others labors!
This is by no means a solo story, but rather a common tale that has frustrated hard working individuals around Canada.
How can society at large and the court systems put a real stop to criminal activities?
As young people, we are taught not to lie and steal, that human life is sacred and that we are to honour our mother and father.  Yet we tolerate games like Grand Theft Auto, where players are supposed to steal vehicles and escape.  We tolerate entertainment that glorifies gangsters, pedophiles, rapists, thieves, drug dealers and murderers.  In fact, we often even give them Academy Awards for excellence of something.
There is a simple concept that was entrenched in old societies and some native tribes as well that dealt with debt and theft.
Jewish custom demanded that if you stole something, you returned it or recompensed the owner of the item.  Tribal beliefs and customs often demanded the same of thieves.
In society today, we have abandoned the concept of personal financial responsibility of theft.  Can you imagine the 'fictional' couple who stole more than $500,000 of items in a couple of years in addition to their other activities if they had to repay every one of their victims?
Insurance, as we know it, is designed to repay owners for lost goods but it really diverts responsibility for the actions of those who believe it is their right to loot and steal the goods and rewards of others labor.
If you have goods stolen today, you call the police, file a police report and call your insurance company.
No problem, right…wrong.
The problem is that those who forced you to claim a theft, have penalized you in a few ways while they go on their way and fence the items and buy drugs, and other illicit items and services.  They may even build a deck or go on a vacation.
As the victim, you are penalized by your insurance company when your rates go up because you claimed the theft.  As the victim, you have to accept the fact that the value of your goods is likely more than what you will be paid out, so you lose.  If your company does not direct bill, then you pay first, then bill the company.  Not only that, but the more theft occurs, the rates across a region or province rise faster and just when you think you have it under control, you may get broken into again and start over!
Not to mention, the loss of security and safety by the homeowners themselves.
There is no winner.
You lose as the victim because the cost of the crime escalates our protections.
The criminal loses because there is NO financial penalty to make them aware that their choices cost people large amounts of money!  Morally, there is no lesson when they are caught as the laws will give them the least penalty possible!  They learn to use the system and nothing else.
If criminals are never forced to recompense victims, then how will our justice system ever work.  It is at best, a perpetual crime inducement factory!
Please listen law makers and government representatives.
Make criminals financially liable for their crimes!  If they steal $10,000 worth, then they repay $10,000!
There should be no limit to the costs they have to repay.  Theft is a selfish crime, and the consequences of their actions does not stop after they fence the items.
If we look down the line just one generation, and the children of the criminals have seen that their parents have stolen and 'prospered,' what will they do?  Will they turn their back on the immoral teaching and lead an honest work life?  We would hope that at some point that the children would, but if we look at our society the analogy of sexual or spousal abuse does not often stop in the 2nd generation and is viewed as normal and guides each and every decision as long as the victim lives.
What is the real responsibility of our court systems?
Is it to penalize offenders or teach offenders?  Or is our justice system functioning as a complicated means to minimize the consequences of our actions?
In the case of household and business theft, I have ONE recommendation for the government of the day.  ENACT a law that repays DOLLAR FOR DOLLAR victims of theft by the thieves!
I firmly believe that this will go a long way to stopping crime in our society.
Poor decisions lead to poor outcomes.  Crime is Crime.  Dishonesty is Dishonesty.  There can be no sugar coating.  If we use the language of Jewish laws, the transgression is not to be condoned!
It is up to the law makers to make a stand and the governments of our day to truly create a penalty that STOPS instead of DIVERTS and DELAYS.
Police organized crime team takes down trafficking network supplying drugs to inmates at Bowden Institution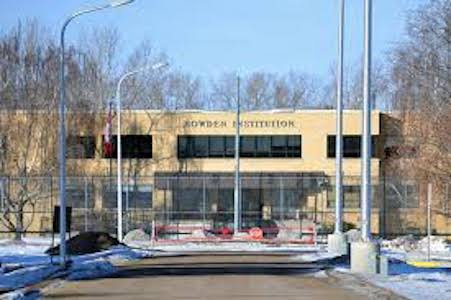 From ALERT – Alberta Law Enforcement Response Team
Project Evolve Dismantles Drug Trafficking Network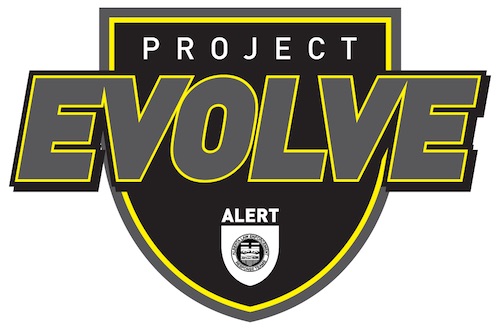 Eleven people have been arrested for their alleged role in a drug trafficking network, which operated in the Edmonton area and extended into the Bowden Institution.
Project Evolve was a lengthy and multi-faceted investigation led by ALERT's Edmonton's organized crime team, with the assistance of Correctional Service Canada, St. Albert RCMP, Morinville RCMP, Innisfail RCMP, Edmonton Police Service, and Winnipeg Police Service.
"I want to sincerely thank law enforcement for their incredible job in disrupting a significant drug trafficking network within Alberta's correctional system," said Kaycee Madu, Alberta Minister of Justice and Solicitor General. "ALERT has done a remarkable job partnering with federal, provincial and municipal law enforcement to remove deadly drugs like fentanyl from our prisons. This kind of organized criminal activity has no place in the correctional system."
A total of 60 criminal charges have been laid against 11 suspects allegedly involved in trafficking drugs in the Edmonton area. ALERT alleges the network conspired to smuggle drugs into the prison system and had established connections to Bowden Institution.
Project Evolve resulted in the seizure of drugs and cash worth an estimated $300,000. Search warrants were executed at homes in St. Albert and Edmonton, with the following evidence being seized:
35 grams of fentanyl;
88 grams of methamphetamine;
620 grams of cocaine;
1,341 grams of a cocaine buffing agent;
1,745 grams of cannabis;
a handgun with its serial number removed; and
$206,000 cash.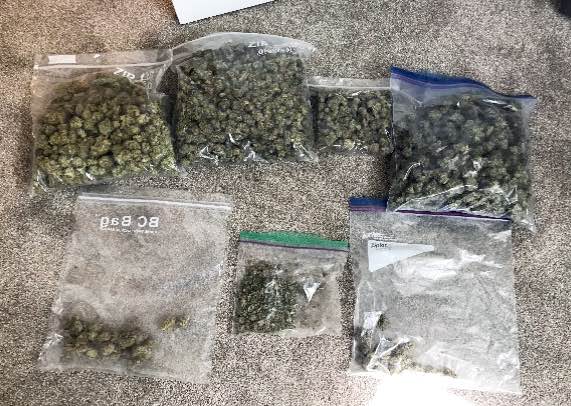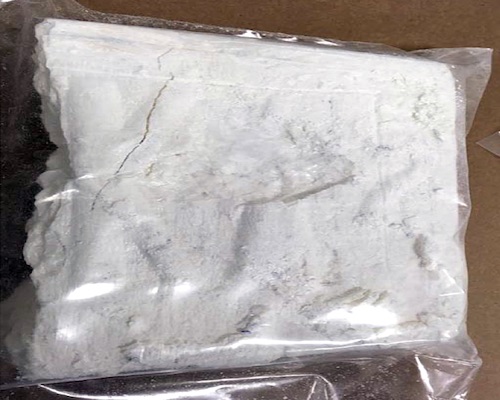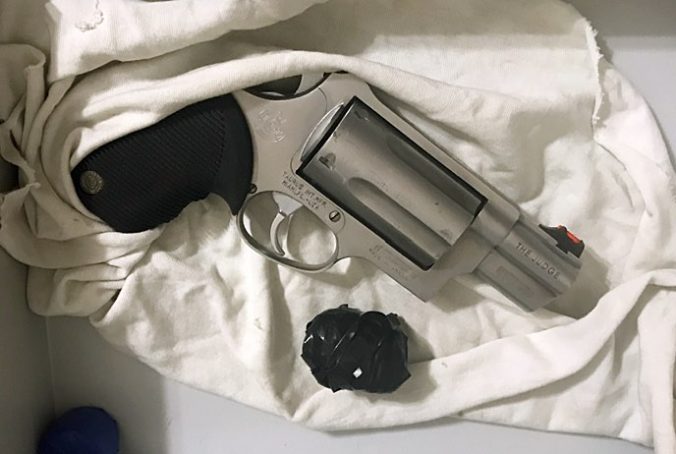 "This was a very well-organized, well-coordinated group. Their drug activities jeopardized community safety and hurt communities big and small," said Staff Sgt. Blayne Eliuk, ALERT Edmonton. "And by introducing drugs into the prison system, this substantially put the health and safety of not only inmates, but also corrections staff and officers, at risk."
"Organized crime groups who traffic in illicit drugs destroy lives, homes and communities. Drugs and drug addiction contribute to spinoff crimes such as theft and break-and-enters, which result in citizens feeling less safe. Investigations such as this are a positive step towards reducing crime in St. Albert and keeping the community safe," added Const. M-J Burroughs, St. Albert RCMP.
"I'd like to thank ALERT and my team at Bowden Institution for their combined efforts on Project Evolve. Partnerships such as this one between ALERT and Correctional Service Canada demonstrate intergovernmental departments working together to keep Canadians safe," said Lawrence Hartigan, Warden of Bowden Institution.
Project Evolve concluded on December 17, 2020, with several arrests:
David Klassen, a 31-year-old man, currently incarcerated;
Nicolas Moores, a 29-year-old man from Edmonton;
Garreth Curry-McCallum, a 23-year-old man from St. Albert;
Jesse Riedlhuber, a 23-year-old man from Morinville;
Brendan Baer, a 23-year-old man from St. Albert;
Tyler Kemps, a 25-year-old man from Edmonton;
Nolan Arndt, a 24-year-old man from St. Albert;
Tyler Willimont, a 24-year-old man from Edmonton;
Jessa Brianne Ivicak, a 23-year-old woman from Edmonton;
Kolby Gordon, a 23-year-old man from St. Albert; and
Chayce Anthony Krause, a 26-year-old man, currently incarcerated.
Both Klassen and Krause were incarcerated at Bowden Institution during the course of the investigation. Moores is currently serving a federal sentence under the jurisdiction of the Correctional Service Canada as the result of a conviction from a previous and unrelated ALERT investigation.
A full list of charges is available for download here.
Project Evolve began in June 2019.
Members of the public who suspect drug or gang activity in their community can call local police, or contact Crime Stoppers at 1-800-222-TIPS (8477). Crime Stoppers is always anonymous.
ALERT was established and is funded by the Alberta Government and is a compilation of the province's most sophisticated law enforcement resources committed to tackling serious and organized crime.
Breaking Bad Sized Seizure – ALERT and Edmonton Police Service take over 1.3 million in meth off the street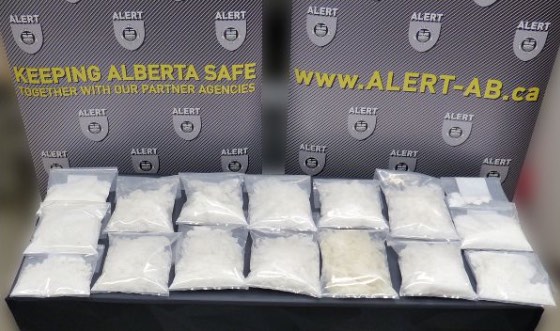 From ALERT – The Alberta Law Enforcement Response Team
Major Meth Seizure Made in Edmonton
Nearly 14 kilograms of methamphetamine were seized from an Edmonton home as part of an ALERT drug trafficking investigation. The drugs have an estimated street value of $1.35 million.
ALERT Edmonton's organized crime and gang team made the seizure on December 30, 2020, after four Edmonton homes were searched. The Edmonton Police Service helped execute search warrants at homes in the Summerside, Oliver, Strathcona, and Rosenthal neighbourhoods.
Inside one of the homes, ALERT seized 13.77 kilograms of methamphetamine, which is a significant amount of drugs prevented from making their way into the community. This would equate to more than 45,000 doses when sold at street level.
"This amount of meth represents a high degree of community harm. The influx of cartel-connected meth into our province has fueled violence, ancillary property crimes, and poses serious health concerns. ALERT has prioritized these types of investigations and we are committed to disrupting the meth trade," said Supt. Dwayne Lakusta, ALERT CEO.
Since 2015, ALERT has seized approximately 110 kilograms of meth from across the province.
"In this case, our investigators believe we hit the distribution point and stopped a lot of drugs from making their way to Edmonton and outlying areas," said Insp. Kevin Berge, ALERT Edmonton.
In addition to the methamphetamine, ALERT also seized:
119.85 grams of cocaine;
112.2 grams of MDMA;
4.3 grams of suspected fentanyl;
63 grams of cannabis resin;
19 grams of psilocybin mushrooms;
40 Oxycontin tablets; and
$8,850 cash.
The four-month investigation came as the result of a tip concerning drug trafficking activity.
ALERT's investigation is ongoing and charges are pending.
Members of the public who suspect drug or gang activity in their community can call local police, or contact Crime Stoppers at 1-800-222-TIPS (8477). Crime Stoppers is always anonymous.
ALERT was established and is funded by the Alberta Government and is a compilation of the province's most sophisticated law enforcement resources committed to tackling serious and organized crime.